How healthy are youth sports in the greater Milwaukee area?
It depends on whether you're asking children or adults. The children might say they're grateful for the opportunities, the cool uniforms, and the chance to see new places.
But they might also say that their games have been too often taken out of their hands and been turned into a large, very profitable business where, in many instances, the fun has been drained out of it for them.
Endless, costly road trips on travel teams replace family vacations and overuse of young muscles at times lead to early injuries. Winning and the very rare college scholarship become the only things that matter — to the adults.
"We start kids too young and throw so much at them that by the time they get to us, they're either tired or have already determined that they can't even try out for our programs if they haven't been participating in club and travel teams," says Brookfield Central Athletic Director Don Kurth, a former coach and athlete. "Kids need a break."
Making It Work
That adult-based process still produces occasional winners, however.
Take, for example, the Germantown girls' basketball senior point guard Kamorea "KK" Arnold. She's a case of talent meeting opportunity, hard work and ultimately success. She's a state champion, a Wisconsin top 10 all-time girls leading scorer, a McDonald's All-American and a prized recruit of the Holy Grail of women's college basketball, the University of Connecticut.
KK has been driven and has flown many thousands of miles since age 10 while playing for various high-level AAU teams. Though she found the process worthwhile, it's been tiring.
"It could be a hassle at times — there were definitely pros and cons," she says. "You get off the plane, get back home, rest a day and then you get back on another plane to go to another tournament. It's a busy lifestyle, but my parents know the importance of the exposure I'm getting. I can't thank them enough."
To KK, all the non-stop travel, effort and the money her family willingly spent to help her achieve her dream was worth it. And one benefit is meeting kids from similar backgrounds on similar trajectories — networking, if you will.
"I was so glad I played AAU ball," KK says. "You get to meet different people from different places. It was a once-in-a-lifetime experience."
Soaring Costs
That experience is just one example of how dramatically the youth athletic culture has changed from the child-driven backyard fun and the low-key Friday night high school experience from decades ago to what's often now an adult-based, pressure-packed business.
The Aspen Institute is an international nonprofit organization, founded in 1949, aims for "a free, just, and equitable society" through seminars, policy programs, conferences, and leadership development initiatives.
It periodically releases "Project Play" studies concerning the state of American youth sports. One of its main focal points is how much money is being spent on it. The 2022 study surveyed more than 10,000 youth sports coaches from every state and program size.
And how much is being spent on kids' sports activities? A lot. American parents are shelling out an average of $883 on their child's primary sport annually, and collectively are spending between $30-$40 billion each year on youth sports. Important to note: That total DOESN'T include travel costs such as hotels, food, gas and airfare.
And as successful as KK's experience was, it's not the same for all kids with big-time aspirations. All that spending won't necessarily yield the same results.
This situation was pointed out in a 2021 national lendingtree.com survey of more than 1,000 parents with sporting-age children. It showed that around 79 percent of these parents went into debt to finance their kid's athletic dreams.
Furthermore, about one in four of those parents said they paid upward of $4,000 a year on those activities, with 46 percent saying such expenditures are a major source of stress in their lives.
"[Cost] is becoming a factor," says Hartford Athletic Director Scott Helms, a multi-sport athlete at Mequon Homestead in the 1990s. "It's become quite expensive to participate in club sports when you factor in all of the additional costs beyond tuition for such things as additional training, lessons, travel, lodging, food, equipment, etc."
While the cost of high school sports continues to grow, the costs haven't been passed down to families at Hartford, Helms notes. "Programs choose to fundraise instead to supplement what is limited by budgets," he says — a common strategy used by schools around the country.
More $, Less Participation
Even though the Aspen Institute study also discovered that the richest parents pay up to four times as much for their children's activities as compared to poorer ones, even limitless money is not a guarantee that a child will remain interested in sports.
"The number of youth sports parents — 27 percent — who said their child has lost interest in playing sports has remained high as a barrier to participate," the November 2022 report read. "The more money parents have, the less interest their child has in sports, suggesting that wealthier children's experiences weren't optimal even before the shutdown."
The study also found that the lowest-income kids are still playing sports at a much lower rate than they did in 2012 (34 percent), though the gap is getting closer. And regardless of the amount of money spent, adults still believe sports are a benefit to children and that they're doing the right thing by them.
A recent Harvard School of Public Health study showed that 88 percent of parents believe youth sports benefit their children's physical health, and a health.gov study said that 73 percent of parents believe it supports their child's mental health as well. Further, a 2020 Ohio University Master's degree of athletic administration paper cited a Sports Journal survey, stating "that a lifetime of sports participation beginning in youth and adolescence improved physical and psychological well-being of individuals as they entered young adulthood."
Emphasizing that point, the Aspen study found that on a national level, a vast majority of children still play at least one sport while growing up. As of 2020, 76 percent of kids ages 6-12 and 73 percent ages 13-17 did just that.
Pandemic Exacerbates Declining Sports Participation
On American ballfields through the heart of the COVID pandemic, (2020-22) that participation trend was severely tested.
Preceding the 2022 Aspen Study by a month was the first full participation report released since before the pandemic by the National Federation of State High School Associations (NFHS). The NFHS reported that 7.6 million prep-age athletes nationally (4.4 million boys and 3.2 million girls) were engaged in sports in 2021-22, down from 7.9 million back in 2018-19, when the last survey was made.
Though the NFHS said participation numbers are starting to rebound in some areas, the decline is a dramatic turn, considering that national prep sports participation increased yearly from 1984-2018. It fell 43,000 the school year before COVID broke (2018-19) and then precipitously for the next couple of years as the pandemic took hold.
Wisconsin wasn't immune to this trend. Though it ranked 16th among all states with about 152,000 prep students taking part in at least one sanctioned sport, it's still down considerably from the close to 179,000 Badger State athletes reported in the 2019 NFHS survey.
Almost all offerings took a hit, including high-participation sports such as football (23,000 kids in 2019, down to 17,000 in 2022), girls' volleyball (from 15,000 in 2019, down to 12,000 in 2022), and boys' and girls' track and basketball. Even resilient standby soccer struggled, — especially on the boys' side — with more than 40 schools dropping the sport when more than 3,000 athletes stopped playing, bringing the participation total down to 7,000.
There've been notable casualties. Formerly strong suburban Milwaukee football programs such as Cudahy and Waukesha South had been declining pre-pandemic, and then both had to cancel their seasons partway through the fall of 2022 due to low numbers and injuries.
(An anomaly in the NFHS survey showed that close to 300 more Wisconsin high school boys went out for baseball between 2019 and 2022, even though 24 schools dropped the sport in that time.)
The NFHS study also showed that, while still popular, team sports participation took a big hit during the start of the pandemic in 2020 and into 2021.
The recovery has been slow, said the Aspen Institute, as only 37 percent of children ages 6-12 played team sports on a regular basis in 2021. That's down from 38 percent in 2019 and 2020 and below the peak of 45 percent in 2008.
Further complicating matters for team sports is an increasing and disturbing push for kids to specialize, to pick out a sport early on to the exclusion of all others whether the selected activity turns out to be their favorite or even what they're best at.
Multi-Sport Relic
The multi-sport athlete, as a result, is becoming an endangered species in some areas. Wisconsin Interscholastic Athletic Association (WIAA) Assistant Director Kate Peterson Abiad notes there's a problem. The WIAA oversees all high school sports in the state.
"Specialization has created a drop in numbers," she says. "There aren't less girls participating in sports to my knowledge, [but] we no longer have sports seasons that start and end. Many sports, like volleyball, soccer, basketball, have opportunities all year long.
"When the season ends for a school team, it starts for a club or AAU team. Athletes who used to switch from one sport to another rarely do that anymore, as they'd risk falling behind their teammates who continue to play on without them."
High school athletic directors admit to a love/hate relationship with the club/AAU trend. They recognize its role in developing elite athletes capable of winning state titles, but also realize that in too many instances, they exacerbate the trend towards specialization, which reduces turnout for other sports and creates exaggerated expectations among athletes and parents.
Brookfield Central's Kurth highlights what has likely become a dilemma for many school administrators nationwide.
"Some club coaches build up the athletes in their programs to the point that they're not truly honest with their assessment of the athlete," he says. "Everyone is told that they are great, so when we get these club athletes at the school and we're honest with our assessment, athletes and parents get upset if it isn't in alignment with what their club coaches have stated.
"Parents have also shared how much money they've invested in their children for club sports, and they want that investment to pay off by having their child starring for us in high school. That puts kids and high school coaches in really difficult predicaments."
Whitefish Bay AD Jeff Worzella, a former state championship-winning soccer coach at the school, takes a more nuanced approach.
"I try to see it from both sides," he explains. "Kids have dreams, and by choosing club sports over high school sports, they're doing what they believe is the best thing for them to do. But I believe the experience of high school athletics is unique and special and it's sad that some kids are missing out on that. I believe you can do both, and I strongly feel that a student-athlete should play multiple sports."
But Worzella knows that message gets undercut when coaches sometimes coerce kids into just one sport, which causes schools problems in maintaining programs.
"I believe this happens and that it's part of the issue," he says.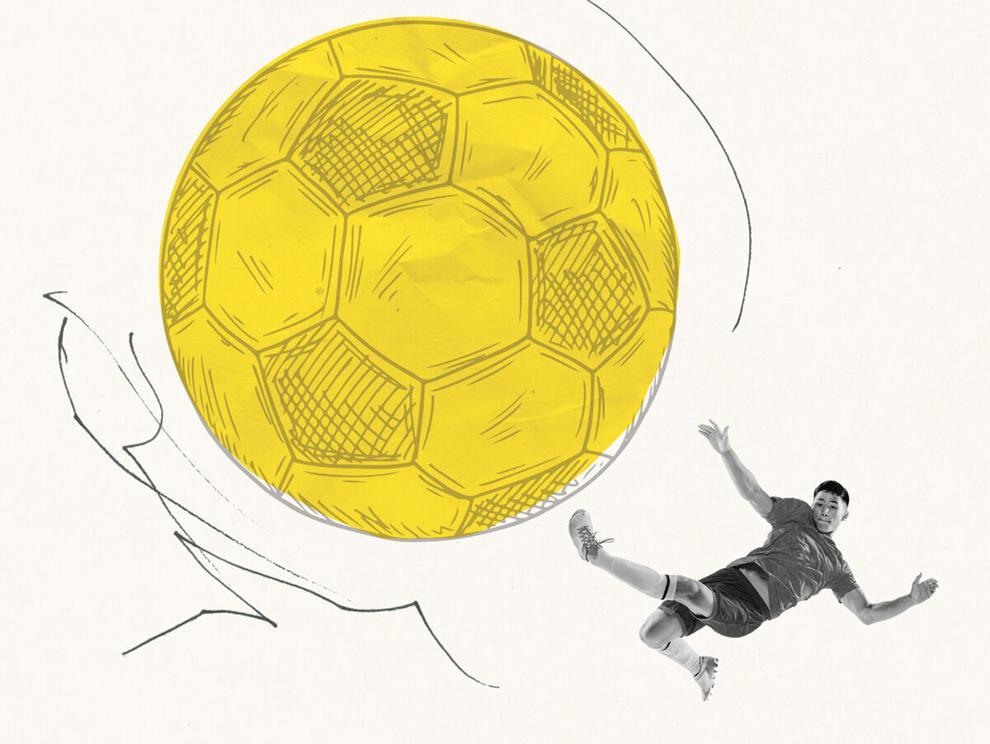 A 2019 TD Ameritrade study revealed that 34 percent of parents believe their child will be a professional athlete or go to the Olympics, when the number who really do is significantly smaller. Further, about one in 57 of the hundreds of thousands of student athletes who play sports in college get NCAA Division 1 annual scholarships (where the big money is). Division II athletes get far less, and DIII none, according to scholarshipstats.com.
However, the pursuit of those dollars will likely continue, as it's increasingly challenging financially to get a student through college. A 2021-22 U.S. News and World Report study showed that in-state public college costs can average $10,000 a year ($23,000 for out-of-state attendees), while private college costs are around $38,000 annually. Locally, Marquette's annual tuition is around $46,000, while Wisconsin's in-state rate is $9,000 and out-of-state is $38,000. Neither price tag includes room and board.
The athletic scholarship route is incentivized by the fact that American college debt per student averages around $37,000, according to an Education Data Initiative. MKE
NEXT ISSUE: A breakdown of which sports are on the rise for participation, which are on the decline, and why.