The start of a new year is the best time to take stock of our dreams and personal wish lists and maybe this time make one or two a reality. Meet five local people who channeled determination, creativity, imagination and even personal challenges into good things for all.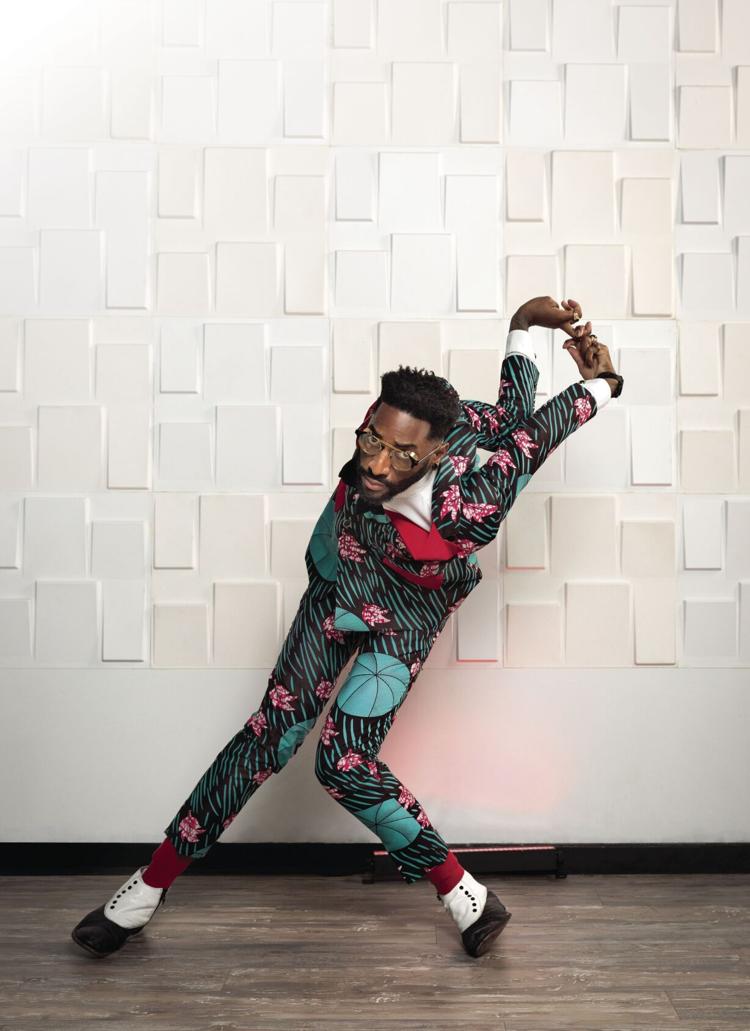 Remarkably Joyful
Christopher Gilbert, master of dance and positive vibes
In the age of Zoom, most remote workers show up to calls donning "workleisure." Not Christopher DeAngelo Gilbert. The popular Milwaukee choreographer appears on-screen wearing a double-breasted navy blue plaid suit, fully accessorized: jewels, a gold watch, round wire frames, a sophisticated fedora and a scorpion broach scaling his lapel. 
It's completely on-brand.  
The hip-hop and freestyle dancer is as equally recognized for his enviable dance moves as he is for his dapper fashions. But over the years, Gilbert, 31, has found a calling greater than his impeccable personal style or signature fluid movement: He's devoting much of his time to wielding his influence to promote positivity, self-love and good vibes. 
"It's not about the suits, it's not about the dancing — it's the energy which ties it all together," Gilbert says. "My biggest mission is for [people] to see and realize what their difference is. You don't have to have limitations. You are supposed to be different." 
Being different may be the root of Gilbert's personage today, but he wasn't always so comfortable in his own skin. As a Black kid growing up on Milwaukee's north side in the '90s, dancing in any artistic sense was looked down upon. 
"At that time, what I was doing artistically, people were like 'No,'" Gilbert explains. "People would say that it wasn't masculine enough. It was the stereotypical line; it was play sports, or get caught up in 'something else.' I was a gangly, nerdy dude that was goofy. As a kid I was sensitive to that. It was a hard time to maneuver through." 
Instead, Gilbert would often practice his dance moves behind closed doors and keep to himself. It wasn't until his mother encouraged him to pursue his passion that he began to break out of his shell. As one of the earliest dancers of the Ko-Thi Dance Company, she brought her son to perform with the percussionists. Later, as a high school dance coach, she invited the middle-schooler to practice and perform with that dance team. "That's when I started dancing in front of crowds," Gilbert says. "It was a defining moment. From then on, I always wanted to create with other people."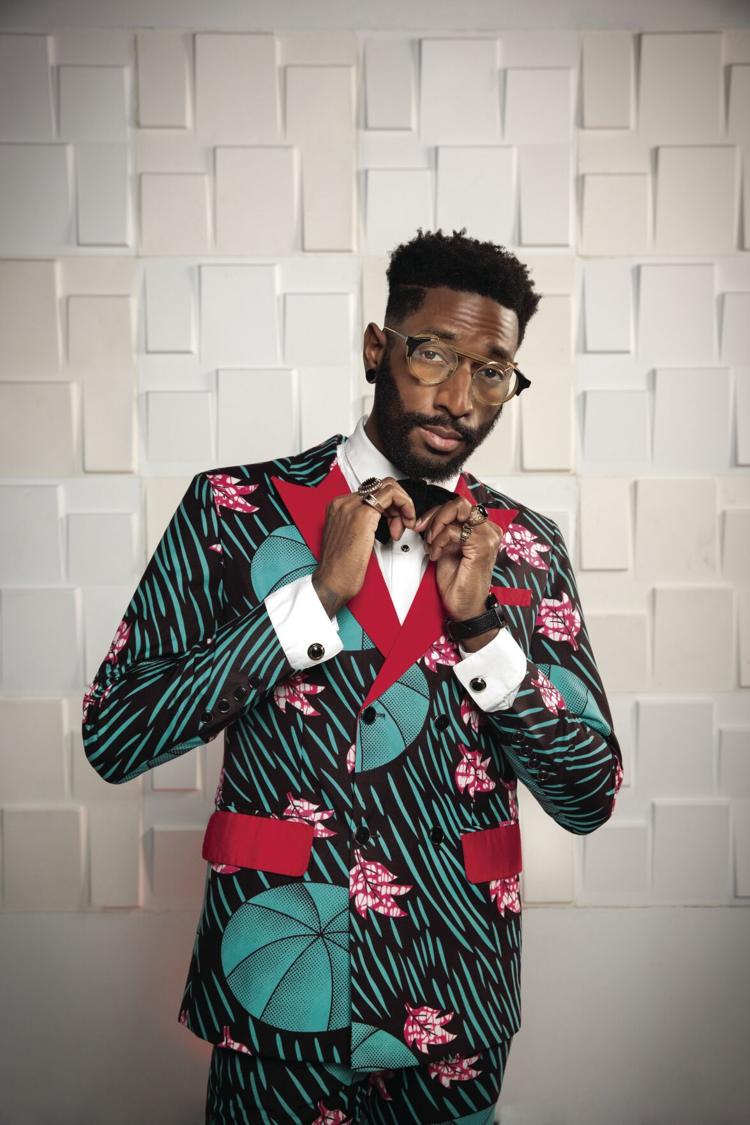 During high school, Gilbert began attracting crowds with his dance moves at local teen clubs. After school, he decided to swap out Milwaukee for the L.A. dance scene. Connecting with talented creatives from various backgrounds helped lead Gilbert to discover his own unique style in dance and in dress. He first experimented with ties and skinny jeans, he says, but soon earned accolades for his pop-locking skills and his bow tie collection. In 2012, he began rocking his trademark suits. 
"I've always felt overlooked: 'He's too happy. He's too weird,'" Gilbert explains of his evolution. "It was a wake-up call for my identity. When you look good, you feel good, and everything makes sense. I'm just a kid from the north side, but I embraced being different. Why be normal?"  
Eventually, Gilbert auditioned for "So You Think You Can Dance." While he didn't nab a role on the competition show, he eventually landed on the "Yo Gabba Gabba!" children's series, where he discovered a valuable lesson: dancing could make an impact. His mission shifted. Gilbert headed back home to Milwaukee to help inject new life into the city's dance scene and to help motivate others to embrace their own uniqueness. 
Since he's returned to the Midwest, he's become a sought-after choreographer, teaching hip-hop classes at various studios, schools and theater houses, and has performed at events citywide. 
In 2018, Gilbert was invited to lead the Grand Dancers for the Milwaukee Bucks, the popular mature dance team composed of dancers ages 55 and above. It's one of his favorite gigs. "I always tell people dancing isn't a skill, it's a mindset. It's just a vibe," Gilbert says. "You may never be a great dancer, but you could be a great person forever. My true calling is to uplift people. It's something that's so important to me, especially in these times. I live for it." 
By Stephanie S. Beecher
---
Remarkably Colorful
Stacy Williams-Ng, muralist extraordinaire
It's easy to imagine artist Stacey Williams-Ng as a modern-day fairy godmother, flitting about town, landing in front of dingy building walls. With a wave of her brush, she bibbity-bobbity-boos those tired spaces into stunning works of art. 
That's not how it actually happens, of course. Williams-Ng, founder of Wallpapered City, will tell you that most of the murals popping up throughout metro Milwaukee were months — sometimes years — in the making. 
As a painter and illustrator, Williams-Ng first became interested in mural work in 2013 and 2014 when she landed opportunities to create public art in Sarasota, Fla., and Marietta, Ga. When Williams-Ng returned to Milwaukee, she began to float the idea of making outdoor murals to her artist friends. The less-than-enthusiastic response was that Milwaukee doesn't have a "mural culture."
"I would just get this laugh, like, 'Silly girl, we don't do that in the Midwest,'" she says. "That was the spirit of everybody's answer: No one wants it here."
That changed when Tim Decker, a lecturer in animation at UW Milwaukee's Peck School of the Arts, agreed that doing murals was a not-crazy idea. He suggested a public art festival, because Milwaukee loves festivals. "So he says, 'What about the Kenilworth Apartments alley by UW-Milwaukee?'" she recalls. "We could have muralists from all over the country.'" 
Williams-Ng threw herself into researching the project. The alley behind the Oriental Theater posed a number of navigational obstacles, such as who owned the buildings, how artists would be procured, how to go about fundraising, what to call it, and hundreds of other little details. About two years later, she had cleared all of those hurdles.  
"We opened Black Cat Alley (in 2016) in conjunction with Doors Open, and thousands of people showed up. It was just a crushing crowd," she says. "Nobody had tried it yet, and I think it was just that nobody had imagined it. But to me, what's so wonderful is the story of what happened afterward."
Williams-Ng found her phone ringing incessantly. Officials in nearby cities wanted murals to uplift their neighborhoods, too, and that's how Wallpapered City was born. The organization brings municipalities, artists and businesses together to create and celebrate street art. 
Black Cat Alley, supported by the East Side Business Improvement District, started out with 10 murals and now features 25. VISIT Milwaukee has named it one of the city's top 10 tourist destinations. 
Wallpapered City has also been a force behind the Bay View Street Canvas project, West Allis Living Streets, Visual Vibes on Villard, "The Unsung Hero" mural in Milwaukee's Third Ward, and the murals recently completed on Brady Street, in the Harbor District, and in Wauwatosa, Menomonee Falls and Shorewood. 
Not all the artists are local, and Williams-Ng makes no apologies for bringing nationally recognized muralists like Thomas "Detour" Evans to town. 
"Nobody goes to Summerfest and says, 'Joan Jett's not from Milwaukee!' and 'Get the Rolling Stones out of here!'" she explains. "The only way we're going to be a world-class mural destination is by featuring the best of the best, all the time, and making sure we have a way for local artists to share the spotlight too." 
Wallpapered City does just that, giving many local artists their first mural jobs. "We teach them how to drive the lift, help with surface preparation, show how to transfer an image to a large space. It's just been wonderful," she says.
Williams-Ng has personally painted the "Leopard" mural on the side of the former Kashou Carpets building on Farwell Avenue, "Mother Nature" at the Victory Garden Initiative in Riverwest, the giant fish mural at Penfield Children's Center on North 27th and Kilbourn, and many more. It's all part of bringing art to everyone, she says.
"Too many people think art is elitist — and they're right," she says. "I don't know how many Milwaukeeans have been to the symphony or the opera, but, for many people, they're not accessible because of price or context. When you paint an alley, you create an outdoor art museum that becomes part of the community. These murals become landmarks and inspiration and a point of discussion for those who live there. And that is 100 percent the goal – to build community, not just to beautify the city, but to give the city a voice." 
By Nan Bialek
---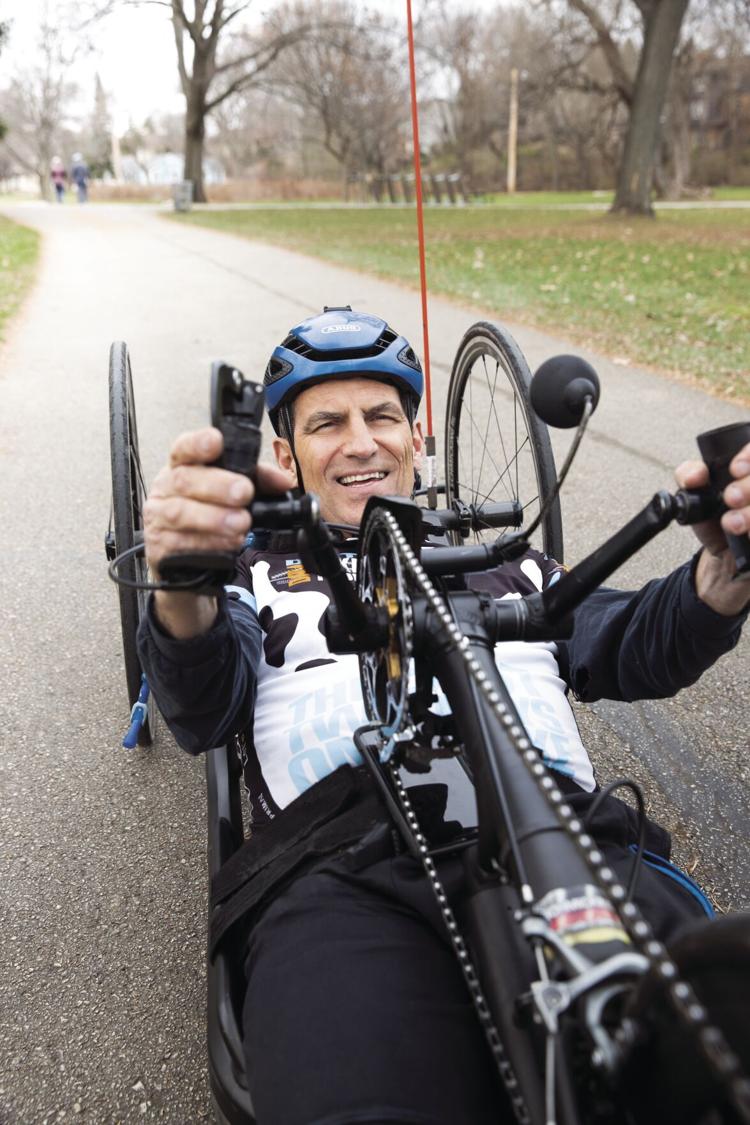 Remarkably Determined
John Haupt, handcycle enthusiast and accessibility advocate
When he was just 16, Wauwatosa's John Haupt was diagnosed with multiple sclerosis (MS), an autoimmune disease of the central nervous system. Since then, he spent a lifetime fighting its debilitating effects. At 64, he's still winning.
You may have seen Haupt zipping down the road on his handcycle, or on his BMW motorcycle (complete with the sidecar where he stashes his wheelchair), maneuvering down a Colorado ski hill or wakeboarding behind a motorboat on a lake.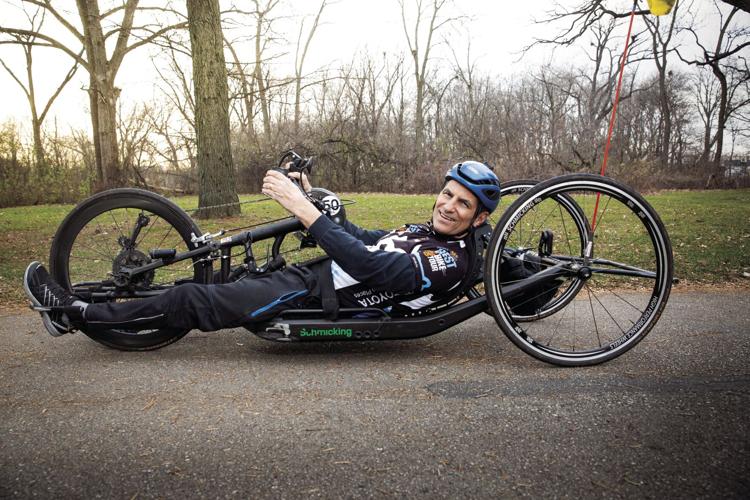 Or you may have noticed him — from the back only — on billboards posted around the city after the installation of an accessible ramp for people with disabilities at Bradford Beach. The ramp was a project of The Ability Center, founded and propelled by Damian Buchman, who also appears in the ads. Haupt serves on the organization's board of directors. Among its other initiatives, The Ability Center has installed adaptive bicycles at Veterans Park, created an all-abilities wheelchair basketball league and is currently working to build what Buchman calls "America's first universal park" at Wisconsin Avenue Park in Wauwatosa. The organization's most ambitious project, however, is developing a 260,000-square-foot, first-of-its-kind sports complex for athletes of all abilities.
"Of the things I'm doing now, The Ability Center (sports complex) is going to have the most far-reaching impact when it happens," Haupt says. While Buchman has been working on the project for about 10 years. Haupt joined him three years ago, and lately, he says, "there's all kinds of big-time interest in it."
Haupt was invited to join the board after Buchman noticed his Johnny's Big Push fundraiser for the Wisconsin Chapter of the National MS Society, and for his work to establish a premier handcycle race as part of the Tour of America's Dairyland (ToAD) bike race in southeastern Wisconsin. The ToAD handcycle racing can be traced back to Haupt's first handcycling experiences through Milwaukee Recreation. He enjoyed the sport so much that he invested in his own handcycle and entered some races.
"I had this idea that we totally should bring handcycling to the series, and two of the partners (in ToAD), Bill Koch and Tom Schuler, were very amenable to that idea," he says. Koch and Schuler suggested they schedule the handcycle races between the pro women's and pro men's races, making it a marquee event, and Haupt got right to work inviting racers and soliciting sponsors.
The first ToAD handcycling event in June 2017 featured 13 handcyclists participating in three races in East Troy, Grafton and Waukesha. Word spread quickly in the national handcycling community, and if it were not for the pandemic, this year's event would have included 40 cyclists from across America and two other countries competing in four races.
"We're fast becoming the most popular handcycle race in the country because we offer something they can't get anywhere else," Haupt says of the event's four to five days of racing in front of big crowds in a festival atmosphere. "Now it seems everyone wants to come to ToAD."
Handcycling is also a focus of Johnny's Big Push, Haupt's annual fundraising effort to support the MS Society's Best Dam Bike Tour. Haupt not only takes on the 50-mile-a-day bike tour challenge on his handcycle, but last year cracked the $100,000 mark in total monies raised since he began fundraising in 2013. But he's quick to point out that other participants have raised even more. 
Haupt credits his fundraising success to the first fundraising video he made with videographer Larry Hansen several years ago. "It did unbelievable things," Haupt says. "My fundraising quadrupled." 
A theme in that and subsequent videos is how lucky he feels after nearly five decades of living with MS. Haupt points out that many people fighting MS are dealing with far more severely disabling effects of the disease. "The truth is, I've just been lucky," he says, "and I'm completely serious about that. I'd have to be kind of stupid and cynical if I didn't realize that I'm pretty fortunate to still be able to do all these things."
The last line in Haupt's videos reflects the trajectory of his life fighting MS for the past 48 years: "Together," he insists, "we're going to beat this thing."
By Nan Bialek
---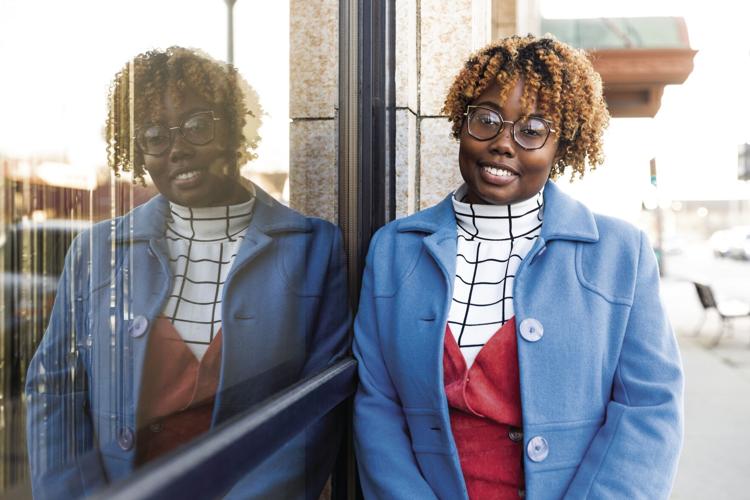 Remarkably Driven
Cetonia Weston-Roy, niche book bar
For Cetonia Weston-Roy, there's only one thing better than settling in with a good book: sharing one with a friend. The bespectacled bookworm is more than a casual purveyor of lit — she's the owner and entrepreneur behind Niche Book Bar, the only Black-owned bookstore in the state. 
Weston-Roy's bookstore concept was born in a tweet. In 2016, while relishing a book and glass of wine after putting her son to bed, she posted on a whim: "somebody … anyone PLEASE make a Barnes and Nobles kind of place with a bar." 
She didn't think much further about it, until she was weighing a career change and casually brought up the idea to a coworker, who expressed excitement at the idea. "The idea kind of grew into what I wanted it to be, but for somebody else to do, not me," Weston-Roy says. "I didn't know where to start." 
Weston-Roy wasn't always an eager reader. She struggled with reading as a child, but her stepfather's frequent and forced trips to the library flipped her into a bona fide bibliophile. There was just one problem:  "I couldn't fully connect to the books," Weston-Roy says. 
Not only did most children's books lack characters that looked like her, she says, but the few that did — such as Addy from the American Girl series, or Cassie Logan from "Roll of Thunder, Hear My Cry" — often embodied painful narratives such as racism, oppression, and trauma. 
As a child reading purely for pleasure, the books didn't always offer the fantastical escape she was searching for. That notion also inspired the book shop owner to author a children's book of her own, "The Misadventures of Toni Macaroni," which is based on her free-spirited childhood in Florida. 
"She has no qualms about her dark skin and thick hair. She just loves herself and is being who she is," Weston-Roy explains. "I wrote that book in the same vein as I see my bookstore."  With Niche Book Bar, Weston-Roy says she aims to promote Black literature that celebrates the entire spectrum of the Black experience — joy, adventure and whimsy included. 
In 2018, Weston-Roy returned to the library to check out books on entrepreneurship, spoke to family members who owned businesses and began to test out her business model through the Black Authors Collective, an online collaborative she founded. The community's pop-up events proved a success,  and once she received the validation she needed, Weston-Roy dropped to part-time and launched a Kickstarter campaign to get her business off the ground. Then COVID-19 hit.  
"I was thinking, 'I'm not going to get funded. How can I still get Niche out there?'" she says. 
Weston-Roy thought about buying a mobile book bus, but it was well out of her budget. A bicycle didn't make sense. Then she saw a man trekking through Bay View on a tricycle. She found a used trike for sale online and asked a local carpenter to customize a foldable book shelf for the back. The "book bike" was born. 
Weston-Roy spent her summer pedaling the streets of Milwaukee, wheeling her trike around to block parties, farmer's markets and parks, and peddling her books to residents. In July, her tenacity earned her a business grant through Brew City Match.  
And despite a summer of racial reckoning, Weston-Roy says her mission hasn't swayed. "We're focused on 'very Black' literature," she says, adding she'll still include books spotlighting racial and socio-political topics, but doesn't "want to sell pain as the front face of the book store." 
As Weston-Roy inches closer to fulfilling her Kickstarter goal, she is eyeing a spring grand opening of the venture's brick-and-mortar location in Milwaukee's Bronzeville neighborhood, a historic hub of Black culture and economic mobility. 
She envisions a book shop filled with shelves, a bakery and bar, and intimate gathering spaces to host book clubs, author events, storytimes and community events, and more. 
"It's important to show people across the spectrum of the imagination," she says. "There's gotta be joy, too." 
By Stephanie S. Beecher
---
Remarkably Creative
Peggy Brown, Kids' toy and game designer and creative guru
Hers wasn't a typical kid — and, like all great mamas, Peggy Brown's mom Irene spotted her daughter's talent early on. 
She didn't know that her girl would become one of the world's most sought-after toy and game inventors, but she knew there was something special going on. So Irene encouraged her daughter to make her own fun, handing her the cardboard from a pantyhose package, or the raffia wrapping from a bottle of chianti. And little Peggy was in heaven.
"That was all we had, and we didn't have much," Brown recalls. "You'd take that stuff, go off and it was like being in a trance — and you'd come back with something wonderful," Brown recalls. The cardboard could be drawn on and cut and folded into just about anything, and the chianti wrap could be the start of a Hawaiian doll in a raffia hula skirt, with a ball for her head. 
In elementary school, Brown tended to grasp her lessons quickly, allowing her plenty of time to get lost in a daydream.  "I think that's where my imagination really grew, because it was so boring," she admits. "I spent most of my elementary years in my own head."
Brown followed in her babysitter's footsteps and went to the Milwaukee Institute of Art and Design (MIAD), where, at the time, she was the only woman studying industrial design. Today, even though toy purchasers are women by an overwhelming margin, she believes she is the only woman in the toy industry to own an invention firm, Peggy Brown Creative. Companies like Disney, Mattel, Milton Bradley and Parker Brothers tap the ideas and expertise of Brown and her small staff.
"We're working with companies all over the world, and they come to us now," Brown notes. "It's really a global industry." Even though the work is satisfying, Brown says — it's great to see a kid fall in love with a toy you've invented — it's not all, well, fun and games. 
"You think you're making a toy for a 5-year-old, but the truth is you have to get it past a 50-year-old in a suit first," she explains. 
Her most recent successes include My Buddy Wheels, a balance bike disguised as a plush unicorn or dinosaur, and My First Rush Hour, a version of the popular Rush Hour game made especially for kids. My First Rush Hour has been nominated for a Toy and Game International Excellence (TAGIE) Award, the Oscars of the toy industry. 
Brown's latest invention is the Kraft Heinz Variety Game Pack, a three-pack of games that look like they just came off the grocery shelf, including Kraft Macaroni and Cheese, Heinz Ketchup and JELL-O Jigglers.
Brown also "instigated" and co-produced the documentary "Operation – The Power of Play" with her friend, Tim Walsh. The video tells the story of John Spinello, inventor of the classic Operation game, and helped to raise thousands of dollars for Spinello, who invented the game as a young man and sold the rights to produce it for just $500. By the time Brown and Walsh caught up with him, he was in dire need of oral surgery and was unable to pay for it. The film sparked many national news stories, and people who played Operation as kids came out of the woodwork to tell Spinello how the game inspired them to become doctors and nurses.
A true creative, Brown also paints, is working on a screenplay and learned glassblowing so she could try to make her own marbles. The secret to creativity, she says, is simply to try something new, even if you think you will fail. "It's like Babe Ruth," she advises. "He hit a lot of home runs, but he struck out all the time. And we do, too. Our fail rate is much higher than our success rate, but give it a shot. Fly your flag."
We each have the ability to look at life in full color and upside down, Brown suggests. "You'll see things in other ways. That's the secret." MKE
By Nan Bialek