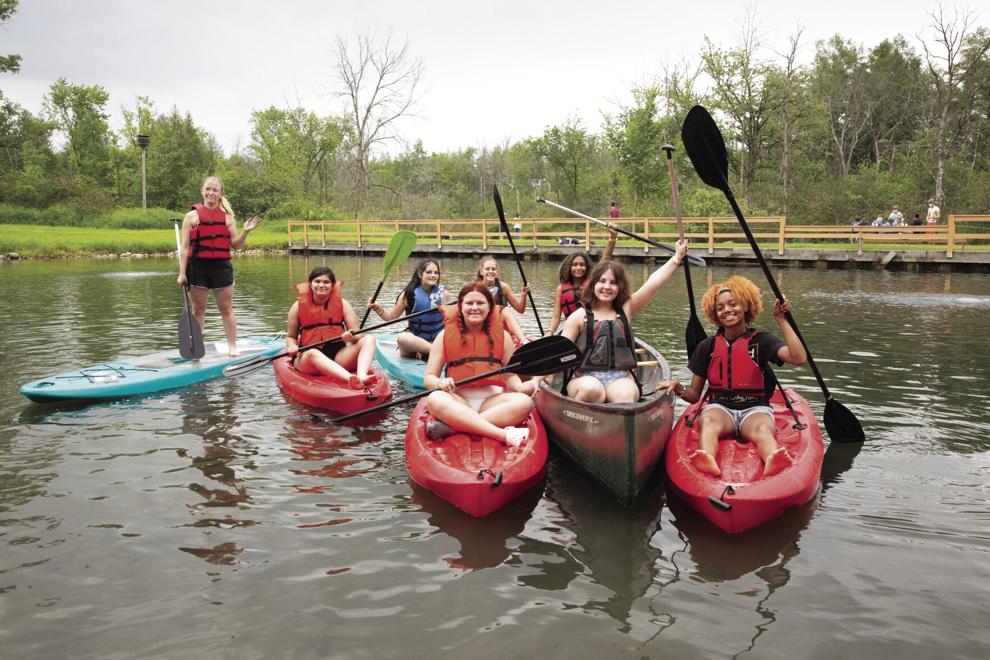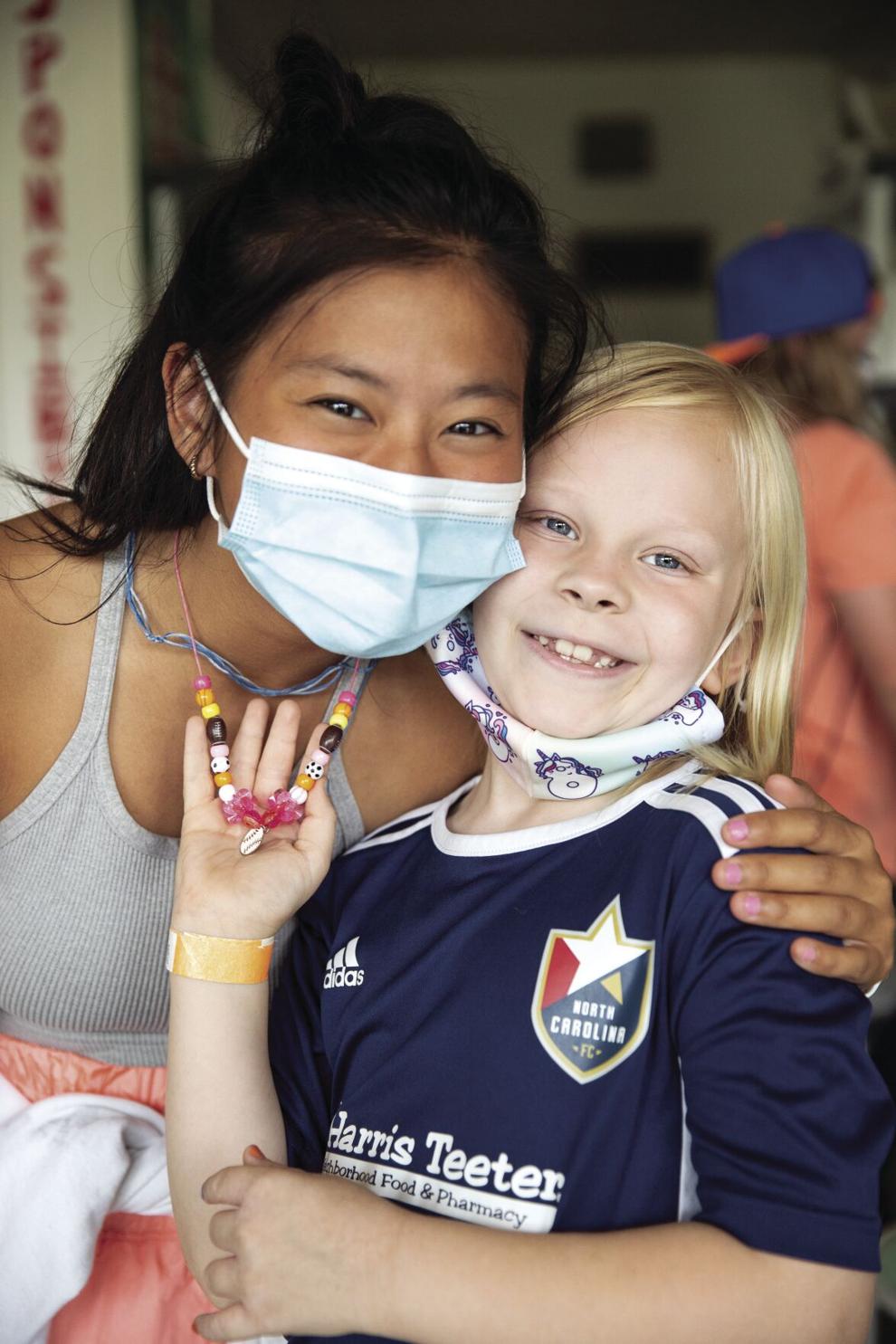 On a balmy July afternoon, dozens of children begin to gather on the banks of the Milwaukee River near Kewaskum, each grasping a small, biodegradable per boat that they've customized with personal designs and messages. When everyone is in place, their animated banter becomes hushed as some examine their work a final time, others throw an encouraging arm around a l, and still others find a solo spot to reflect or regroup.
With these meaningful little boats, the hope isn't that a delighted stranger finds them down shore and pens a message back. 
Their designs capture unbreakable bonds. But their messages are penned to loved ones who won't be waiting at home when the kids return. Their creators are members of Camp Hometown Heroes, youngsters aged 7 to 17 from all across America and allied by a rending commonality: Each has suffered the loss of a family member who served in the military.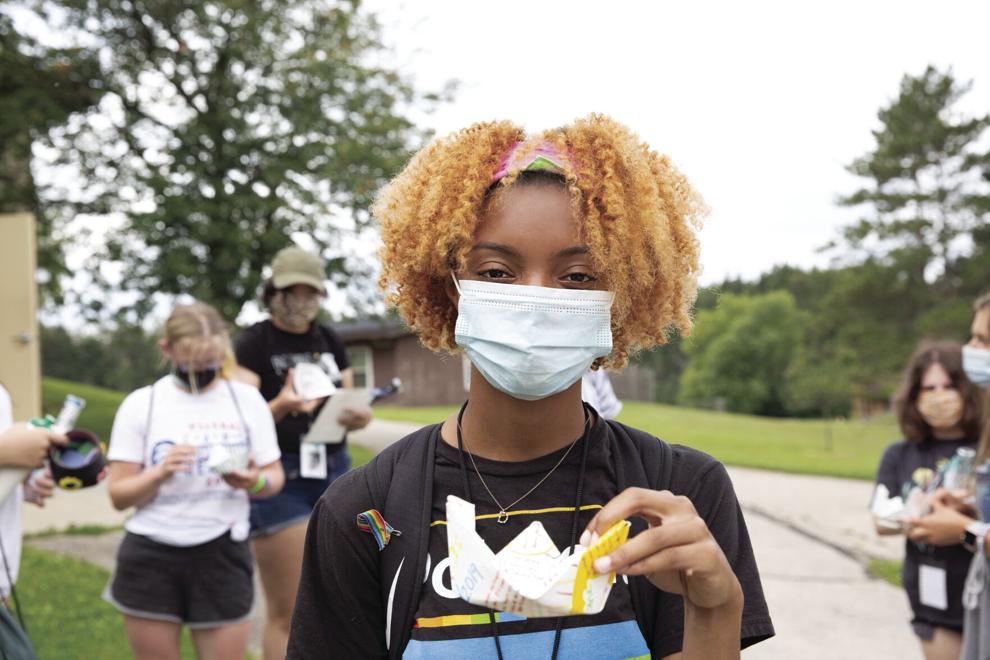 Looking Forward, Giving Back
Cofounded by Jim Kacmarcik, owner/president Grafton-based Kapco Metal Stamping, and Neil Willenson, a Kapco executive and lifelong activist who previously launched Camp Heartland for kids impacted by HIV/AIDS, Camp Hometown Heroes makes its home on a tranquil DNR site now helmed by the nonprofit Turning Rivers organization, which operates key programs for children facing trauma. The site, ringed with mature trees and dissected by the Milwaukee River, is peaceful very literally by its nature.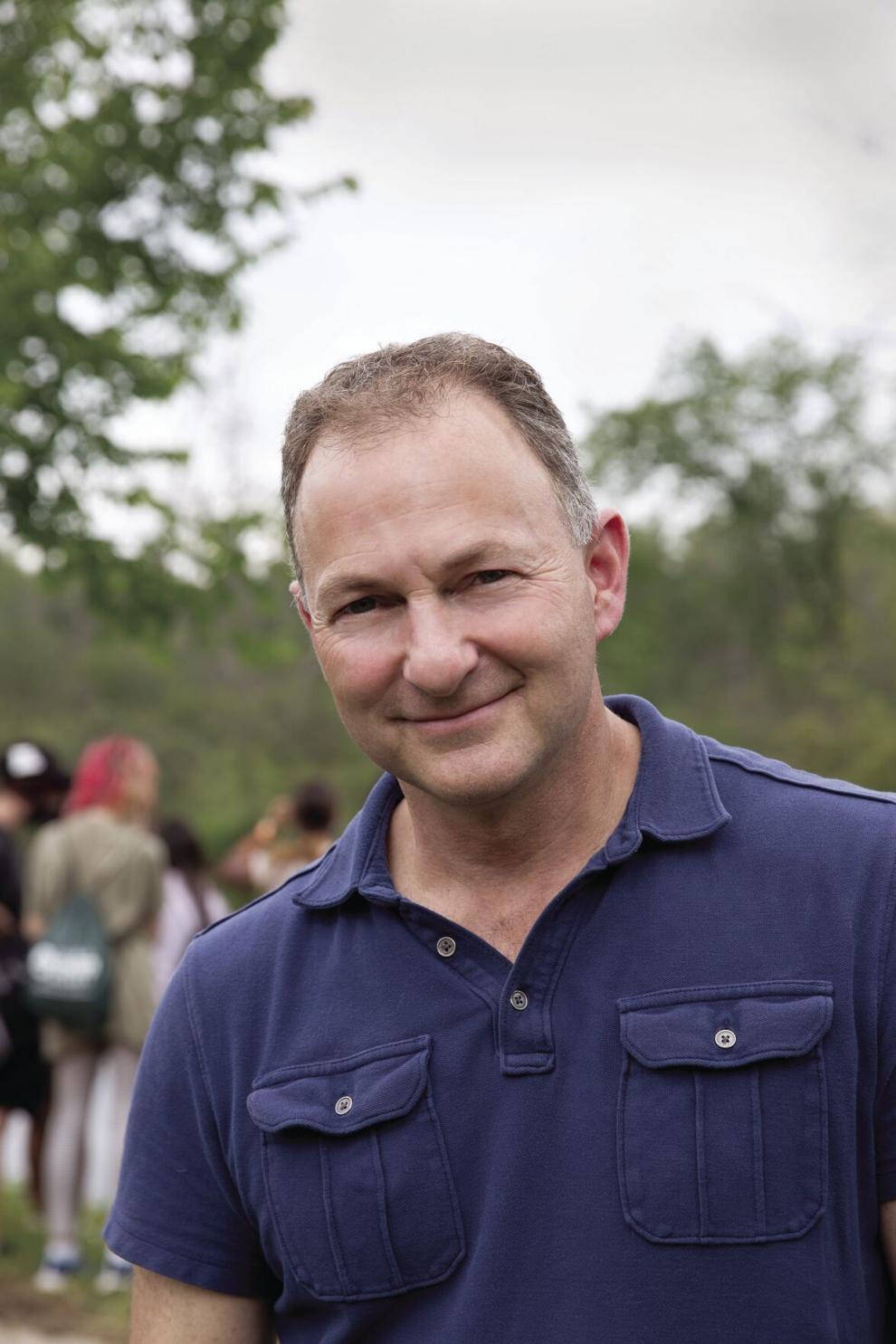 For a brief while, Willenson serves as our host, walking us from a group of boys readying a giant slip 'n slide to a group of paint-splattered girls having an impromptu game of Red Rover, and then to the comfortable cabins the kids will call home for the week. Though it's only the second morning of camp, virtually all of the children call out a cheery, "Hi Neil!" as we approach. 
Willenson knows their names too.
In recent non-COVID years, the camp welcomed 100 campers per week; this year's group matches the 62 campers Hometown Heroes welcomed for its inaugural session in 2013. That first batch hailed solely from Southeast Wisconsin; the camp now hosts kids from more than 40 states. And while there is hope that sessions will soon extend to two weeks, there is no intention to grow the number of campers past 100 at a time.
"We like that number because we don't want it to be too overwhelming, or that the campers lose out because we can't give them as much individualized attention," says Kenzie Gonzalez, senior researcher for Camp Hometown Heroes and its companion camp, Camp Reunite, for kids of incarcerated rents. "We like to have a higher ratio of staff to campers than is even recommended. … We want it to feel like a family. And when you join the Camp Hometown Heroes' family, that means something. We take it seriously, and we get to know you."
The first "family member" we, like most campers and their parents, meet is Director of Outreach Deb Paschke, who has been with Hometown Heroes since its inception and is an unabashed cheerleader for the camp, its staff, the kids and their families.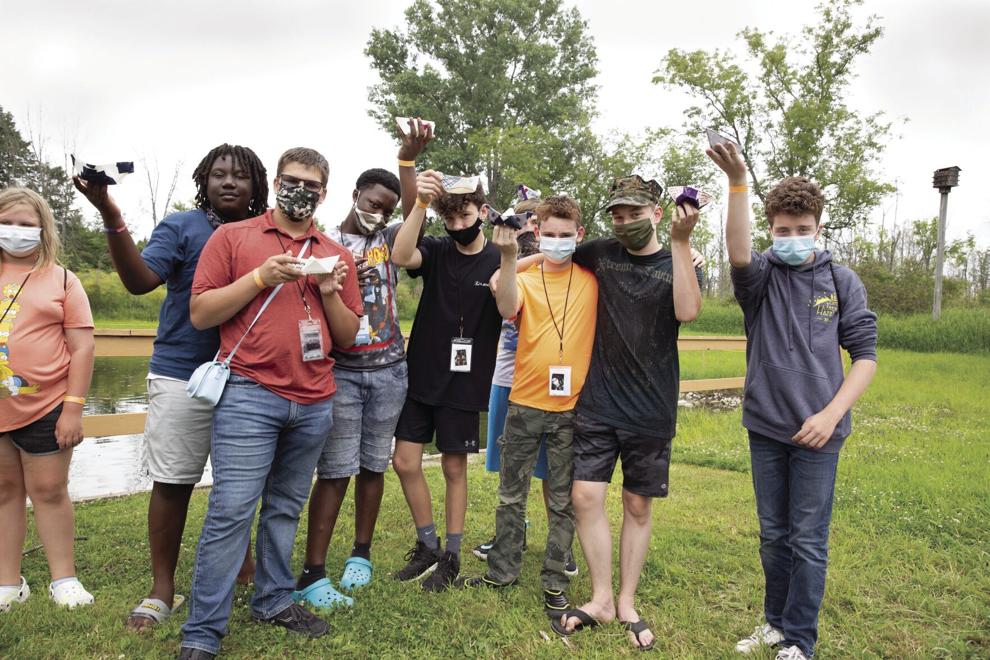 While we wait for Willenson to join us, Paschke shares the camp's mission, which has changed little since Willenson and Kacmarcik first realized that children of fallen soldiers are too often a forgotten right of the survivor equation. And that there was little outside of traditional (and often prohibitively costly) therapy for kids who have lost a rent, a sibling, a beloved grandparent, uncle, aunt or cousin to this noble occupation. 
The result is a vicious and agonizing cycle. 
Surviving family members who are struggling to manage their own grief must simultaneously find a meaningful way for the children to grieve and heal, as well. And the children often feel that they must help the adults by taking on grown-up responsibilities — be the man of the house, tackle chores, tend to younger siblings — while navigating or even ignoring their own in. All of this on the heels of these families having already willingly adopted a lifestyle of separation and service that non-military families can rarely imagine.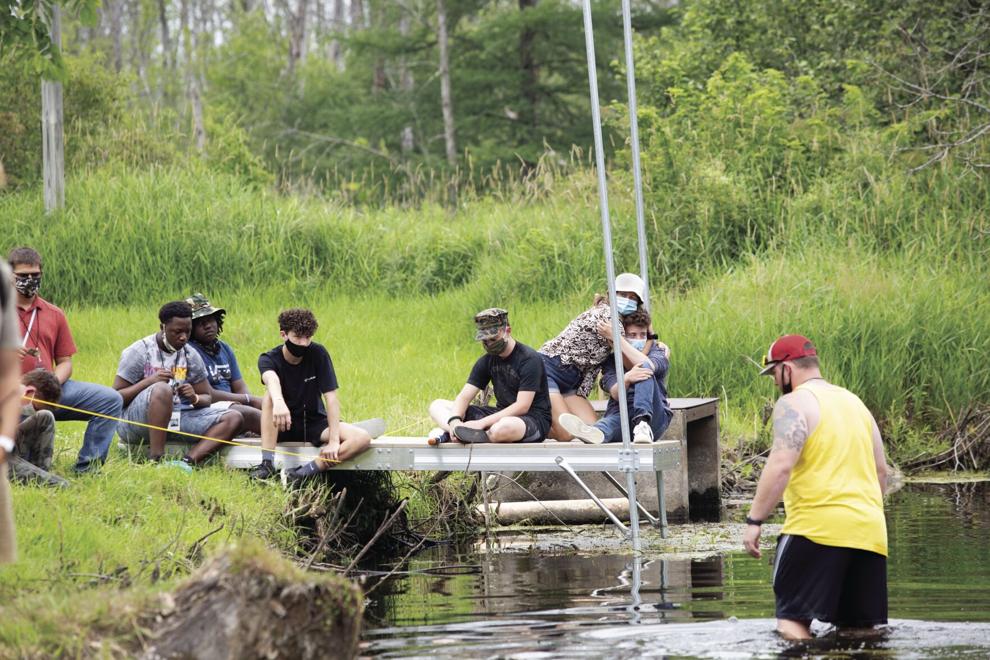 In the organization's 2014 documentary "Healing Hearts," Kacmarcik explains the heartbreakingly simple impetus for the camp. 
"I think the majority of Americans believe what I do: Those in the armed services made sacrifices for this country far beyond what civilians are even thinking about," he says. "So we owe them. And we always will. I also believe that, if we were talking to a war fighter during their last minutes on this earth, they wouldn't be asking for a thank you. They would be asking us for a favor. They would say, 'Take care of my spouse. Take care of my children.' So, one of the main reasons for this camp is to answer that request by providing a camp that can make a long-term difference in the lives of others."
Though that was five years in the making before the first campers were welcomed, Paschke tells me she knew they got it right when she presented "Healing Hearts" at the weeklong GI Film Festival in Washington D.C.
The festival features films about military and veterans' issues, and Paschke's was among the last to screen, giving her the opportunity to make an observation during its talkback: Hers was the only film to address grieving military kids. And the relief that surviving spouses felt when not only did their children have a place to go to share their grief however they pleased — and with other kids who'd experienced the same — but also that their kids returned home with an arsenal of tools to use for themselves and to share with others.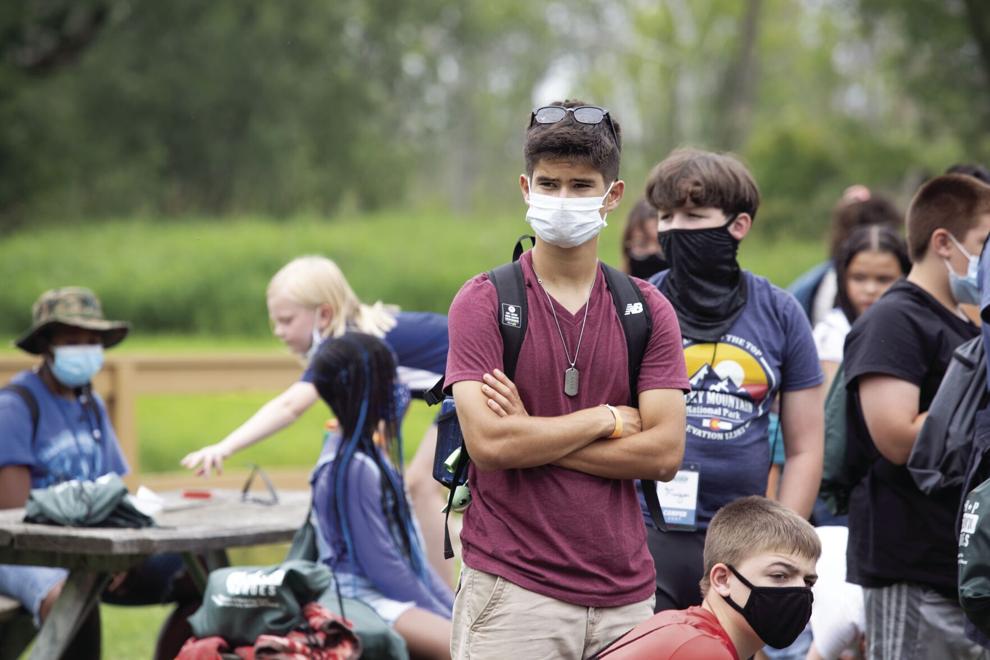 Trauma-Informed Care
The camp's initial goal was to simply offer campers the healing elements of a safe place and time to express their grief away from the expectations of family or schoolmates. But as more campers came, shared (or didn't), and came back again and again, staff realized that, in those myriad stories, expressions and experiences, new thinking emerged.
Gonzalez explains that, while they are united by the loss of a family member, some campers were infants or not yet born when the death took place. Others were really young, with limited memories of the person who died. And others were older or had experienced a very recent loss. "There are totally different emotions that come into play based on everyone's individual disposition and environment and support system," Gonzalez says, "but also just the timing of it, where you were at in life and who else you have in your family, as well."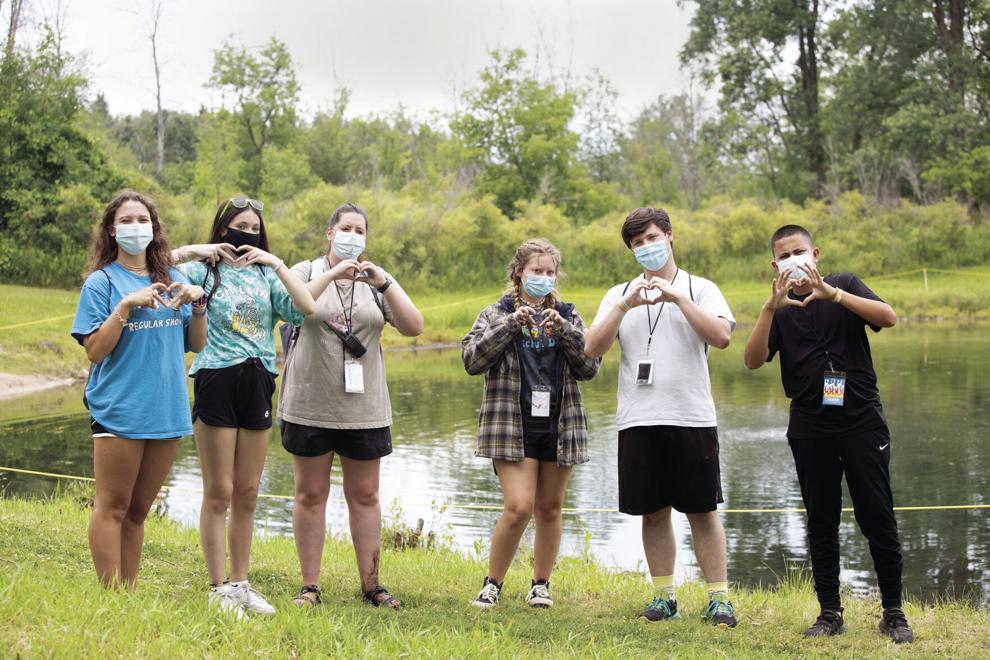 And so the staff leaned in even harder, observing each camper, absorbing each story, and soaking up every smile and tear. They didn't know it at the time, but what they were sowing organically had a name and a growing place in the mental healthcare field.
Trauma-informed care — evolved from the experiences of battled-scarred Vietnam veterans — acknowledges nearly all people have experienced some form of trauma in their lifetime, and process and internalize it in highly individual ways. Rather than trying to pinpoint specific symptoms and treat only them, this form of care offers an environment of support and healing that allows people to recover at their own pace and respects their individual boundaries. 
"Our kids are on their grief journey all year round — for their whole life really," Gonzalez explains, "but when they come to camp, things can be brought up more intentionally. … It's not all about us constantly talking about grief. It's OK to just be together, have fun and do activities that allow you to grow as a person, because that's important too. Your grief journey is not just related to the person you lost. It's related to where you are going to go from here. So it's focusing on setting goals and working on your own being and your relationship with your other guardians or family members."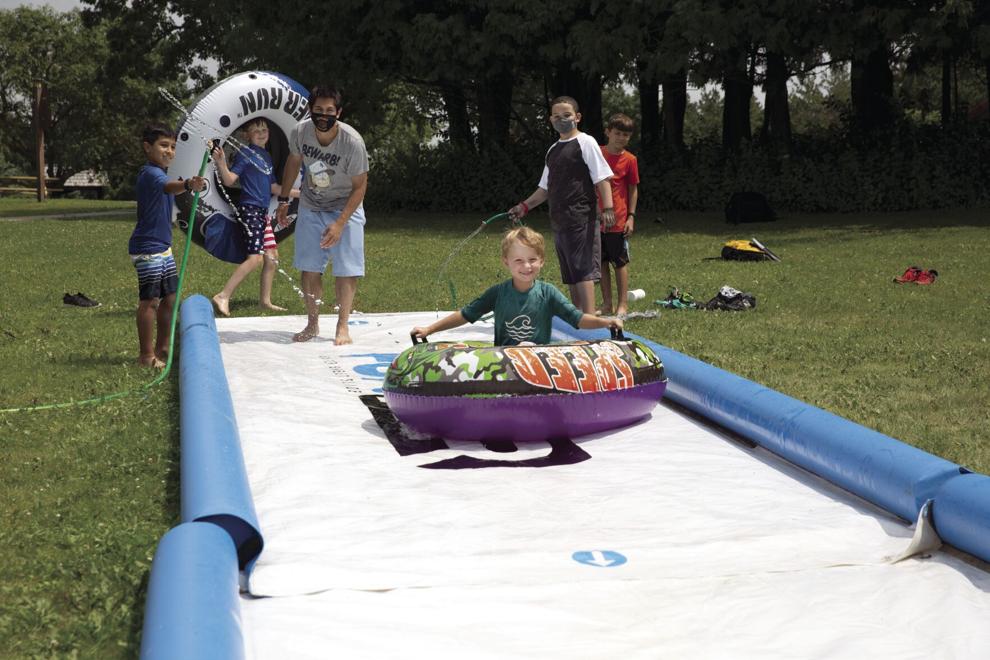 "We were doing that for years and we didn't even know," Paschke adds. "It didn't even have a title then. [The kids] get a chance to let it out, because it comes back if you don't deal with it. It's like a beach ball. You're in the pool and you try to push it down, but it comes right back up."
That resonates with program director Greg DeLeo, who joined the staff of Camp Hometown Heroes and Camp Reunite in spring 2020 with 13 years' experience running nonprofit camps on the East Coast.
"The mission of these camps really spoke to what I've always been passionate about, which is using the camping community and the environment to help heal and educate," DeLeo says. "I've never had one that was such intentionally focused on mental wellness. That's really important, especially with the last year and a half, when lot of kids have been isolated, and depression and suicidal thoughts are on the rise."
DeLeo also celebrates the camp's focus on the power of individuality.
"The community you build at camp is different than anywhere else, because you're living together, but the kid campers get a unique feel of independence here," he says. "I think that's important, especially now when they've been living on top of their parents for the last two years. 
"A lot of families worry about their kid being homesick or missing home, and I have to tell you," he chuckles, "I see rents get kid-sick much more often than I see kids get homesick."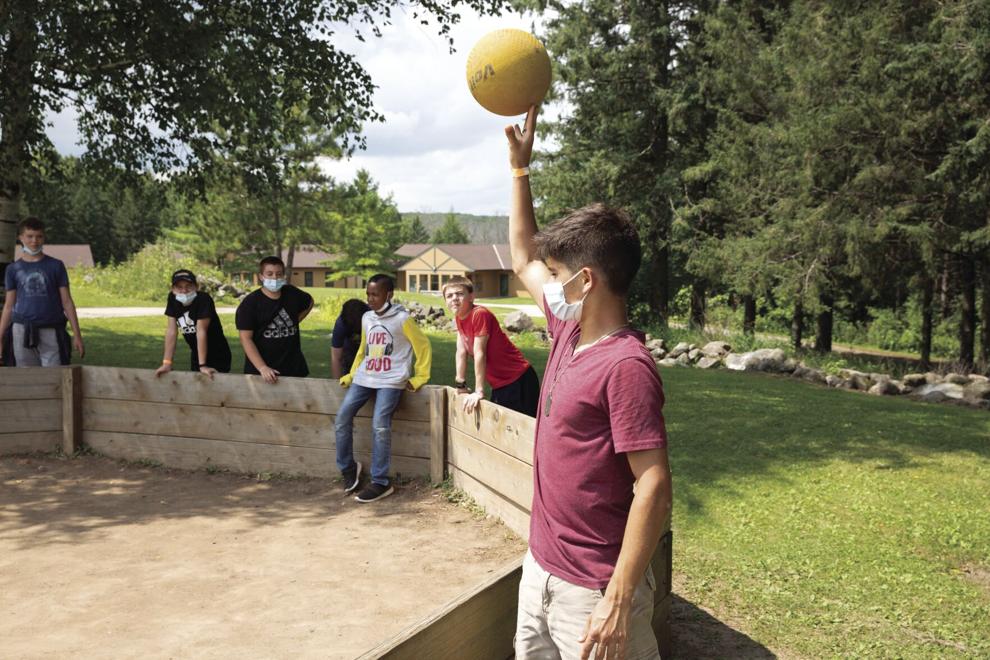 More Than Our Worst Moments
Come lunchtime, I sit at a table of preteen female campers from multiple states who are laser focused on the counselor-called performances they must give better than other tables to earn a prime position in line. An old lady with a cane (no luck). A beached fish (score!). They're not much interested in my questions when good food awaits, but they do describe their insta-friendships in a way adults can sometimes forget is possible. And they invite me to join them in their cabin for the post-meal "siesta time." 
For multiple reasons, it's tough to have to say no.
Later I join a group of older girls, who pass the time until their table is called by teaching their counselor, Lauren Lloyd, how to perform the "Cups" routine from the movie "Pitch Perfect." They are quick to remind me that they and their bonds go far beyond a shared form of loss. It's a message that speaks to the camp's mission and one that sticks with me long after I leave: We are far more than our most painful moments. 
Lloyd looks not much older than her charges but speaks with a calm maturity informed by her own traumatic stress, resilience and continued success.
"I grew up going to a bunch of different camps, trying to escape my own trauma, so I knew that that was one day what I wanted to do," she reflects. "I looked up to my counselors — they were my only form of real leadership — so I'm like, 'I'm going to be like them one day.' And I grew up to be like them."
Lloyd also works as a youth counselor with the Rosholt-based, grief-centered Camp Hope and with Summit Educational Association, a nonprofit corporation supporting economically disadvantaged inner-city Milwaukee students in achieving academic excellence and character development.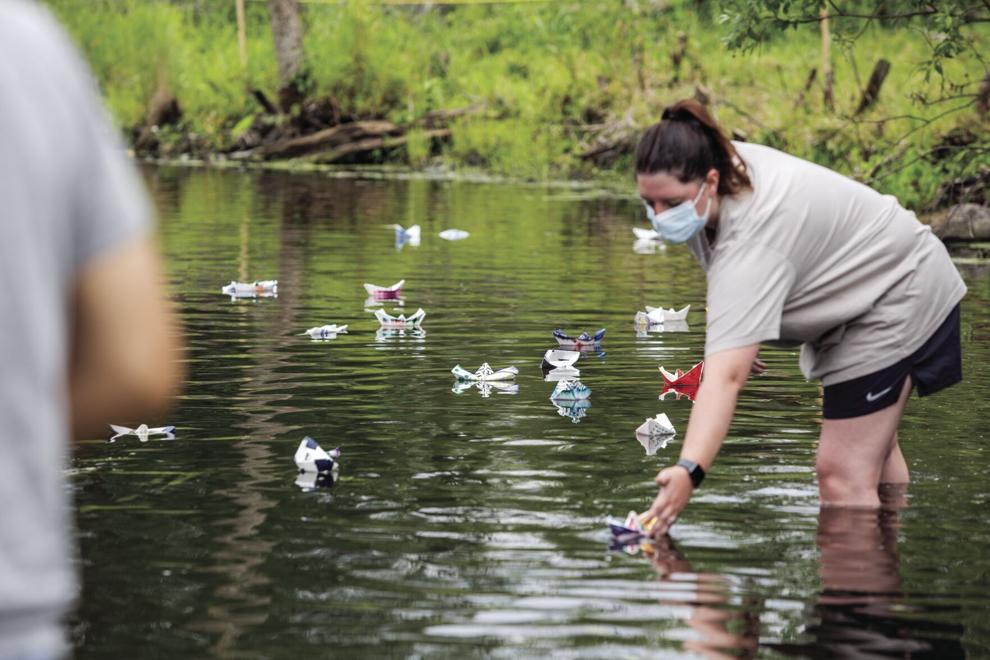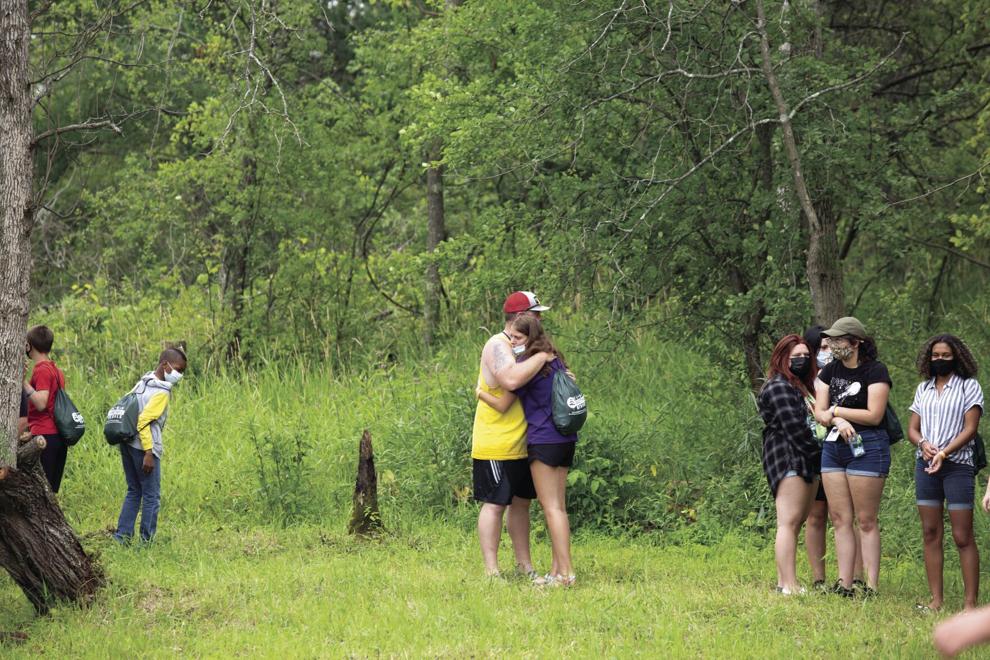 "Living in Milwaukee, I've dealt with a lot of kids who've gone through a lot of poverty and trauma, especially with working with Camp Hope," Lloyd explains of her interest in Camp Hometown Heroes. "The experience here as a counselor is so much more than just a job. I don't do it for the money. I do it for the experience that I get from growing with these kids, because
I can learn so much more from the kids than I can teach them. Even just the way they carry themselves — they want to be prepared and they want to be here and they want to make sure that they can do all they can to make sure they feel better.
"Most of all, I see the kids becoming more resilient, just forcing through all the drama, and I'm here with them. "
Like Lloyd and many of the counselors, Brian Linscott, the camp's special events and programs coordinator, comes to his role with a unique understanding of his charges. Linscott's own father died by suicide when he was young. First a member of Kyle's Korner, a Wauwatosa-based grief counseling organization for kids and families, Linscott went on to join the staff there and at the human services agency, SaintA.
At the opening campfire, Linscott says, he lets the kids see his fun-loving side before he introduces the activities that allow campers to express the tougher stuff by whatever means feel best to them — via art, writing, solo conversations. As the days go by, the campers become more secure in their environment and what they share with their fellow campers. And the staff better learns how to meet each child wherever they are in the grieving process.
While much of camp time is spent on typical activities — water play, creative arts, outdoor games and sports — there are also somber ceremonies such as the boat release. A most important one, and one that camp staff keeps closely guarded because of its solemn purpose, is the Honor Ceremony, at which the kids y homage to their lost family members. Campers decorate candles, then walk down a path lined with a flag for each child's loved one down to the pond and send their candle adrift.
"Our Honors Ceremony, that's usually where that comfort level really gets to our points," says Linscott. "Then kids feel much more comfortable. They're like, "All right, this is what we're all here for." Including the staff.
One evening, after the ceremony was done and Paschke thought all of the campers had returned to their cabins, she came upon a little boy curled into a ball beside the flags and shaking with sobs. 
"I just sat down next to him, because there's really nothing you can say, and they don't really even need that," Paschke recalls, her eyes welling with tears. "They just need the presence of somebody who cares. So we sat there for a bit and all of a sudden he jumped up and said, 'I'll be right back.' He came back with his sleeping bag and said, 'I just want to sleep by my dad!'
"I said, 'Honey, you don't have to sleep out here! You can take the flag with you,'" Paschke continues. "I have a picture of him lying in his bed, holding this flag as he's asleep. It's just that connection. They've lost that connection. And they may not have had a chance to grieve it. A lot of kids come here the very first year without having ever grieved it."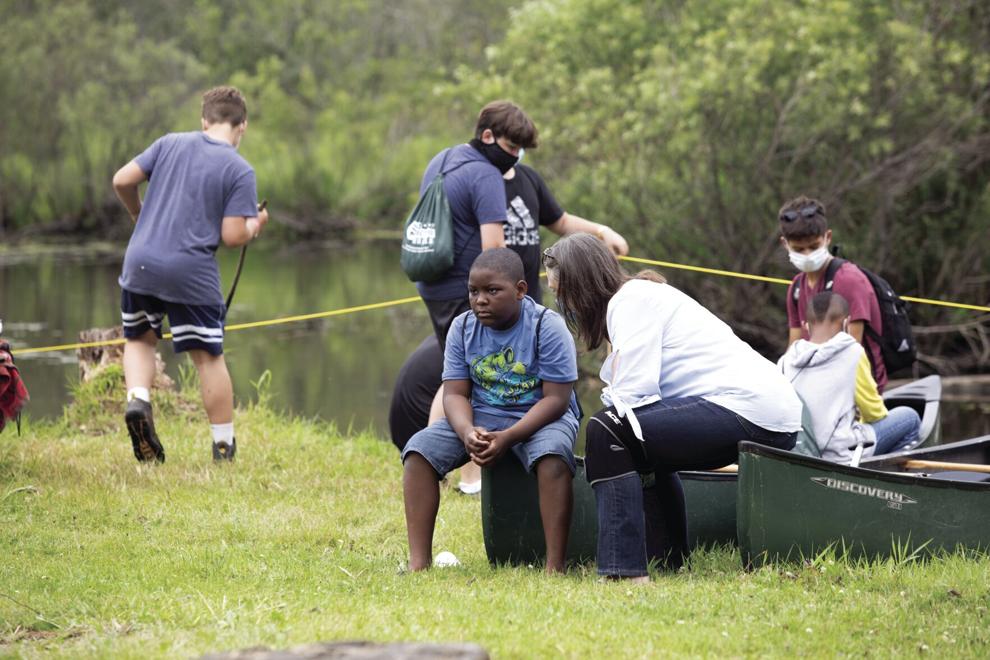 A New Form of Family
Though COVID-19 necessitated grouping 2021's campers into smaller cohorts to track any potential outbreak, campers are typically allowed to choose activities based upon their interests, rather than grouping kids by age or gender. This allows for more organic, neighborhood- or family-like interactions. 
Come time for the boat ceremony, the campers still meld back into one camp family.
I find myself beside Tanner, a Washington State high-school junior and fledgling YouTube content creator, who has changed from the pink one-piece pajamas they sported earlier in the day into plain shorts and a t-shirt for the ceremony, but keeps some color going with knee-high rainbow socks. They tell me they return to camp year after year for the "vibing" and plan to enroll at UW Madison when they finish high school — a goal born of their affection for the Maddie "Madison" Rooney character in the Disney Channel series "Liv and Maddie." 
Tanner says they're still figuring out who they are and who they would like to become in the future, but even in this short while, they display a clear knack for friendship and acceptance. They show me a hair tie around their wrist, a reminder of a younger friend at home who they are guiding through a period of self-doubt. And, when our conversation is over, Tanner moves easily from camper to camper, adult to adult, group to group, where everyone seems to know them.
"There is nothing we can do to bring the kids' loved ones back, but there is something we can do to help them heal from the profound sorrow of their loss," Willenson observes. "I am filled with both sadness and hope, especially during the Honor Ceremony as we y tribute to the fallen heroes, but I also witness the great resiliency and compassion of these remarkable children."
Resilience and compassion that is now wholly evident as each child quietly watches as their boat is slipped into the water, then return to their friends and head shoulder-to-shoulder into the woods down river to watch the little symbols of new bonds and an undying love sail onward. MKE
---
How You Can Help
"In these divided times, there are few issues that are unifiers," says Jim Kacmarcik, owner/president of Kapco Metal Stamping, "but it seems that helping children who have faced trauma is one that all can rally around.  Hometown Heroes was founded in 2008 with the goal of helping people in our community but also providing meaningful volunteer opportunities for people of all ages. And I am a firm believer that, when young people in particular, get involved in charitable endeavors, it can make a lifelong difference as they will likely become givers throughout their lives. I really am humbled by the support we receive each day."
Here's how you can find your place among heroes too, according to Kacmarcik:
• "At our facility, we welcome several corporate, student and non-profit groups who help clean, int and upgrade the facility."   
• "At our events, including the popular Grand Slam Charity Jam, we rely on dedicated volunteers to set up our auctions, welcome guests and serve in other capacities."
•  "As a non-profit organization, we could not exist without donors who make contributions of any amount. The children are provided the camp experience at no cost, as many are low-income." 
Learn more at camphometownheroes.org, turningrivers.org and campreunite.org