WORK FORCE DEVELOPMENT 
Rebecca Kleefisch, Associated Builders and Contractors of Wisconsin 
Rebecca Kleefisch spent eight years as lieutenant governor during the Gov. Scott Walker administration, but she also worked to be known as Wisconsin's "jobs ambassador." Now, after a 10-month stint as executive director of the Women's Suffrage Centennial Commission in Washington, D.C., Kleefisch is back in the state full time and has reclaimed her jobs ambassador title.
The rural Concord resident promotes careers in the skilled construction trades for the Associated Builders and Contractors (ABC) of Wisconsin's "Building Wisconsin Jobs" project. Kleefisch says she has been "very, very busy" since coming home from Washington, D.C. last September. Though she had hoped to take a breather, she heard from many people who wanted to work with her.
Kleefisch says she chose ABC, a national trade association representing nonunion workers, because "we both saw an unmet need. The need is to make sure that we have more workers who are qualified to do construction trades in Wisconsin. Today we have about a 7-month delay in construction projects in our state." Kleefisch adds that the delay is not due to a shortage of materials, but rather a shortage of workers with the right set of skills.
There are multiple reasons for the shortage of trade workers, but, says Kleefisch, "Perhaps the biggest reason is there are a lot of folks who don't realize how terrific these jobs are." About 30 years ago, she notes, there began a big push to funnel most students into colleges and universities. The college track, Kleefisch says, "is a really terrific track for some Americans, but not a perfect fit for all citizens." 
As college enrollment rates have risen to about 67 percent of all high school graduates, students in Wisconsin are graduating with an average student loan debt of about $31,000. That's one of the reasons Kleefisch recommends checking into four-year apprenticeships as a more cost-effective, but equally lucrative option. Much of the training is hands-on at construction sites, and apprentices are paid for that work. Fees for classes are relatively minimal, and once the apprenticeship is completed, the tradesperson can look forward to a job that pays well, often with earnings of $60,000 to $80,000 per year.
"This is a path to a debt-free lifestyle at a very, very young age," Kleefisch says. When she recently accompanied apprentice-trained trade workers to speak to students in Green Bay, they proved her point: "They shared with the kids that they were in their early 20s, and they'd already moved out of their parents' house and into their own houses. They had their own homes, beautiful trucks — and one was even building a place up north. It's the Wisconsin dream."
One that beckons both genders.
Kleefisch says that the trades can be especially good career choices for women who need flexibility in work schedules and people who are switching careers "because these jobs often lead to management opportunities or even owning their own companies."
And, she says, she appreciates that her role at ABC provides a new chapter that is also a meaningful extension of the emphasis she put on workforce development as lieutenant governor.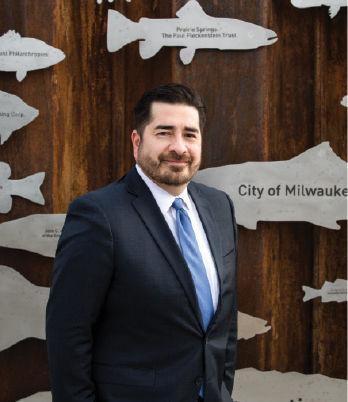 NEIGHBORHOOD DEVELOPMENT
Ivan Gamboa, Tri City Bank, WHEDA
When he's driving around Milwaukee with his four children, Ivan Gamboa can point with pride to places once left for dead that are springing back to life, thanks in large part to his leadership. 
A senior vice president at Tri City Bank, and appointed by two governors (Republican Scott Walker and Democrat Tony Evers) to the Wisconsin Housing and Economic Development Authority, which he chairs, Gamboa is a driving force for positive change throughout the city and the state.
The revitalization of Milwaukee's Harbor District, alongside Lake Michigan on the city's near South Side, is one of the most exciting development efforts now underway. Gamboa chaired the Harbor District board from its very first day until last summer and still serves as a board member. 
"The Harbor District has always been this hidden gem, with very limited access to the waterfront," he says, "and we should open it up to the community." So Harbor View Plaza, at the eastern end of Greenfield Avenue, opened in the summer of 2019. Gamboa and board members raised the funds to create the green space. At the plaza, neighbors and visitors can launch a kayak, let their kids romp in the play area, and watch the Great Lakes ships come in.
On the economic front, construction powerhouse Michels is investing $100 million in its new corporate headquarters on S. 1st St. in the Harbor District, on the site of the former Horny Goat Hideaway. Gamboa notes that Michels will bring family-sustaining jobs into the region along with its new headquarters. Japanese mining manufacturing company Komatsu will move its corporate headquarters from S. 44th St. and W. Greenfield Ave. to the former Solvay Coke site at S. 3rd St. and E. Greenfield with a new $285-million complex. 
"Whether the Harbor District was created or not, development would happen there," Gamboa notes. "What we're proud of is that we've created a vision that encompasses the neighbors and stakeholders who are already there."
In 2005, Gamboa helped to establish the Cesar E. Chavez Drive Business Improvement District, developing a budget so that business owners could work together to market the area as the destination for the city's Hispanic community. He also helped raise $40,000 to install a statue of Cesar Chavez, the Mexican civil rights leader, in the Supermercado El Rey pedestrian plaza in 2016. The BID partners with Journey House and the Zilber Neighborhood Initiative Clarke Square project to work toward neighborhood development goals. 
"I feel like there's going to be continued ways for new investment to happen in Hispanic communities, and that's a great opportunity for everyone," Gamboa says.
Education is a priority for Gamboa as well. He serves as board chairman of the Carmen Schools of Science and Technology, which include MPS non-instrumentality charter schools and a UW-Milwaukee charter school. With more than 2,000 students, Carmen schools include one elementary school, two middle schools and two high schools and are located on five campuses on the city's North and South Sides.
Gamboa volunteers his time for the Mexican Fiesta organization, including working at the annual event, noting that proceeds from the festival go to scholarships for Hispanic youth. "They have helped hundreds and hundreds of kids over the years," he says.
Vibrant businesses, solid schools, a variety of good housing options and neighbors united by common goals all contribute to strong communities. Gamboa works to bring all of those elements together.
"I've always been passionate about neighborhood development," he says, "and I do like to see change and I like to see opportunity open up where there wasn't opportunity before." — Nan Bialek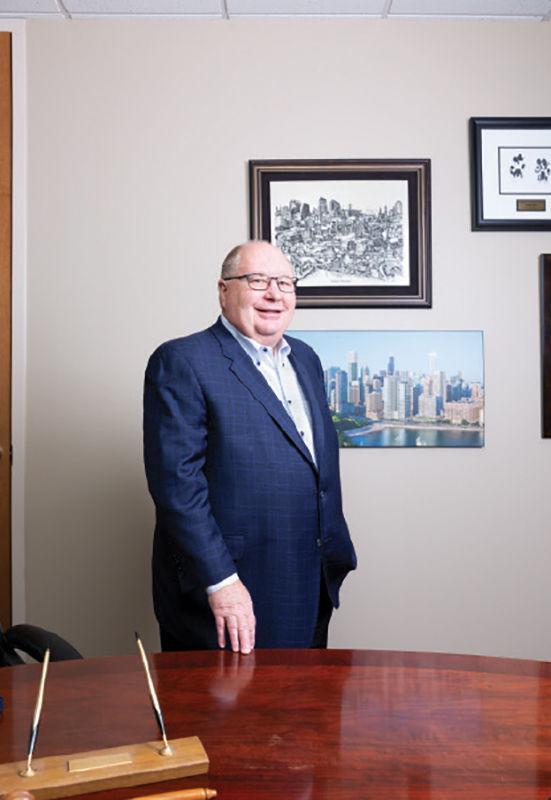 PHILANTHROPY AND BUSINESS DEVELOPMENT
Jim Mueller, mueller QAAS 
Jim Mueller is a trailblazer in the Milwaukee business community. Founder and CEO of mueller QAAS (pronounced Miller-CAUSE), an independent health care consulting firm, Mueller has developed a deeply personal vision over the years as a leader of six companies, including Zywave and Frank F. Haack and Associates. This vision shapes his business practices, as well as his numerous philanthropic pursuits and efforts designed to improve
the community. 
Mueller is a Milwaukee native who grew up in Wauwatosa, attending Wauwatosa East High School and graduating from UW-Milwaukee. He's passionate about the city he grew up in, which is just one reason he works so hard to improve it. Ask him his No. 1 reason, however, and he'll tell you it's because his children live here, and he wants them and his grandchildren to be happy and successful here so they remain nearby. 
Mueller's health care company's name encompasses his mission: QAAS — Quality, Affordability, Accessibility, Strategy. One of Mueller's strongest beliefs in the health care realm is transparency, which he says is difficult to find. People should be able to readily access information that helps them make good choices and keeps health care affordable. "If you make health care affordable, it will attract businesses here and keep them here," Mueller says. 
Mueller also champions gender equality in the workplace. "I have a high respect for and am grateful for women's commitment and work ethic," he explains, adding that women should have equal representation in the workplace, including equal pay, leadership positions and seats on the board. He cites Michelle Gass, CEO of Kohl's; Judy Falkner, CEO and founder of Epic Systems; and Helen Johnson-Leipold, chairwoman and CEO of Johnson Outdoors, as examples.
Racial equality in Milwaukee is another of Mueller's passions. He calls Milwaukee being named the most segregated city in the country both embarrassing and threatening to the city's sustainability. Mueller acknowledges that the problem is a systemic one, requiring many minds to help solve it, and lists Peter Feigin, president of the Milwaukee Bucks — "my personal hero" — as a leader in the fight. 
Mueller himself isn't afraid to speak out against the status quo to make Milwaukee an attractive, fair and inclusive city for all residents. He believes that too many leaders are complacent in the face of the region's challenges, and acknowledges his vision comes from a profound place. 
"It's not strategic. It's what's in the heart," he smiles. 
Because of his successful businesses and broad philanthropic work, Mueller is well regarded throughout the region. He's a partner in the women's leadership organizations Milwaukee Women inc, TEMPO Milwaukee and Professional Dimensions. To further increase his impact in the community, he mentors young professionals through 40 Under 40 and Waukesha Lions Club. Mueller is often an event host and speaker, and spreads the word at many of the events that he sponsors.
And he walks that talk. 
To spur entrepreneurship and a healthy workforce, Mueller has invested in at least 20 local companies, including the startup accelerator Gener8tor, and BookLive, an online marketplace for musicians. Many of his friends push him to invest in businesses around the country for a greater return on investment, but Mueller insists on keeping his support local. Milwaukee, he says, needs to thrive for his vision to be realized. 
"It's not going to be a great community if we lose all of our talented people," Mueller reflects. "If we work as a community now, progress will be made." — Craig Mattson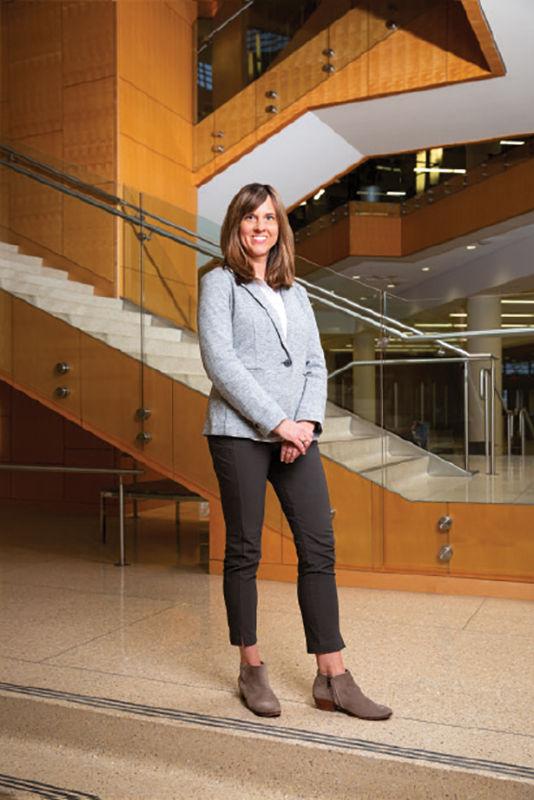 CIVIL LEGAL JUSTICE
Angela Schultz, Marquette University, co-creator of Lost in the Law
You've seen it on countless TV dramas: A soul on the wrong side of the law being informed that if he or she cannot afford an attorney, one will be appointed. 
But what if your legal issue is very real and isn't criminal in nature? Divorce or custody issues. Property or housing issues. Trouble at work, or an injury at someone else's hand. Issues that dramatically impact your daily life and wellbeing. 
No attorney will be appointed. And you have no idea where to even begin.
This far-too-common conundrum is the catalyst for Lost in the Law, a civil legal aid simulation "game" created by Angela Schultz, assistant dean for public service at Marquette Law School, and Mary Ferwerda, executive director of the Milwaukee Justice Center. 
Schultz witnessed firsthand the seemingly insurmountable legal quandaries suffered by women she worked with as a social worker at an Oregon shelter. She chose law school, she says, as a means to strengthen her ability to both serve unrepresented clients and to raise awareness of the nationwide dearth of civil legal aid resources.
A few years back, Schultz perused a listserv issued by Voices for Civil Justice — a communications, advocacy and resource initiative spotlighting inequities in the civil justice system — when she spotted a request for a legal aid simulation. She had participated in similar "walk in their shoes" activities during training exercises at the shelter, so the request held her attention. Summer was approaching. Schultz knew that her Public Interest Law students would have free time. So she reached out to Ferwerda to get the ball rolling.
"Mary and I said to each other that maybe this is the perfect time to start developing some of these characters, and then supervise students as they're doing the research and … developing the characters and the paths that those characters take based on factual information," says Schultz.
All characters have two things in common: they are low income and facing a civil legal issue. After that, each person and their situation is unique. Characters reside throughout the state of Wisconsin, navigating varied domestic challenges, job and housing markets, potential language barriers, access to transportation and local social assistance programs.
"You always have two or three choices as you move through the game," Schultz explains. "They're rooted in our own experiences in working with clients on a daily basis, and how people are shuffled around and try different things and get lists of places to call. And then are told to call other places."
To buck a stubborn perception that employment equals financial ease, nearly all of the characters work part-time or full-time jobs  —  jobs that are often threatened or lost when illness, injury or other life circumstances intervene. Schultz cites a sick child as an example. "If you don't work for just even 10 days, how are you going to pay the rent?" she says. "And now you're facing eviction. … People in the game are also faced with things like, 'I was just second in line to see this free lawyer, and now I'm getting a phone call that I have to run and get my kid.' That stuff happens in the game quite a bit."
Schultz admits that developing the characters to their satisfaction took longer than she and Ferwerda, who also welcomed input from Legal Action of Wisconsin and Wisconsin New Leaders Council, expected. "You want each character to be accurate, and you don't want anyone to end up at a dead end," she explains of the yearlong initial process. "When you're writing that volume of [characters and situations], there are going to be errors."
The pair debuted Lost in the Law in March at the Wisconsin Equal Justice conference, where 80-plus people in the statewide civil legal aid universe played, offering insight and encouragement. "The comment that totally stuck with me was a legal aid provider somewhere in the state who wrote on their feedback form, 'I always tell people that they'll get an appointment with our office in two weeks. When that happened to my character, I felt how that timeline feels,'" says Schultz.
Schultz says Lost in the Law will likely always be a work in progress. "We don't have a character who is facing a veteran's law issue. That needs to be developed," she notes. "We don't have a character who's a member of a federally recognized tribe in Wisconsin who's in Tribal Court. We don't have someone that is struggling with addiction."
What she does have is a robust, person-centered tool to share with others who want to reinforce that practicing law is above all a "helping profession."
"I want every single graduate from Marquette — whether they've done pro bono work here or not — to walk away with some basic understanding about how there are millions of people who are struggling with poverty right here in the state of Wisconsin and what we as lawyers can do for people who need our help," says Schultz, who, along with Ferwerda, was named a 2019 Legal Innovator by the State Bar of Wisconsin. "There's a lot of need that lawyers can help with and programs that can help any lawyer be a helper. If people just know that, I feel like we've succeeded."  — Lori Acken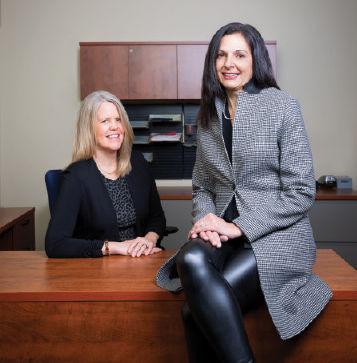 YOUTH MENTAL WELLNESS
Amy Lovell and Brooke Talbot, REDgen
Read the headlines, watch the news or simply live with a teen and you know that the risk is real. 
According to a 2017 Youth Risk Behavior Survey, about 16 percent of Wisconsin high school students reported suicidal thoughts, attempts and/or related injuries. About 27 percent of students experienced symptoms of depression. Countless more likely suffer in silence.
That's why Amy Lovell and Brooke Talbot are fighting for mental wellness with all their might. Lovell, board president of the local nonprofit REDgen (Resilience through EDucation for a new generation), and Talbot, the organization's executive director, understand the importance of making wellness part of a school's overall culture. 
REDgen's student-led chapters in local middle schools and high schools advocate for health and wellness and work to reduce the stigma that is often attached to mental illness. "We know that when students are struggling, they go to each other," Talbot explains. "And when their power is to be change agents, that's really when the culture starts changing."
Students in REDgen chapters create activities focused on specific areas of wellness, because education is essential to building the lasting ability to cope with daily pressures and to prevent mental health crises.
Lovell notes that REDgen's educational efforts include community outreach, such as a noted speaker series co-sponsored by University School. On March 16, and in partnership with Daniel Goldin of Boswell Books, New York Times best-selling author Lori Gottlieb will speak at a fundraising luncheon for REDgen. Gottlieb, author of "Maybe You Should Talk to Someone," is a psychotherapist and columnist at The Atlantic.
REDgen is also organizing a "train the trainer" event featuring the Circle of Security, a protocol designed to strengthen the attachment between parent and child from infancy through adulthood. The protocol is based on the idea that strong connections with caregivers from a child's early years will build a solid foundation for wellness. Dr. Neil W. Boris, a specialist in infant psychiatry, will lead the training from April 28 through May 1. Both Lovell and Talbot have been trained as Circle of Security facilitators and are excited to bring it to this area.
Lovell explains that REDgen was developed in response to a teen suicide, and its emphasis is on prevention. Talbot adds that the symptoms of mental illness in youth can often present themselves as physiological problems such as headaches, and that lack of sleep and poor nutrition may also affect a young person's mental health. 
That's why, Lovell stresses, it is important to take a holistic approach to health and wellness. In partnership with her husband, Marquette University President Michael Lovell, Ph.D., Lovell has also been instrumental in raising the profile of "trauma-informed care," through the trauma-recovery program SWIM (Scaling Wellness in Milwaukee). She says trauma can exacerbate mental health issues, particularly in families struggling with poverty. 
As part of the program's launch, Lovell brought pediatric trauma expert Dr. Nadine Burke Harris to Milwaukee to speak about resilience, an event that drew in 800 people.
"If you are well-resourced and dealing with mental health, it's a long, hard journey," Lovell points out. "If you're having trouble putting food on your table and paying your rent, mental health is really, really low on the list. We're trying to elevate a lot of the great work that's being done in the community, as well as to connect people to one another."
Because, the women agree, strong relationships, vibrant local resources and support from family and friends help young people build a culture of wellness that will help them through the tough times now and into the future.
Says Talbot, "It's not avoiding difficult things in life, but having the foundation and resilience to go through those and grow through those." — Nan Bialek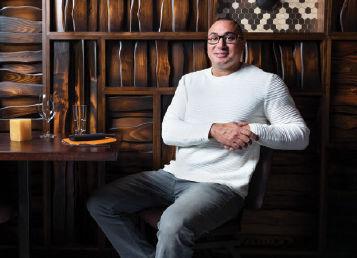 HOSPITALITY AND BUSINESS DEVELOPMENT
Omar Shaikh, SURG Restaurant Group, VISIT Milwaukee
If you're wondering what might become of the downtown development and region-wide momentum that has sprung up around the arrival of the Democratic National Convention after the show leaves town, Omar Shaikh has a simple answer: Even greater progress. 
"Everyone's talking about the DNC, but in August and again in 2021, there is the U.S.A. Triathlon [Age Group National Championships]," Shaikh says. "And now we're talking Ryder Cup, which will probably have as big of an economic impact on Milwaukee as the DNC, because people fly in from around the world to come to the Ryder Cup." And, Shaikh reveals, more conventions are knocking loudly on Milwaukee's door. 
Three years ago, the popular restaurateur — whose reputation for synergy and creative problem solving has earned him a place at the table in myriad ventures — took over as VISIT Milwaukee's board chairman, building his own team with an eye toward citywide partnerships. Mission No. 1: Resolving the organization's then-fractious relationship with the Wisconsin Center District (WCD), a sleeping giant in the heart of the city. Shaikh joined the WCD board and spent a year learning the inner workings of the district. Another year spent searching for the district's new CEO culminated in the hiring of Marty Brooks, a veteran facilities manager who previously helmed Madison Square Garden.
"[We needed] somebody that has national relationships with the big companies that bring all the business," says Shaikh, calling Brooks' alliance with VISIT Milwaukee's new CEO Peggy Williams-Smith "a true partnership." 
In the meantime, Shaikh teamed with Metropolitan Milwaukee Association of Commerce's Senior Vice President of Governmental Affairs Steve Baas, former MillerCoors GM and Convention District Board Chairman Jim Kanter and Buddy Julius of The Firm (the same lobbying group that helped the Bucks land the Fiserv Forum) in negotiating a $300 million upgrade and expansion of the Wisconsin Center District campus, which includes the Miller High Life Theatre, UW-Milwaukee Panther Arena and the Wisconsin Center. The effort will double the size of the center, create additional hotels and bolster new and existing businesses in the area.
"Now we're talking about continued billions of dollars in ancillary development happening because of the Convention Center completion — all west of the [Milwaukee] river," Shaikh says. "That means more conventions. That means that more visitors coming in here to support our restaurants, hotels, transportation and retail. … We have to embrace these visitors to come and pay for infrastructure. And hopefully they come here and they fall in love with the city and they move here. That's the goal.
"Right now you're seeing a lot of development. You're seeing some cranes in the air, seeing a lot of amazing things happening, but we don't have a tremendous amount of population growth," Shaikh continues. "Not enough people talk about that. … We need more people moving to the city."
Shaikh is also spearheading the 3rd Street Market Hall food hall, part of The Avenue development located in the former Shops at Grand Avenue. The venture caters both to new business development and Milwaukeeans' ever-increasing appetite for new ways to satisfy theirs. 
"I really believe that food halls are the wave of the future, if you will, for dining," says Shaikh. "Restaurateurs don't want to spend $1 million anymore to open a restaurant and hope they get the money back. You can go in for a 10th of the amount of money to open a place, run your model lean, have instant traffic come to it, and be able to pay back the investment a lot faster and make money."
For any lingering doubters of Milwaukee's lasting revitalization, Shaikh points to Denver, which hosted the DNC in 2016.
"Ever since the DNC came there, their convention business has been on an upward trajectory," he says. "What it does for a city, it's real, and we're definitely going to prosper because of it." — Lori Acken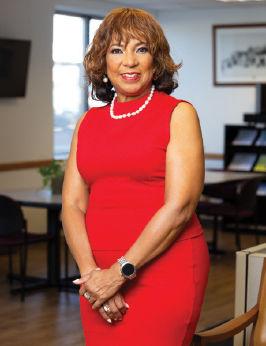 DIVERSITY AND BUSINESS DEVELOPMENT
Dr. Eve M. Hall, President and CEO of Milwaukee Urban League
The National Urban League formed 110 years ago to foster economic empowerment, educational opportunities and social justice for African Americans migrating from the south to the north, east and west for a better way of life. Today that organization has grown into a national nonpartisan, nonprofit organization with 90 affiliates across the nation, primarily in major metropolitan areas, including right here in Milwaukee.
Milwaukee Urban League (MUL), which just celebrated its own centennial, is helmed by president and CEO Dr. Eve M. Hall. Hall, who took the position three years ago, brings with her a wealth of knowledge accrued from a wide-ranging career that took her from classroom teaching to various non-profit, public affairs and lobbying roles to serving as President and CEO of the African American Chamber of Commerce of Wisconsin. 
"The African American Chamber of Commerce really helped to round out all of my experiences by helping me to truly understand the journey of the entrepreneur," Hall says of fully grasping the courage it takes to start a business, the ebbs and flows of being a business owner, and the importance of businesses being open to contracted positions. Hall used those lessons to fuel her work with Milwaukee Urban League, a national organization with affiliations in nearly every major city. On a national basis, she explains, the Urban League sets goals for improving housing, education, employment, entrepreneurship, health, social justice and civic engagement. 
"Here [in Milwaukee] we've identified education and employment as our main thrusts to actually empower and create economic vibrancy in the African American community and other underrepresented communities," Hall says.
In an effort to fulfill that mission, MUL offers multiple resources. Driver's permit classes help individuals gain their independence and their ability to easily get to jobs and interviews. A computer room provides the assistance and technology needed to fill out applications and polish resumes. Career counselors assist adults in finding employment and students with college, career and life-readiness. Most recently, MUL partnered with local high schools to offer soft-skill training, exploratory internships and other means to help young students plan for their future. 
"We know that in high school, students are making decisions," Hall says. "So we're actually focused, in this case, on students who aren't quite sure what they want to do. We want to provide some opportunities for them to just think and explore where they may want to land."
Hall notes that MUL works with all ages, ethnicities and experience levels and adds that many skilled individuals debate whether or not to stay in the area because of limited opportunities. But Hall believes younger generations are the key to impactful change. 
"I believe that the generations now, especially millennials and Gen X, really understand the importance of diversity," Hall reflects. "I don't think that they see as many of the walls and barriers that have oftentimes occurred in the past. So, I quite frankly have a new excitement and optimism about where the city can go, just as I'm watching different people coming together to really discuss what it's going to take to move this city. The Urban League wants to be a part of that. We want to help move the status of being one of the worst places as an example for African Americans. And as we become more and more active in this city on all levels, I believe that we can help do that."
Hall also credits productive partnerships with major corporations, foundations, volunteers, other non-profits and the United Way in advancing the MUL mission. She also works with Employ Milwaukee, a local organization that connects job seekers with appropriate employment opportunities.
 "Our message, I believe, is beginning to galvanize a new energy about the importance of us working together," Hall says. "We are interdependent. We can grow phenomenally as a city downtown, but if others are not reaping some of the rewards and opportunities, there is no way that we can sustain our growth if the gaps continue to persist.
"I take this as an honor and a privilege to run the Milwaukee Urban League," Hall continues, noting plans to expand the organization, upgrade its offices and work with additional outreach centers throughout the city. "It's is a platform that has allowed me to meet people that I may not have ordinarily met, and has helped me gain an appreciation not only for many of the CEOs and presidents and nonprofit leaders in our city [and] state, but also the community leaders and youth that are really trying to do their best but so often go underreported. Having the ability to see them and to promote them, so that the message becomes more about what we have, and that we're coming from a value-add versus a deficit base. This platform allows us to focus on the positive."  — Nicole Bell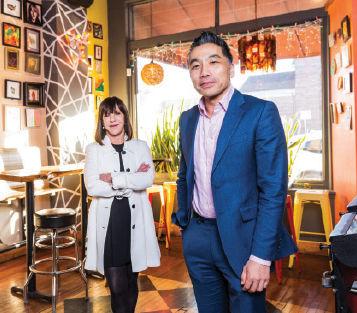 ARTS AND CULTURE
Katie Heil and David Lee, Imagine MKE
One of the region's most ambitious cultural efforts began with a few sobering statistics.
Local philanthropist Katie Heil and her family have long loved and supported art and culture throughout Milwaukee, and Heil knew well that proper funding presents a continuous challenge. She did not know just how dire the situation was.
"We have rich arts and culture here and amazing groups, large and small, across all mediums that are doing great things — but we are one of the largest cities without an agency or an Office of Arts and Culture," says Heil. "I didn't really know that until I saw some of the studies by the Public Policy Forum about the sustainability of the sector. We're 48th in funding for the arts and that philanthropy."
At the time, Heil worked on community building with Radio Milwaukee, Milwaukee Film, Milwaukee Repertory Theater and Greater Together. And, slowly but surely, she realized the potential for a much greater good if all worked together. "In so many meetings, I was going, 'Wait a minute, you've got to talk to so and so,'" Heil recalls. "Everybody's working really hard in their space, and you just don't have the time to check what's going on out there."
She decided to make the time. Imagine MKE, an innovative coalition to advance local arts and culture as a catalyst for social and economic betterment, began to take shape. 
Heil had learned about the concept of collective impact — uniting multiple sectors in a structured and collaborative agenda to solve specific social problems — from a lecturer at UWM and thought it might be the ideal backbone for a collaborative with both the arts and culture community and the community as a whole at its heart. She spent a year bringing together as many people as she could, from the city's major arts organizations to individual artists to United Performing Arts Fund and Milwaukee Artist Resource Network to VISIT Milwaukee, the Greater Milwaukee Committee and the Metropolitan Milwaukee Association of Commerce.
"It took a lot of time to get everybody pointed toward a north star," Heil says. "But everybody realized that we do have a systemic problem, and we have to work together as a system to solve it."
To her delight, an exhaustive nationwide search for the right person to serve as the organization's CEO ended right here in Bay View. Immersed in the arts since he was a teen, David Lee worked as an actor, director and filmmaker on both coasts. At the same time, he stumbled upon a passion — and a knack — for nonprofit work and community relations. His Imagine MKE role, he agrees, seems tailor-made to those passions.
"The value of having an arts education and a life connected with the arts is not that we necessarily create more artists and more filmmakers and more dancers — although we might — but that we create more creative problem solvers, and engaged and curious citizens," says Lee, who officially took the reins in June of 2019, and immediately got to work on outreach and overseeing a quartet of work groups.
"We have really ambitious goals," Lee continues. "It's not just creating and promoting more of the great art that's happening in our city. We are trying to literally move and change and create population-level impacts at the city level. And in order to achieve our results, no one organization, no one artist, no one person can do the things we are setting out to do — which is really to create a thriving, vibrant Milwaukee that's economically viable, that's socially inclusive, and that has art at its center."
Lee says research is clear that neighborhood public art and art resources foster community identity, togetherness and ownership, whether residents are active participants or just smile as they pass a new or favorite mural. The challenge is to make every resident genuinely feel the quantifiable impact of the region's arts and culture landscape. "We're trying to wrap our heads around that on a staff side — how do we measure that?" Lee says. "Because I think that's interesting, and that gets interesting particularly for our elected officials. … Whether it's a public mural or whether it's "Hamilton" coming to the [Marcus Center] or if it's a play at the Rep or "The Nutcracker" at the ballet — how does the person on the bus feel that improves their lives? Once that person feels that that Milwaukee is also his Milwaukee, then we're really cooking with fire."
A fire he hopes will be fanned by the coming national spotlight afforded by the Democratic National Convention. "We have a real opportunity to activate the arts and cultural world while there's 19,000 press in town and the world is watching," says Lee. "But there's this other piece, which is really about how our city's artists, business leaders, civic community and arts organizations are coming together to write an optimistic future and how we're moving forward together."
— Lori Acken MKE