For most families, work-life balance seems to be a daily adventure of balancing on a log tumbling down a fast-running river: always trying to maintain some sense of stability while taking quick glances ahead to see what's coming.
For working professionals, that feeling can be multiplied with constant stressors from busy or demanding jobs, family commitments, long-term goals and a flood of requests for time and attention from multiple sources in today's hyper-paced world.
We visited with a handful of Milwaukee's most connected and impactful couples to find out how they make their relationships work, what attracts them to Milwaukee, how they maintain equilibrium, and some of their tips on staying grounded.
---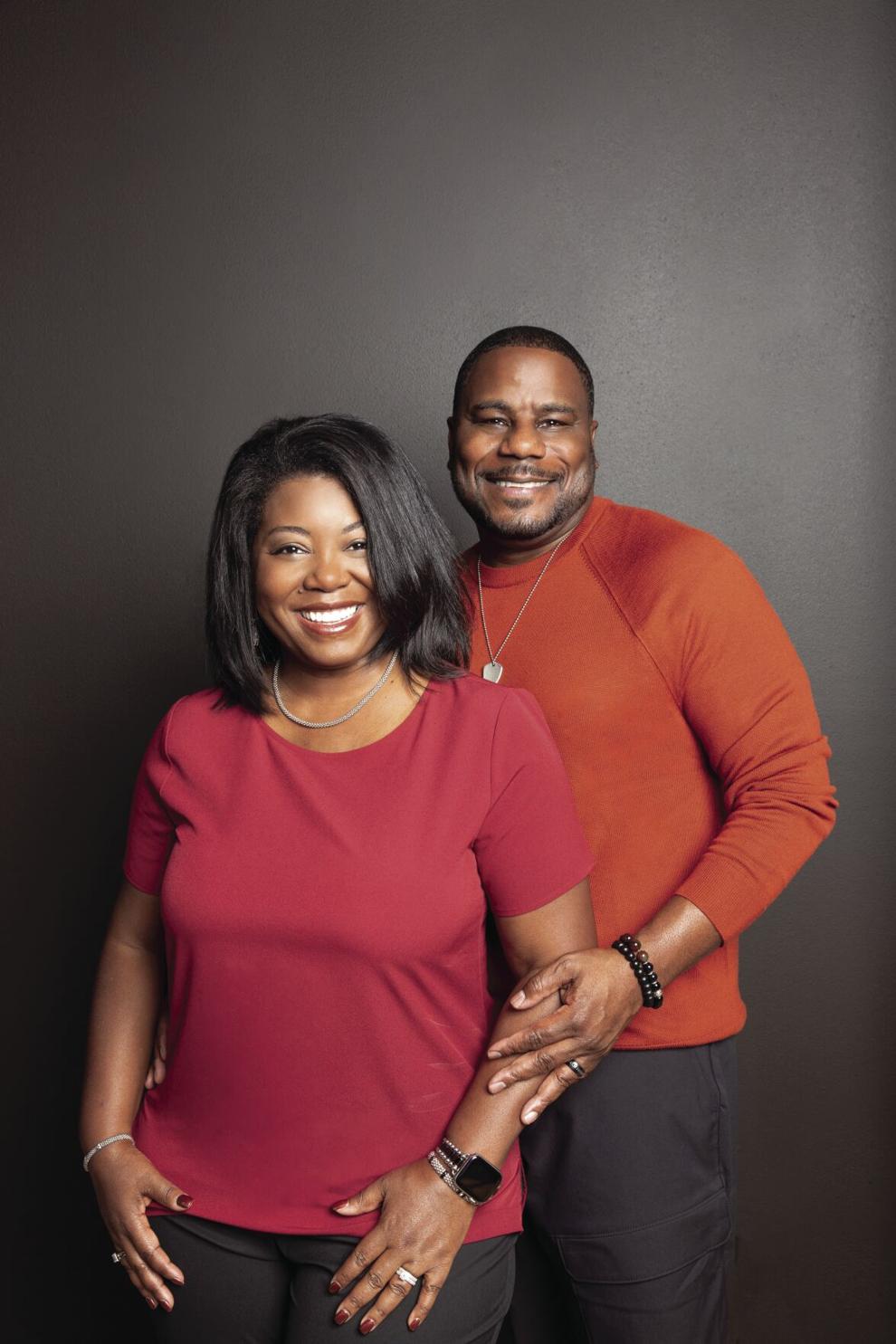 ANGELA & RON
Angela and Ron Adams are proof it's possible to succeed in meaningful careers and hold family at the center of their world. A treasured tradition at the Adams' Thanksgiving celebration, for example, is to go around the table with their son and three daughters "and each person has to tell everyone at the table why they are thankful for them," says Ron.
"And we do that on birthdays for the individual," adds Angela. "We have a lot of laughter and a lot of feel-good tears in the process, but our family has grown to be super close-knit." 
Clear sightlines: Ron considers their family vision statement as "the North Star for us, and our children know it, they embraced it on their own: 'Our descendants — each generation — will start higher, go further, achieve more, and stumble less than their predecessors.' We measure every move against that."
Growing together: At the crux of their relationship is a willingness to give each other grace. "Our faith is at the center of this," explains Angela. "We knew we'd have disagreements, and we decided that instead of focusing on what the other person did wrong, we'd focus on what is required to be a friend and a partner in this moment." 
An evolving city: Angela believes Milwaukee is "changing and evolving in an incredible way," she enthuses. "It's been rare to see so many leaders coming together in a shared voice around inclusion across the board and diversification of leadership. We've got work to do and a long way to go — there are definitely too many disparate situations across the city — but I'm most encouraged that we are having courageous and bold conversations. Moving from talk to action, I see some early stages of that."
On Milwaukee rising: "I'm excited about the evolution of the city's brand and how cool it is to be a part of that," Ron says. "To attract talent to this city, corporate leaders have to create an environment that would make people want to be here. I know people are serious about that, because I'm in the room with them and they're wrestling with what is the right thing to do."
Military honors: A highlight of Ron's more than 30 years of military service was the day he received the Gen. Douglas MacArthur Leadership Award from the MacArthur Leadership Foundation, and Wisconsin's top generals flew to Washington, D.C. to celebrate with the family. Angela's extensive volunteer work with service members and their families under Ron's command was honored with the Wisconsin National Guard Partnership Award. 
Passing it on: Both Ron and Angela are excited about the influence their mentoring work can have on young lives. "I try not to focus so much on awards and career accomplishments," Angela says, "but to be the first African American in the C Suite for the over 100-year organization in Milwaukee and the largest Goodwill in North America says a lot. It models the way and shows how representation matters and inspires. It's a beginning, it opens the door for so many others." — Nan Bialek
Ron Adams
Vice President, Field Diversity and Inclusion, Northwestern Mutual 
Angela Adams
Chief Communications and Diversity Officer, Goodwill Industries of Southeastern Wisconsin and Metropolitan Chicago
---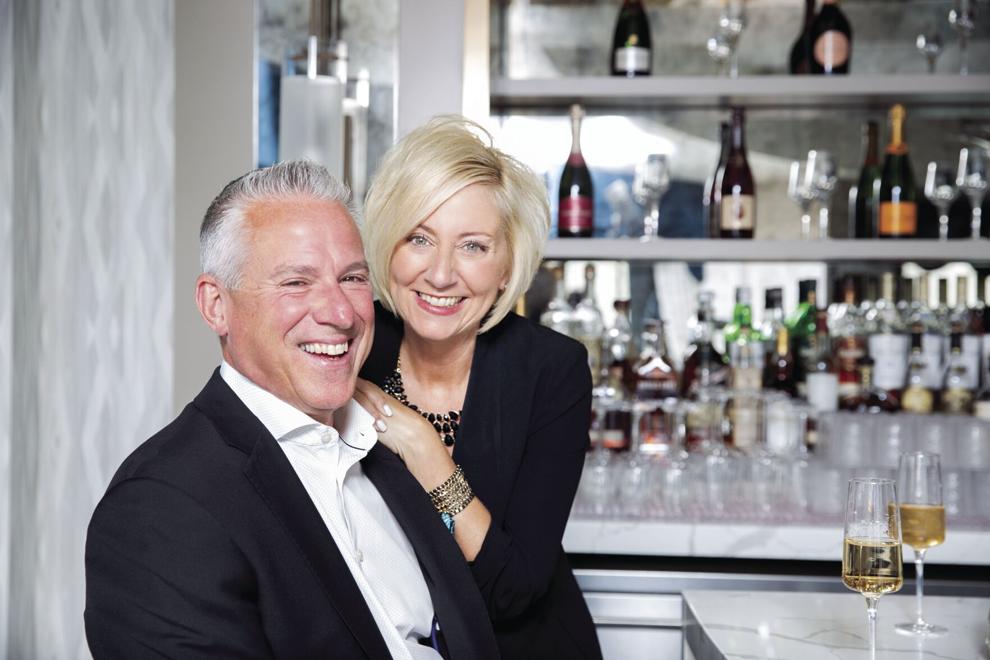 PEGGY & TIM
Long story short: Peggy Williams-Smith and Tim Smith "weren't exactly each other's biggest fans" when they met at work (the Hilton Milwaukee City Center) in 1997. But, like a rom-com storyline, they got past those initial impressions and started dating in 2001. By Thanksgiving weekend 2005, they were exchanging wedding vows.
"Before our niece [19-year-old Jocelyn] moved in with us, we'd typically take a quick weekend trip to celebrate both the holiday and our anniversary," they say. "Now we spend it as a family, either with Peggy's dad here in Milwaukee or with Tim's dad and his girlfriend in Ormond Beach, Florida. Our niece definitely prefers Thanksgiving on the beach."
Together time: "While it may not be an official or traditional date night, we try to make sure we have time alone together at least once a week," they says. "This can range from golfing nine holes on a Saturday followed by dinner, going to a sporting event to watch our exciting Milwaukee sports teams, or seeing a show at one of the city's incredible entertainment venues."
Nights out: "We love to eat at the many amazing restaurants that Milwaukee is fortunate to have, in addition to supporting local charities by attending their events, which make for the best date nights," Peggy says.
Home base: "We lived on the East Side for 15 years before moving to Greenfield in 2018 to allow our niece to finish her school years in the Whitnall School District," they say. "She's now a freshman at UW-Milwaukee, so we're considering a move back downtown."
Living in the city: 'There's so much to love — the walkability, the big-city amenities without the three-hour traffic jams, the cleanliness, and the fact that everyone knows each other," they note. "We can't forget to mention the amazing culinary talent we have in the city, the quality of our performing arts, the ability to attract major companies to our region, Summerfest, State Fair and the rest of our festivals, Potawatomi, the County Parks, the ease of our airport, the fact that we're a sports city and home to the Bucks and Brewers, we're a college town and so on …"
Looking ahead: "There's so much to be excited about regarding Milwaukee's future," the couple enthuses. "As we're both in the hospitality business, the expansion of the Wisconsin Center is something we're looking forward to. It will increase awareness of our city as a meeting and convention destination." — Nan Bialek
Tim Smith
Managing Director and General Manager, Pfister Hotel and Saint Kate The Arts Hotel
Peggy Williams-Smith
President and CEO, VISIT Milwaukee
---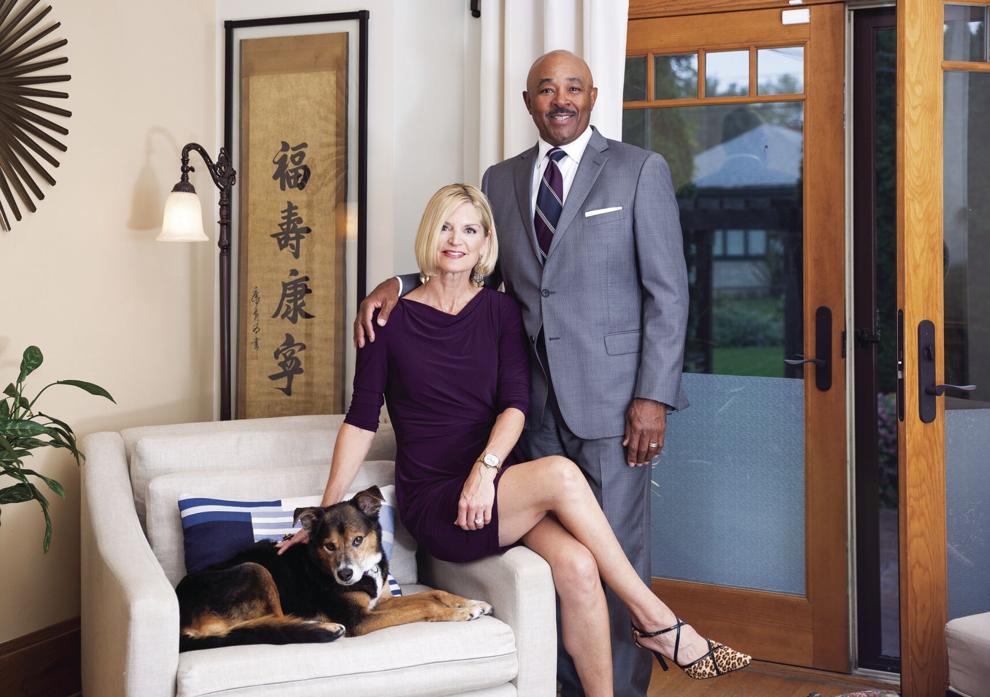 LAURA & PRESTON
A fundraiser 21 years ago for La Causa at the former Pieces of Eight restaurant was the locale of the first meeting for Laura Lutter and Preston Cole — Laura planned the event, and Preston dressed up as Santa Claus. The couple hit it off and married in 2004 at the Milwaukee Courthouse. They celebrated the happy event with a dinner at the Lake Park Bistro, the site of their first date. 
Today, they make their home in the Story Hill neighborhood, where their local "go to" restaurant is Story Hill BKC. The Coles have two children: Darren, 36, and his wife Kate live in Boston; Addison, 32, and her fiancé, Kris Zaire, live in Houston and plan to marry in February. The couple also has a 10-year-old dog named Foxy Brown (who insists on being called by her full name). "We have raised two great kids and we're quite proud of them," Laura says. "Sometimes, we look back on our lives and we have to pinch ourselves. It's amazing."
Enjoying down time: Preston and Laura spend time together in their flower garden and, when time allows, they like to hit the links. "During the pandemic, golf has been one activity that we could get out and enjoy safely," Laura says. 
A holiday tradition: For the past eight years, the Coles have attended the Pfister Christmas tree lighting followed by a dinner out with friends and family. "It really kicks off the holiday season for us," Laura says.
Proud accomplishments: Preston and Laura agree their children are their happiest legacies, adding their careers — and the support they give each other — give them a sense of accomplishment and pride. 
Milwaukee moving forward: "We love to see how much this city has grown," Preston says. "There's a large group of professionals committed to making our city a great place to live and grow," adding they agree that the city's greatest strength is its 190 diverse neighborhoods. — Ben Merens
Laura Lutter Cole
National Account Executive, VISIT Milwaukee
Preston Cole
Secretary, Wisconsin Dept. of Natural Resources
---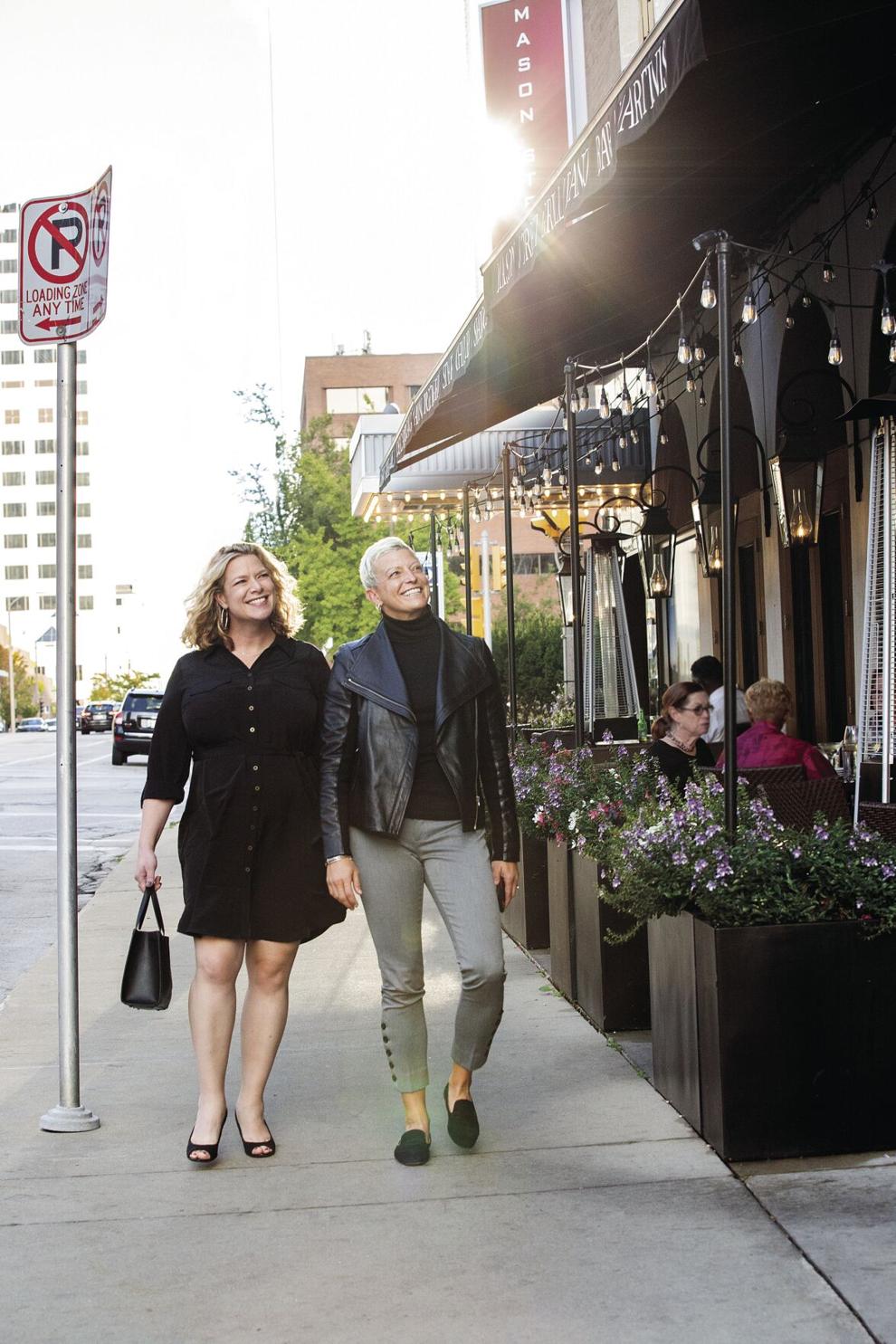 ANGIE & EMILY 
They met at a leadership event organized by Baird, and soon realized they were right for each other. That's because Emily and Angie Phillips, married three years ago, have much in common, including their work to make Milwaukee a more inclusive city.
"Who you go to brunch with, hire, play golf with, vacation with, talk to on a regular basis — essentially the people in your circle — comprise a person's diversity," they say. "And for us, if we audit it and it is too homogenous, then we are not living an inclusive life." 
On making time for friends: "You can't attend every gala and networking event, and frankly, no one expects you to. So get really good at polite and diplomatic 'no' responses so you have the ability to be fully present with family and friends regularly," Angie advises.
Making time for each other: "Angie runs a tight ship when it comes to the family calendar," Emily explains, "and we are very good about boundaries and alone time. There are weeks where business travel and external engagements are higher than normal, but we make sure to protect time for each other daily and not deplete our energy at home."
Date nights and celebrations: Dinner at Tofte's Table, Waukesha. "You don't feel like a stranger within five minutes of stepping into the restaurant," Angie notes.
What they love about Milwaukee:
"The cultural assets, the work ethic, the inclusive vibe the next generation is creating, the foodie scene … we could go on!"
Holiday traditions: Visiting various churches on Christmas Eve, "listening to the amazing sounds of the choirs and taking in a message about the holiday spirit of giving to others," Emily says. "We come home, make dinner and call different family members we won't see over the holiday to connect and share stories. On Christmas Day, we pack up the car and head to my grandma's home in Sayner [Wisconsin] for a larger celebration of what usually amounts to a lot of laughter and whiskey old-fashioneds." 
What's next: The baby's due in January, 2022! — Nan Bialek
Angie Phillips
Vice President of Human Resources, Metal-Era
Emily Phillips
Financial Advisor, Drosner Phillips Ristau Group at Baird Wealth Management
---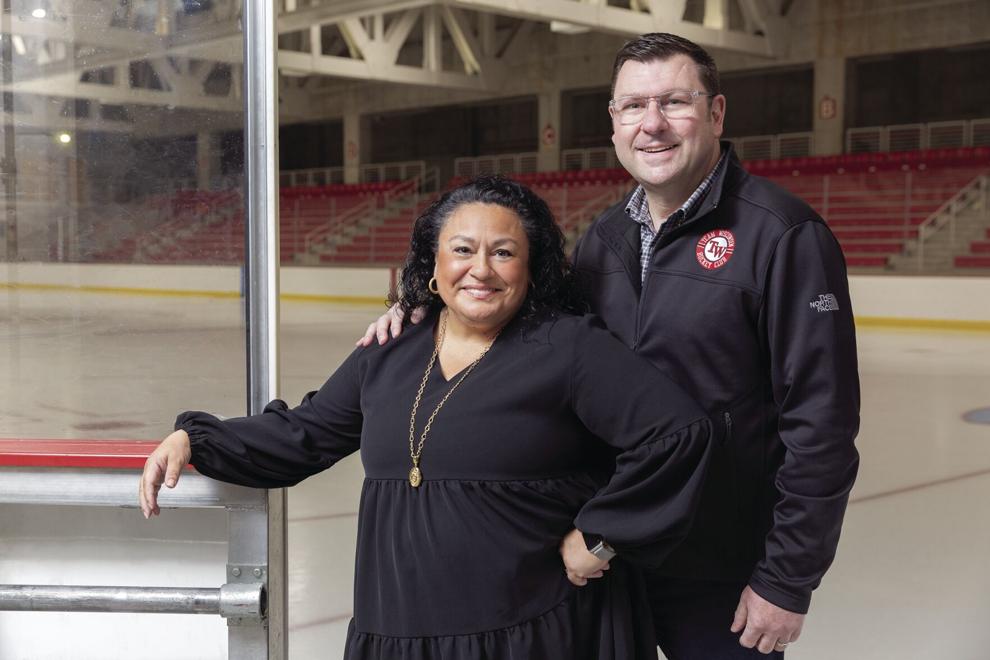 NANCY & ANDY
Nancy Hernandez and Andy Narrai actually went to high school together but didn't date. "We knew each other for a year in high school when he was a senior and I was a freshman. We didn't really hang out," Nancy says. Since then, they have been hanging out for almost 30 years. With their 14-year-old daughter Delia, they make their home in the northern suburb of Bayside.
Favorite restaurants: When the couple's time is freed up, they love Carini's La Conca d'Oro for Nancy's garlic fix. Taco Loco at El Rey is the spot when they're looking for authentic Mexican food. 
Date nights and celebrations: Delia, an eighth-grader University School, plays hockey on both Team Wisconsin and the Milwaukee Winter Club. "Our date nights involve watching youth hockey," Andy says. "We're the kind of sports parents who are both there. We really love it."
What they love about Milwaukee: "It's a small town and big
city, especially in the business community," Andy says. "There's a level of familiarity and a willingness to get things done." 
And, Nancy adds, that dynamic people and signs of innovation abound. "It's exciting right now to be in Milwaukee," she says.
On Milwaukee's future: "I've seen more progress in the past three years than I've seen in the past decade," Andy says. "I'm impressed by it." "Milwaukee always works harder to be a better city," Nancy notes. "People understand that we need to experience big change to move us forward. And that's okay. There's a shared vision here for where we want to go."
Holiday traditions: "We love to make a traditional Mexican family meal," Andy explains. "We have a tamale production line. We have a Christmas Eve dinner with friends and a big family on Christmas Day." — Ben Merens
Nancy Hernandez
Owner, ABRAZO Multi-Cultural Marketing & Communications; President, MMAC Hispanic Collaborative
Andy Narrai
Chief Marketing Officer, Reinhart Boerner Van Dueren, S.C. 
---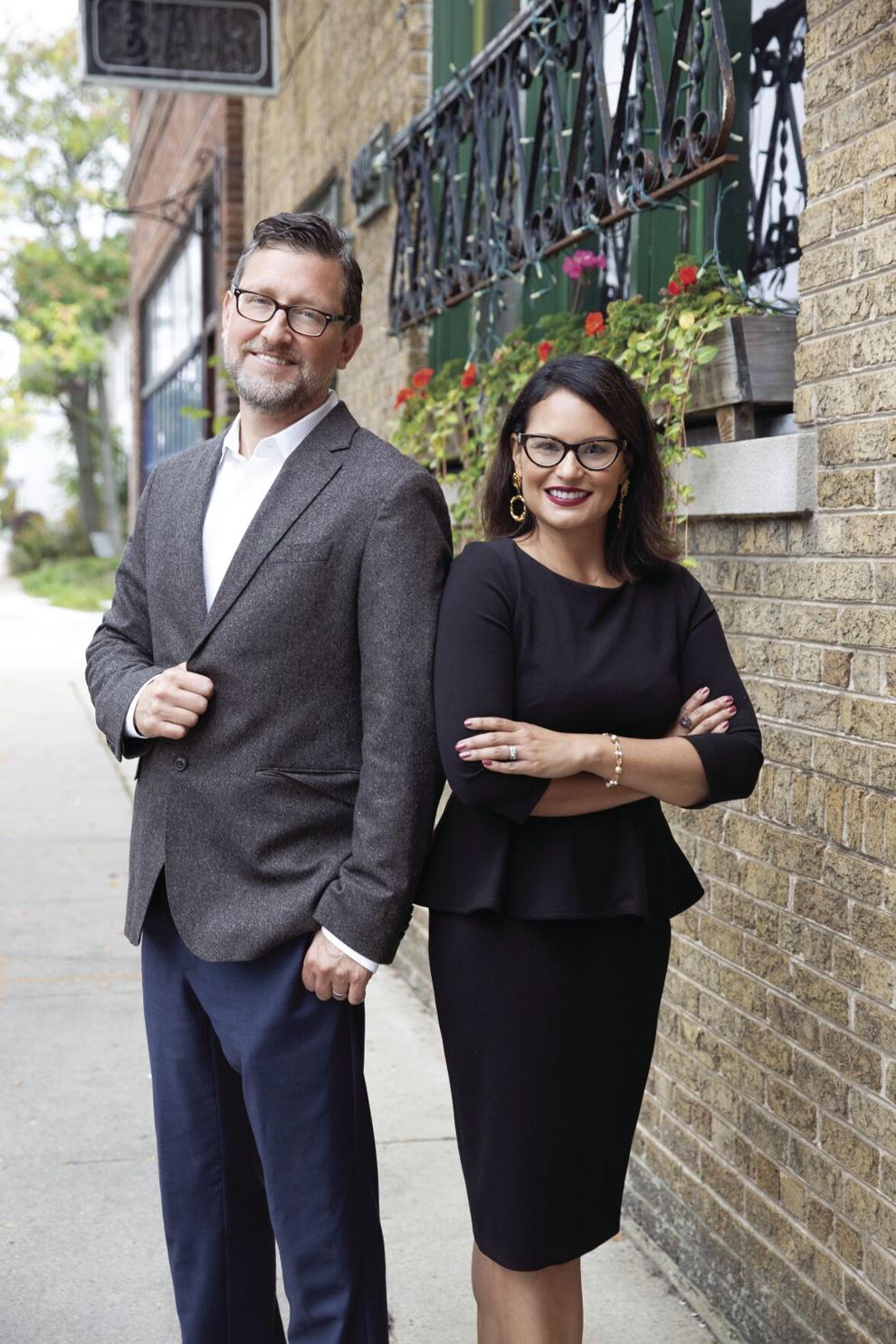 RAQUEL & STEVE
After a two-year courtship, Raquel and Steve Filmanowicz married 16 years ago at St. Paul's Episcopal Church. They make their home in Shorewood with their 15-year-old daughter Lily. Daughter Cassandra, 26, moved to Charlotte after recently marrying Robby Bertheume, and 20-year-old Nick is spending a year abroad studying art in Madrid. 
Proudest life accomplishments: "I'm really proud of how we've raised two kind, smart independent adults," Raquel says. "They serve as a great example to Lily. Our kids are our legacy."
Favorite MKE restaurants: "When Steve and I do get out for a meal, we often go to either Three Brothers in Bayview or Centro Café in Riverwest," Raquel says.
Date nights: Date nights are simpler and closer to home. "We like to walk over to the wine bar, Stout, on Oakland Avenue to sit, sip and reconnect after a long week," Raquel says.
What they love about Milwaukee: The family loves the city's lakefront and arts scene. "There's a vibrancy to Milwaukee that wasn't here before," Raquel says. "We love the diverse neighborhoods and the general accessibility to the city."
Making the relationship work: "We share a similar sense of humor, and that helps us laugh together," Raquel says, adding they've learned to be adaptable. "We had to get used to working together in the house during the height of the pandemic," she says. "Now, we have to get used to working in separate places again."
Holiday traditions: "When the kids were little, we'd go watch them in the St. Paul's church Christmas pageant and service," Raquel says. "I always have to watch 'It's A Wonderful Life.' It is just something I do." In recent years, she adds, she and Steve dress up as Santa and his elf, and they cook and deliver authentic Mexican meals to friends. — Ben Merens
Raquel Filmanowicz
Director, Economic Equity Advisory Group, BMO Harris Bank
Steve Filmanowicz
Director of Editorial Projects; Editor, Marquette Magazine at Marquette University
---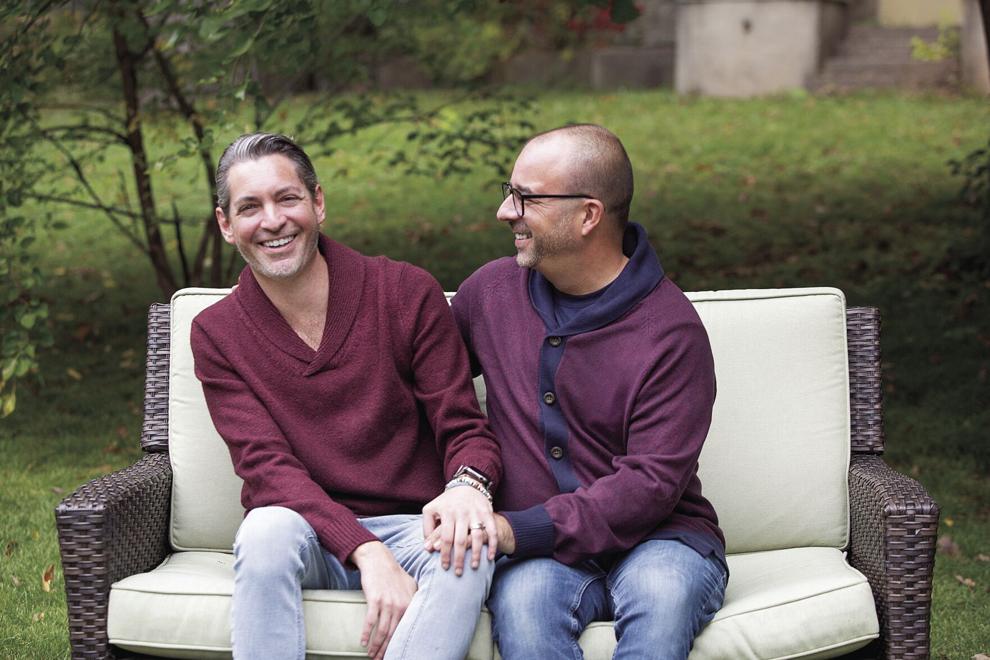 BRAD & NICK 
On Brad and Nick Schlaikowski's first date in July 2012, the "get to know you drink" lasted eight hours. Brad proposed to Nick at Red Arrow Park on Christmas Eve 2013, and they married the following May. Life now centers around five kids they are raising at home and the youth they also serve at Courage MKE, a non-profit that supports homeless and displaced LGBTQ+ youth in Milwaukee they founded in December 2015. Courage MKE's first home, opened on Milwaukee's South side in 2019, offers health care, family reunification, counseling and life skills.
The couple and most of their large family live in Wauwatosa. The full house includes Jameson, 3; Ivy, 8; Landon, 13; and Noah, 20. And son Xavier, 22, and his fiancé Brittany stop by the house often.
Making time for each other: When time does allow them to get out on dates, Brad and Nick like to return to Fluid, where they first met, or Walkers Pint. 
On getting away: "We love when we can get away camping for a week," Brad says. "Wisconsin has some great state parks."
On Milwaukee's future: "Milwaukee has a big-city feel while it lives like a small town," Nick says. "We see an expansion of our area's transportation, and that's a good thing. It's important to continue to expand our city." Adds Brad, "The area has a lot of start-up businesses. I think it really is a hidden gem."
Making the relationship work: "It's important to have an end time to each day," Nick says. "We have to make sure to shut our work down and do something else. We like to cook a meal together, watch a movie or have a bonfire." 
Holiday traditions: "We do our Christmas on Dec. 26," Nick says. "We don't cook. We find a local restaurant and buy lots of appetizers. We graze all day long and there's no stress. We just get to visit with the family all day long." — Ben Merens
Brad Schlaikowski
Co-Founder and Executive Director, Courage MKE 
Nick Schlaikowski
Co-Founder, Courage MKE; Regional Operations Manager, Aspen Dental MKE