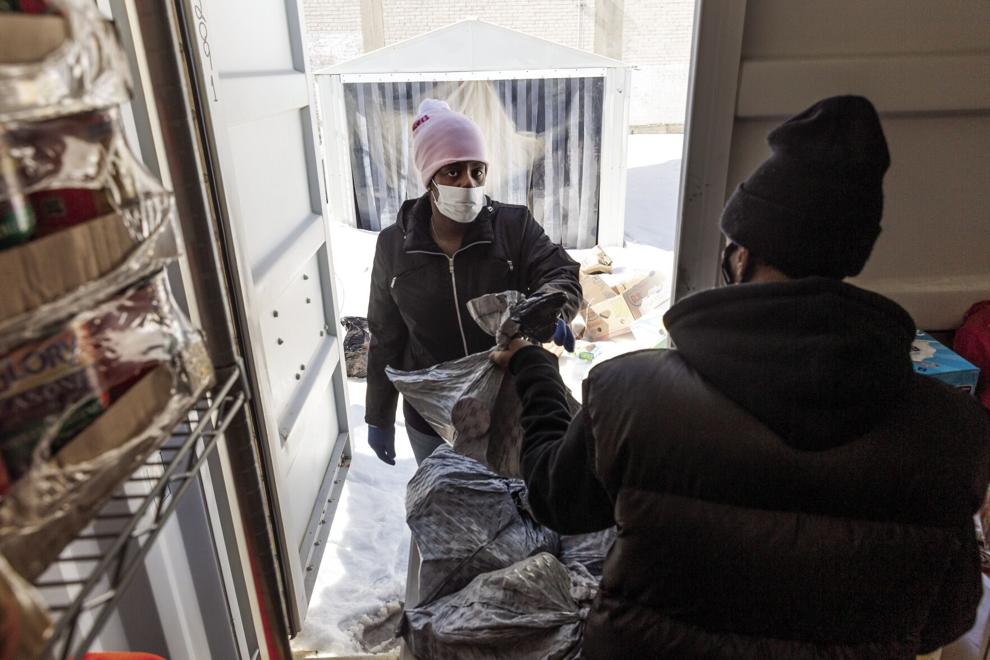 "Food is the moral right of all who are born into this world," wrote Norman Borlaug, father of the Green Revolution.
Hunger is a regular guest in hundreds of thousands of Milwaukee-area homes. And for many others, it lurks right outside the door. 
Some 600,000 people in Southeast Wisconsin are "food insecure" and in need of support. That number has grown from 400,000 since the pandemic hit, according to Feeding America Eastern Wisconsin. 
"Hunger looks very different in the past year," says Feeding America Eastern Wisconsin President and CEO Patti Habeck. "There are a lot of people who are new to being hungry. They waited too long before reaching out. They waited too long before asking for help. People don't want to admit that they can't afford their food."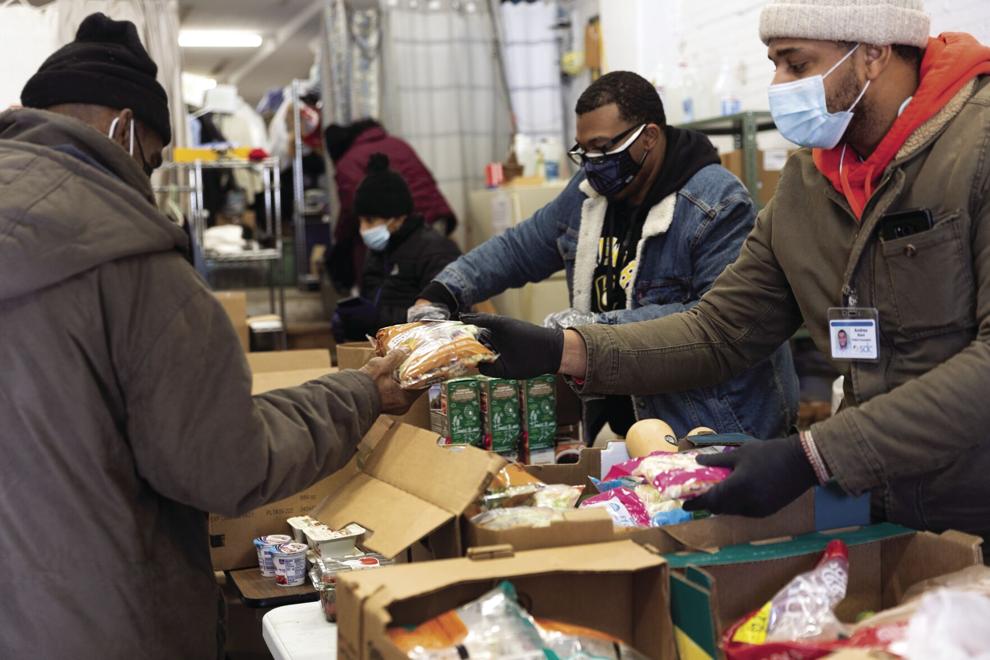 For many of us, it's hard — if not impossible — to imagine hunger as a chronic condition in our lives. To get a strong sense of what this is like, take the food stamp challenge, suggests Hunger Task Force Executive Director Sherrie Tussler. Try to create a budget spending $1.50 per meal for seven days — $32 total for your week of food.  An increasing number of people throughout the metro Milwaukee area live this challenge every day.
Even before the arrival of COVID-19, approximately one in 12 Wisconsin households were deemed food insecure. Today that number is pegged at closer to one in seven. And there is no single face of food insecurity in the dairy state, according to the University of Wisconsin-Madison's Wisconsin Food Security Project's website. Hunger impacts people across ages, races, regions and education levels.
In Southeast Wisconsin, Feeding America served 36 million pounds of food to 538,000 people in 2020, an increase of 24 percent over the prior year. Alongside this effort, the Hunger Task Force distributed close to 13 million pounds of food in 2020, working with more than 125 food pantries, soup kitchens, meal sites and senior living facilities.
This multi-sourced network extends to the local level, where food pantries meet people's direct needs. 
A Personal Impact
Rynette Lee, a 47-year-old single mother, has five children and two grandchildren, and is caring for her elderly father who is in the early stages of dementia. Currently, her dad and three of her children live with her, and the grandkids come to visit. Lee, who has lived in Riverwest for most of her life, is a school bus driver in the Germantown school district, but is currently on medical leave to care for her father. 
To make ends meet, she gets about $500 a month from the FoodShare Wisconsin program (commonly known as SNAP — the Supplemental Nutrition Assistance Program). She also receives a monthly card from the Special Supplemental Nutrition Program for Women, Infants and Children (WIC) to add fruits, vegetables and dairy products to her food supply. 
To supplement family meals, Lee visits the Riverwest Food Pantry (RWFP) about once a month — more often if the need exists. "We usually run out of milk because the kids and grands drink lots of it," she explains.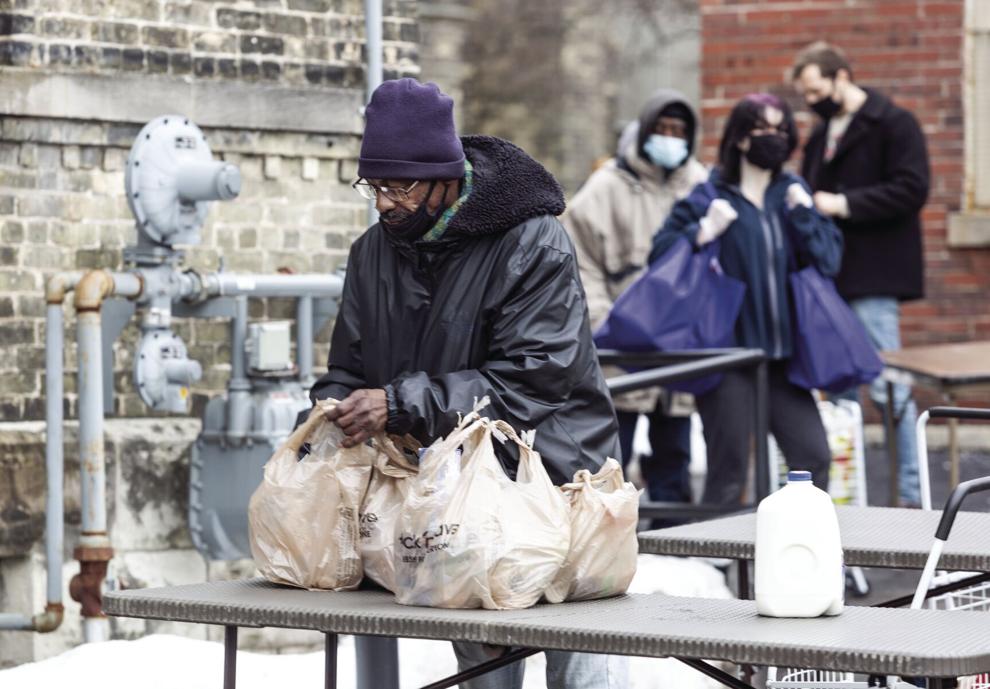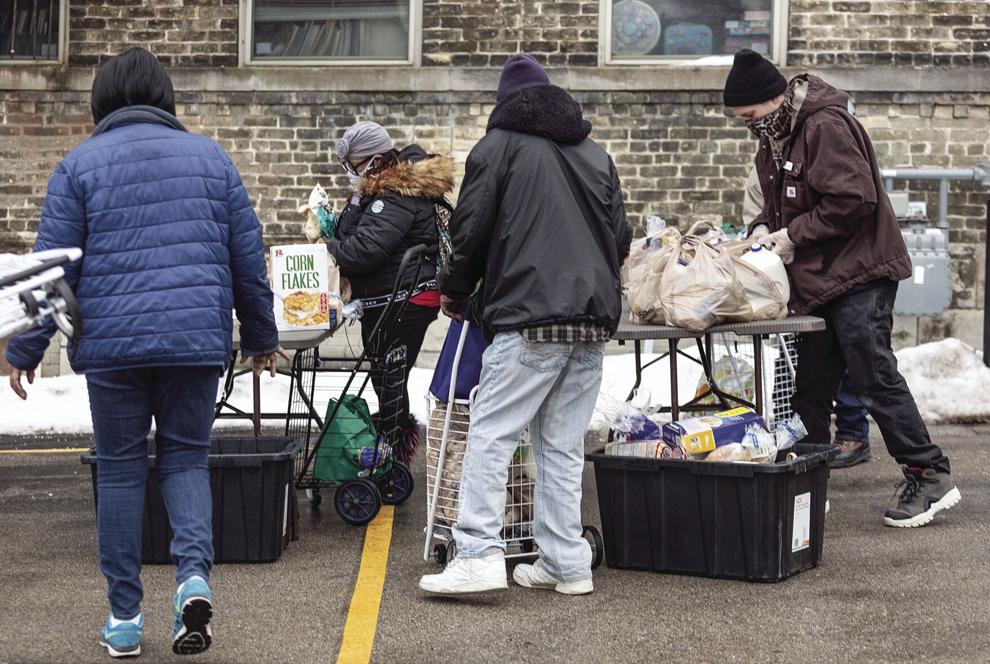 But, Lee discovered, finding one's way into a food pantry — as a donor, worker or recipient — can provide unexpected nourishment as well. She found a sense of community, too, at the Riverwest Pantry.
"It's love," she says of her visits. "Even before the COVID stuff, you would go there and it would be like church. It would be like seeing your family. I'd go there totally depressed and walk out feeling totally loved.
"There've been times when I wondered where our next meal would be coming from, but because of Riverwest Food Pantry, we haven't had to go hungry," Lee continues. "Vincent [Noth] has opened up for me even when the pantry was closed."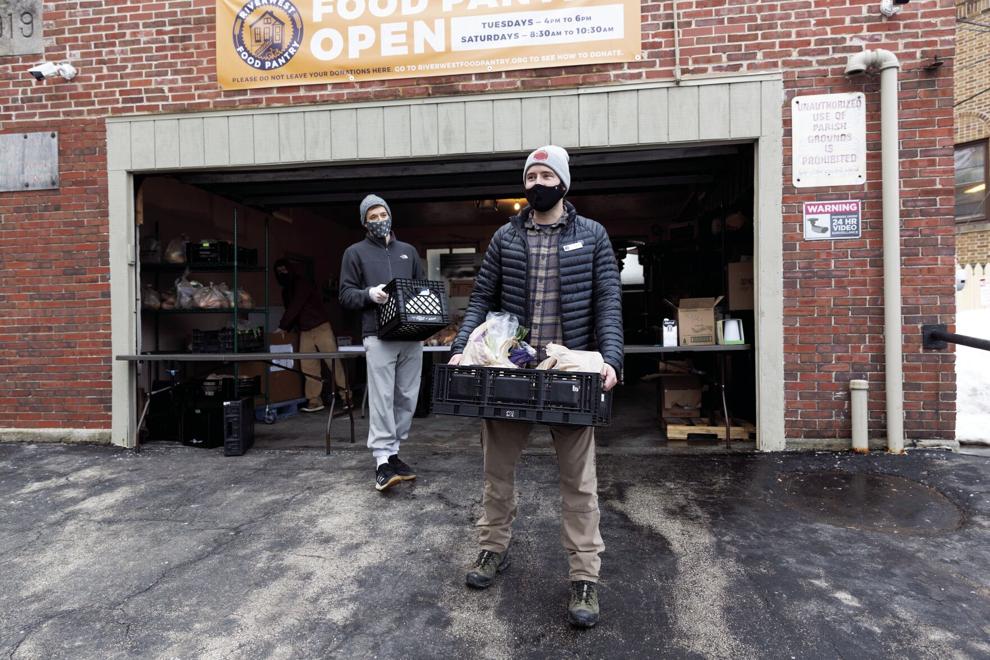 Noth, executive director of the RWFP, understands that the pantry is a lot more than simply a place where people get food. "Food is a dynamic entry point to building culture, wellness and belonging," he says. "Food is not just about fuel. It is about community."
The RWFP is designed to give "shoppers" options. "They can pick out the food themselves, like a public market or farmer's market," Noth explains. The RWFP also offered Lee cooking lessons, cleaning supplies and, she says, "even sanitary napkins. I didn't want to ask for them, but there they were — next to a sign that said "Take what you need.' I have four daughters; you can imagine."
The RWFP also educated her on nutritious food preparation. Staff taught her how to cut up kale and cook it with eggs and herbs. "I didn't think it would taste good, because it is supposed to be good for you, but it tastes great," she enthuses.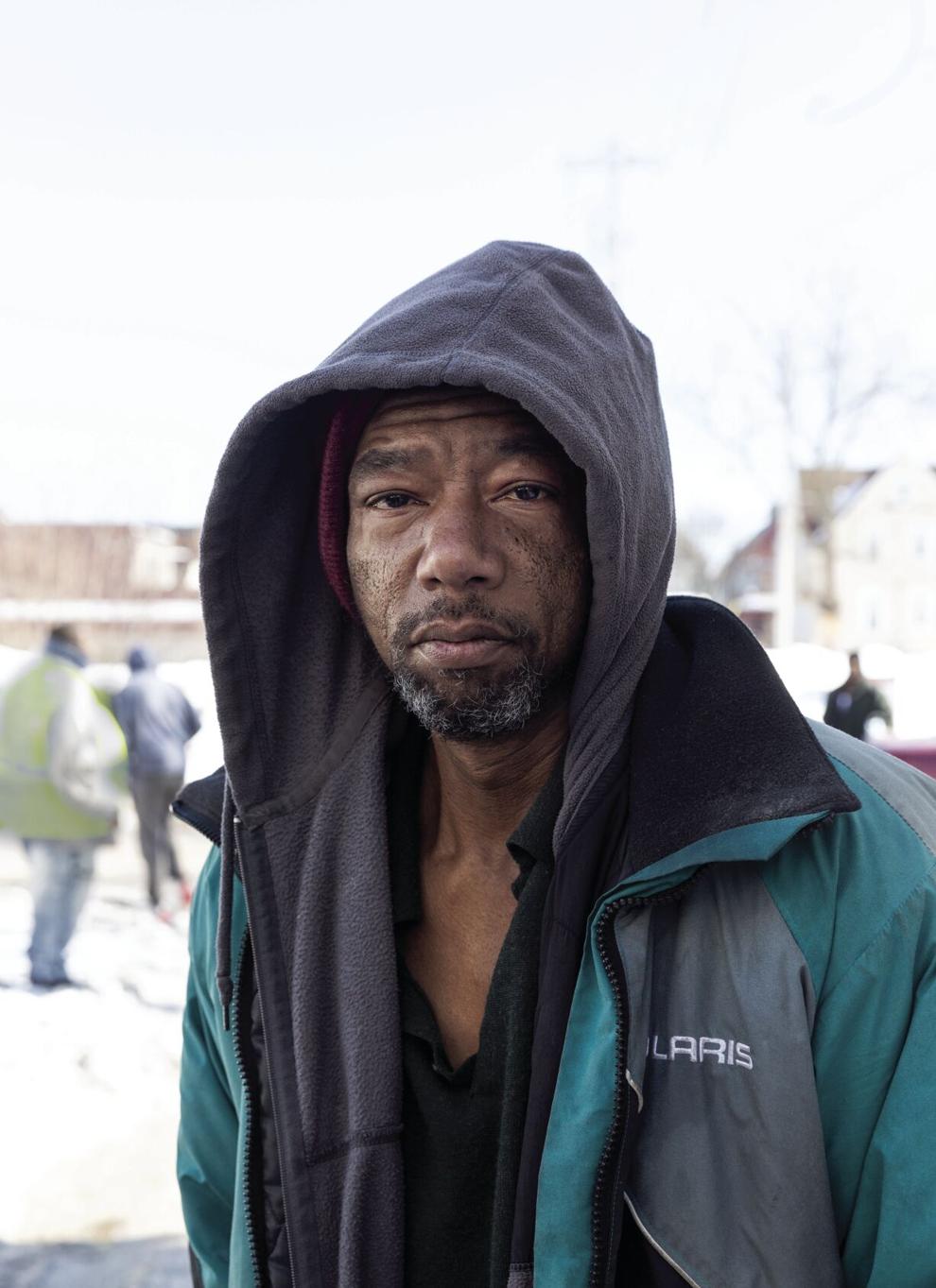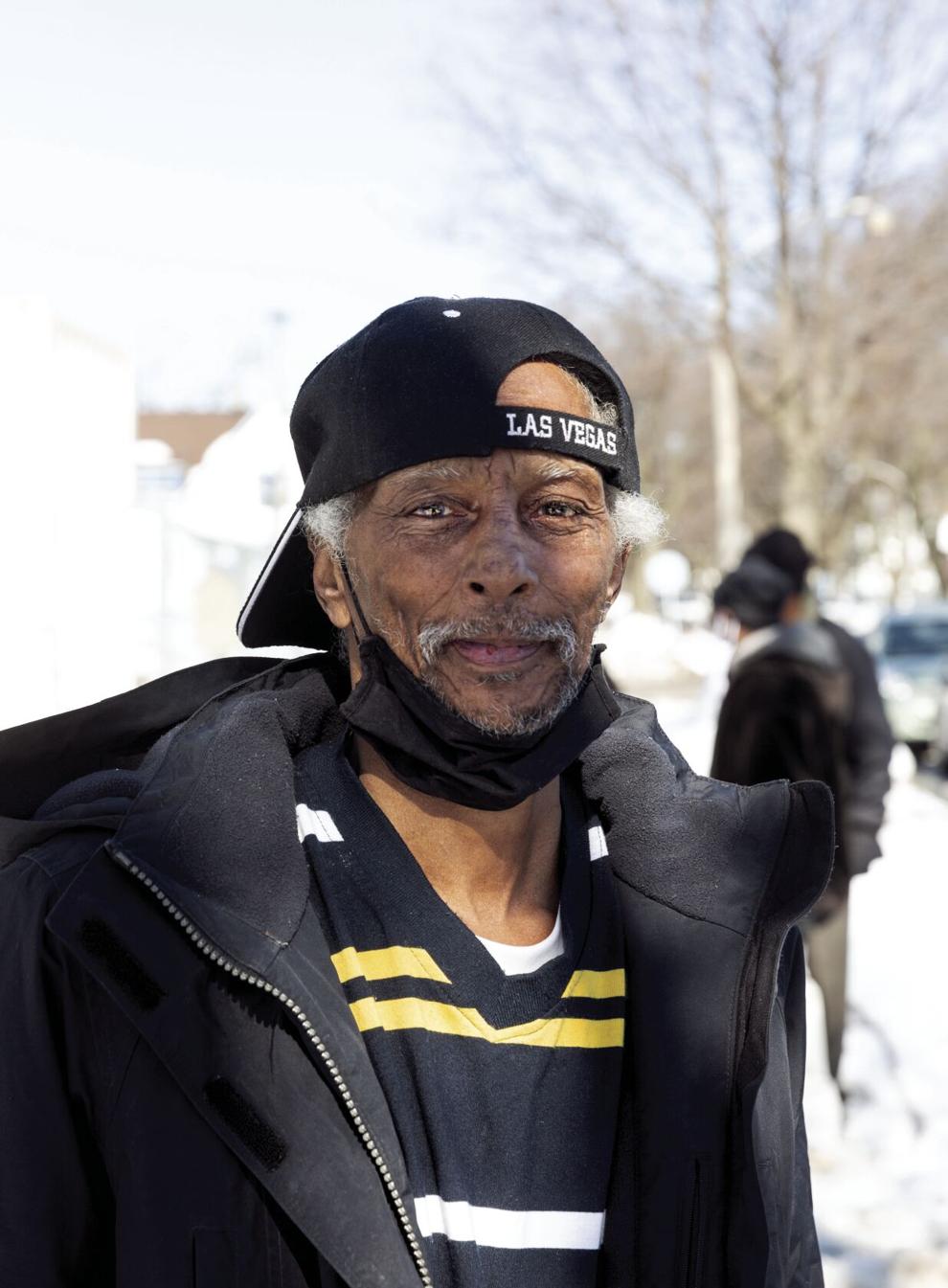 A Spike In Visitors
While some like Lee have dealt with lean food budgets for years, the pantry has also welcomed visitors who had never experienced hunger before the past year. 
Before the arrival of the pandemic, RWFP would see about 13,000 visitors a year. In 2020, that number went up to approximately 20,000, Noth says. Many of these people are working, but not making enough money for their basics. 
"The demographic I see as being the hardest hit right now are the families. Mostly moms and their kids. Sometimes dads," he explains. "The reality is that we have homeless families and displaced kids. And there is a domino effect to our neighborhoods and schools to bring the [numbers] down. While the cost to society is massive, sometimes it is only a matter of a few hundred bucks a month to an individual family."
Noth adds that two-thirds of the able-bodied people who shop at the pantry are working. Their average monthly wage is about $1,300 a month. 
"You can't think about hunger without thinking about wages," Noth says. "Many people work more than one job but don't always get 40 hours of work every week."
Getting to know someone who is challenged to afford nutritious foods on a regular basis is a critical part of the solution, according to Noth. "We will solve the systemic problems when we allow ourselves to stand in awe at the burden people have to carry instead of standing in judgement of the way they carry it," he says.
A Matter Of Worth
Hunger in any community is more than a matter of being able to approach the cash register with confidence, says Hunger Task Force's Tussler.
"It's an active decision as a community to have people who have plenty and people who don't have enough," she stresses. "There are more poor people now than there have ever been before. Wealthy people make decisions that impact whether or not poor people have access to food, housing, health care and living-wage jobs."  
Those who are less fortunate in society are often seen as being less worthy, adds Sister MacCanon Brown. Sister Brown runs a ministry and is building a homeless sanctuary in the heart of Milwaukee's 53206 neighborhood, where people are often thought of as "America's untouchables," she explains. "They are considered 'economic others.'
"People tend to blame the hungry/homeless, saying that they are lazy or spending their money on other things," Sister Brown continues. "Chronic food scarcity sends a message that a person doesn't count and that they are of no interest to the larger society."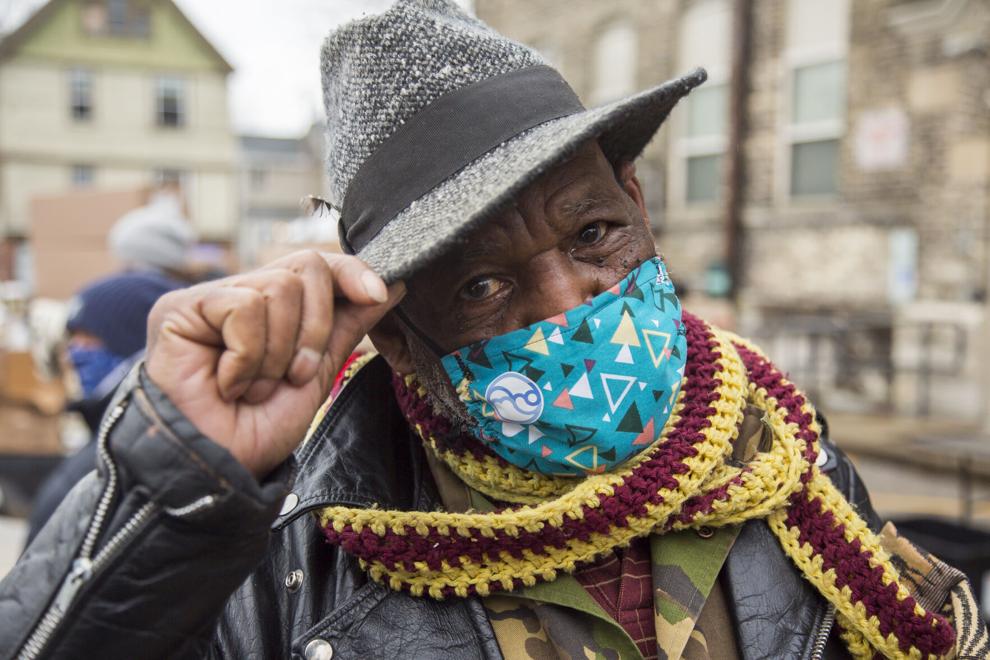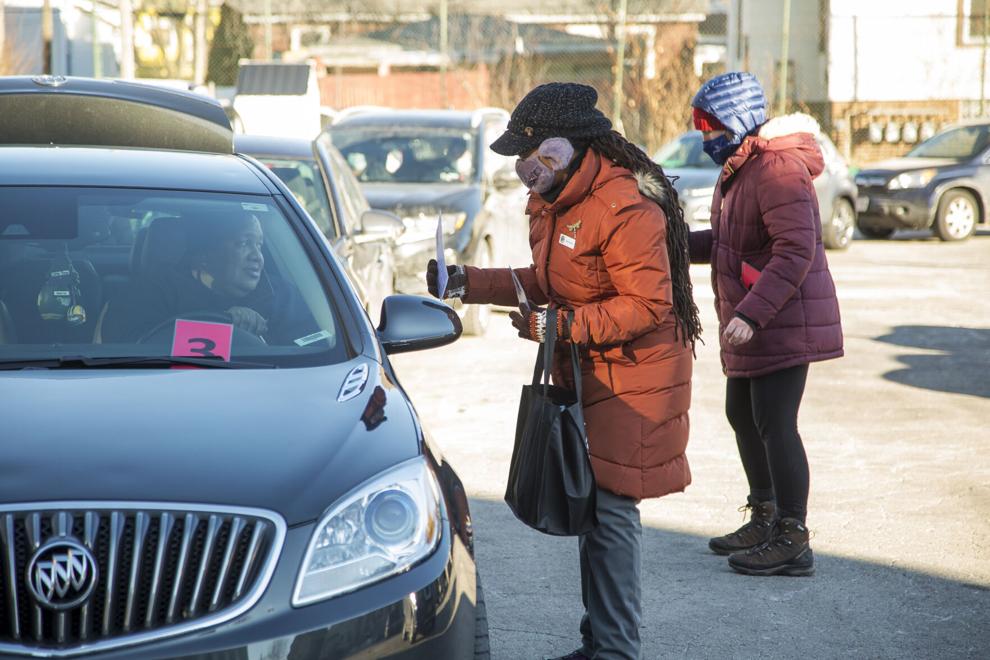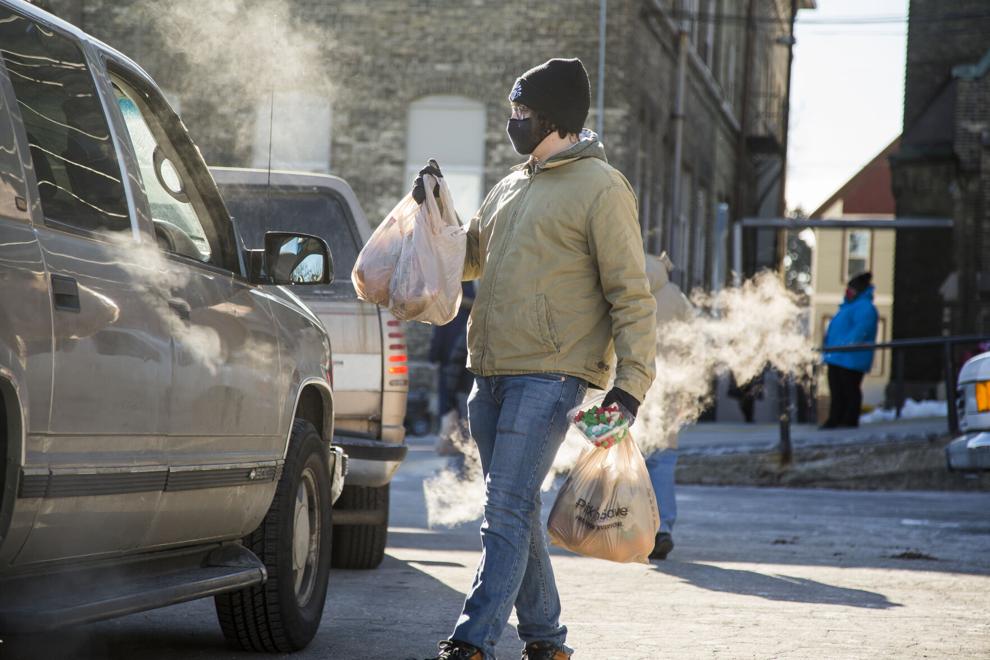 But forward-thinking solutions to food sourcing can be found in places where demand runs high. Sister Brown is spearheading the building of a five-story community center for Milwaukee's homeless, The MacCannon Brown Homeless Sanctuary, where one full floor will be devoted to hydroponic gardening.
"We are creating an eco-village where people connect with each other. We are part of our landscape and our landscape nourishes us," Sister Brown says. 
Active Solutions
Experts point out that the faces of chronic hunger don't always line up with stereotypes.
"Having consistent access to healthy food is a large problem no matter where you live," Habeck says. "It often is hidden. People can't necessarily see it. (And) pride can stop people from admitting that they are hungry."
Tussler, Noth and Habeck all agree Wisconsinites can do much to alleviate this preventable problem in their own communities. They recommend that people don't over-shop when they go to a grocery store; rather, buy a little more than you need and donate the extra to an area shelter or food pantry.
"Don't do nothing," Noth implores. "Donate food when you go grocery shopping. Organize a food drive at your local school or church. And if you do volunteer at a place, get to know an individual in need there. Get to know a child in need."
Ultimately, the fight to end hunger in metro Milwaukee will draw both on the creative efforts of those people who can give and those who can put a face to these "invisible" needs. Just as people who can donate to food banks must be mindful of hunger needs in their communities, those who receive aid must be willing to step up to advocate for themselves and others.
"Nobody in Milwaukee should have to go hungry," Lee notes. "But you've got to be resourceful. I ask for help. I look around for help. It's important that you let someone know you're in need. Don't suffer in silence."  MKE
---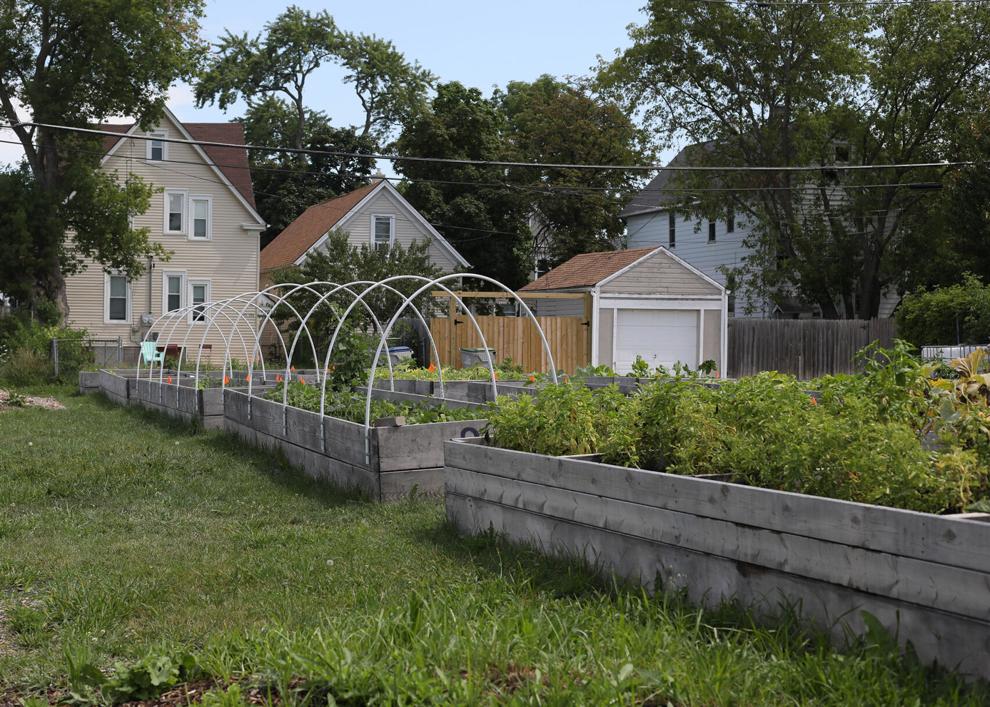 Putting Down Roots
The fast-growing CSA and community garden movement helps encourage healthy eating and address hunger issues on a hyperlocal level.
Wisconsin's 2021 growing season is here, and gardeners, farmers and nonprofit volunteers are breaking new ground to nourish a renewed sense of connection — to the earth and to each other.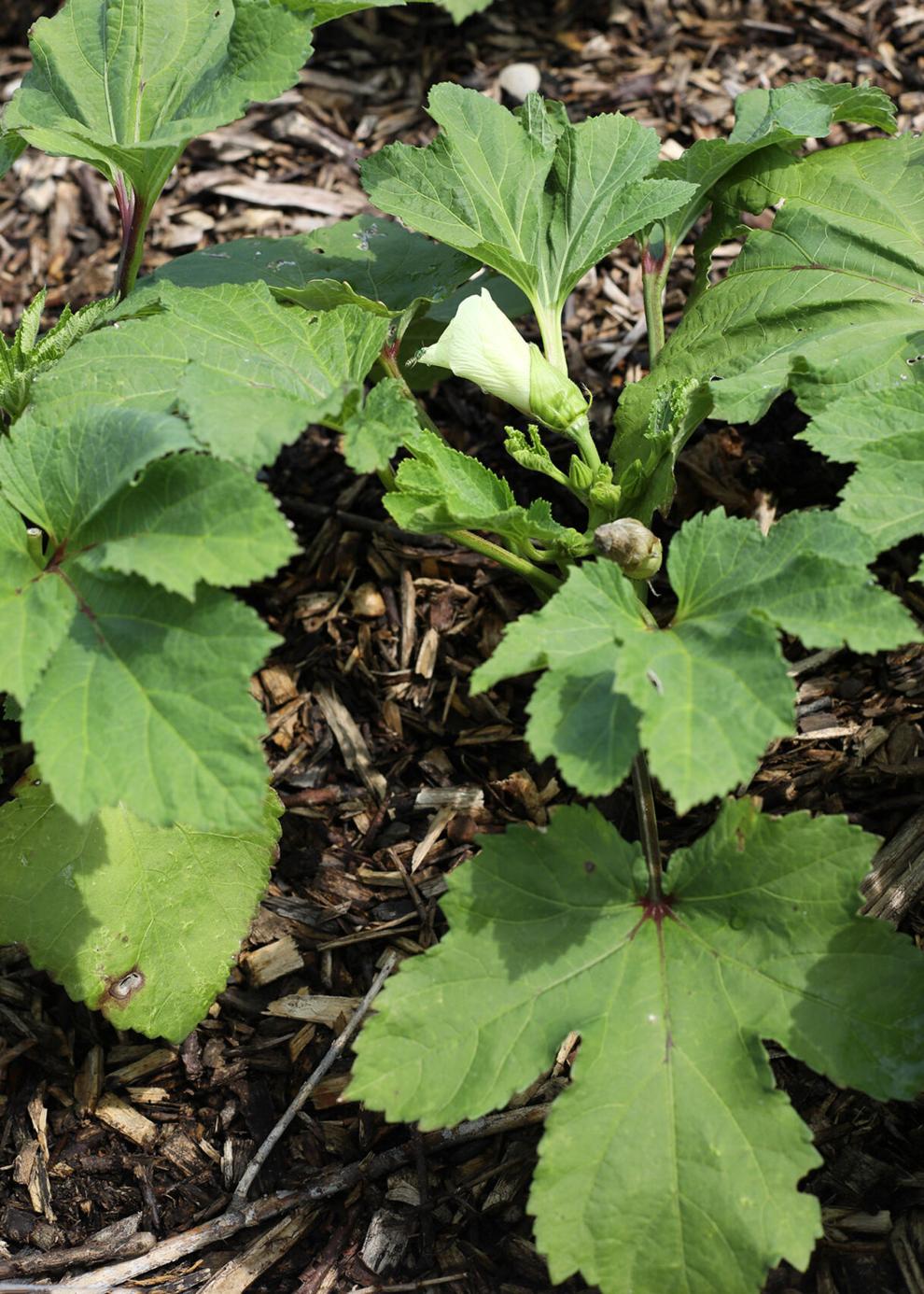 Both community farms and gardens and Community Supported Agriculture (CSA) shares offer fresh ideas for addressing hunger and for providing healthy, "farm-to-table" food for all. Here's a recap of what's happening in the MKE area.
Community Farms and Gardens
Community farms and gardens — designed to bring fresh vegetables, fruits and other nutritious foods to low-earning families — are steadily taking root in southeastern Wisconsin. Operated by local nonprofits, and supported by grants and donations, this growing movement is aimed at making sure that everyone can enjoy the benefits of farm-to-table food. 
Some of the notable area community farms include:
MacCanon Brown Homeless Sanctuary
The Amani neighborhood that surrounds the MacCanon Brown Homeless Sanctuary on Center Street is much greener these days, thanks to the Sanctuary's community gardens. Part of Sister MacCanon Brown's vision for the organization from its inception in 2016 was to offer free, nutrient-rich food to neighbors in an area where fresh produce can be overpriced and difficult to find.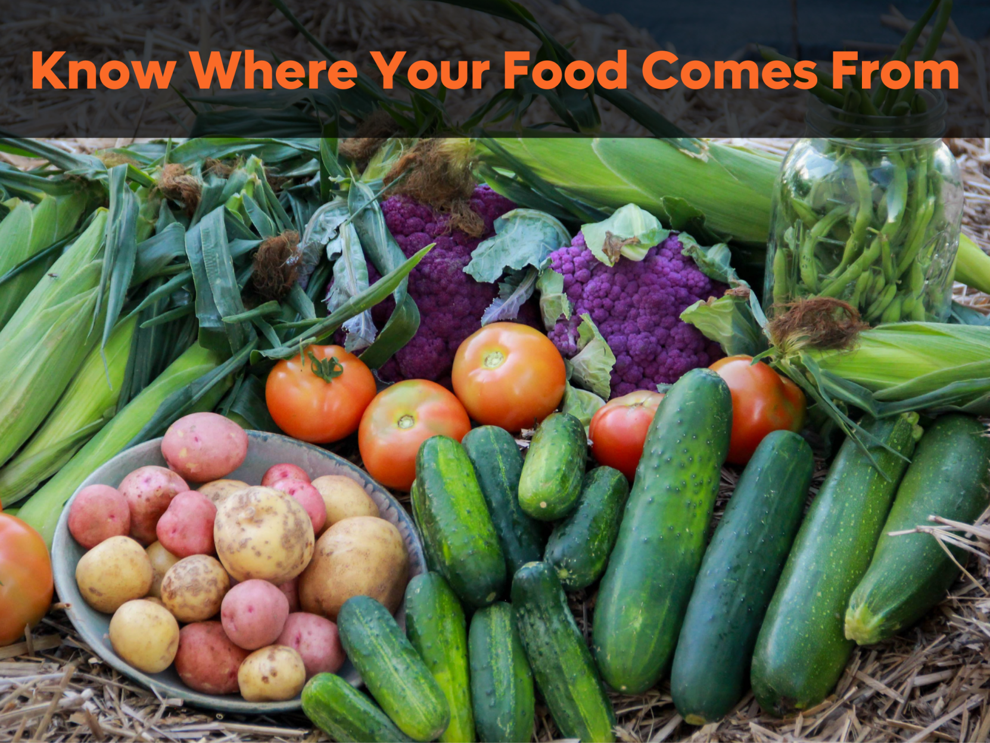 With the help of the City of Milwaukee, Groundwork Milwaukee, Milwaukee School of Engineering and volunteers, previously unused green space near the building is being used for raised-bed urban gardens. 
Volunteers from the city's western suburbs join volunteers from the neighborhood to tend to the gardens, and also bring food from Feeding America for the Sanctuary's twice-per-week "back door" ministry. That program is supplying food and other essentials to about 250 people per week during the pandemic, including people who come from throughout the city in the cars they're living in, Sister Brown notes.
Plans are being developed for creating a rooftop garden and a commercial kitchen to facilitate a meal program that incorporate fresh produce. A hydroponic fish farm is also in the planning stages.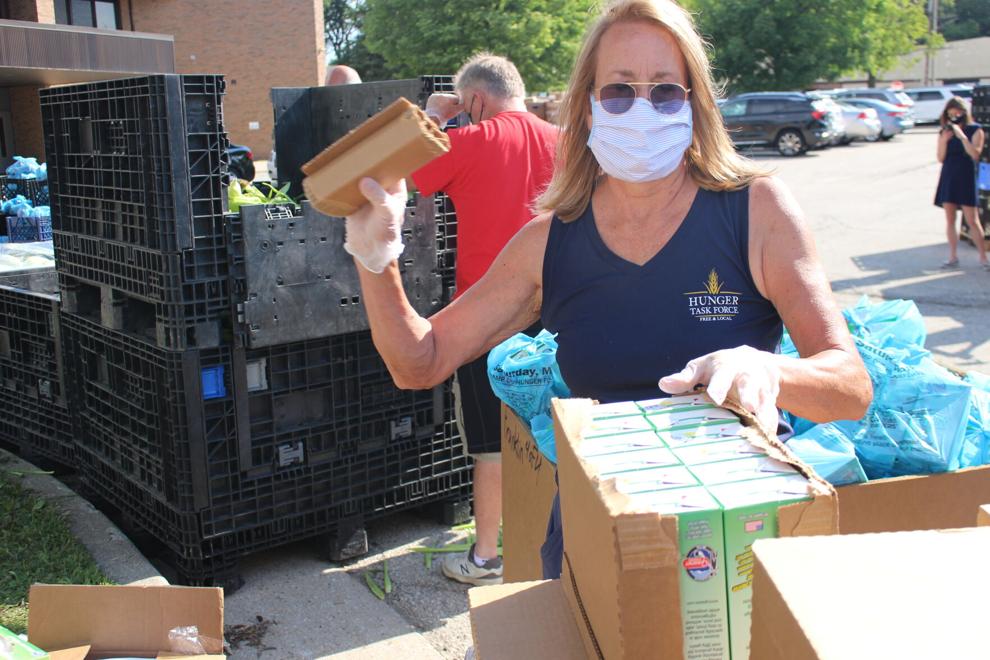 The main message for the people served by the gardens, says Sister Brown: "This is ours, meaning yours, too, and you can take pride in this and you can come and pick things anytime you want. And you can help take care of the gardens and hopefully this will come into a paying job."
She's especially inspired by the 18-member volunteer garden team, which is about evenly split with helpers from the city central and from the suburbs.
"We really do connect people and we become family," Sister Brown says, and that's a key to making the neighborhood more sustainable.
Urban Ecology Center 
When you're walking along the Oak Leaf bike path at the Urban Ecology Center's Riverside Park location, don't be surprised if somebody offers you a tomato. It's happened to Meghan Forseth, branch manager at Riverside, and it's a simple gesture of friendship from one of the gardeners at the center's 94-plot community garden.
Forseth notes that there is a waiting list for those plots, although the Urban Ecology Center's Menomonee Valley branch has a community garden near Three Bridges Park with some plots available.
The garden at Riverside is supported in part by a $5,000 grant from Brownberry Organics. By supporting community gardens, says Brownberry spokeswoman Allie Long, "not only do we help increase awareness of and access to organic and locally grown foods, but we also help connect communities with the earth and develop an understanding of why it's important to protect our planet."
Forseth says the gardeners renting the plots at Riverside typically either walk or bike to the garden, "so clearly they are from the neighborhood. It's a little micro-community. And they grow everything and anything in between."
In non-pandemic times, the Urban Ecology Center makes gardening tools and access to water available to its community gardeners. The center also offers
gardening classes.
"There aren't any other community garden spaces on the East Side, except for UWM," Forseth points out, "and so there's a real demand. People really want to be able to grow their own food somewhere." 
Fondy Farm
Twenty-three family small farmers lease the 40 acres at Fondy Farm at the Mequon Nature Preserve, and bring most of their freshly picked crops, such as asparagus and raspberries, to the Fondy Farmers Market on Fond du Lac Avenue. The farm offers its leasing farmers the use of irrigation equipment, greenhouses and tractors, as well as technical and business assistance. 
Hunger Task Force Farm
An army of volunteers, and financial support from the community, help maintain the 208-acre Hunger Task Force Farm in Franklin. The farm adds half a million pounds of fresh produce into the Hunger Task Force food bank supply. Once a rare commodity on food bank shelves, a wide variety of fresh produce is available via Hunger Task Force, with more than 25 types of fruits and vegetables offered during the growing season. Its 12 acres of pear and apple orchards provide 30,000 pounds of fruit each year, and the farm uses sustainable agriculture practices, such as beekeeping and crop rotation, to maintain the viability of the land.
Community Supported Agriculture
If you're thinking about buying a Community Supported Agriculture (CSA) share this year, you better move fast. In a CSA, consumers buy a share of a farm's production, which is distributed on a regular basis during the growing season. Most local CSAs shares were selling out early prior to the pandemic year, and now that enthusiasm is even greater. 
As people spent more time at home, many became more interested in cooking, explains Anne Steinberg, a volunteer CSA specialist at the Urban Ecology Center. CSAs offer top quality food, she says. All CSAs that are highlighted in the Urban Ecology Center's annual local farmer open house — which connects farmers with customers — grow their crops organically and sustainably. Many CSAs also offer farm tours and special events and send out newsletters with recipes.
"It's changed how I eat because now I eat seasonally," Steinberg says. But, she notes, those who are only interested in broccoli and green beans aren't going to enjoy CSAs: "You have to want a wide variety of food."
Farmers benefit from CSAs because they can better plan out the growing season and know how many people to grow for, Steinberg continues. CSAs also eliminate the middleman, so farmers are paid directly for their work. 
There is personal gratification involved too. "A lot of farmers do like to know who is eating their food," Steinberg adds.
About 15 to 20 CSAs deliver in the Milwaukee metro area, Steinberg says, and range from 30 to 700 members each. Because of Steinberg's relationships with CSA farmers, she has become a resource for businesses that are interested in offering shares as a perk for their employees, notes Forseth of the Urban Ecology Center.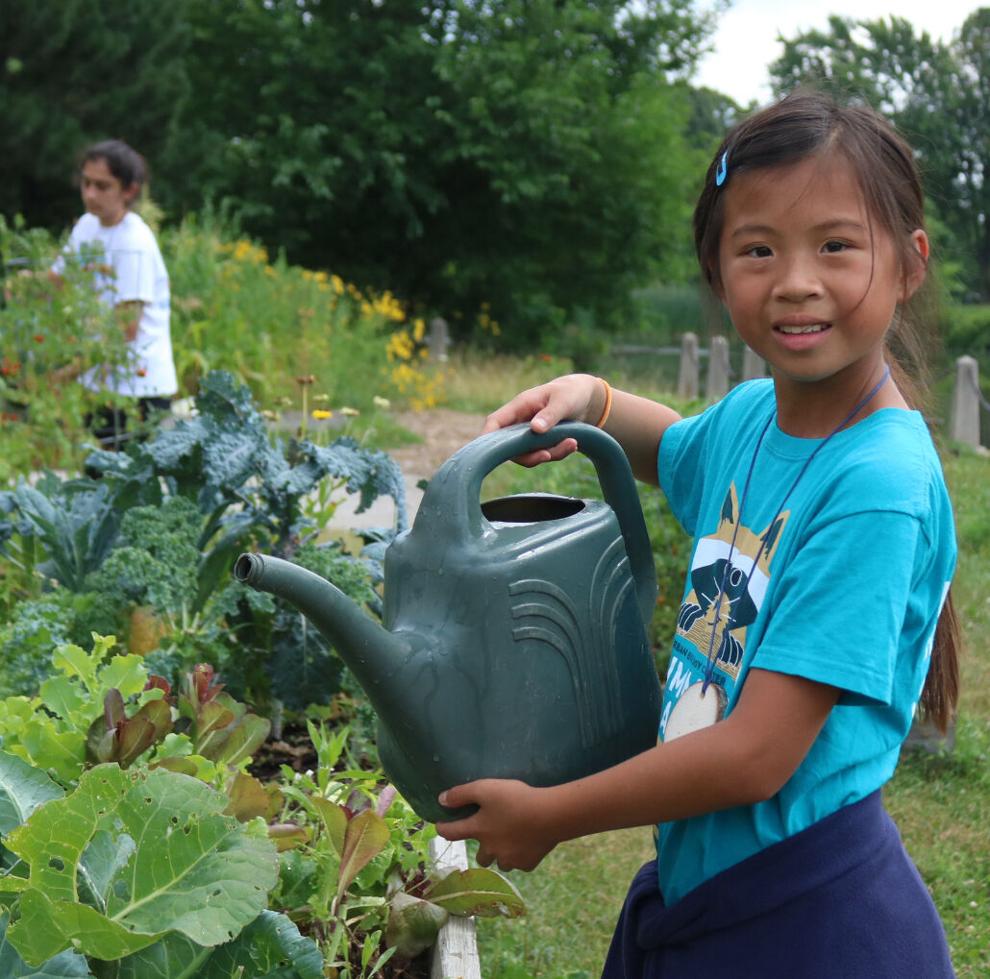 New CSAs are popping up throughout the area, including a newer enterprise called Cream City Farm in the 30th Street corridor on a former factory site, and a new CSA at the Fondy Farm in Mequon.
"If people are having trouble finding a CSA, they might contact us and we might know if there's some that might have openings," Steinberg says. MKE