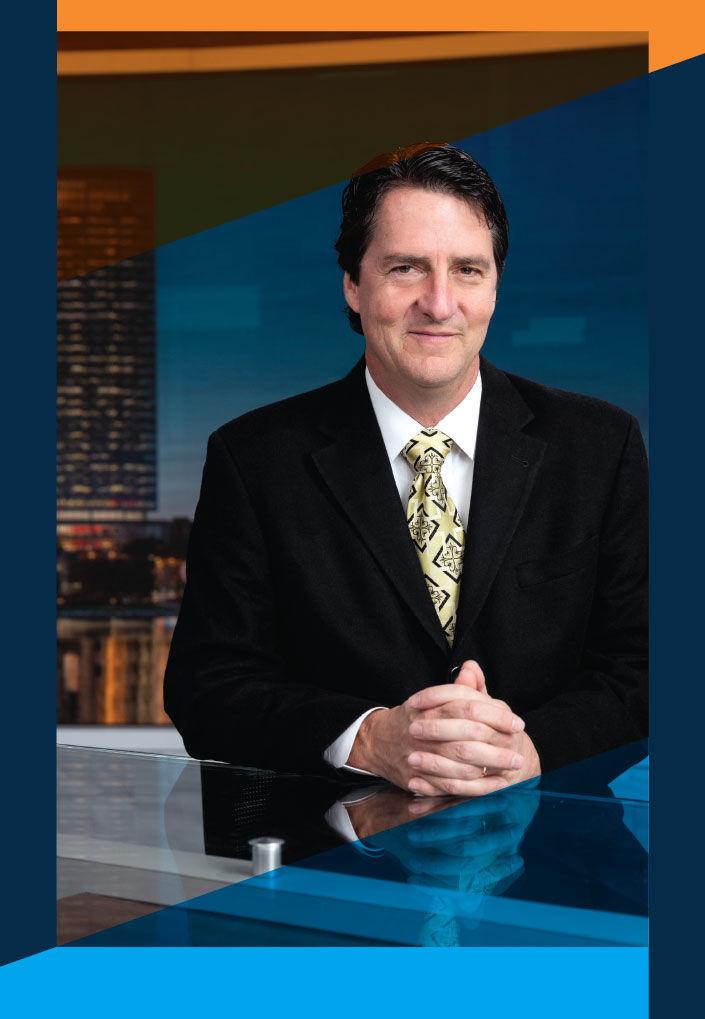 You might think that, having spent 30 years covering all levels of Wisconsin-based sports, Tim Van Vooren would call running in the big leagues — literally — the best part of his job. Swing and a miss. 
Asked to share a favorite memory, the FOX6 sports director and West Bend native tells the tale of being a rookie radio sportscaster covering a high-school baseball game played at the city's Regner Park, whose historic field is surrounded by ivy-covered fences.
"A player hit a ball out to the top of the fence, which then essentially disappeared," Van Vooren recalls. "Was the ball over the fence? Was the ball in the ivy? Where was it? And I'm broadcasting the game. There's no studio to throw it back to while they're still looking for the ball. There's no color analyst. There's no commercial. 'They're still looking, everyone!' … So some of those notable, goose-bump moments are not necessarily standing at the Super Bowl or at the Final Four."
Visibly delighted by the memory, Van Vooren says those seat-of-your pants early days helped shape his can-do approach to a career that took him from backyard sports buff who pored over the Brewers programs his dad brought home to radio broadcaster throughout high school and college to award-winning TV personality via a dual radio/television position in his first post-collegiate job in Peoria, Ill.
"You need good fortune, there's no question," says Van Vooren. "And then you need to take advantage of your opportunity. I really had no TV experience, so if they weren't interested in radio down there, I may never have gotten into the business from the TV side of it. Because I had nothing to really offer. I had no tape to say, 'This is who I am.' 
"But they knew," he continues. "They knew I could do the radio and they took a chance on me for TV. Because of that, I've been able to make a career of it."
Van Vooren landed at Milwaukee's WITI in 1990, before it became a FOX affiliate, and got to work, sharing his growing expertise with a faithful legion of sports fans and watching professional, regional and local teams galvanize their communities, the state and beyond.
"Think of the fortunes of the teams since then," he muses, cataloging the Packers' rise to prominence in the '90s, the Brewers' mid 2000s revival, the Badgers' multiple Rose Bowl runs and Marquette's Final Four bid as examples. "And now the Bucks have consistently been able to build and bring people along.
"It is a powerful thing," Van Vooren continues. "And it's so awesome to have a front-row seat for that and be able to present that to the viewers. To stand there in New Orleans after the Packers' forever-long Super Bowl drought and come on with those players after Super Bowl 31, I'll always remember that. And I have been told from so many viewers that they'll always remember it — because it was a shared experience. Sports does have that power. It's pretty cool."
Though he acknowledges that sports is often viewed as "the toy chest of the news department" and sportscasting is filled with outsized personalities, Van Vooren has worked hard to convey comprehensive information in a way that is fresh and entertaining, while remaining respectful of every game, athlete and effort.
"You can't gloss over an error that lost the state championship game, so you need to learn how to treat a story like that," says Van Vooren. "By the time you deal with professional athletes, they've been praised and they've been criticized their entire sports careers. But not everybody that you're talking about on TV has, particularly as you get started in the smaller markets 
When you're younger, you don't have the experience to know how to treat situations fairly, how to treat people fairly. You need to learn that."
And learning, adds the Marquette grad, will always be part of the job, particularly as the digital age transforms the broadcaster's role.
"You're required to evolve; I can't say it any other way," Van Vooren reflects. "I was in it before cell phones and the internet. When you came on the 10 o'clock news to do the sports for that night, you were the authority. We grew up that way and when I started, it still was that way. Nowadays people can inform themselves in so many different ways that you need to go beyond mere facts by the 10:20 p.m. sportscast. You need to provide some analysis or opinion or some inside look at something that distinguishes you."
Van Vooren especially appreciates his team's Beyond the Game segment that allows for long-form, personal storytelling. 
"The very best stories are where people let you into their world and trust you with their story," he shares. "To me, that's an enormous responsibility. You want to do right by them — and those stories do make an impact. That's powerful stuff. And even though the media world has changed a great deal, you can still tell those stories. And you can still make an impact with a story. It's really a cool deal."
Van Vooren stepped into the sports director position at FOX6 in early 2017 when his equally respected predecessor Tom Pipines retired after 32 years at WITI. Van Vooren says the move was both natural progression and a testament to his and Pipines' longtime partnership.
"Tom was a terrific guy to work with. I learned a ton having a desk across from him for all those years," he says. "You heard him on the phone, you saw him preparing a story, and I'm so blessed to have had that opportunity to observe what he did. I try to do some of the same things that he did and put my own stamp on things too."
Asked about sports' ability to transcend the field or arena into a broader source of state and civic pride, Van Vooren cites the recent good fortunes of the Milwaukee Bucks as a fine example.
"The Bucks have built a tremendous culture that is very relatable in Milwaukee," Van Vooren reflects. "They have talent, for sure — talented coaching staff, talented front office — but they're not aloof. They're not punching the clock and they're not mercenaries. They're a team that is representing Milwaukee. That's a cultural thing and I think the fans can definitely connect with that. The examples we've seen of so many players' individual character have played well."
Van Vooren puts 25-year-old Bucks phenom Giannis Antetokounmpo at the top of that list, given the intense spotlight the young player's success has garnered both on and off the court. 
"[It's] seeing someone grow up before your eyes," says Van Vooren. "Most Bucks fans had never heard of Giannis when he was drafted, and he has had this tremendous athletic and personal growth right there for all of us to see. … He's a special person, a special force in our midst."
And true to his memory of that ball lost in the ivy, Van Vooren will always love the power of a good preps or collegiate match-up to stir up a crowd too. "That's one of the joys for me being in a market like this where people care so much about these professional teams to say nothing of Marquette and the Badgers and UWM," he says. "They all have their following, as do so many successful smaller college programs right here as well. And then you still have the high schools. In a smaller market, you have high school sports, primarily — maybe a junior college in town  — but everything else is followed from afar. 
"In a market like Milwaukee, it's all right here," Van Vooren continues. "It's part of the heritage. They've grown up with it. Or they may have relocated and they still follow their team from two times zones away. So that's a nice advantage."And a lasting one too.
"We have NBA players from here right now, and guys really bursting at the seams to get there — very, very talented high school basketball players," Van Vooren says. "We have three of the top 50 minor league prospects in baseball, I believe, coming from this area. All played at UWM. Wisconsin's a hotbed of sports at so many different levels.
"'So you're a sports director at a FOX station that cares about sports?!'" Van Vooren chuckles of his role. "'Lucky guy!'" MKE