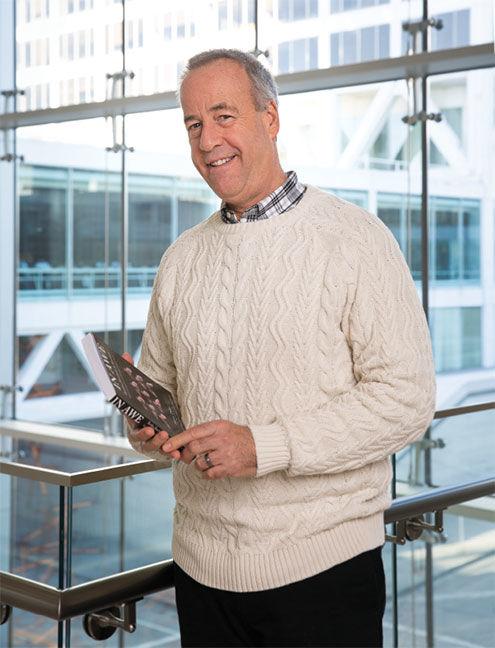 As he enters his 33rd year as host DJ of WKLH's "Rock N' Roll Roots," Steve Palec realizes just how closely his life's journey has paralleled the themed playlists of diverse and deep-cut songs he meticulously assembles for each Sunday's three-hour show — each filled with bold creative choices and unexpected twists and turns. In addition to his four-plus decades in radio, Palec has also worked as a sportscaster and forged a career in real estate, giving him the chance to meet and work with a variety of people across music, sports, business and beyond. 
Despite his extraordinary career and accomplishments, Palec still views himself as an ordinary guy  — one who just happened to find his way into awe-inspiring moments through hard work and recognizing opportunity. That realization persuaded him to finish writing his recently published memoir "In Awe: Beatles, Baseball and Bourbon — Appreciating Spectacular and Simple Stuff."
"This whole book project almost got scrapped halfway through," Palec says, "because what I was realizing was that I had all these great stories from decades of broadcasting, business and sports, and they really started to sound like a bunch of name-dropping stories. I thought, 'I don't want to be that guy that just has a story for everything that tops somebody at a party when they bring up a name.'
"Luckily, it was around that time that I came to the realization that the common thread with all of that was I'm just a regular guy, but in all these great situations," Palec continues. "And I think the reason I got into those situations, stayed in the situations and was cognizant of the similarities was that I'm just in awe of all the opportunities that are out there if you just place yourself into it." 
When Palec heard his first radio broadcasts as a child, he was instantly hooked. He wasn't afraid to ask for opportunities in radio and tried to learn as much as possible. 
"I was gung-ho on getting into radio, and I was still in high school working in radio," Palec recalls. "At the same time, I was still trying to find myself. I was still pretty green. I didn't know whether I belonged or not, which is what happens when you combine that go-get-it attitude with a naïve basis of life. And you know what that equals? Humility.
"So it was the dichotomy of just going after it and asking when other people wouldn't and just being in awe of the situations, but at the same time, [being] very humble."
Palec calls getting into commercial real estate nearly 35 years ago a "complete pivot," and says he continues to seek new challenges in the field.
"It was a good opportunity to use some of those [people] skills," Palec explains. "And then, after 35 years in commercial real estate as a broker, I just hit this point [last year] where I just thought, 'You know what? I need a new challenge.' I'm still in the industry and the field, but now I'm a chief marketing officer. I literally went out and bought a bunch of books on how to be a chief marketing officer and learned it."
As he wove together the stories in his memoir, Palec realized how much his career paths have paralleled and overlapped —  and how much could be learned from that. Still, he says, "This isn't a self-help book. I'm too self-effacing for that."
Instead, it's an indirect how-to on recognizing little things that add up to big — and often shared — joy. Palec uses the example of suggesting a song to a friend and the happiness each of you reap if they love the tune too.
"If that person starts really getting into the song and says, 'I really, really like this,' both of you feel good. That's awe. That's the awe that I'm describing.
It's an attitude.
"Obviously, when the commissioner of Major League Baseball says to you, 'Do you want to go to a playoff game in my private jet?' who could not be in awe of that?" Palec continues. "But the next day, somebody may say something as simple as, 'Hey, have you ever taken an Egg McMuffin and combined it with a double cheeseburger? Try this.' And I'm in awe of how good that is. That's just an attitude, and that's what I discovered the common thread was."
Palec devoted an entire chapter of "In Awe" to a person he calls "the most impressive human being I ever sat down with." 
"Les Paul — here's a guy that impacted the world, and invented the solid-body electric guitar and multitrack recording. That little thing that you put a harmonica around your neck — you can picture Bob Dylan with it — Les Paul invented that. I sat down with him for three hours to do an interview once, and I was exhausted because I was obviously in the presence of genius for three hours," Palec says.
And he's endlessly grateful for the freedom the WKLH brass affords him, offering in return intense preparation in a genre of music he says has no limitations.
"That's the essence of rock 'n' roll," Palec muses. "It's this musical form that's been around now for some 70 years, but what it really is is the conglomerate of every type of music that all went into it. So how could you ever run out?"
As for the bourbon portion of his book's title, "it's an obsession," Palec muses. 
"I've been on the Bourbon Trail and it was one of the most fun times in my life," he continues. "It reminds me of the obsession I had when I was collecting albums and then collecting CDs, and the obsession I had as a kid collecting baseball cards. … I'm just fascinated by the rules of bourbon. It has to be made in America. It has to go into a brand new, charred oak barrel. Every single one of them is different … and you think about it, it's the only true American alcoholic beverage."
Whatever path he's on, Palec says a little laughter has gone a long way.
"The first thing I say in that book is I dedicated it to laughter," Palec says. "I'm at that stage of life where I can actually take a step back and look at my life, and I certainly have had some consistent passions. I've always loved sports. I've always loved music, and I've always loved food. The other consistency that has been a driving passion of mine is that I can't imagine going through a day without laughing. It is just such a perfect form of pleasure. How could you not want to encourage that in your life?
"I just like to see what every day brings," Palec concludes.  "I'm looking for the awe in every day." MKE