Mere days from when the first guests will check in at the Dubbel Dutch Hotel, a freshly restored 1898 mansion up the street from the Northwestern Mutual tower and blocks from the Lake Michigan shore, it's crunch time. 
A worker carries a windowpane through the front door and a team of men hoists a sofa bed up an ornately paneled (and precariously narrow) staircase. Floors need to be refinished, walls need to be painted, and 17 guest rooms' worth of furniture has yet to be delivered and arranged. 
For the hotel's owners—Juli Kaufmann of Fix Development, Patrick R. Jones of Ramsey Jones Architects and Andy Braatz of Braatz Building—the Dubbel Dutch has been a labor of love the moment they started the project in 2019 down to the very last minute. 
The trio became acquainted with the building when they were each hired by a client who planned to restore the mansion for a hotel project of his own. "That job proceeded for six, eight months before dying a slow death due to finances and cold feet," Jones says. "The building was a daunting shell at that point in the process."
When their client walked away from the project, Kaufmann, Jones and Braatz made the decision to take it on themselves over pints at Company Brewing.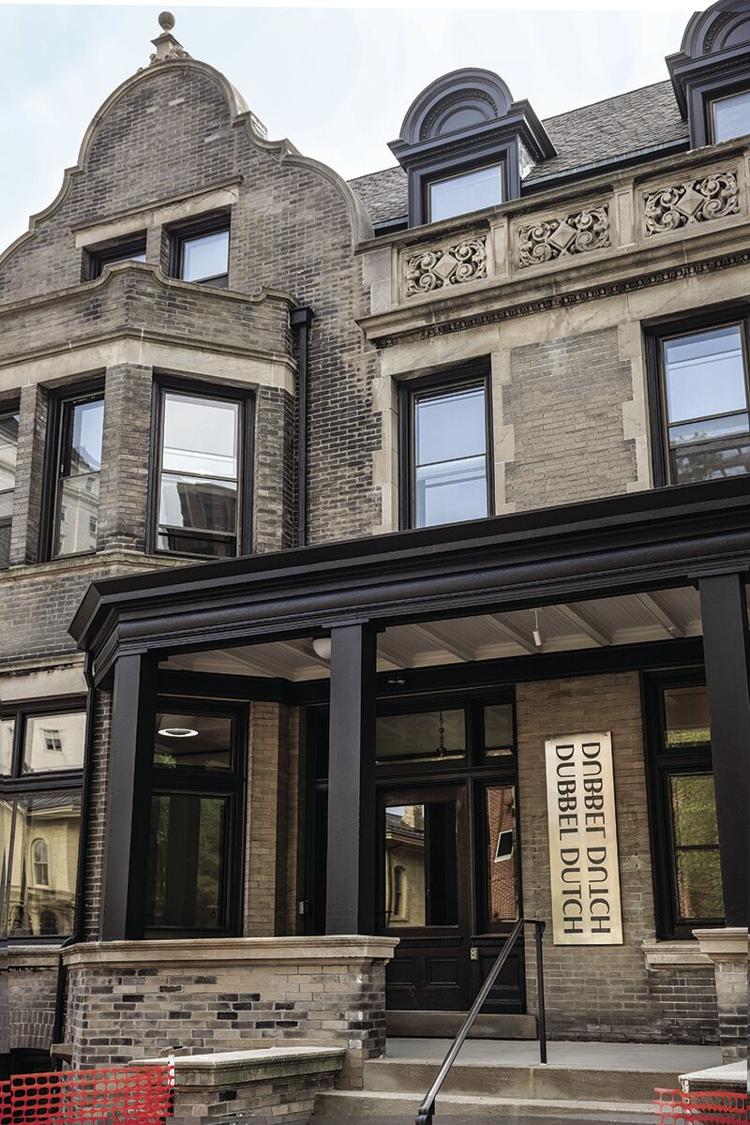 "[Andy] broached the topic with me and said, 'We know this building as well as anybody. Would you have any interest in owning it ourselves?'" Jones says. "That planted the seed." 
The three went in on the historic Koeffler-Baumgarten House and set out to create a boutique hotel that reflected what they prioritized in their own travels: Small hotels with character, steeped in local culture, unique features in every room, complete with an onsite restaurant and bar. And they've been necessarily scrappy, relying on their design, development and construction chops, and contributing $2 million from their personal savings to bring that vision to life. 
"We have put in an inordinate amount of sweat equity and expertise that others might not be in a position to provide," Kaufmann says. "That sweat equity and additional knowhow and hustle has made it just barely possible."
Now, the owners are making their first foray into hospitality right as the global COVID-19 pandemic has turned the tourism industry on its head.
"Nobody could have anticipated or imagined this world," Kaufmann says.
FROM DOUBLE MANSION TO DUBBEL DUTCH
It's impossible to walk by the stately double mansion on Marshall Street without craning your neck to gawk. The building's dramatic, Germanic flourishes demand attention; a domed tower sits at the top of the house and an intricately carved balustrade sits just below the roofline. The interior matches the façade's grandeur, with dark wood paneling, detailed millwork on molding and trim, pocket doors and original fireplaces.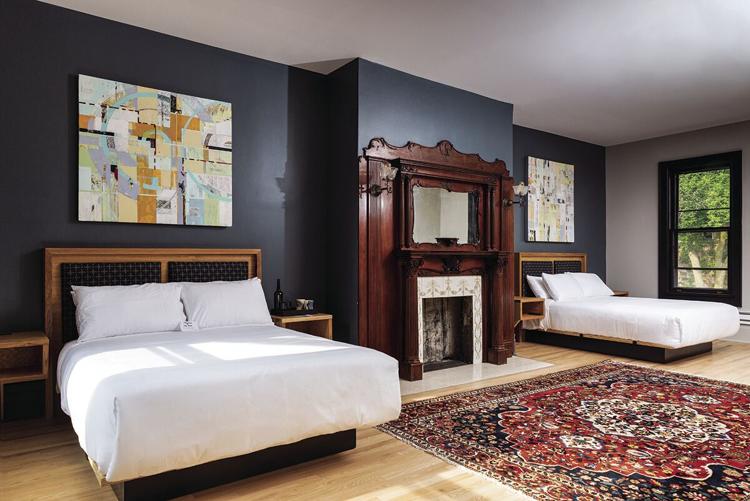 The home was built as a private residence in 1898 for Charles Koeffler Jr. and his sister Hermine Baumgarten. For years, the siblings lived with their families on either side of the home, which was designed by Milwaukee architectural firm Ferry and Clas. The name "Dubbel Dutch" is a playful homage to the building's history, using the Dutch spelling of "double" to represent the side-by-side mansions.
By the 1920s, the home was converted to a rooming house, according to the Wisconsin Historical Society. Eventually, it became office space, and in 1985 it was nearly demolished by a developer before the City of Milwaukee Historic Preservation Commission swooped in and gave the building a historic designation.
Kaufmann, Jones and Braatz were determined to retain as many of the building's original features as possible while converting it into a hotel for modern travelers. They also had the property listed on the National Register of Historic Places.
"Everything was outdated," Kaufmann says. "I don't think we were blindsided by the condition, but our eyes were wide open."
Luckily, the building's previous owners hadn't done much remodeling. The home's turn-of-the-century charm, including rich mahogany paneling and quarter-sawn oak floors, remained intact. But renovating a historically significant building was challenging, especially when it came to updating the mechanicals.
"The biggest thing was retrofitting all of the pipes and wires and line sets and feeding them through a building that wasn't framed to accept modern technology," Braatz says. "Because of the historical aspect, you can't do things like lower the ceiling six inches so you can run the pipes through there."
The construction crew also painstakingly preserved original trim amid the demolition and construction, which required extra care to remove, label, set aside and then reinstall.
While some updates and modernization were inevitable (like "discretely inserting bathrooms where necessary," Jones says), most of the newer finishes fit with the era of the home. The guest rooms have new, but period-appropriate, five-panel doors, and the new bathrooms are outfitted with hexagon floor tiles and crisp white subway tiles in the showers. 
A grand mahogany-paneled staircase on the first floor is the hotel's pièce de résistance, with decorative balusters and railings. A maze of narrow hallways on the second and third floors lead to guest rooms: Classic queen and king rooms offer more modest amenities for solo travelers and couples, while the sprawling Milwaukee Suite boasts bunk beds and a playroom along with a kitchenette off of the master bedroom. One guestroom was converted from a wood-paneled nursery, serving as a reminder of the mansion's early days as a private residence.
At the helm of the hotel's interior design is Sharon Celek Kevil, founder and CEO of Forti Goods in Milwaukee. "Our goal was to highlight the building and as many of the original details as possible — the gorgeous woodwork, fireplaces and built-ins — without competing with them," Kevil says. "We went with modern furniture and fittings so there'd be a clear difference between what is old and what is new."
Moody cobalt blue and gray paint offsets the woodwork in hallways and public spaces, and antique Persian rugs adorn the guestroom floors. Kevil also designed the headboards for the rooms' beds, creating a custom pattern for the fabric inspired by a decorative quatrefoil design from the home's original woodwork.
When modern touches appear, they're deliberate. In lieu of closets, for example, each guest room has a sleek black steel luggage rack designed by Kevil. "It's an incredible and compatible contrast with the rich and luxurious and historic detailing of the building," Jones says.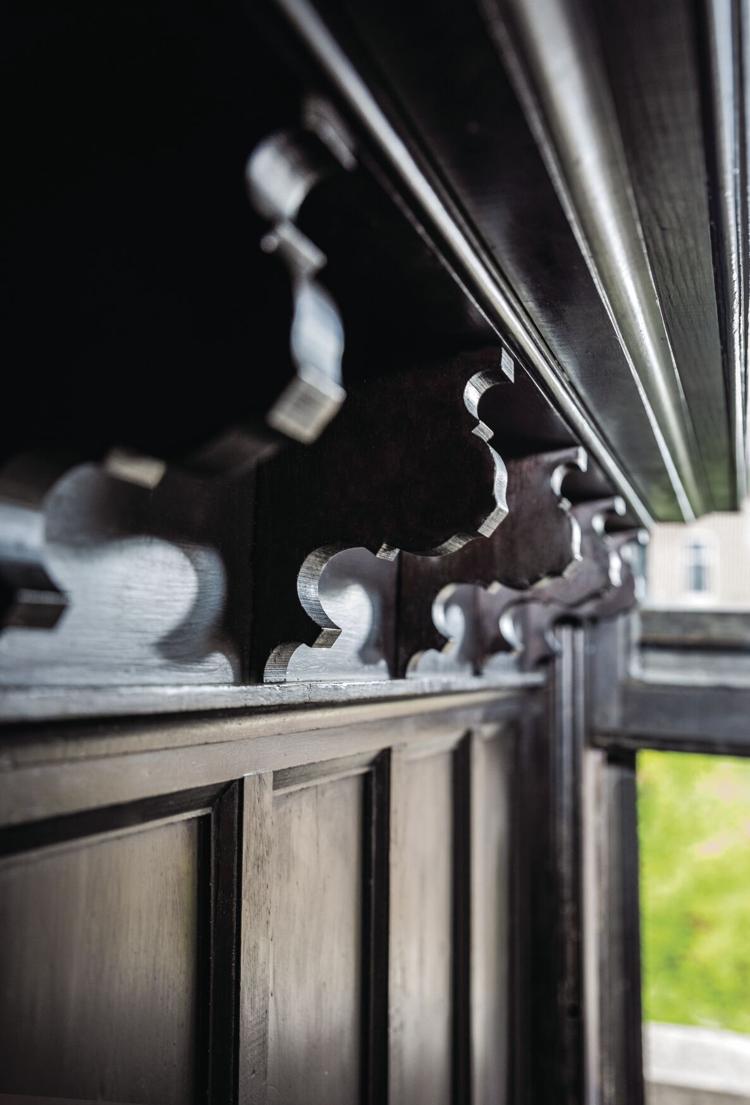 "IT'S GOING TO BE DIFFICULT"
At the start of 2020, the Dubbel Dutch Hotel was slated to open by early June — just in time for the Democratic National Convention in July, when thousands of travelers would descend upon Milwaukee. 
But in March, as the construction team finished installing the mechanicals and prepared for inspections, the pandemic swung into full gear. That caused delays with city inspections, some of which wound up happening over video.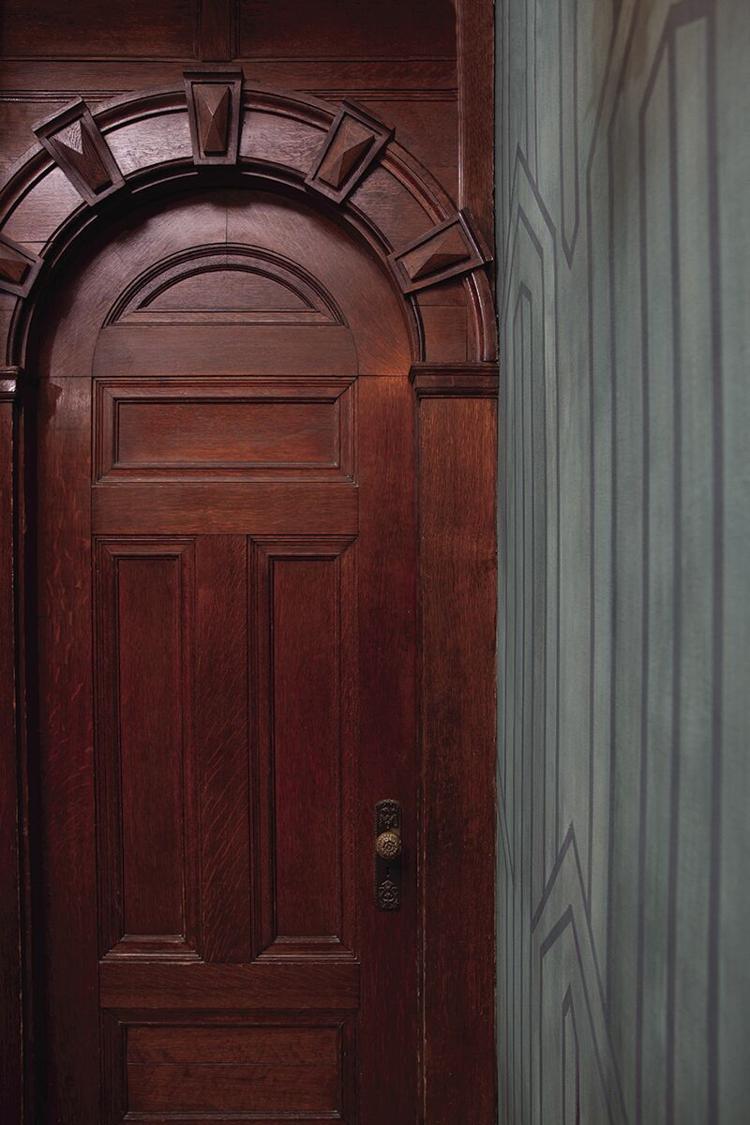 The building was big enough for the construction crew to space out while they continued to work, but then problems arose with suppliers. Manufacturing and fabrication hit a standstill in some industries, and production for doors and other materials fell behind schedule.
"Just three and a half months ago, this looked like a great opportunity for each of us to have an interesting side project," Jones says. "It looked to be a lovely development — preserving an existing historic building in the society. Both righteous and profitable."
But the pandemic has shaken the tourism industry, and added a layer of anxiety for the owners, who are veterans in their respective fields but new to hospitality. Fewer people are traveling and booking hotel stays, although "we are sensing that is opening up a little bit," Jones says. "We're seeing bookings at a rate that has been somewhat comforting."
Still, the owners have concerns about whether the hotel can succeed in this strange and ever-changing new climate.
"We are not deep pocketed owners. We put our life savings and heart and soul into the project," Kaufmann says. "Our hope was this was going to be something that was happy and exciting for all of us, and now it's going to be difficult."
BUILT FOR SOCIAL DISTANCING
One silver lining for the group, in spite of COVID? The Dubbel Dutch has features that could make it alluring to travelers craving a socially distant getaway.
There is no front desk, and the hotel uses contactless check-in. Guests receive a code for the main entrance and their room 48 hours before arrival, and they can enter the code on a keypad or use a QR code on their phone for contactless access.
Each room has an independent heating and cooling system, and there is no turnover service unless requested. The small size of the hotel also lends itself well to social distancing and group bookings; the first guests to arrive in July were a wedding party.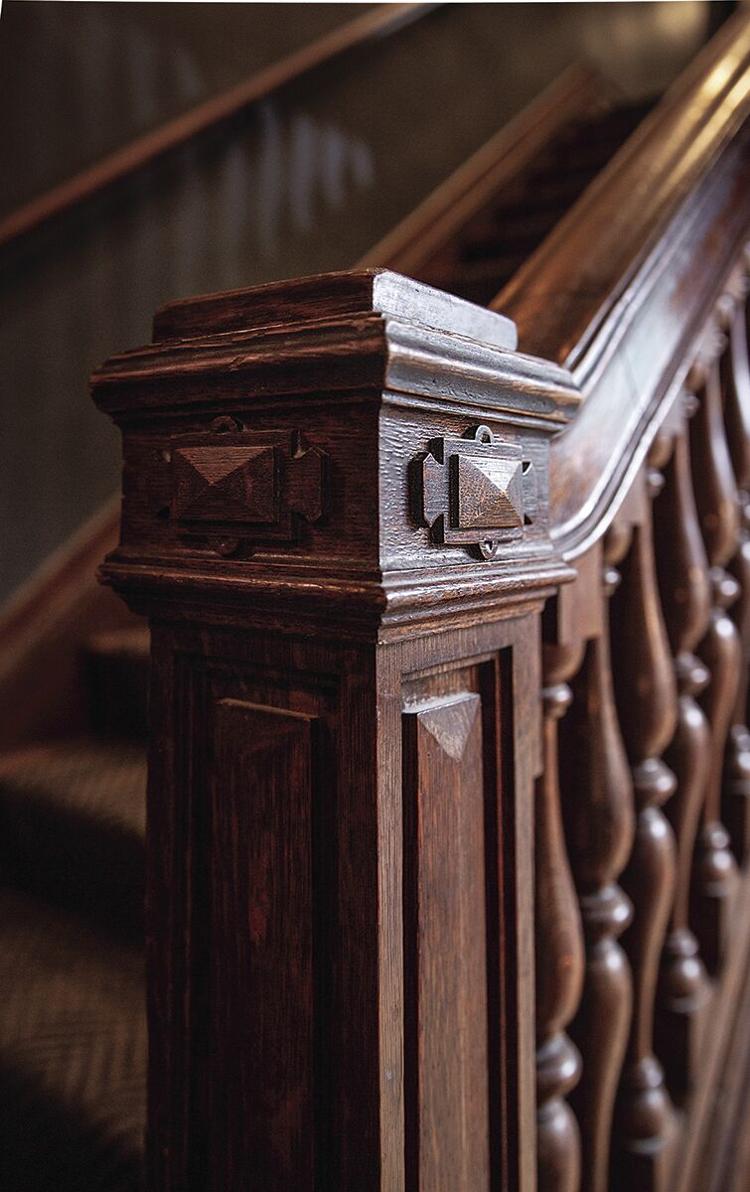 "This special niche turns out to be one that is more marketable now," Kaufmann says. "Small gatherings of known parties, using the most progressive high-tech adaptations, which include no-touch check-ins — it's just well-concepted to translate to these times."
MILWAUKEE MADE
At its core, the Dubbel Dutch celebrates not just the building's history, but also the people and artists who live here. Look closely in the guest rooms and you'll notice accents from Milwaukee makers, including coffee mugs by potter Jean Wells and upcycled water glasses and vases by artist Cassandra Alonzo. In the bathrooms, hand soaps and lotions are handmade by survivors of human sex trafficking who are working with Franciscan Peacemakers Social Enterprise. The hotel owners also partnered with a local start-up, Washbnb, for laundry services.
"It's very much a Milwaukee-grounded project," Kaufmann says. "We support each other."
The most visible local partnership is with the Horned Hare, a restaurant on the north end of the hotel that will be open to the public. Snack Boys owners John Revord, Mitch Ciohon, Eamonn Keyes and Stephen Landish are the team behind Horned Hare, which will serve small plates and craft cocktails.
The restaurant is named for the Wolpertinger, a German folk creature resembling a rabbit with antlers and wings — a fitting reference, given the building's Germanic features. 
The dining room showcases similar historic details to the rest of the house, with original built-in glass cabinets and a grand fireplace with rich dark wood surrounds. On the walls, a gold leaf pattern created by painter Colleen Drew pops against navy blue plaster, bringing a touch of art deco opulence to the space.
As of press time, the restaurant's opening date is to be determined. On top of COVID delays, construction on the restaurant is running a few weeks behind the hotel. 
"NO PEER IN THE CITY"
For now, the Dubbel Dutch owners don't know what the future holds. But Kaufmann, Jones and Braatz are optimistic.
"I think if COVID was not going on, it would just be totally booked and packed," Braatz says. "My hope is that as soon as we're out of the woods with COVID, that'll just happen."
A softer launch also gives the team time to work out the kinks before bookings pick up, Braatz adds. Plus, the novelty of a building with over a century of history could attract travelers, or even Milwaukeeans looking for a unique staycation. 
"Each room is a surprise," Jones says. "It's something that has no peer in the city."
Ultimately, all three are hopeful that guests will be eager to stay in a property reflects the character of Milwaukee unlike any other hotel in the city.
"It's really about carrying each other and Milwaukee," Kaufmann says. "That will be the way we all have enough resilience to survive and thrive." MKE