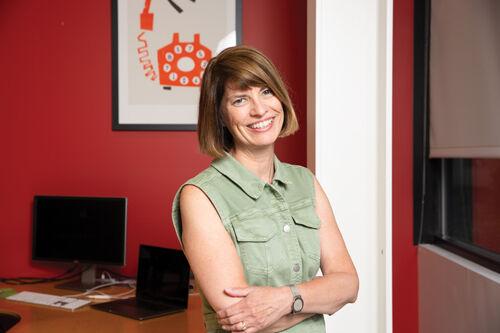 The holiday season creates opportunities for Milwaukee's vibrant artistic communities to shine, says Christel Henke, vice president of earned media at STIR Advertising & Integrated Messaging.
"For more than 20 years, I've volunteered in some capacity for local performing arts organizations," she explains. The most recent of those include the United Performing Arts Fund, whose fundraising efforts sustain 14 performing arts groups in Milwaukee.
"To me, the performing arts is the lifeblood of a community," she says. "Whether it's a thought-provoking play or the beauty of our symphony in the historic Warner Grand Theater, these performances inspire and energize community members from all walks of life and encourage creativity and imagination in the next generation."
Industry: Marketing.
City of residence: Shorewood.
Family: Husband Jim Moy, and son Nori Moy.
Education: Bachelor of arts degree in public relations/German and journalism from Mount Mary University.
Favorite vacation destination: New York City has the best of everything — including my son, who moved there last year.
Favorite leisure activity: Yoga, reading and dining out with my husband.
Favorite restaurant: One hidden gem on the East Side is Tess.
Favorite book: Any Malcolm Gladwell book, especially "The Tipping Point."
Favorite musical artist: Annie Lennox.
Best advice ever received: My mom used to repeat a short German saying when I was young, which translates to, "Tomorrow, tomorrow, not today; that's what the lazy people say." I think it helped me form my work ethic from an early age.
What do you like most about Milwaukee? There's so much to love about this city, but one of my favorites is the gorgeous and walkable lakefront. My husband and I walk miles along the lake every week and have spent a lot of time there enjoying festivals and just contemplating life.
Tell us what you think about MKE's short- and long-term future — what excites you? Milwaukee's future is looking bright from the standpoint of all the new commercial and residential development, the city's commitment to becoming a technology and freshwater science hub, and of course, its Milwaukee Bucks championship team. I'm particularly loving the public art that has sprouted up all over the city in recent years, from Black Cat Alley to the Sculpture Milwaukee exhibits lining Wisconsin Avenue. It really gives the city a new vibrancy and shines the spotlight on some amazing local artists.
Why do you think is a MKE hidden treasure? Milwaukee is an underdog of cities – often underestimated and underrated. But this city, despite managing the challenges that all cities face, is jam-packed with fantastic museums, world-class entertainment venues like the new Warner Grand Theater, and a wide array of outstanding restaurants of every kind. There's something for everyone.
What's your proudest achievement to date? Raising a happy, healthy and successful son has to be number one, followed by building a career doing something I absolutely love. I've also been able to manage my work in such a way that I've had the flexibility of running my own media relations business when I was raising my son and needed to set my own schedule but then was able to jump back into working with an incredible team of agency professionals who inspire me with their energy and creativity.
What — or who — inspires you? I'm in awe of the many local volunteers and organizations who work tirelessly to make Milwaukee a better place to live. The Greater Milwaukee Foundation, a community foundation that partners with a vast network of donors, nonprofits and community leaders, really inspires me because they play an integral role in so many large and small-scale projects happening around the city, from art and education to racial justice and the environment. Many Milwaukeeans don't even realize just how much they — working with charitable funds from generous donors — are doing behind the scenes to help create a thriving community. MKE
Each month, business writer Steve Jagler profiles a local industry leader for MKE Lifestyle. He has more than three decades of experience interviewing business and nonprofit executives. Follow him on Twitter or find him at www.stevejagler.com.