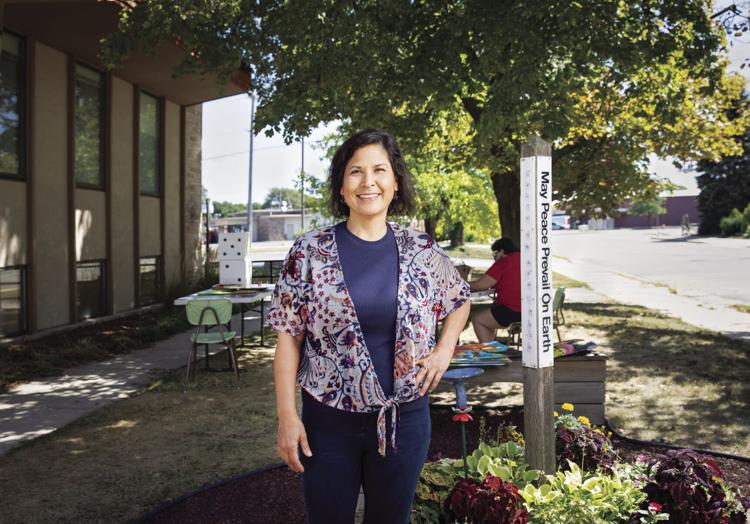 As the COVID-19 pandemic took hold, most of us scrambled to figure out how to best preserve our health, our families and our jobs as "work" and "school" suddenly looked a lot like home. 
For parents and guardians of adults with mental and physical challenges, and the staff members of the residential, work and social programs devoted to that population, that quagmire became especially challenging. With myriad health conditions common in their clients, decision-making is a precarious balance of keeping those clients safe and making sure their mental and social needs are equally addressed.
Sandra Gines is executive director of Adaptive Community Approach Program, better known as ACAP, a longtime, Waukesha-based disability services organization that is heralded for community-based programming designed to discover, cultivate, and share members' unique abilities. Here, Gines tells us about the joys and challenges of adapting ACAP in a COVID world.
ACAP is known for its wide variety of socially oriented programming that includes athletic programs, fitness and arts programs, community service opportunities, overnight camping and enrichment trips and more. Given that "external" focus, what was the biggest challenge in meeting client needs virtually when the pandemic struck?
One of the issues with people with disabilities is often their isolation and the burden on their mental health when their routines are changed so drastically. ... For many of our clients, this is their community. This is their friendship circle. These are the people that give you that boost to know that people care about you. But the broader picture is we're doing all of this with really serious risks out there, and doing everything that we can to keep ourselves and our members safe while we're moving in this direction of coming together on-site, too. 
So our initial move was to use every channel of communication we had available to us for each member, and to do whatever we could to show them that we were caring about them — even if this was a one-way communication. Some of our members, for example, might live with an elderly parent who does not have technology, does not have Wi-Fi, does not have email. They might have a phone, but not be particularly inclined to pick it up when you call or to call back. So we were doing a lot of cards and letters, phone calls and FaceTime and using technology if that was available to us. Trying with each member to do some sort of outreach at least weekly. 
And then we moved to virtual programming mid-April. We managed to find a funder who was willing to do it as a pilot. So we started with a pilot with just the one company, even though not everything was in place, because we knew the need was there. That people wanted to see their friends, do a check-in and to see people's faces and be seen.
And you found a silver lining to that.
While ACAP's special mission is to be physically together out in the community — that's the heart of what we do and we'll never stop doing that — we do see that, for a small number of our members, they really respond to that virtual opportunity. It's something that they really enjoy and are comfortable with. So I think it's an ongoing conversation about what might happen to the disabilities community moving forward in the virtual world, but for the foreseeable future, as long as some members are choosing to stay safer at home, we're going to have that available for those who want that service. 
What has returning to on-site programming been like?
From the beginning, we were following the science. We were reading all the reports. And it was a really challenging road to walk. First, we worked with our wonderful and generous partners here at First United Methodist Church to make sure that coming back into this space was going to work with their plans. We had to go through all of our safety protocols and write a bunch of new ones and revise everything that we were doing in light of all the changes in programming for us.
The challenge now is, where can we go? You don't want to bring people with potentially vulnerable health into crowds, so we've been spending a lot of time on our grounds. Granted, they're relatively small, but they're pleasant and green. And so we're doing a lot of the gardening and weeding and groundskeeping for First United Methodist Church, and for some of our nearby partners. We have a couple of parks within walking distance that we'll be using in the fall, and we're working on getting to some trails. We haven't been using our vans for transportation, but we're trying to figure out how to safely do that. That might be taking no more than four members in two different vans to a location for the day.
How has your staff responded to this crisis?
We have the most amazing group of committed, dedicated and super-talented and smart people working here. So they are all really rising to the occasion and figuring out what we can do and how we can make it really meaningful, worthwhile and educational, whatever the task is. I have every confidence that — even though there's a lot of constraints around everything that we do, and our programming has had to look very different — we're going to do everything we can to still reach those high standards that we've always had for our programming and make sure that it's meaningful, it's individualized, it's interesting and it enhances people's days. 
And a continued salute to Carol Kay who founded the organization …
She was way ahead of her day, back in 1982 when she started this organization, in wanting [ACAP] to be community based at a time when [care] was still very institutional. 
The good thing is, people are coming around now, and you see more and more community-based aspects of programs. But we've been doing this for 38 years, so we're really experts at it. We're experts at getting out and using whatever adaptations we need to help every member participate in community life just like everyone else. It's all about helping change people's mindset about people with disabilities and understanding that they do have a lot to give to a community in so many different ways. We know that many of our families and members really value that: Being challenged, learning new things, being lifelong learners, being out in the community and blending in.
A large part of that is participating in community activities in small groups. Tell me more about that.
What we want to have happen is that you might look at ACAP out in the community and not know who's disabled and who's not because we're just blending in. We're just people like everyone else, doing whatever the activity is.
It's our intent out of this work to help change the perception in the community about our members. It's a stereotype that people with a cognitive disability are childlike, but they are adults, and many times they have adult thoughts and adult things happening for them. We really want to help them grow in who they are just like others their age are growing into who they are. At whatever age they're at and at whatever stage they're at. 
There's a very distinctive philosophy and it's very well developed here at ACAP from the beginning. And it's sometimes at odds not just with general perception, but even with the families that come here. We find that over time and as we talk to them and educate them on our approach, they're very supportive. We see a lot of success with members learning new skills and learning new ways to think of themselves, and new ways to express their own capacities because of the opportunities that we give them with that approach.
The quality and variety of programming at ACAP is remarkable for what it costs to be a member. How is that possible?
That's why ACAP fundraises. We have fees that we're able to negotiate with care management organizations, and then we fundraise so we can do these special things, like our overnight trips that we're able to offer such as our Men of the Woods and Women of the Woods [camping trips]. Some of our members, especially those that might live in group homes or in group residences, how often do they get to be outside at night and look at the sky and have a fire? Little things that we take for granted.
That's why we build up the network of relationships with our partners, including everybody who cares about ACAP, and who help make these wonderful things happen. 
A lot of times, we work with our business partners for an opportunity and we get a nice rate so that our members can do it, because most of our members have very, very limited financial means. We're a nonprofit; we don't have a lot of extra money. So it's always about balancing these things out and trying within our means to do the most that we can. There's a tremendous amount of goodwill and friendship because of the emphasis on the relationships that ACAP has always prioritized, and I think that that really carries through to the way that people respond to the things that we're trying to do and want to step in and help and support us.
Learn more about ACAP and how you can help better the lives of adults with physical and developmental disabilities at acap-waukesha.org. MKE