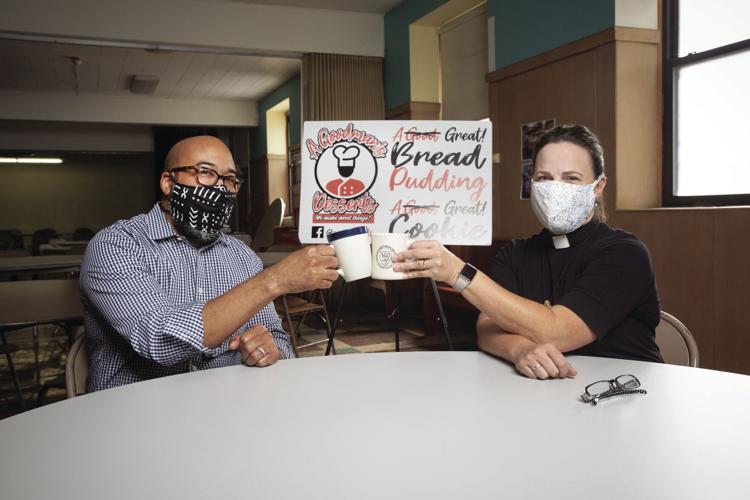 When Dr. Lisa Bates-Froiland decided to trade a career in higher education for a clerical collar, she knew that it would change her life.
When she accepted her very first call — to Redeemer Lutheran Church, a then struggling church in the Marquette University neighborhood with a dwindling but determined congregation — she learned that reigniting the spirit of that congregation and its home could help reignite a neighborhood too. And then a community. 
Sitting in Redeemer's mural-adorned lounge, Bates-Froiland likens that evolution to one of her favorite folk tales, Stone Soup, in which a wary community eventually pools its resources to create sustenance for residents and strangers alike. And that, she says, is more critical than ever in a time of pandemic and social divide.
"What I'm looking for, for the resilience of the city, is that 'Stone Soup' kind of mentality," Bates-Froiland says. "'Like, 'Well, I might not be able to do 500 meals out of my kitchen, but I know of this other place that could do this piece of it, and this other place that can contribute that.' And trying to re-network us together to be responsive to the crisis. Developing deeper infrastructures and trusting relationships to be able to counter that challenge."
Seated next to Bates-Froiland, nodding in agreement, is her friend Alan Goodman, a Milwaukee Area Technical College instructor, longtime business executive and recent founder of A GoodMan's Desserts. The pair met when Bates-Froiland, an avid participant in Near West Side Partners (NWSP), took part in a luncheon introducing the 2019 winners of NWSP's Rev-Up MKE small business competition. Armed with charm, intelligence and humility — plus some unforgettable cookies — Goodman stood out.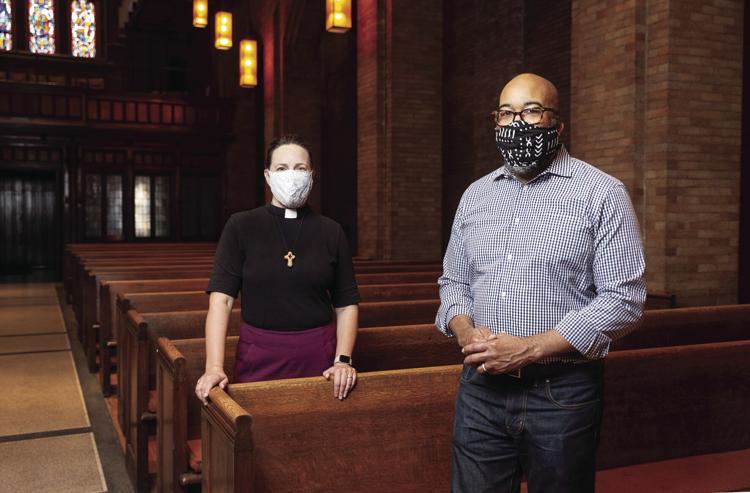 The Courage to Change Course
Goodman says he was burning out on corporate life, and mulling trying his hand at his own business for nearly a decade, when a sort of divine intervention took place. Laid off in the fall of 2018, and heartened by the enthusiastic response to his baked goods from family and friends (and teachers who lined up for extras, then scooped crumbs from the floor, when the Goodman kids brought homemade treats to school), he set to work shaping A GoodMan's Desserts. His Rev-Up MKE win, he says, confirmed the decision was the right one.
Having created desserts for The Tandem's Caitlin Cullen in exchange for use of her commercial kitchen, Goodman forged a similar agreement to use Ambassador Hotel's kitchen as his business began to flourish online and via local farmers markets. And then pandemic struck. The Ambassador temporarily closed and Goodman's plans for a Near West Side storefront stalled too. 
But the power of those delicious baked goods and Goodman's stalwart faith in his mission was about to take root in inspired new ways.
As COVID-19 continued to challenge the community and its cherished local businesses, Bates-Froiland's congregation — retired pastor Mick Roschke and his wife Judy in particular — expressed an even greater interest in uplifting their neighbors. Bates-Froiland recalled those cookies and the humble guy who made them. 
With the Roschkes' aid, Bates-Froiland approached Goodman about serving as the official baker for the church and congregants' social events, along with an offer to pay two months rent on the Ambassador kitchen.
"A really cute little detail in this is Pastor Mick was so thrilled to hear what Alan was doing at the Ambassador," Bates-Froiland explains. He said, 'The Ambassador, that's where my parents spent their wedding night!' They were passing through on their way down to Cincinnati where they were going to live, so it's just kind of a miracle that that's where they landed after their wedding."
And so Goodman's bread puddings, glazed lemon cakes, and buttery cookies found an appreciative new audience in the Redeemer congregants and their friends and families, keeping his plans for A GoodMan's Desserts alive.
One Neighbor At A Time
Bates-Froiland says that Redeemer's commitment to acceptance, inclusion and uplift began with a single mission: its own survival.
"Initially, with the church having regular conversations about whether it would stay open or not, they were in space of being very willing to experiment, and to hear an idea and say, 'Let's try it out,'" she says. "One of the first was neighborhood mapping. We designed this process of going around every block, all 68 around us. It wasn't about 'Hi! I'm Pastor Lisa! Come worship with us at 10 o'clock on Sundays!' Instead, we came with a question, which was 'What would make this neighborhood an even better place to live
and work?'"
From there, Bates-Froiland says, relationships — and the congregation — bloomed. "That revitalized us, and the beating heart became lungs that were going in and out as well … just looking for opportunities and looking for reasons to say yes rather than no," she says. "That was huge.
"The neighborhood as a whole has seen new life and has been striving to become what it could become during my tenure here," Bates-Froiland continues. "Part of being a good neighbor and an anchor here is that we know that this is a pretty precious piece of land. It's a really great location. So, knowing that we don't contribute to the tax rolls, we feel like we want to, and need to, be contributing any way we possibly can."
The Future … And The Past
On the same day he sat down with Bates-Froiland for this story, Goodman received good news. That morning, Ambassador Hotel general manager John Jossert gave Goodman to the go-ahead to resume use of the hotel's kitchen, plus its large stash of baking ingredients.
"John gave me the code and said, 'Here's the keys to the kingdom,'" Goodman marvels. "As a small business, these opportunities don't just show up, where, twice, someone said, 'Yeah, you can use the kitchen whenever you want to use it.' That doesn't happen."
As he resumes his mission to supply metro Milwaukee with the same tasty treats made for generations by the women in his family (and, in the process, set an example for young men who love to bake and have entrepreneurial dreams of their own), Goodman is also making good on another calling. He and a few fellow educators are at work on an initiative to get Black history duly woven into the whole cloth of American history. 
"I'm not a Black history expert by any means, and I want to continue to learn," Goodman says. "But I'm really looking for the next generation to be smarter and more well-rounded than I am. So I think that's important that people understand our full history, and hopefully that will break some of the preconceived notions they have, about people of color in particular.
"I just learned about Tulsa, Oklahoma, and what happened there with Black Wall Street, maybe five years ago," he continues. "So there's more for us to learn. But we really have to tell people the true history and really make it accurate … get real history taught and be a requirement for graduation from high school in Wisconsin."
Meanwhile, Goodman and Bates-Froiland take heart and inspiration from the new leadership arising from the region's ongoing social justice efforts. 
"Some of the crowds mirror what you see in pictures when you look at the civil rights movement," Goodman reflects. "If you asked people, they would say, 'Oh no, it was all Black people.' No, it wasn't. There's a mix of people, just like there are today. Younger people who have really done their research and understand what's going on. I'm hopeful for our next generation of leaders to really be more forceful in making change."
"It's easy to follow when you've got some strong leaders that are willing to put themselves on the line for what they really care about," Bates-Froiland adds. "And there's so many ways in which to bring something forward. There are the marches on the streets, but then there are also the people in the quiet meetings talking about policy changes and what's possible. And there are legislators that are moving that forward. So many different pieces that, working together each in our own way, we can have this be a turning-point year."
And it all begins with a single step: Take a chance on someone different from yourself.
"There's no competition in compassion and kindness," Bates-Froiland says. "It doesn't matter if we have the most eloquent speech or the loudest voice. We are quietly, compassionately doing what we can do to make things just a bit better for even one other person."  MKE