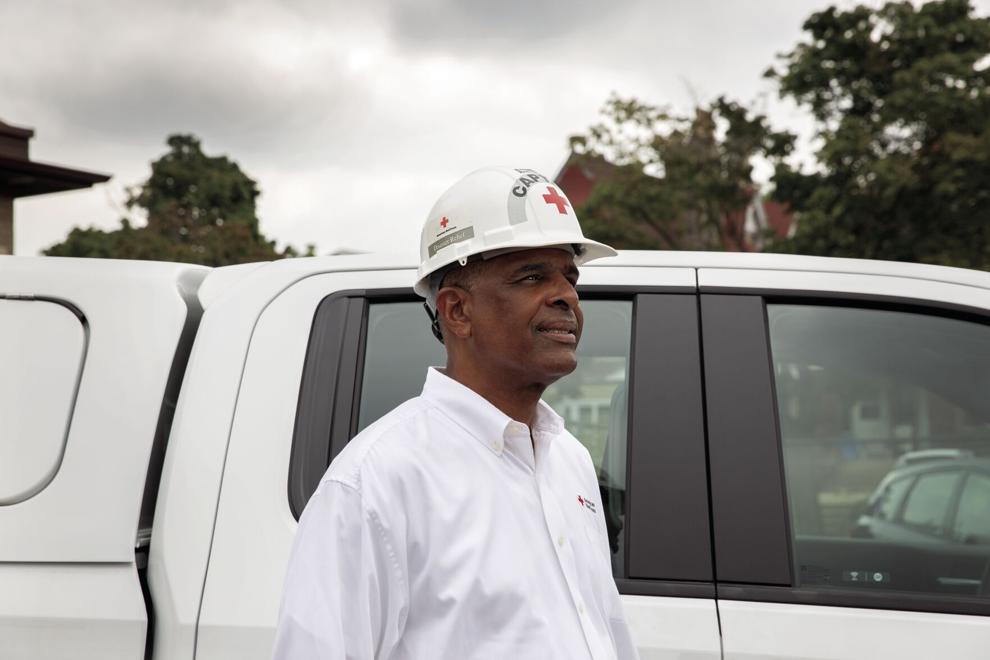 Mark Thomas suspects that helping people is part of his DNA, since he's been doing just that for most of his life. Now, as regional CEO and Southeastern Wisconsin executive director of the American Red Cross of Wisconsin, he makes sure "we deliver on the Red Cross mission, which is helping folks impacted by disaster." 
With nearly three years in the position, Thomas is also prioritizing the training and recruitment of volunteers and growing community partnerships, because this is work the Red Cross simply cannot do alone.  "The most rewarding part of my job," he says, "is to know that the Red Cross is saving lives and helping people every day of the year." Here, Thomas answers critical questions about the Red Cross, its partners and its mission.
MKE Lifestyle: What's the current need for blood in Southeastern Wisconsin? 
Thomas: The need for blood is constant. In the early part of the COVID-19 pandemic, some hospitals stopped having elective surgeries. But if someone has an accident or is harmed due to violence, they need that lifesaving blood. So we're always putting out the call for people to donate blood.
The country has experienced multiple severe natural disasters in the past year. How have Red Cross resources been affected?
We have had, both locally and nationally, a very high number. The West is on fire as we speak. And we've had a large number of apartment and house fires in Southeast Wisconsin. Starting in late 2020 and through the first six months of this year, it's almost been fire after fire. We're accustomed to dealing with home fires, but we've recently had a rash of apartment fires. With all of that activity, the proud point for me is the Red Cross is still answering the call, whether locally or in Miami where a building collapses. We have people there and boots on the ground answering the need.
Tell us more about the volunteers who are the "boots on the ground."
Right now we have about 650 volunteers in Southeast Wisconsin, and about 200 of those are folks working on our Disaster Action Team. They would be called if we had a flood or a fire. If you look at the website, we have many volunteer opportunities, from reception at blood drives, [to] working with schools for our fire safety program and even helping with fundraising. We'd like to see our volunteer number higher. We have a very diverse group of volunteers, and they help change lives. They're made up of your neighbors, friends and family members. You can help people in so many ways.
What's something about the Red Cross that might surprise people?
Through our Service to the Armed Forces program, we work with our military veterans and their families in so many ways. For instance, we've worked with folks who fly our military home in time of emergency. We support Honor Flights in different ways — sometimes it's just as simple as having a table there with balloons and with coffee as people are coming back from being deployed or as they're leaving. Our Reconnection Workshops work with our military upon their return to help them navigate all of the resources available to them. We try to connect them with mental health services, job-related [services], relationship-building, financial literacy, whatever they need. 
What is your motivation for helping others?
My thirst for helping others goes all the way back to my upbringing. My mom was a single mom with six kids. Our house was where all the other kids congregated, and it was always love for these folks. I'll never forget how I came home once, and a friend of mine was in the kitchen eating and I wasn't even home yet. 
There were also people along the way in my career that really helped me. I could have been one of the negative statistics for African American males, but by the grace of God and my mother's support, I was not. MKE
---
How You Can Help
Want to help the American Red Cross provide 40 percent of the nation's blood supply? Here's how to find a donation location near you:
• Download the Red Cross app, enter your zip code and register online
• Call 1-800-redcross
• Visit