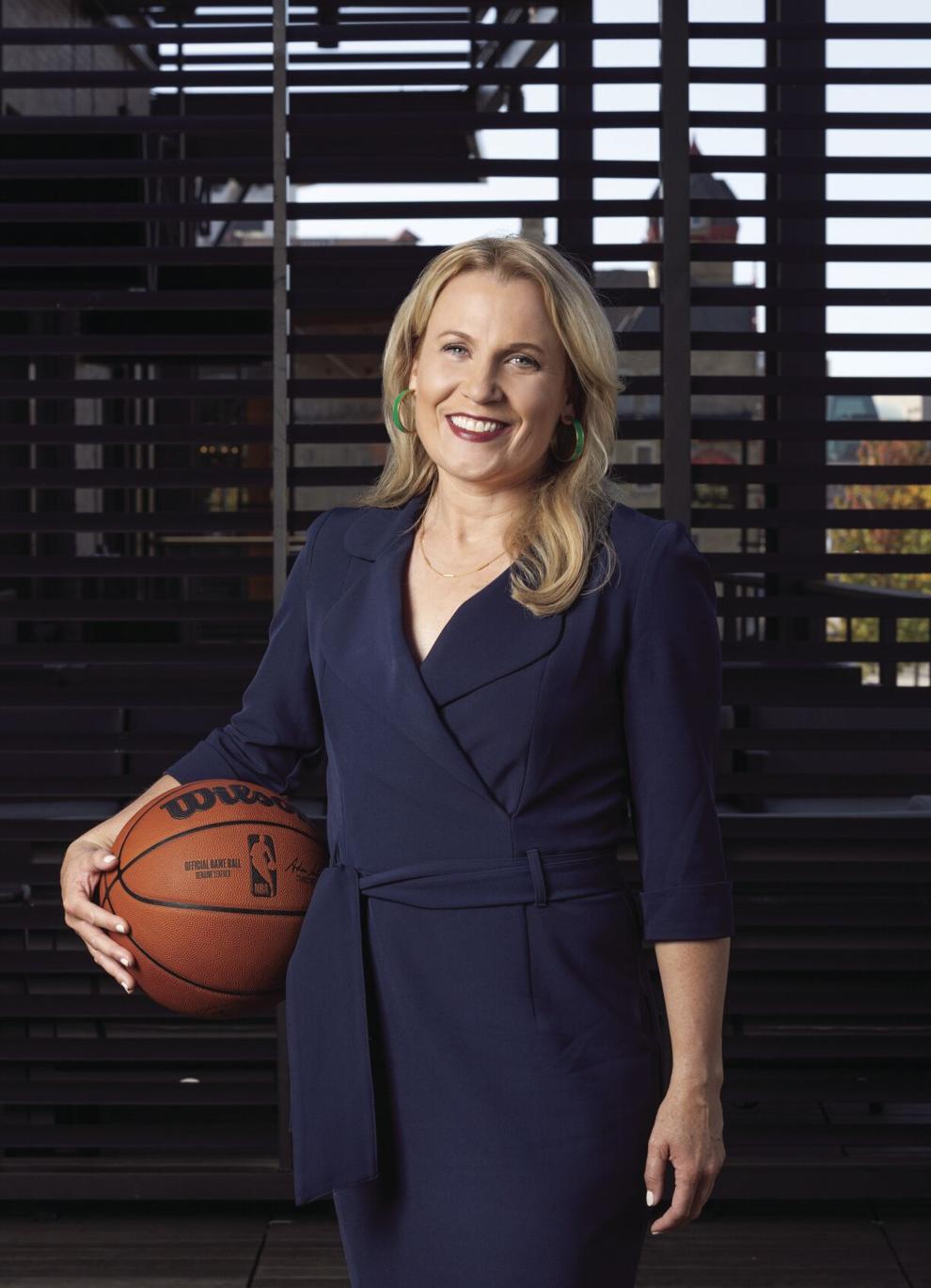 In September, the Milwaukee Bucks named Lisa Byington as the team's television play-by-play announcer — and she became the first full-time female TV play-by-play announcer for a major men's professional sports team. We recently caught up with Byington to talk Bucks basketball and her journey to Milwaukee.
What are your initial impressions of Milwaukee and the Bucks?
This city and franchise are not really "new" to me, since I've been a Midwest person my entire life. I grew up in Michigan, went to Northwestern University, and I've worked primarily in the Big Ten and Big East. So Milwaukee and the Bucks feel like home already, and I truly have loved my time here so far. 
I'll say this — I've been in and around professional athletes in a lot of different sports, but this feeling around this franchise and this city is different. They just won a championship, so they very well could act entitled. And there is none of that. They could want to do things the easy way now, but I don't see anyone cutting corners. Everything is first-class and relatable and hard-working and amazing. I have really enjoyed my time here so far. 
What are your thoughts on the Bucks this season?
My new broadcast partner, Marques Johnson, leaned over to me during the first day of training camp and said, "I just sense a calm and a championship swagger to this team." I thought that was a great observation. They are very relaxed in being the champions and the "marked team."
I really believe with the veteran and leadership they have on this roster, they'll handle being the target night in and night out. They have to get healthy first and foremost, and they have to stay healthy. They face challenges this year that only the Suns can relate to in playing to almost the very last day of the season ... in July! The "Big 3" need to recover from a shortened offseason (and an even more "shortened" offseason because of the Olympics for Khris Middleton and Jrue Holiday). If those three can be smart and stay healthy, the Bucks have a great chance to repeat. 
What were some of your favorite teams and who were your favorite players while growing up?
I was a little mixed up, because I grew up in Michigan, so I LOVED the Bad Boys [the late 1980s Pistons teams], but my bedroom was FULL of Michael Jordan posters — like ceiling-to-wall-to-door full. To this day, I joke I that wanted the Pistons to win but MJ to score 40. 
One of the best presents my parents ever got me was a trip to Chicago for a Christmas Day matchup between the Pistons and Bulls. We had seats high at Chicago Stadium, and it was wonderful. My dad asked if I wanted to walk down closer to the tunnel to see the teams come running out. Of course I did! We made our way down to right above the tunnel, and I saw that shiny head emerging — my first live glimpse at MJ. And it was awesome. 
When I was growing up, I didn't have a lot of women's sports to watch on TV, so I watched a lot of men's sports. I hope boys and girls today realize how lucky they are to have more choices. 
As a player, what were your most memorable moments?
In high school, our basketball team didn't have a winning record until my junior year. My dad had recently taken the high school head coaching job, and so he was my high school coach for all four years I was on varsity. 
We slowly built something as a program. We went from losing by 40+ to some teams my freshman year to beating those same teams in the state tournament and advancing to the state semifinals my senior year. Busloads of our classmates came to the game. We fell just a bit short, but made history for our school in getting to that point. I walked off the court for the final time and my dad was waiting. He stood there and gave me a hug on the court. My high school basketball career was over at that moment, and a local television station captured it. It's one of my favorite pictures ever. 
Can you describe your play-by-play style? 
I like to help shape the moment, but not BE the moment. I also approach play-by-play with a "reporter's heart" — I like to understand the players and coaches, who they are and why they do things. I'll be at practices and shootarounds because I truly believe that's where you learn about the teams the best, and possibly pick up that one great nugget you can pass along to fans during the broadcast. I was a "pass first, shoot second" point guard, so I'll always be looking on how to best set up my teammates. Marques Johnson and [reporter] Zora Stephenson are two of the best at their jobs, and I'll work to learn whatever I can from both of them. 
The NBA is about matchups and different analytics, and there are a number of ways to research and prepare for a game: watching the opponent, researching certain trends and reading a lot! 
Can you tell us a little about you? 
I love exploring new restaurants and cities, and though I have been to Milwaukee several times prior to working with the Bucks, I'll enjoy discovering and learning more about this great place. I don't have a particular food preference ... just let it be GOOD food! Restaurants, food and good company is what I enjoy the most these days, especially when I can share that time with family and friends. A walk, jog (or on good days, runs) by the water, perhaps a round of golf, or a good glass of wine is something I crave when I'm not sitting in an arena. MKE