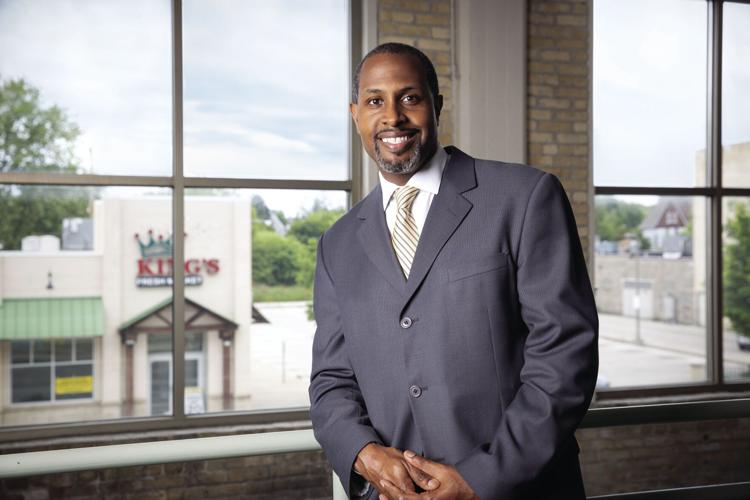 After just five minutes with Deshea Agee, the executive director of Milwaukee's Historic King Drive Business Improvement District, it's easy to see why he thrives in his role as public servant. His personality exudes warmth and charm, his energy is infectious, and his drive — no pun intended — is seemingly unstoppable.
The eldest of six children, Agee was raised in the heart of Milwaukee's troubled 53206 ZIP code, near North 14th and West Burleigh Streets. He graduated from Marquette High School and earned his undergraduate degree in business administration from Marquette University before working in radio and newspaper sales and later diving into a career in real estate development. Agee's professional experience spans both private and public sectors, from master planning the Pabst Farms development in Oconomowoc to working at the city of Milwaukee's Department of City Development as an economic development specialist. 
In 2016, after more than eight years with the city, Agee joined the Historic King Drive BID as its executive director. "It was really a matter of, 'How do I take these different [professional] experiences, put them together, concentrate them in one neighborhood, and create a model of what Dr. Martin Luther King Jr. Drive could be?'" he recalls, noting that he was also pursuing his master's degree in construction management from UW-Stout at the time. "... I came in, eyes wide open, listening and willing to partner and collaborate with everybody." 
Today Agee's responsibilities include advocating for local businesses and recruiting new tenants to the area, in addition to overseeing two major initiatives for the district. The first, a vision named Zero Vacancy, is an ongoing project, he says. "Zero Vacancy means no vacant land, no vacant buildings," Agee explains. "If there's a vacant building, we want to bring businesses to help occupy those spaces, which will bring jobs. If there's vacant land, we want to work with developers or lead development that could spur other catalytic development in the area."
The second initiative is the revitalization of Victory Over Violence Park, a one-acre, once-blighted parcel of land located on King Drive and Center Street. Agee says the multiyear project, which launched in 2018, is a collaborative effort between the city and local philanthropic organizations, and promises to provide residents of all ages with a safe place to pause, learn and vocalize their feelings. 
"With so many things happening here in Milwaukee," Agee offers, "we just need those places to talk through challenges we're having or trauma [we're experiencing], or we just need to sit and reflect."
A husband and father of three young children, Agee says his long-term vision for King Drive involves more opportunities for kids — think a bike lane or the Milwaukee streetcar's presence — to explore other areas of the city. "Oftentimes we grow up thinking about our own neighborhood, and as kids, we can't go many places. If our parents don't take us many places, we [only] know our neighborhood," he says. "[These opportunities] can serve to help bring people together and improve quality of life.
"For me, what I really care about is, 'How do we change our quality of life? And how do we engage each other in a way that respects one another, but also gives us insight into another person's lifestyle?'" Agee continues, challenging me to look outside my own comfort zone. 
"... Right now the doors are wide open for people to be vulnerable and share
some of their fears or concerns and grow through them." 
Find out more about Historic King Drive BID at kingdriveis.com. MKE
---
MY FIVE FAVORITE THINGS
1 People: Entrepreneurs
2 Place: North Dr. MartinLuther King Jr. Drive
3 Organization: Greater Milwaukee Foundation, America's Black Holocaust Museum
4 Place to dine out: Mi Casa Su Cafe
5 Place to shop: Birdsongs