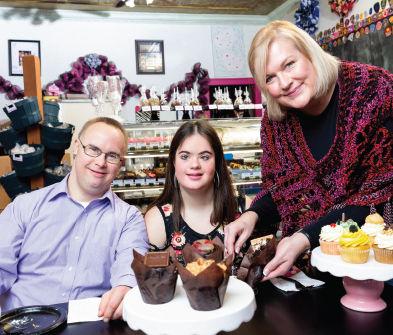 When Andrew Gerbitz first met Madie Ehlers at a Special Olympics basketball practice at the Pabst Farms YMCA in Oconomowoc 10 years ago, he believed his prayers for someone to love had been answered. Gerbitz, now 36, says, "I prayed about it and God brought me Madie." 
Ehlers was just 16 at the time, though, so Gerbitz had no choice but to wait for her. And, like many romances, there would be obstacles to overcome. 
"Six years ago, Madie was diagnosed with a rare brain disease," says her mother, Mary Beth Freckmann. "She had three brain surgeries, two in 2014 and another last October. Andrew's been through a lot too. He lost his dad."
Over the last several years, Gerbitz and Ehlers grew closer, taking classes together at the Y, dating to get to know each other better, and, at long last, finding love. Just thinking about that makes Ehlers dissolve into giggles.
"I just love him so much," she says. "He's so kind and he makes me laugh a lot. I just can't take my eyes off of him. I can't stop thinking about him."
One year ago, Gerbitz surprised her when he got on his knees at their Zumba class and asked her to be his bride. Ehlers, without hesitation, said yes. The date is set for May 30. The bride and groom, both living with Down syndrome, are looking ahead to their big day with the same determination they've brought to every other milestone in their lives. 
"I am continually impressed with what Madie learns," says Freckmann. Although experts told Freckmann early on that her daughter would likely be limited in her abilities, she is working at a local restaurant. Ehlers also wants to become a Zumba instructor and to take voice lessons. With help from her mom, she has also launched a chapter of People First, a self-advocacy organization for people with disabilities, in Lake Country.
But Freckmann says she is most proud of the young woman Ehlers has become, and especially the kindness she shows to others.
"You know, sometimes that can be a cliché about people with disabilities," Freckmann explains. "But she has an ability to connect with people, and she's got the kindest heart for the elderly. She just absolutely dotes over elderly people. And when she was little, she would always recognize people with disabilities. She always goes out of her way to talk with them."
Ehlers and Gerbitz are persistently achieving their dreams. Gerbitz works at the Y and has his own apartment, which he is readying for his new life with Ehlers with help from his own mom, Bea. 
"Andrew also has his own business called Andrew's Voice," Freckmann notes. He is a motivational speaker and has eight different presentations on topics such as bullying and how differences don't have to divide us.
And, after more than three years of practice, Gerbitz got his driver's license and a car last summer. Now Ehlers wants to practice for her license as well.
But for now, there's a whirlwind of wedding preparations to enjoy. 
Friends and family members are stepping up to make sure the wedding will be perfect. Gerbitz picked out the engagement ring with help from a jeweler who is a friend of a friend. Another friend gave him a diamond from her ring to add to the setting. Two people gave Ehlers wedding gowns, and a professional seamstress is using elements from both to create a custom dress, sparkling with crystals. And a cousin is providing an Airbnb in Marco Island, Fla. for the honeymoon. Still another friend has set up a GoFundMe account to help with wedding expenses.
When their wedding day arrives, Gerbitz says he's looking forward to seeing his bride in her wedding gown and dancing together. Ehlers, too, says she is going to dance all night long with family, friends and, of course, her new husband.
"We are gonna have a lot of fun," Gerbitz says. MKE
Find the couple's GoFundMe at gf.me/u/wdudy2