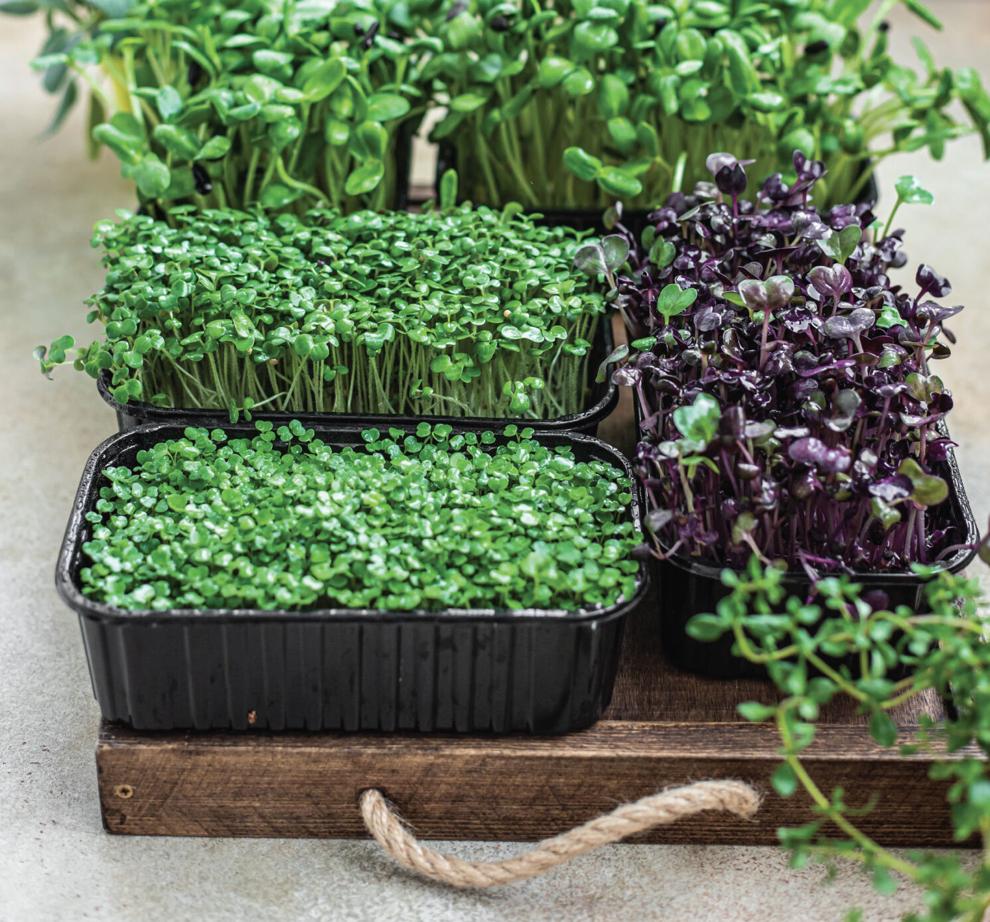 Even with winter is at its height, there are plenty of indoor gardening activities that can keep your garden interest alive. Here are a few ideas.
Search Online Seed Catalogs
Get inspired for the upcoming spring season by browsing through online seed catalogs and placing the orders quickly. Check out the seed companies' exclusive new tomato varieties and other exotic vegetables, and start drafting a wish list of plants to try for the upcoming gardening season. Some popular seed companies to browse include Johnny's Selected Seeds, Jung Seed, Burpee, Henry Field's, Totally Tomatoes, Gurney's, Seed Savers Exchange and Territorial Seed.
Grow Micro-Greens
One fun way to keep gardening alive in winter is starting micro-greens and harvesting some fresh, nutritious sprouts for salads or a stir fry. Micro-greens are edible greens with tender leaves and stems harvested during their early sprout to immature plant growth stage. All that's needed to grow them is a small space near a sunny window and a couple of shallow trays filled with potting mix. Spinach, lettuce, radishes, mustard, Chinese cabbage, pak choi and kale are some fast-growing greens that can be harvested in two to three weeks after seeding.
Try Worm Composting
Recycle your vegetable kitchen scraps into valuable compost with the help of earth-friendly microbes and worms. Worm composting is a fun and excellent hands-on activity project for kids to learn about the importance of recycling food waste. To create a worm composting system, you need a 10-gallon plastic bin with 25-30 drainage holes in the bottom. Set it over a brick on a plastic tray to catch drained water. Fill the bin with layers of damp bedding materials like shredded newspaper, peat moss (1/2 cup), and sand (1/4 cup), and then dig in and add one gallon of vegetable scraps. Sprinkle with one pound of red worms and cover it with layers of newspaper on top of the bedding materials.
Blooming Branches
You can bring a touch of spring inside your house by forcing branches of early flowering trees and shrubs to blossom. Some early flowering trees and shrubs like forsythia, cornelian cherry dogwood, serviceberry, pussy willow, magnolias and flowering almonds have received enough chilling periods and can be forced to bloom indoors.
Prune a few healthy branches of early flowering trees and shrubs, then submerge them in a tub of water. Re-cut the branch ends to about an inch while they're still submerged and leave them in the water overnight. The following morning, set the soaked branches in an upright position in a tall container filled with water. Place the container in a normal room temperature (65-70°F), but away from direct sunlight. It might take about 10-14 days for the buds to bloom.
Prune Oaks
Oak trees are best to be pruned during mid-winter season to prevent the spread of oak wilt fungal disease during the growing season. Call a certified arborist to prune large oak trees. Visit waa-isa.org/find-certified-arborist to find a certified arborist in your area and schedule the pruning before April 1. Other woody ornamental trees, shrubs and fruit trees can be pruned in late winter (late March-early April). For more information on pruning landscape plants, check out the following links:

PBS Wisconsin Garden Expo: Feb. 10-12 wigardenexpo.com/
Spring into Gardening Conference: March 18, go.wisc.edu/springintogardening
Realtors Home and Garden Show: March 24-April 2, mkehgs.com
Winter Garden Tips
Spread winter mulch such as wood chips over the root zone area on marginally hardy trees and shrubs. A lack of snow cover and fluctuating winter temperatures can cause root injuries on sensitive trees and shrubs.
Chop off some branches from old Christmas trees and wreaths to recycle as winter mulch in your perennial garden bed. Layer the chopped branches on top of your perennial plants in a crisscross fashion.
Don't allow the roots of your winter-stored tender bulbs (canna, calla, caladium, elephant ears, dahlia, tuberous begonia) to dry. Check the roots periodically and use a spray mist bottle to moisten the roots. Dispose of any rotten bulbs immediately.
Fertilize your amaryllis bulb after it's done blooming with a complete soluble fertilizer once a month until late May. In early summer, bury the potted bulb in an outdoor landscape, continue fertilizing until July and water the plant regularly.
Voles are active even during winter months. A good indicator of vole activity is the presence of runway trails in lawn. To control them, place mouse snap traps baited with peanut butter back-to-back in the runway tracks.
For deer protection, use contact deer repellents (such as DeerAway-Big Game, Thiram, Plantsyyd, Liquid Fence, Miller's Hot Sauce, Ro-pel) on woody ornamental plants. Repeated applications may be needed with some products.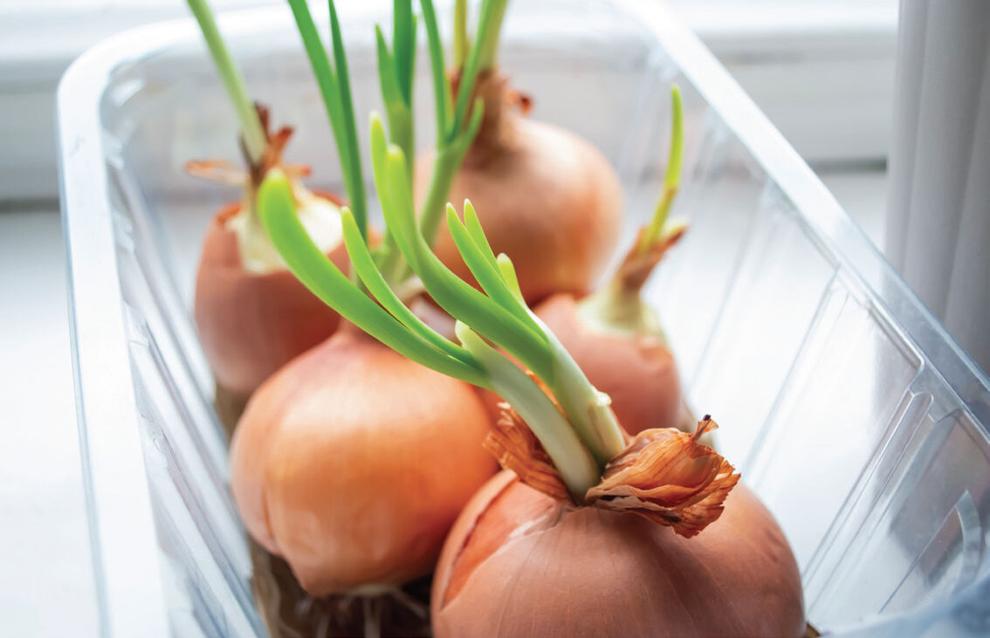 Check the product label before using it.
Turn your compost pile once a week in the winter months to facilitate the breakdown of organic matter.
Check the trunks of young trees to make sure the tree guards and hardware fence are still intact. At the peak of winter season, thin- barked trees could become an appetite for rabbits. MKE
---
Indoor Seed Planting
Timing is everything when seeding vegetable crops indoors. If you start the seeds too early, you can end up babysitting the plants for several weeks until the outdoor environmental conditions becomes suitable for planting, and it could stress the seedlings to become weak and leggy in their growth. Late indoor seeding can delay your outdoor planting period, and the plants may not have enough time to mature within the growing season.
The proper timing to start vegetable seeds indoors is based on the type of crops and average last spring frost date (32°F) in your area. You can get a head start by seeding your cool-season crops indoor by six to eight weeks before average last spring frost. Most crops require two weeks to germinate and four weeks for seedling growth.
Hardening of the seedlings before outdoor transplanting requires an extra one to two weeks. In Southeast Wisconsin, the average last frost date is between May 1-May 15. Peppers and eggplant can take a long period to reach a decent size to transplant outside, so it's best to get a head start by seeding them eight weeks prior to outdoor transplanting date.
Here's a planting chart to follow as you dream about warmer days ahead.
| | | |
| --- | --- | --- |
| Crops | Indoor seeding time | Outdoor transplanting time |
| Broccoli, cauliflower, early cabbage, celery, head lettuce | Late March – Early April | Early May |
| Pepper, egg plant | Early April | Late May – Early June |
| Tomatoes | Mid to late April | Late May – early June |
| Squashes, melons, pumpkins, cucumbers | Early May | Early June |