With the Stay at Home order still in place, the sight of your own abode might be getting a little … old.
That's why we're taking you inside of some of the most exclusive homes currently for sale in the Milwaukee area. Realtor D.J. Campbell of Realty Executives Integrity took MKE Lifestyle on a tour of these multimillion dollar properties and says, "Each of these homes defines luxurious living – in every type of style. From traditional to modern and sprawling Lake Country estates to stunning downtown condos, I wanted to share an inside look into properties that are unlike anything else on the Milwaukee market."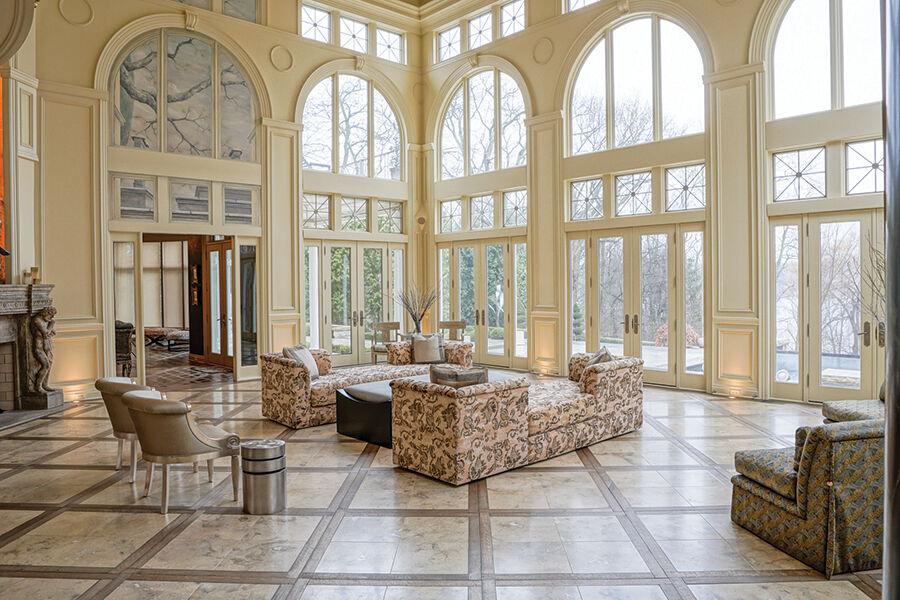 31885 W. Treasure Island Drive, Chenequa
$3,299,000
MLS ID: 1640992
Travel down a majestic tree-lined road in the Hartland-adjacent hamlet of Chenequa to this gracious Greek and Roman-inspired home. From the moment you pass beneath the portico and enter the home's gracious foyer, you and your guests will appreciate the home's old-world craftsmanship. A glimmer of water flashes from an adjacent room, drawing visitors into the home's most jaw-dropping feature — its solarium. This two-story great room features expansive walls and glorious views of the property's 250-feet of Pine Lake frontage.
"This home is filled with both grand spaces and private ones," says Team Trimble's Karen Trimble, the property's listing agent. "It was designed to welcome the grandkids on one day, and be ready to entertain hundreds on the next."
The stately residence boasts custom fixtures and finishes throughout, including hand-painted murals, mosaic inlays, imported floors and gilded ceilings. The home sits on nearly three tranquil acres and is the perfect site for building memories with family and friends. Photo by Rob Reiman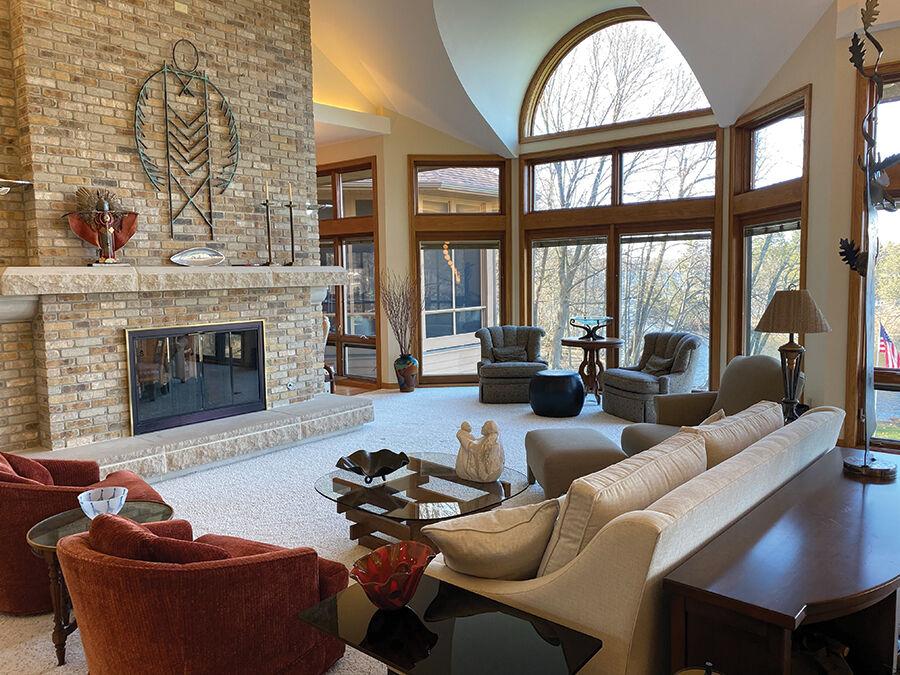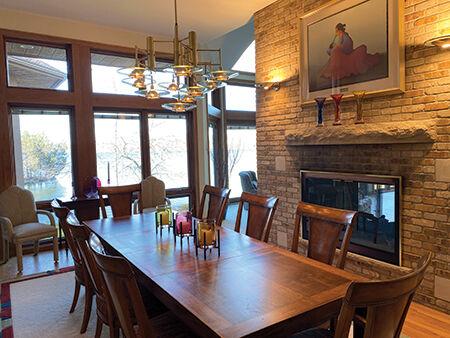 35304 Pabst Road, Oconomowoc Lake
$3,189,000
MLS ID: 1679105
Tucked away on 8.6 private acres while offering easy access to I-94, this 5,800-square-foot estate was designed to make the most of a host of spectacular views. Situated at the end of a half-mile lane, the property was carved from the original Bullen Estate on Oconomowoc Lake, which included a castle that was built in 1891.
"Years later, George Markham presented the estate to his betrothed, Marianne, as a wedding present," says listing agent Maureen Stapleton of Stapleton Realty.
"In the 1960s, the estate was divided, and this lot was created with more than 260 feet of lake frontage, plus its own island."  
The custom-built home's orientation is specifically designed to take advantage of the surrounding beauty. Its layout is open and flows beautifully to make the most of those extraordinary sights and create serene living spaces, including a light-filled great room with dramatically high ceilings and walls of windows stretching 30 feet across the room. Avid hosts and entertainers will love the lower level, which offers a second kitchen, two guest suites and a family room. Photos courtesy of Maureen Stapleton/Stapleton Realty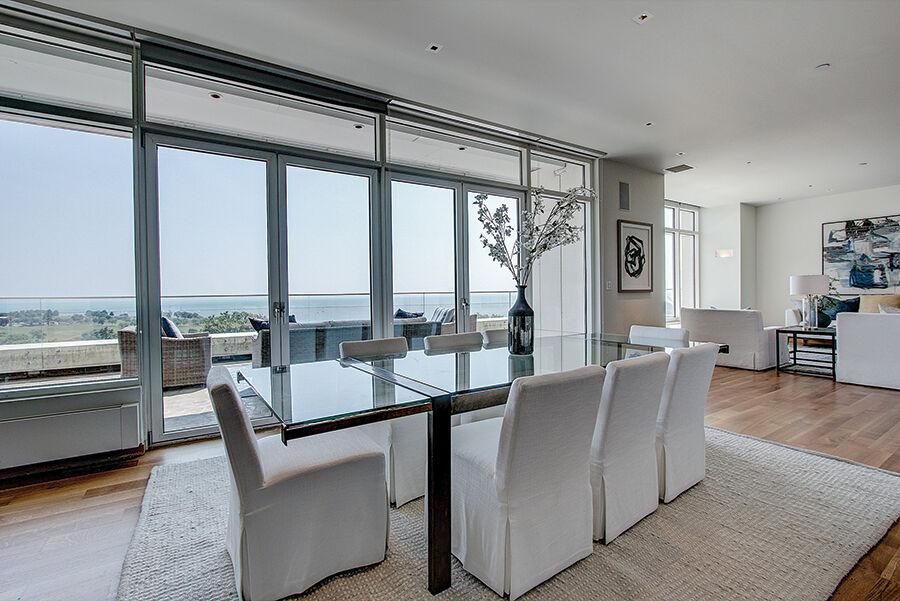 825 N. Prospect Ave., Unit 601, Milwaukee
$2,400,000
MLS ID: 1649217
This sleek, modern condo with prime east-facing views is located in the coveted University Club Tower. The airy, 4,000-square-foot downtown unit was designed with a gallery-quality lighting system to showcase the homeowner's art collection — but this home's most exquisite masterpiece is its panoramic views.
"In this unit, the in-and-outdoor living is effortless. And the views just draw you outside," says listing agent Paul Handle. "You can see from the North Point Water Tower all the way to Bay View and beyond. And the third of July fireworks are right outside your window!"
The home's expansive terrace would make an ideal spot for sunrise coffee, summertime fireworks or evening cocktails. Even the shower in the newly remodeled master bath boasts a spectacular view. And all the amenities of truly upscale city living are in place, including a 24-hour doorman, full-time concierge, saltwater swimming pool, in-building dining, a health-club-caliber fitness center and a private rooftop park. This light-filled home is truly a sun-drenched palace in the sky. Photo courtesy of Mahler Sotheby's International Realty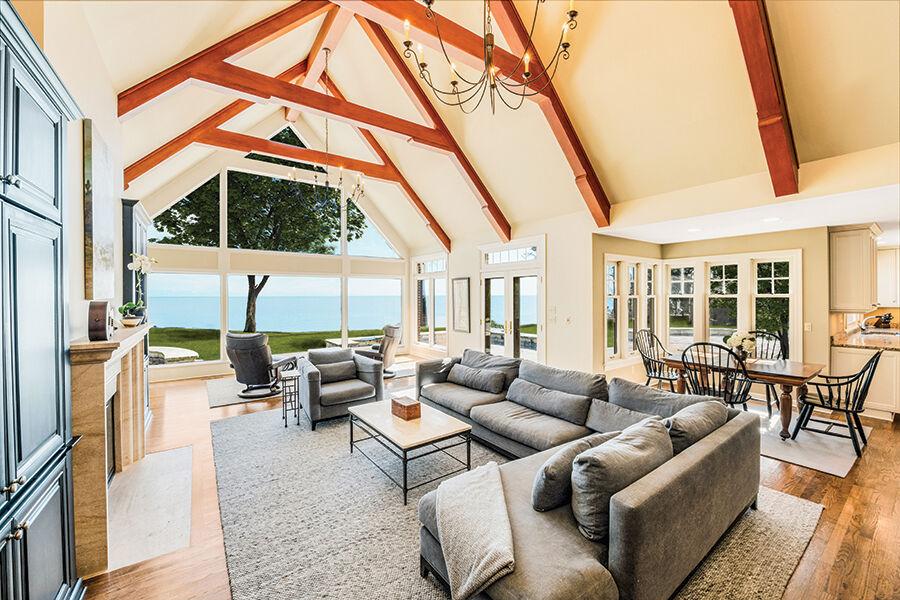 7200 N. Beach Drive, Fox Point
$2,250,000
MLS ID: 1678857
On Fox Point's Beach Drive, we discovered a stunning red brick colonial ready for new stewards to enjoy one of Milwaukee's true lakefront houses.
"This home is one of the few opportunities to live at the water's edge from downtown up to Port Washington," says listing agent Richard Ruvin. "On Beach Drive, you aren't on a bluff; you are at the shore."
The quality-built home is fully updated for today's lifestyle while maintaining much of its original 1940s character. A cathedral-ceilinged great room was added to the home in the 1990s by Ruvin Bros. Artisans & Trades. "We wanted a create this beautiful vaulted space where you have these beautiful views of both lake and sky," he shares. "The lake's personality changes every day — sometimes it's calm, sometimes you have waves. In the summer it's iridescent blue, and in the winter you have these Ansel-Adams-like variations of black and white on snowy, grey days." Photo by The Redmonds Photography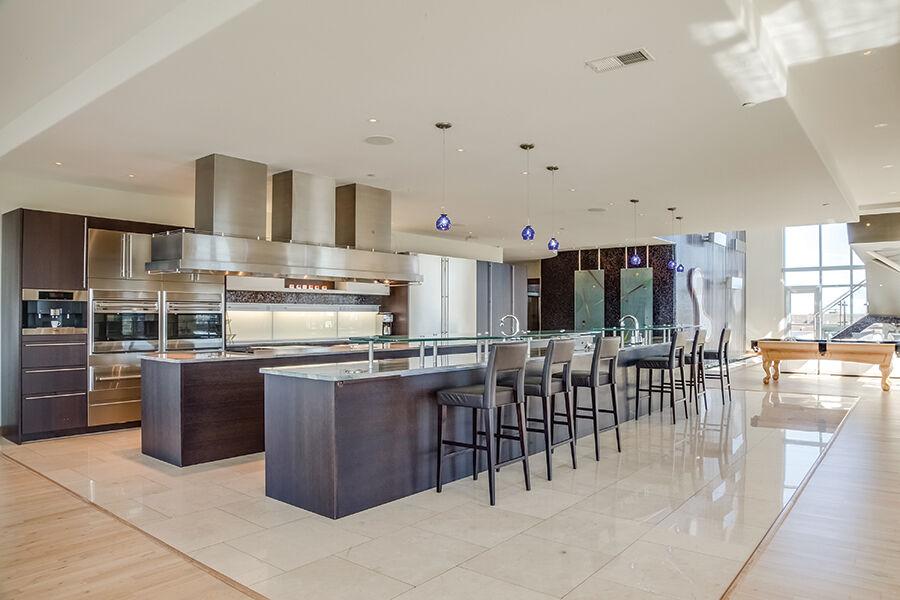 601 E. Ogden Ave., Unit 906, Milwaukee
$2,200,000
MLS ID: 1568689
For the hip homeowner looking to be in the center of it all, this chic penthouse is the epitome of luxurious living, offering the convenience of city life with luxe features (its own movie theater!) typically reserved for upscale single-family residences. A whopping 6,500 square feet of indoor living space is complemented with an additional 5,000 square feet of outdoor space, complete with city views to the east, south and west.
And though it includes five garaged parking spaces, The Hop, the Deer District and downtown Milwaukee's drinking, dining and nightlife establishments are right out the building's front door.
"This smart home is designed for a tech-savvy homeowner," says listing agent Chris Corley. "Almost everything can be controlled by an app. You can be anywhere in the home — or anywhere in the world — and remotely control the window shades, temperature, security cameras, lighting and sound systems. Even the TV!" Avid cooks take note: the state-of-the-art, double-lane kitchen also has professional-grade appliances more akin to a Michelin-starred restaurant than a private home. Photo courtesy of Corley Real Estate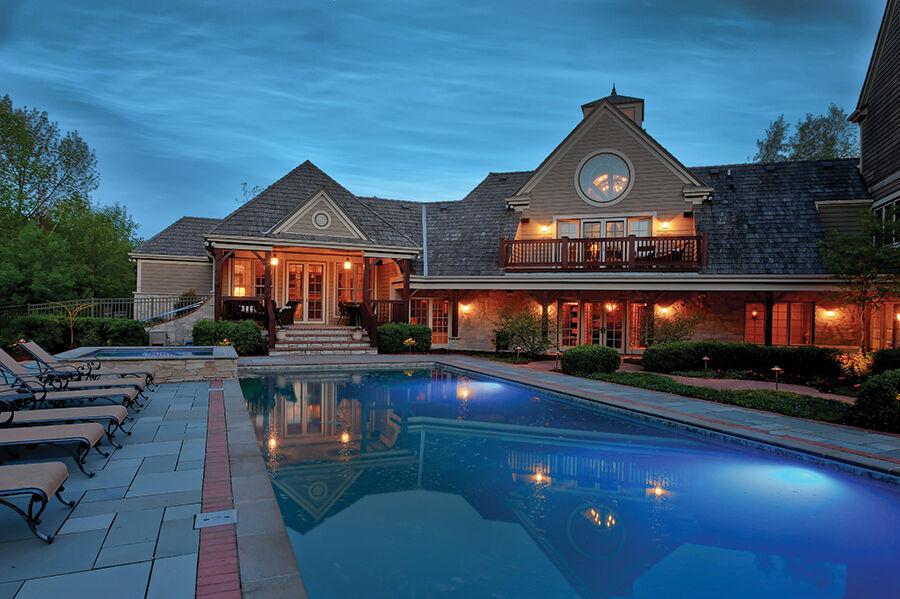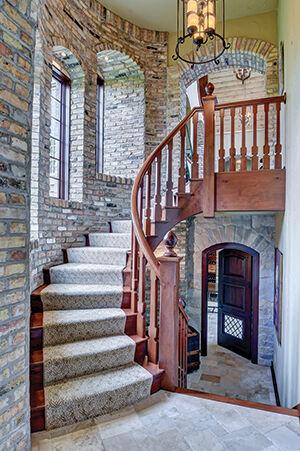 7250 W. Highland Ridge Drive, Mequon
$1,950,000
MLS ID: 1673039
Tucked away in Mequon, we inspected an entertainer's paradise that wows at every turn with multiple levels of entertaining space and a guest suite that rivals a luxury hotel. Every inch of this recently-renovated 10,000-square-foot home has been thoughtfully designed for multigenerational fun.
"This is about entertaining inside and out," Keller Williams agent Richard Ruvin tells MKE Lifestyle. "You have these fabulous spaces that capture every mood. There are sunlit spaces; there are darker, moodier places; there are casual rooms and formal ones. There are rooms where kids can play or do arts and crafts, and down a spiral staircase, you'll discover a hidden wine cellar and tasting room for the adults. And, of course, there's a great outdoor pool and spa that everyone will enjoy."
And if a hidden wine cellar isn't luring enough to make this home yours, the property is also set on over 2.5 gorgeously-landscaped — and incredibly private — acres. Photos by The Redmonds Photography  MKE