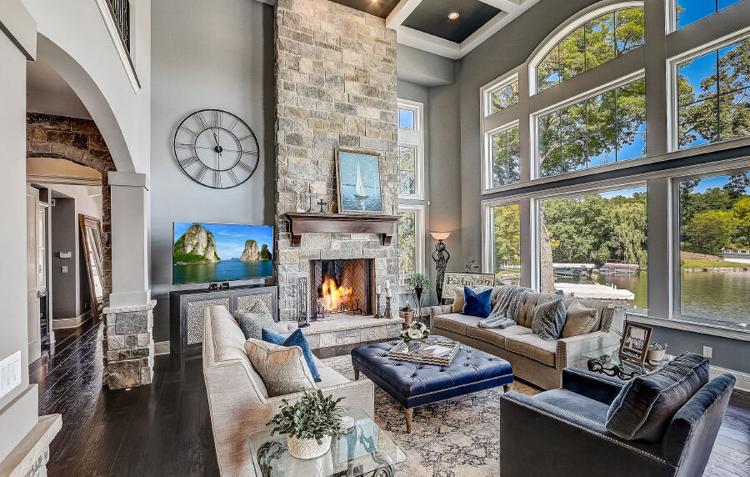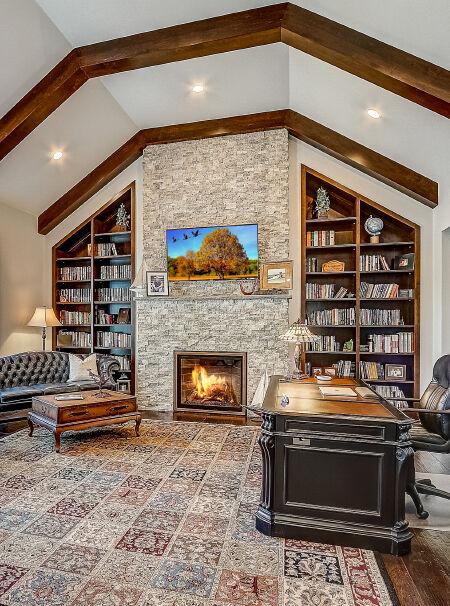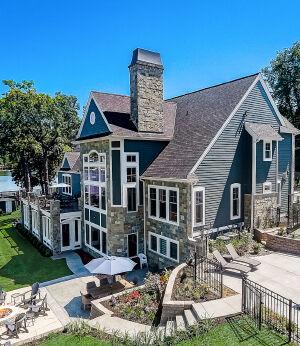 Sometimes, all it takes is spending a bit of time relaxing lakeside to realize that's just where you belong.
That's exactly what happened to Nashotah homeowners Jim and Lisa Winkler. Having spent a summer enjoying a rented cottage on Okauchee Lake, the pair fell in love with the spot and the area in general. They scrapped plans to build in Menomonee Falls and bought the very house they had rented. Then they patiently waited for a neighboring lot to become available so they could finally create their dream home.
In the meantime, The Winklers contacted Kings Way Homes, fine-tuning design plans with Vac Homolka, co-owner and president of design at Kings Way Homes who also owns the architecture firm H&H Designs. "[Homolka] took a lot of time originally learning about our family and our dreams," Lisa explains. "At the time, we were a young family of five teenagers and one preteen. When we completed our home in 2018, our children were all grown and moved out, and the baby was in college. As they changed, our ideas changed, and [the team was] nothing but patient and helpful."
The Winklers' priorities evolved from accommodating a large and active family to a spacious home that welcomed adult children and future grandchildren home, but shifted to more space for large-scale entertaining. All with lake living's signature blend of luxury and relaxation.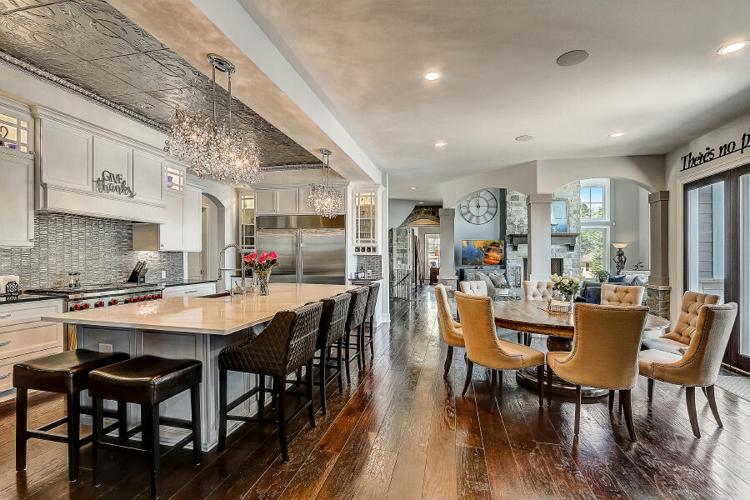 "An open, airy, inviting, comfortable home is what I was trying to achieve — a place where you can plop down in any room and just relax and enjoy," Lisa says. " … We not only have a very large family, but entertaining and lake living go hand in hand and we love to have people over often."
With a love for unique ceiling treatments, Lisa opted for a fun metallic addition to the hub of the home, accented by similar backsplash and clean white cabinetry.
John Harlos, vice president of sales and purchasing at Kings Way Homes, says that the Elm Grove based firm specializes in what he calls a "French Country aesthetic," explaining that multiple rooflines, columns, elliptical arches and the use of masonry stone are common to the look. That design, combined with the homeowners' vision, led to "a hybrid of a classic elegance plus a French Country aesthetic," he says.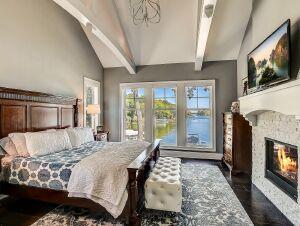 To achieve the desired look, stonework and custom wrought iron railing crafted by Johnson Welding flanks a large, open entryway with a curved staircase to the second and lower levels. The Winklers also worked with Hillman Masonry for additional interior stone- and brickwork.
Lisa's love for unique ceiling treatments led to a mix of coffered and tray ceilings, exposed beams and tin. Seven fireplaces inside the home and another outside lend warmth to the overall ambiance, ensuring cozy gatherings year-round.
The Winklers kept entertaining their family and future grandchildren top of mind when designing this spectacular lower level fitted with a pool table, four seasons room, movie theater and bar.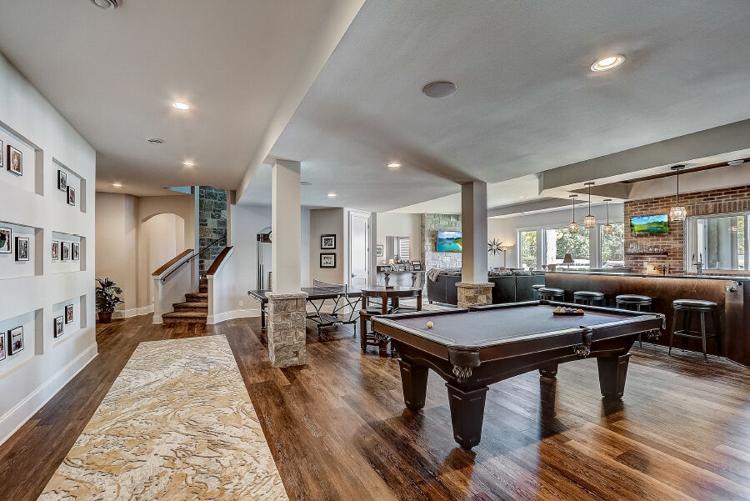 This rustic wine cellar is an oenophile's dream, housing the Winklers' favorite bottles. Ideal for entertaining, the lower level features a movie theater that comfortably fits 20 people, plus a Jacuzzi and sauna room, a changing room, a play room and a full kitchen complete with a window to pass drinks and dishes to the bar in a large three-season room overlooking the lake. A wine cellar adds a look of luxury while preserving the family's favorite vintages.
Two additional bedrooms and a home gym complete the level. "We have put this lower level to very good use our first year in the home, with a lot of entertaining," Lisa enthuses.
Outside, the "come relax and play" vibe continues via a large patio with a built-in fire pit, an in-ground swimming pool and a full size tennis court that was a longtime dream for Jim, a college All-American tennis player.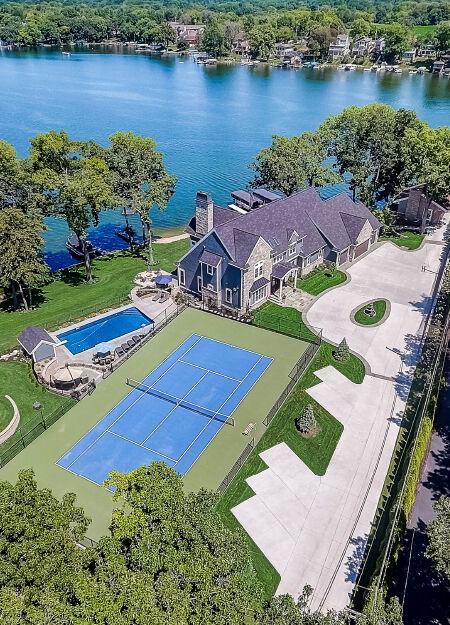 "Since we work from home, [Jim] is able to get right on the court before or after work with no commute and no scheduling — which is one of the highlights of his days," Lisa notes. And it's multipurpose too. "We started playing pickleball on it, as well, with friends last summer," she says. "[But] my main inspiration for the court was for future weddings of the kids!"
"As much as we love swimming in the lake, the lake can be pretty chilly. We keep the pool at a very comfortable 90 degrees and swim often. We have used the pool more than we ever thought we would," Lisa says.
The Winklers waited patiently for a neighboring lot to be put up for sale to have the land necessary to create their dream home.
Harlos praises the Winklers as ideal partners throughout the design-build process.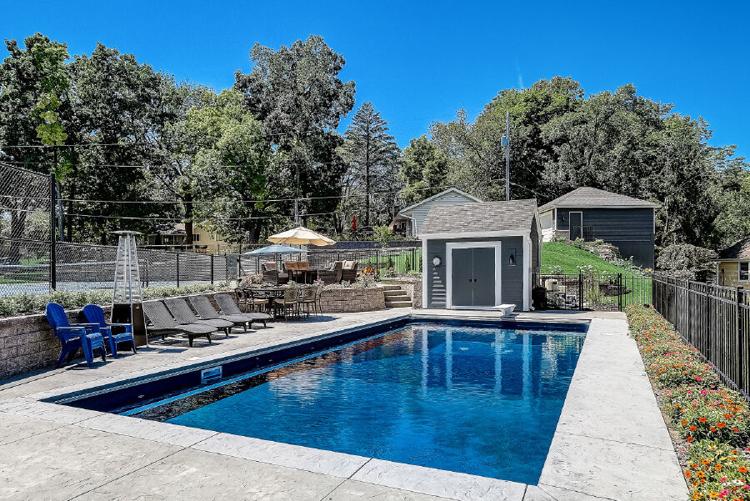 "There's not an actual baton pass from the client to us and then they show up on the day the home is finished and it's the first time they've seen it," Harlos explains. "They've been with us the entire time. For a project like that, that's typical of a client because they're investing in the project, and they want to see steps of construction occur."
"We were those people who loved every aspect of building the home," Lisa agrees. "I can't say enough about Kings Way. They were hands-on in every aspect. We developed not only a working relationship but a friendship along the way and felt they really cared about us and making sure we realized our dream." MKE