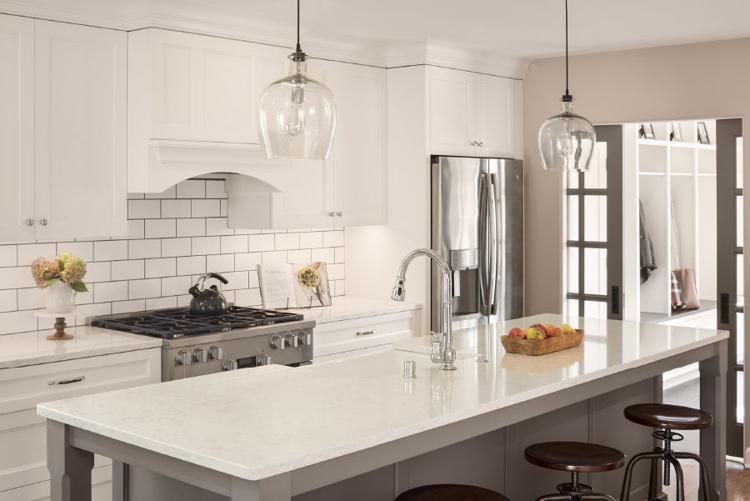 When my husband and I bought our first house together two years ago, I was underwhelmed by the amount of counter space in our quaint kitchen. After searching for the perfect solution, we installed a small, two-seat island and I've embraced the additional prep space and storage with open arms. Nonetheless, having come from my parents' spacious kitchen with its large, U-shaped peninsula, the differing space still took some getting used to.
Watching HGTV, you'd be hard pressed to find a kitchen renovation featuring a peninsula, but having personally seen the benefits of both designs, I was curious about the rise in islands. Turns out, local designers all agree that the functionality and versatility of islands make that design much more beneficial for homeowners.
"In the case of layout, there are just so many shapes that kitchens are commonly found. Galley, L- and U-shape are most common, [but] the most popular layout element is the island," explains Russ Waters, designer at Wisconsin Kitchen Mart. "... Angling the peninsula or curving the galley wall for creativity and expansion of the work area are nice options, but overall, if we can get an island into a design, it is a winning proposition."
"I think the island is a more modern way of laying out the kitchen," agrees Mary Sweet, project designer at Bartelt. The Remodeling Resource. "It allows for better flow around the kitchen, in and out of the kitchen. It allows multiple people to be working in this space. … From a function standpoint, it's better. It allows the person cooking in the space to be having a conversation with whoever's sitting around the space. It allows for a better quality kitchen."
David Roembke, vice president of sales at Victory Homes, adds that an island offers easier circulation in and out of the kitchen, extra storage, additional seating and space for extra amenities.
"Extra-large islands are the best way to make a splash," Roembke says. "Peninsulas limit circulation and do not wow like a centrally located island. Plus, islands are now double sided for extra storage and tend to include the recycling, trash, dishwasher, sink and microwave. Islands also allow easier seating on more than one side, which is much better for a conversation than a linear line of stools."
Though islands are top of mind in kitchen designs, Waters notes that sometimes the layout depends on the available space, explaining that he typically doesn't consider one until there isn't enough room for a proper island passageway.
Still, Waters notes, peninsulas do have some benefits. "Peninsulas work better for counter projects," he says. "If you are spreading out over a large area, making pasta from scratch or doing large baking projects, it's easier to move around a corner in a common countertop than across the walkway to an island." But, he adds, islands offer better storage options.
Besides storage and functionality, the pros agree that islands are also an easy way to give your kitchen the most unique design.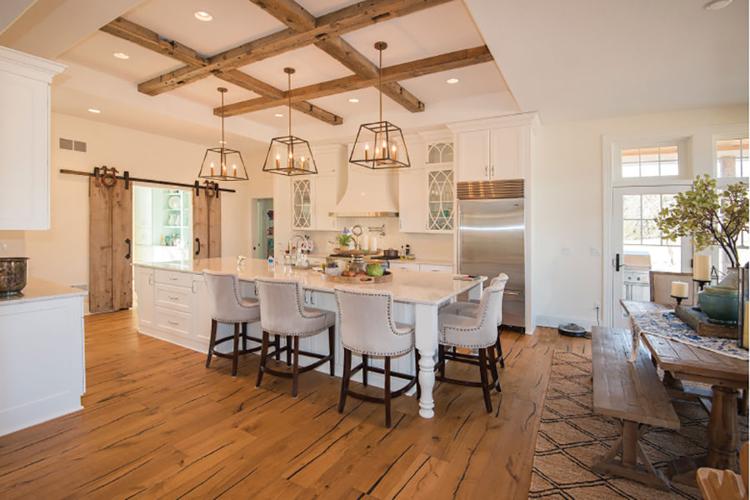 Franziska Burkard, sales design consultant at Gerhard's Kitchen & Bath Store, explains: "An island is much like a piece of art: it adds depth to the kitchen. A different colored countertop or cabinet adds a beautiful contrast to the perimeter of the kitchen."
"A peninsula has trouble differentiating since it is connected to the main cabinets," adds Roembke.
In terms of cabinet colors, Waters says that "white paint is still king," though Sweet notes that she's seeing a steady mix of both painted and stained islands. Burkard is seeing cabinets in an array of colors — from blue and green to classic white and even pops of pink and purple, but the most popular countertop options are white with abstract prints and solid, neutral colors like white, gray and black. 
"[An island] can be customized to the owner's taste without affecting the rest of the kitchen," Roembke notes. "It is a centerpiece that begs to have a fun ceiling treatment and/or specialized lighting."
No matter which design you prefer, Burkard urges homeowners to think long and hard about design and functionality before committing. 
"The designer and the client must discuss the desires, needs and wants for the kitchen," she explains. "A kitchen is the heart of the home. It is where the family gathers after a long day. It must accommodate everyone's needs, if that has not been thought of during the design phase, the kitchen won't be functional no matter the investment you made." MKE
---
In The Details - Once you've talked to your designer and decided which kitchen layout is best for you, it's time to start thinking details. Home Stratosphere says these are top trends in kitchens for 2020 and beyond:
In Style - 31 percent of homeowners veer towards a traditional layout, with 25 percent going contemporary and 16 percent opting for transitional styles.
Color Your World -More than half of homeowners stayed with natural shades in the hub of their home, with about 81 percent choosing brown, white, gray or beige.
Custom cabinets - Practicality wins out in terms of cabinetry with doors, with just 8 percent of homeowners choosing glass or open cabinetry. The top three cabinet contenders are shaker, flat-panel and raised-panel.
White Wins - Almost 50 percent of homeowners chose a classic white finish, with medium and dark wood finishes coming in a distant second and third.
Island Time - Islands are indeed the favored design choice, with 75 percent of homes having at least one, and 4 percent adding a second.