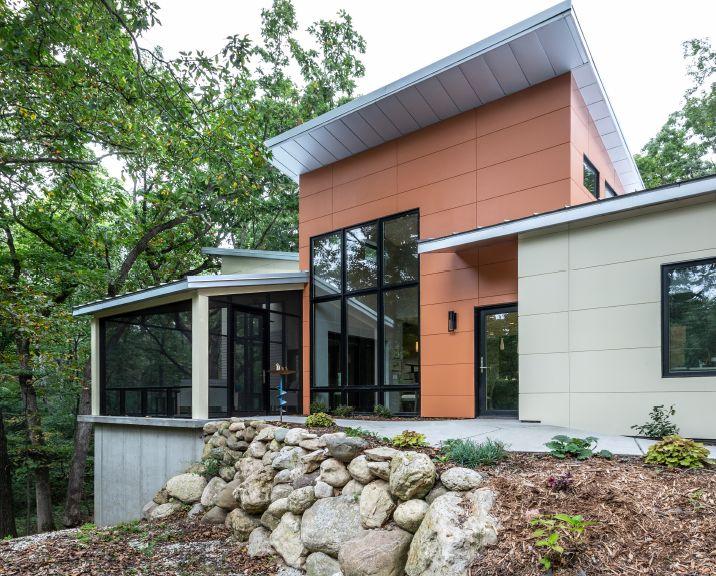 For Billy Cooley, owner of Delafield's Next Step Builders, designing a new home represents a chance to showcase stunning, modern designs. When he stumbled upon a spacious lot surrounded by greenery, he knew he had found the perfect place for his next work of inhabitable art.
The original plot of land was developed by a farmer who gifted each of his three kids their own lot. The lure of the greenery appealed to Cooley, who wrote to one of the daughters who was living in Green Bay and worked out an agreement to purchase the land. From there, he went to work designing a marvelously modern home — though he explains the final product differs considerably from the initial concept. 
"I originally had [designed] a garage box, a public space, a living room, a kitchen — that type of thing," he recalls. "And then I had another box of bedrooms. So all different kinds of pods connected by bridges and everything. It was just an amazing design." 
All the finished product's first floor rooms allow easy access from one side of the home to the other via 36-inch-wide doorways. The second floor hosts two bedrooms and the third floor provides a deck to relax and enjoy the serenity of the surrounding nature that was a priority to preserve. 
"Part of the whole 'Next Step' philosophy was I wanted to be the next step better in …
I hate saying 'green' because that's such an overused word, but [being] kind to the earth. I didn't want to cut down any trees. I wanted to [work] around all the big trees," Cooley explains.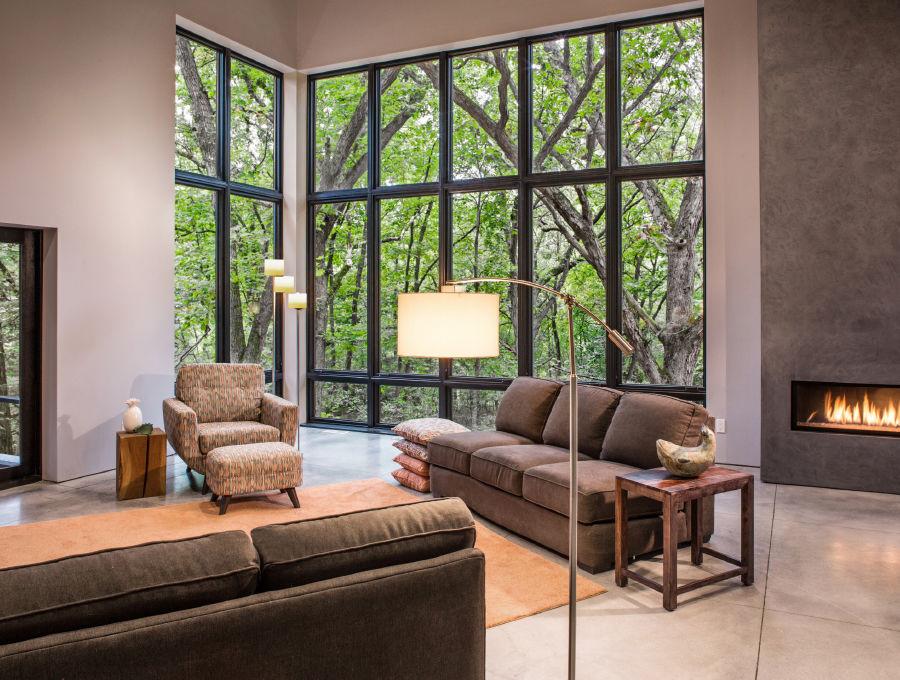 With that mission in mind, Cooley designed the living room to be cantilevered five feet over the foundation to get so close, he says, "you could really feel like you're in the trees." 
The living room is fitted with 16 ft. by 16 ft. windows, as is an adjacent sunroom. In addition to providing breathtaking views of the landscape, the windows are also energy efficient, allowing sunlight to stream in and absorb into the stained concrete floors, which helps keep the home warm in cooler months.
Cooley also implemented a double wall system with eight inches of insulation between them, and a minimum of 18 inches of insulation in the ceiling. To up the "green" factor, Cooley salvaged two-by-four boards from a previous home renovation and repurposed them in this Delafield dream home.
Though he loved the layout, Cooley's brother-in-law's MS diagnosis had him reconsidering the practicality of the style for the long haul. Not wanting to create a home that defied accommodating health issues or aging in place, Cooley reworked the pod idea and "squished them together," he explains.
The eye-catching exterior of the house is fitted with custom siding that Cooley created himself.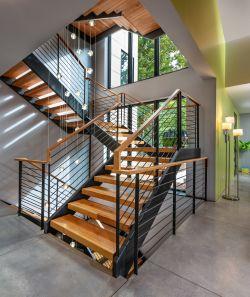 "I went to Home Depot and bought a four-foot by eight-foot panel of PVC board and I cut the panels and molded them myself," he explains of the material. "They all interlock and shed properly because I couldn't find the panel I wanted at the price I wanted to pay. I ended up building my own." 
The siding is installed in a rain screen, giving a half-inch air gap between the water-resistant siding and the home, allowing excess water to run down the back of the siding.
"The siding is installed that way so you get the separation of the house, and it doesn't have a chance to have a mold issue, because now we have air flowing right behind the siding so it dries that up," he says. 
Cooley's dedication to energy efficiency and his creative prowess make the home practical, but he's also proud he doesn't have to sacrifice style in his economical designs.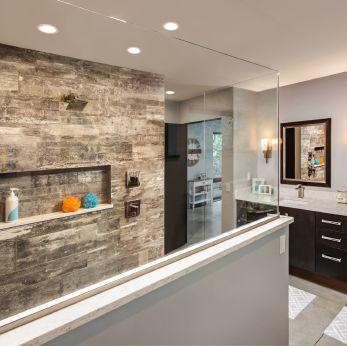 "When I take customers through [this home], what I try to show them is that you can build efficient. … You can build green. You can build earth-friendly and not have to look like a box," he enthuses. "You can have some style to it, and [a home that] looks fun and inviting. … I wanted to have something that they can show off the style and still have a very well-built house."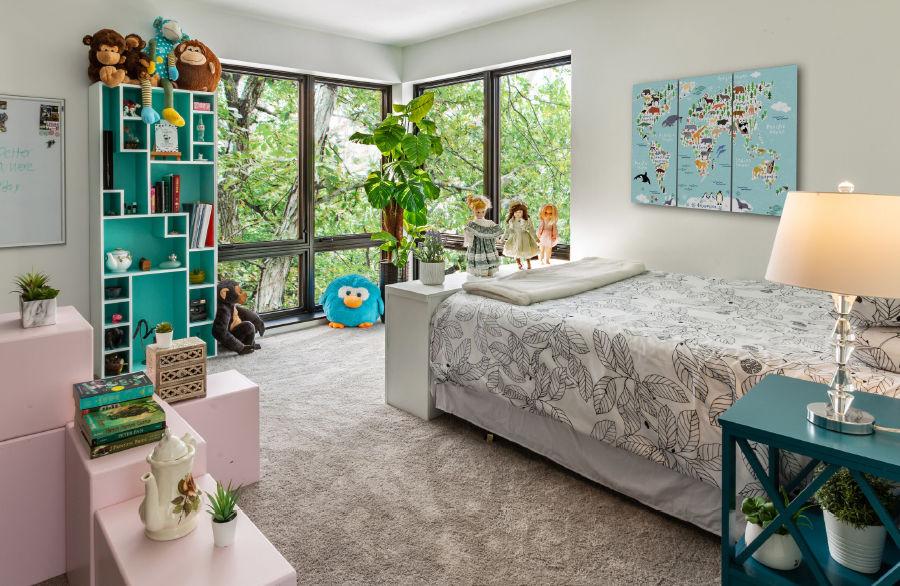 Cooley carries his vision for modern, show-stopping designs into each project, knowing that it's a universal, readily accessed way for people to appreciate beauty.
"One of the architects I worked for, he said that architecture is the only art that you cannot avoid, because you see architecture all the time," he notes. "You can't avoid that." MKE