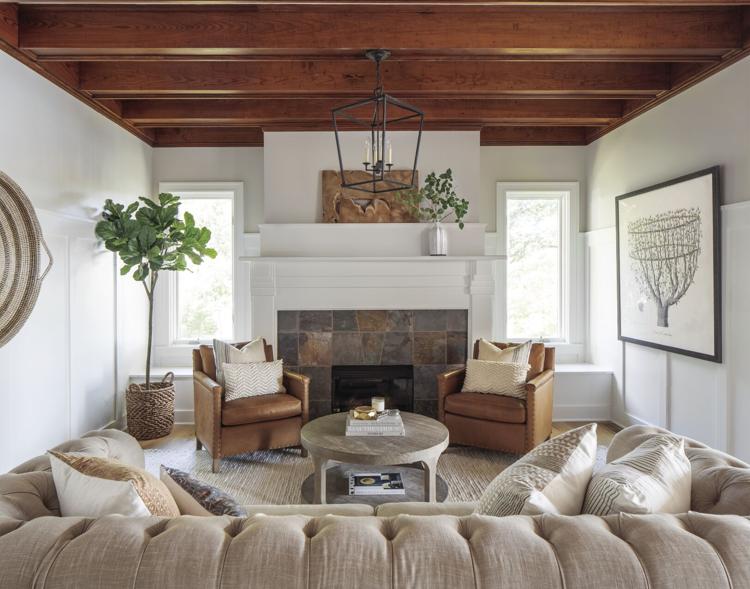 When Anne and Tom Frentzel happened upon this craftsman-style Pewaukee home, the pair knew they had found exactly what they had been searching for.
"We always wanted to move to the lake from Hartland, and the stars aligned when a realtor friend contacted us about a buyer interested in our house — which wasn't on the market — and this house came up for sale [too]. We loved the location, because we had friends on the street and it was in Arrowhead district where our kids were in school," Anne says, adding that the proximity to the lake called to Tom's and their kids' shared passion for sailing.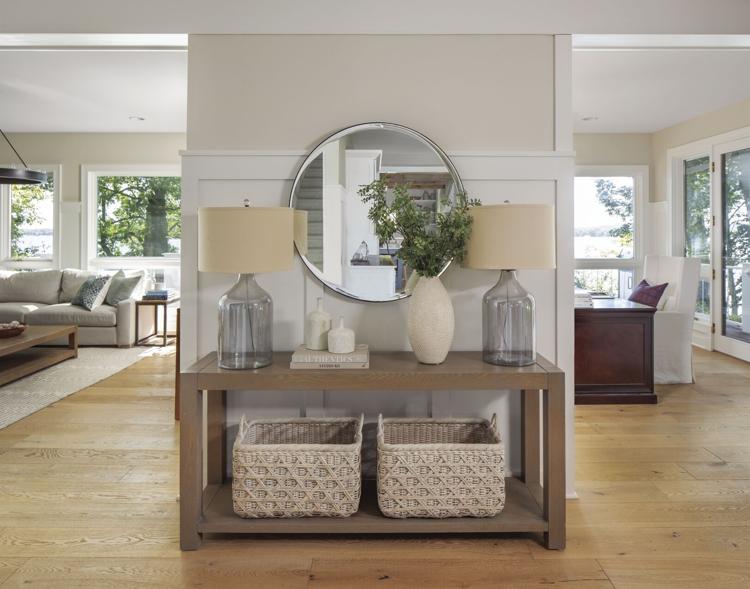 Refreshing the existing
The home originally featured traditional elements like wainscoting with a medium stain, craftsman-style light fixtures, lots of stained glass, and wood floors inlaid with multiple colors and patterns. Undeterred by the vintage aesthetic, Anne could envision what she would do with the home's great bones.
"Basically we walked in and saw it, and I imagined, 'if we just painted [the wainscoting] white, change the floors and change the lights, it'll be a completely new house,'" she says of her first impressions of the home.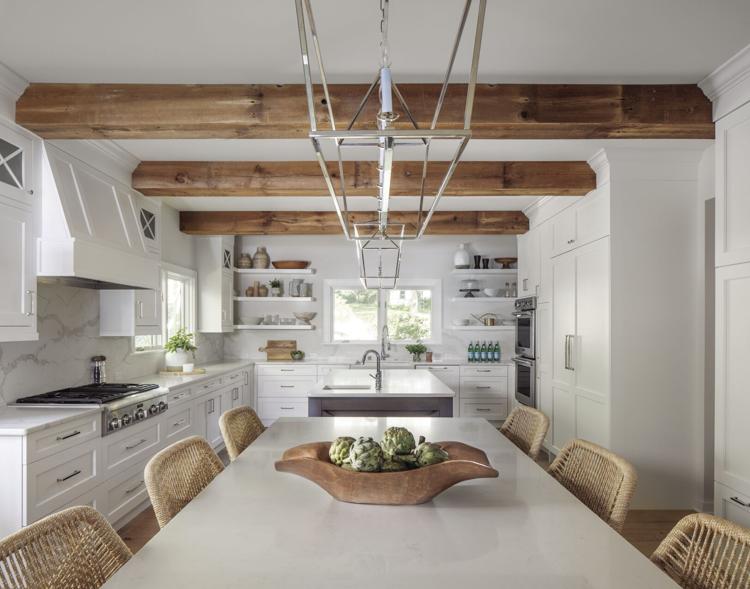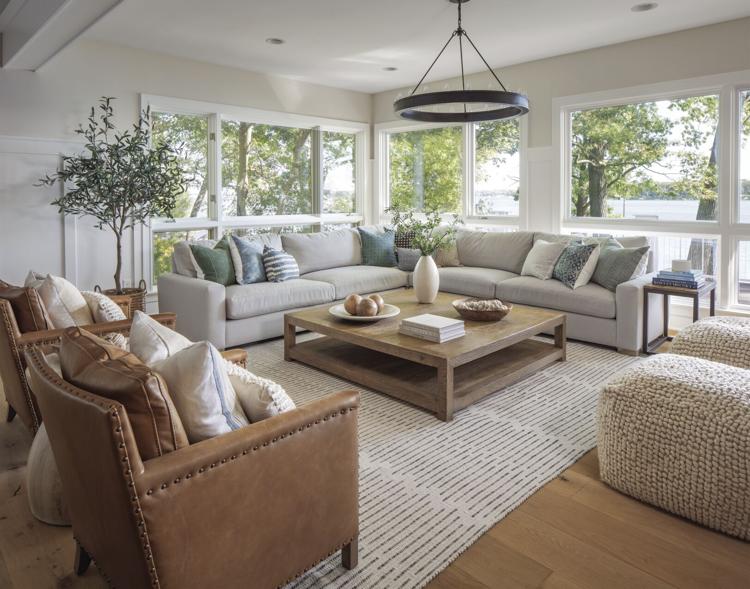 Anne, who co-owns Shine Staging and Redesign with Kim Tornehl, further used that expertise to create her desired coastal aesthetic. Her first focus was the kitchen, tapping designers Nicki Losinski and Diana Byinton of Dream House Dream Kitchens to help create a warmer, more welcoming white space. The team gutted the existing kitchen, then added a beautiful open-concept floor plan that could accommodate two islands, one for food prep and one for seating, per Anne's wish to avoid a traditional kitchen table.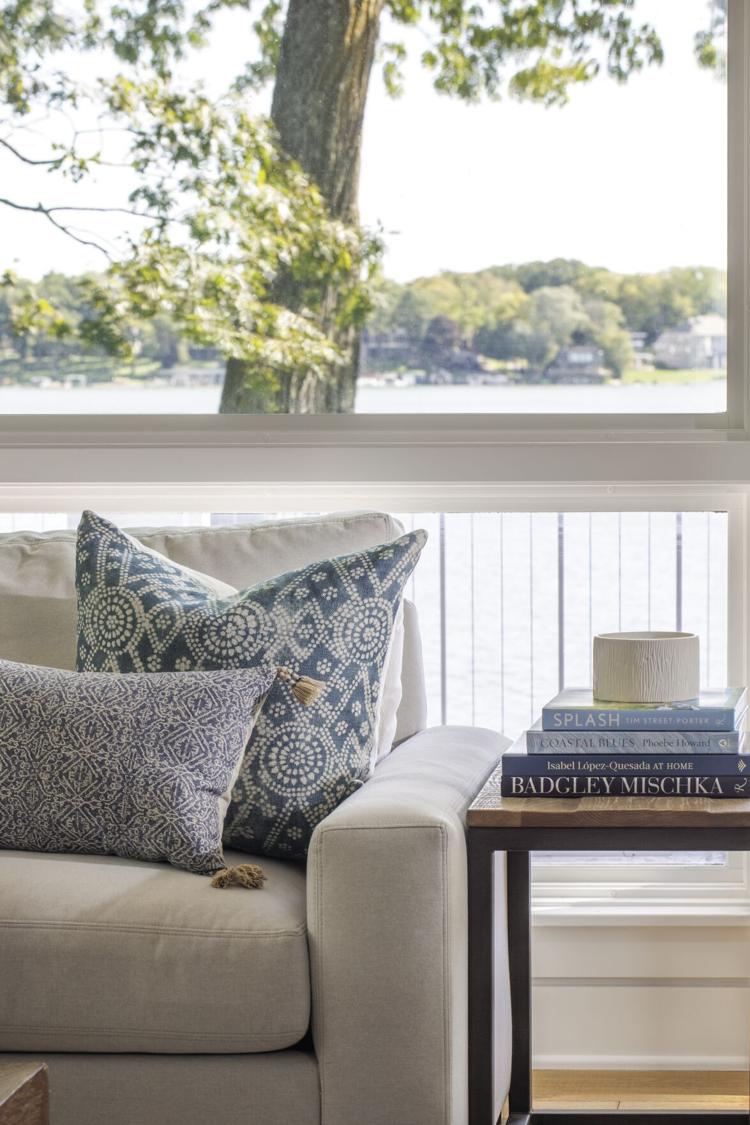 "That's been a great decision, because everyone gathers at the islands, " she says. "We love that."
To contrast the liberal use of white, the team incorporated a warm charcoal stain for one island, wide-plank oak flooring and natural wood beams, one of which is loadbearing. Open shelving lends both storage and visual interest.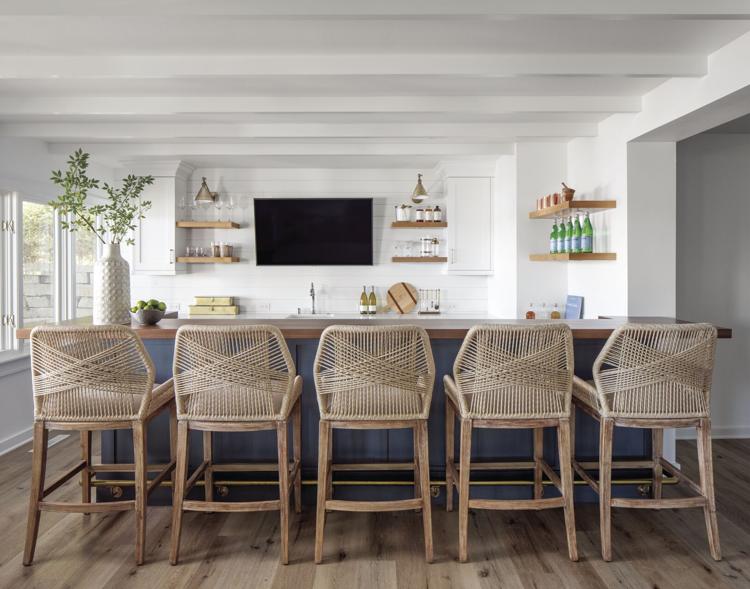 In the Balance
With her designer's eye, Anne admits she prefers symmetrical designs. Dream House Dream Kitchens delivered.  
"They were great to work with," Anne says. "They are experts on the construction [side] and at making sure everything is measured just right," she says. "I talked to a builder friend when we had started, and they said, 'If I were you, I would use a place [where the] majority of their business is just kitchens.' Because that's really what we needed help with. So [we went] to a place that's doing kitchens and kitchens and kitchens, and not looking at a kitchen renovation as a tiny piece of their work, like some of the bigger builders would." 
In fact, Anne and Tom were so pleased with how the kitchen turned out that they immediately hired the Dream team for a basement remodel.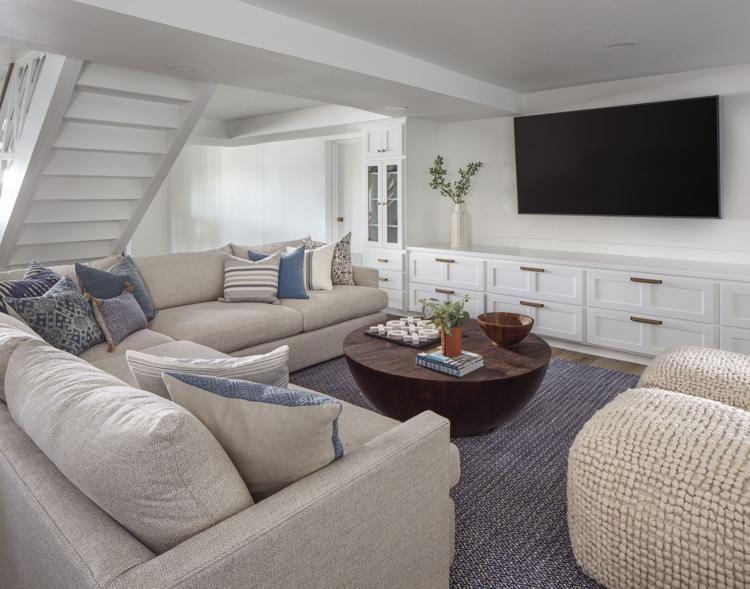 Raising the Bar
Anne explains that the previous homeowners had run a catering company, so the basement featured a second kitchen. That kitchen not only made it comfortable for the family to live in the home during the upstairs remodel, but also made it easy to repurpose the spot into a bar for entertaining. Though Tom was content to trust his wife and the Dream Home Dream Kitchen team's design ideas, he did make a single request.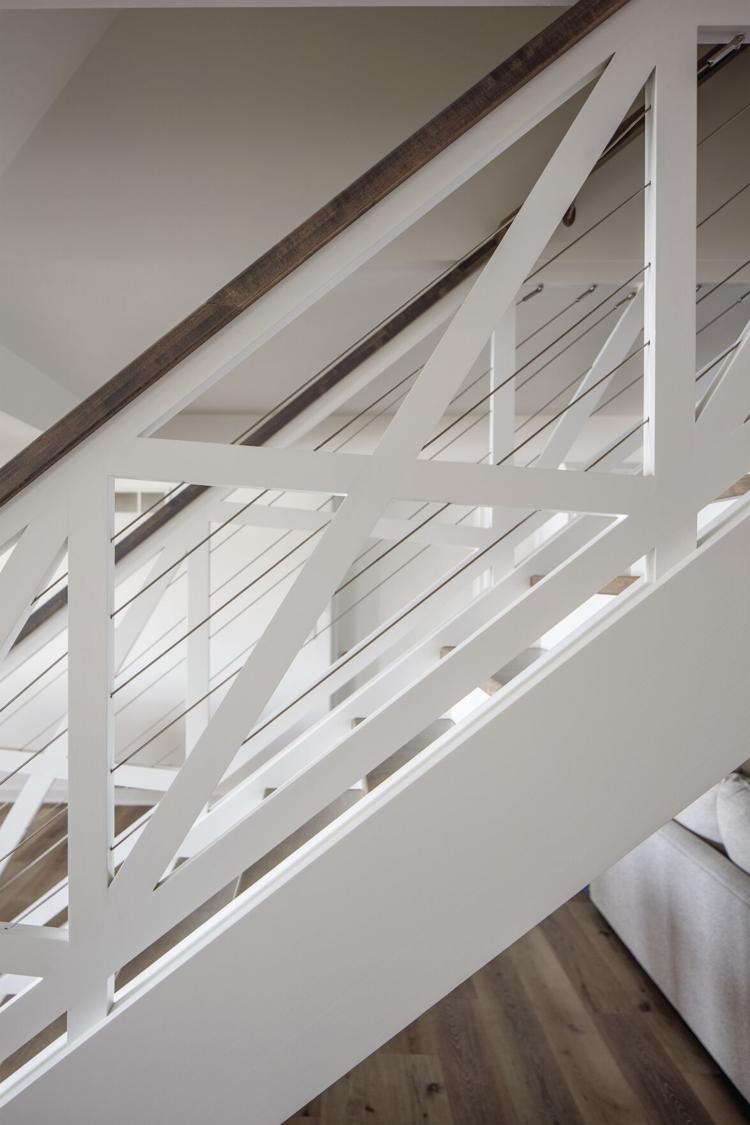 "The one thing he insisted on was that [the bar] was at bar height, not counter height," Anne says, "because the trend is more to do counter-height bars now. But he's tall and my son is tall, so he did want it [to be] bar height. And he wanted the brass foot rail."
The foot rail, she adds, was nearly impossible to find, so she, once again, turned to Losinski and Byinton, who tapped Madison's Custom Metals, Inc. to create the custom brass foot rail for a timeless contrast against the blue of the bar.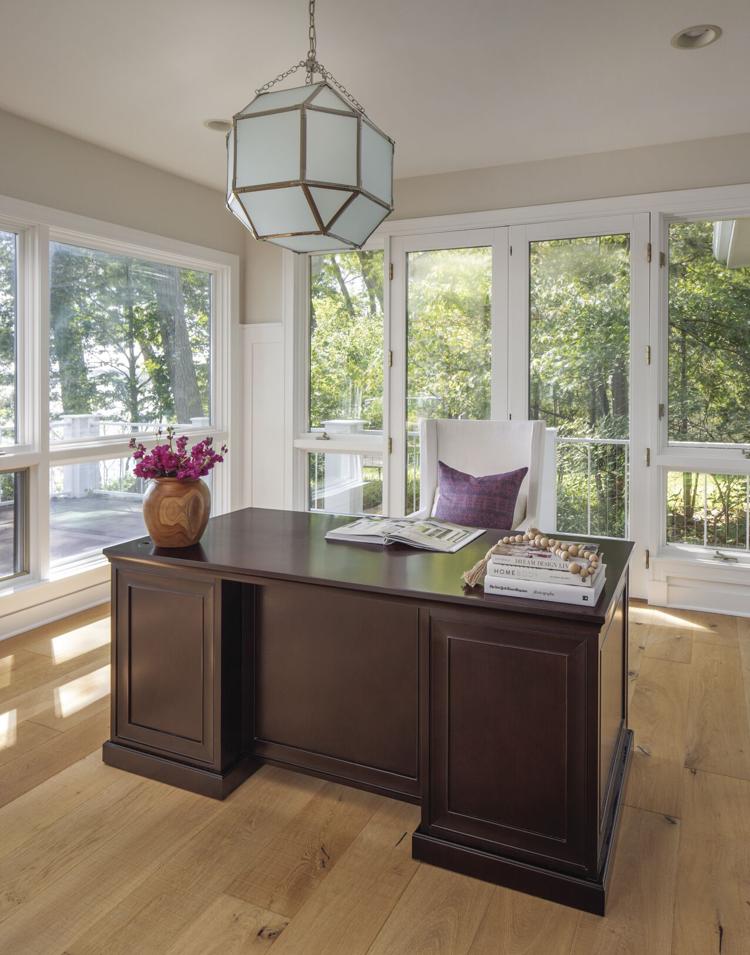 Coastal Colors
The lake vistas, coupled with Anne's dream to live on the West Coast, inspired her to incorporate coastal elements, including soothing shades of blue and casual fabrics for a comfortable, welcoming feel. A set of loom rope stools she'd been admiring long before she began renovating the home fit right in. 
To keep the decor simple and snug but luxurious too, Anne says she played with texture both on the walls via the wainscoting and other elements, and in the use of textured decor such as rich leather, chunky pillows and cozy throw blankets.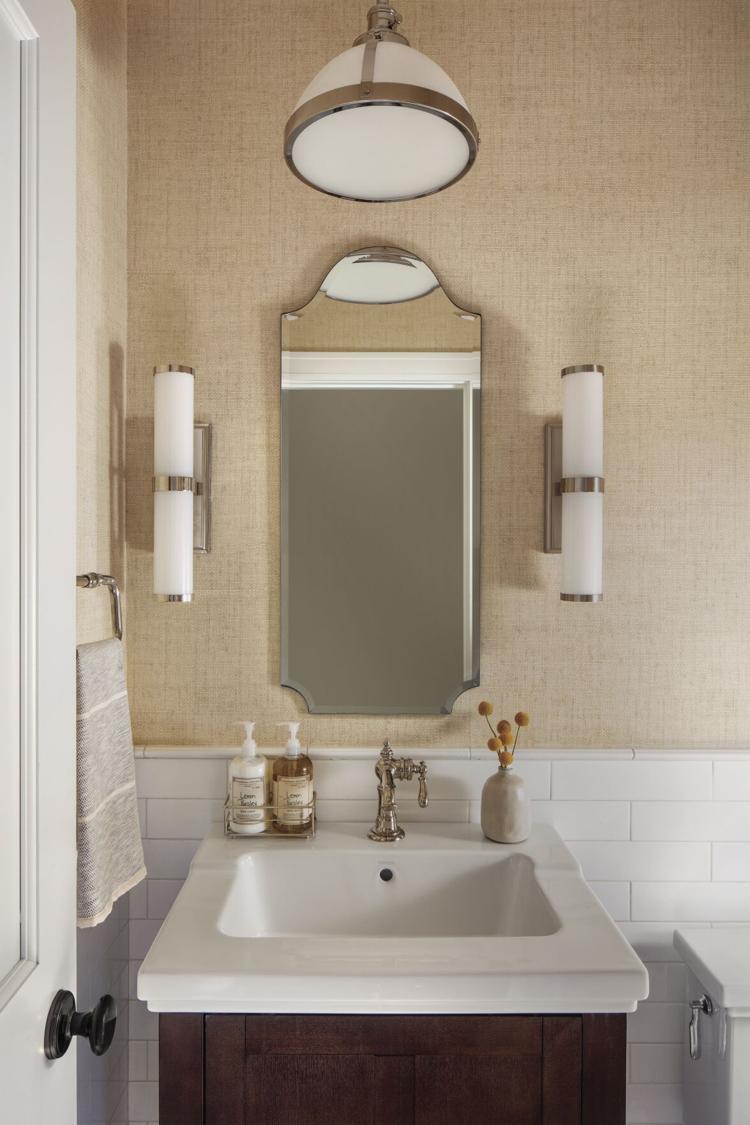 Anne says it was exciting to put her design and staging talents to use in her own home. And she's grateful that this house presented a great canvas for her imagination and a great location for her family's active lifestyle.
"It was really fun," she enthuses. "It was like a dream come true, really, to have the house with great bones, where I think it would be more challenging … to start from scratch. It was fun to just look at something and immediately be able to imagine, with some changes, how I can make it look just the way I wanted it to." MKE