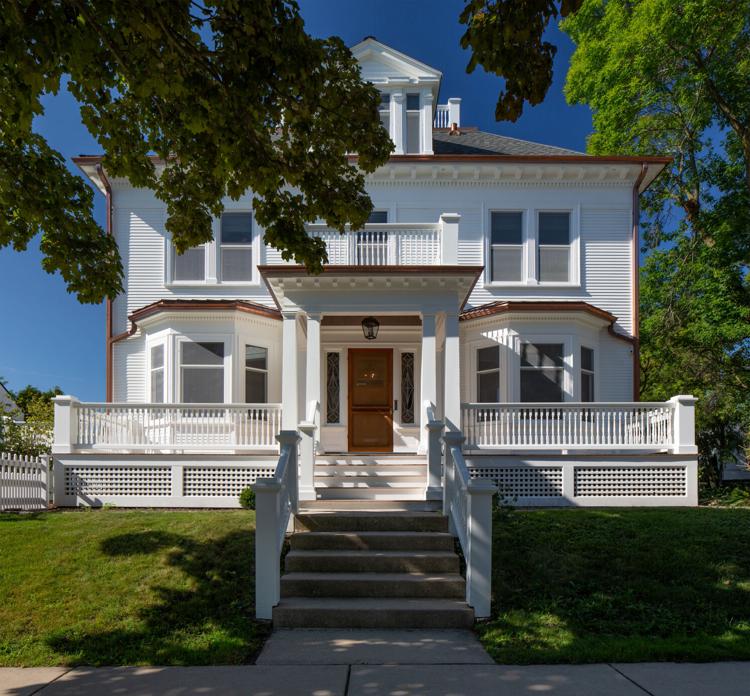 When searching for a new studio space, one area artist stumbled upon a traditional home in Milwaukee and instantly fell in love.
The original design and layout of the historic house, built in 1905, appealed to her, but she was less keen on renovations made throughout the years in an attempt to modernize it.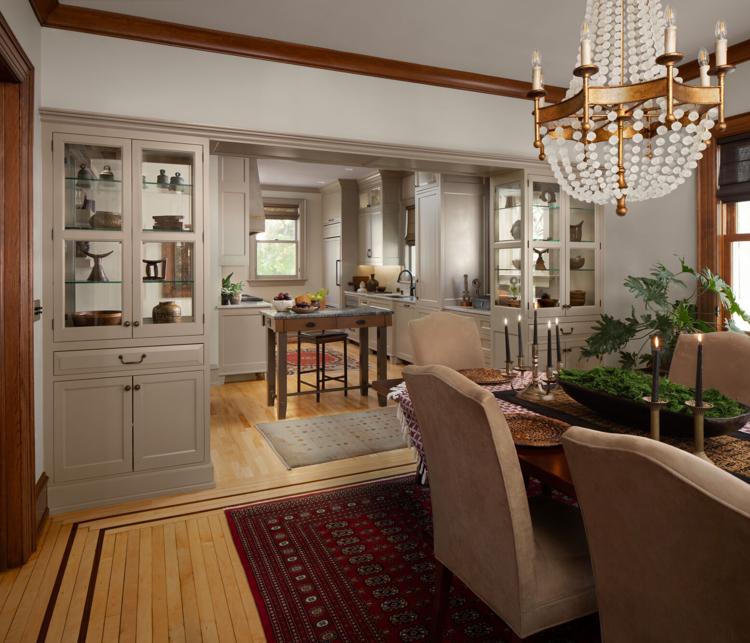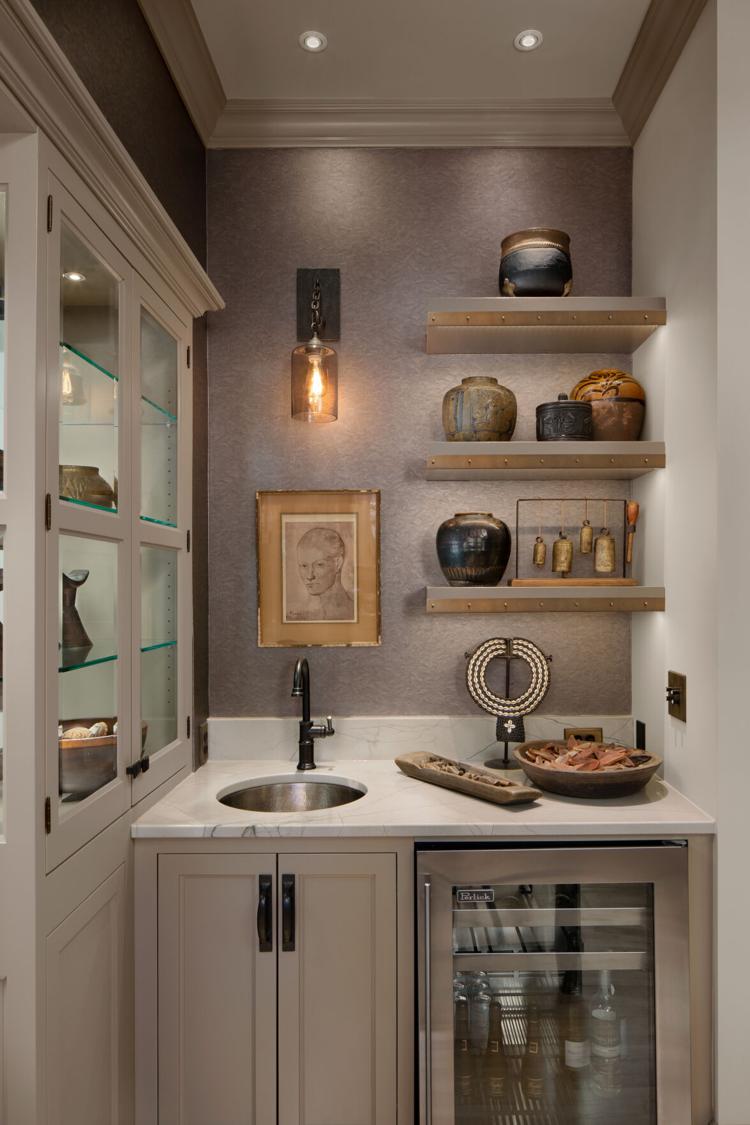 To revert the home back to its original historic beauty, the homeowner tapped Becky Rose Grinwald, owner and interior designer of Becky Rose Design; Meg Baniukiewicz, architect and owner of HB Designs; and M Design Build President Mike Slawnikowski.
The team first located the home's original blueprints, then worked together to restore the home's original footprint and classic design. 
"The purpose of this whole project was to design it so that you couldn't really tell it was a full renovation," Grinwald says. "The end result feels like how it should have always been."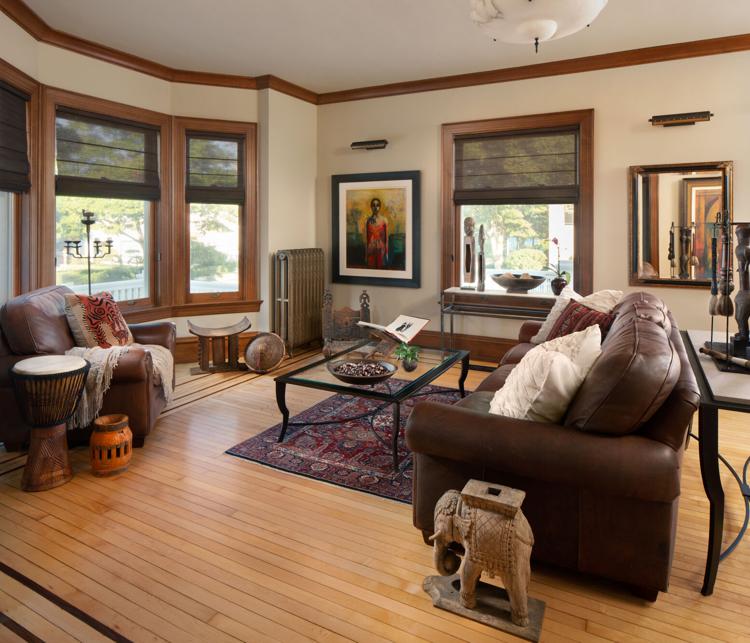 The team revived what original elements they could, including the casings and pocket doors, and redesigned the areas they couldn't to make a seamless fit.
"We wanted to keep a lot of the existing woodwork, but you could tell what was original," Grinwald says. "There was an update around the 1930s — those pieces of oak had a lighter stain to them and you could tell the graining was a little different. Although they were really great historical elements, we knew that they weren't truly authentic."
When it came time to choose a color palette, the homeowner knew she wanted warm, neutral colors. She also wanted to steer clear of stark whites.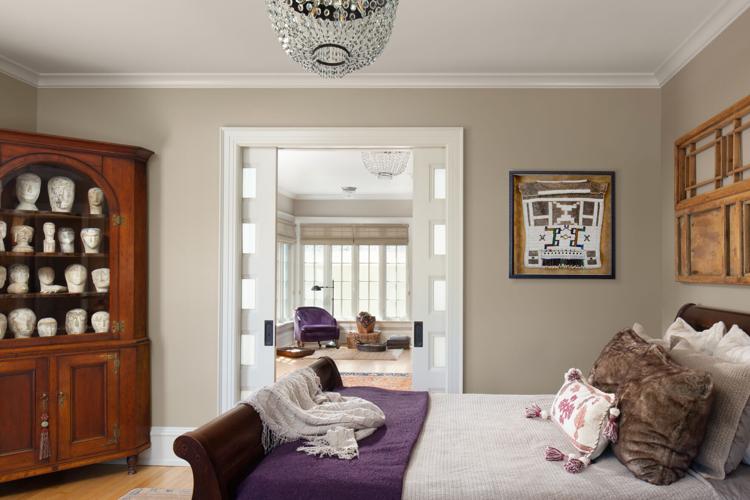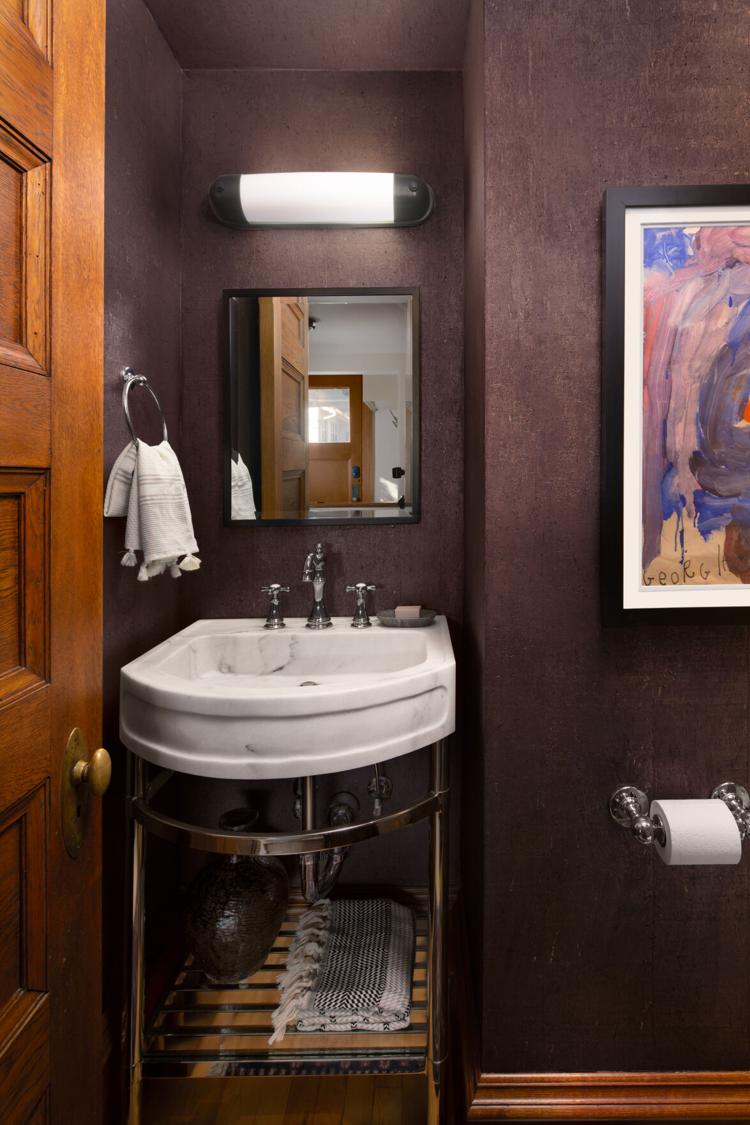 "[She] wanted this house to have a lot more light and brightness to it," Grinwald says. "She previously was living in a Tudor with a lot of dark, heavy colors. We just didn't see white as fitting for this kitchen. And a wood stain would have felt too heavy. So I was directed to have a nice, neutral, 'in-between' tone. It also feels very historic, as well."
Still, the homeowner wanted more than just neutrals throughout the home. She took inspiration from a beloved, purple velvet chair she knew would be incorporated into her décor. To complement and enhance that, the team scattered pops of plum throughout the design. The purple shade makes an appearance on the kitchen island, on the clawfoot bathtub in the third floor bathroom, and elsewhere. 
Though many original artifacts of the home were not salvaged, the homeowner diligently helped source period appropriate pieces to round out the aesthetic — including button switches for the electrical, traditional-looking windows and time-appropriate lighting. The home's original radiator covers were also restored. 
"That was a big passion project that I'm really glad the client wanted to do," Grinwald says of the revived radiators. "She kept all the original radiators and had them refinished and functioning in the house."
Since the homeowner was originally searching for a studio space when she stumbled upon this house, she happily incorporated a creative area for herself on the third floor. And to showcase the homeowner's art, the design team created display areas complete with sconces to properly light and highlight the pieces, as well as transforming the third floor into an art studio.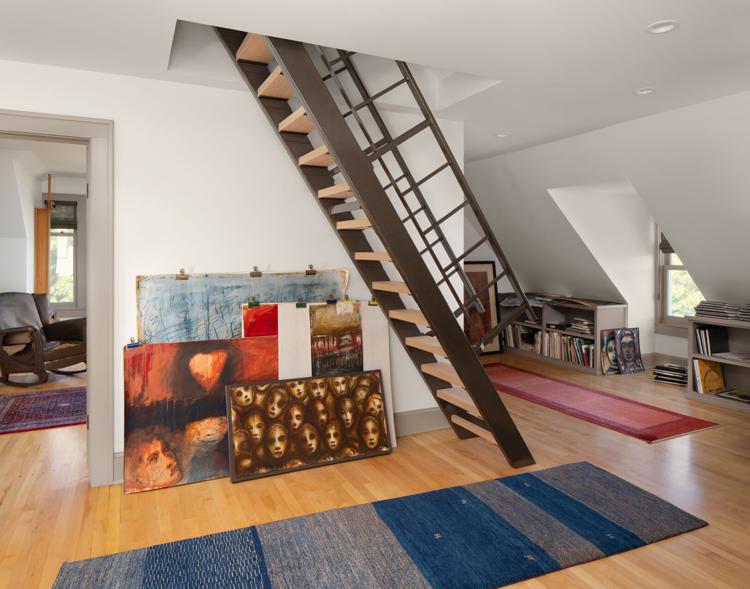 The team, Grinwald adds, enjoyed every minute of revitalizing this historic home and worked well together to bring this homeowner's vision to fruition.
"Meg and I have worked on many projects together and collaborate very well," Grinwald says. "We love working with each other. And I was just thrilled about a historical project and bringing a little fresh life to it." 
"It was really a labor of love," the homeowner agrees of the nearly two-year renovation project. "Everyone just really was on the same track to restore it and make it look excellent. I love it. The studio area works perfectly. It was a really great situation all around."  MKE