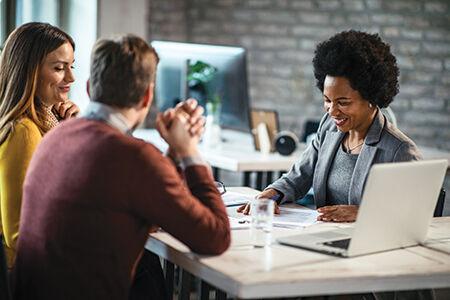 No matter if the economic climate is steady or turbulent, a financial advisor is vital to help you navigate your personal monetary goals.
"The right answer for you, or you and your partner, is very specific to your situation, and that's why an advisor is so important," says Tom Scholz, CFA, CPA, an assistant professor in the School of Business Administration at Concordia University Wisconsin.
We asked a panel of local financial advisors to share their insights on what you need to know now. They are Julie Ellenbecker-Lipsky, CFP®, CDFA™, president and senior wealth advisor at Ellenbecker Investment Group, Pete Jelacic, CFP®, and principal at SVA Wealth Management, and Matthew R. Richmond, MBA, principal officer at Richmond Investment Services.
How can a financial advisor help in uncertain times?
Ellenbecker-Lipsky: Working with a financial advisor helps you create a plan that you can be comfortable with in any market climate. Developing a strategy to meet your goals and manage risk will help provide comfort during periods of volatility. A seasoned advisor will help you stay focused on the plan, manage emotions and expectations, and be there to offer support and strategies when you need it most.
Jelacic: It is always important for an advisor to get to know their clients and provide a holistic approach to financial planning. It becomes even more important during times like we are experiencing now with COVID-19. By having a personal relationship and getting to know the client's needs, risk tolerance and how much time they have on the horizon before retirement, your advisor can create a portfolio customized for your needs.
What should you ask when looking for an advisor?
Richmond: Ask "How long have you been in the business? How do you access investment vehicles? What are your credentials and how are you compensated?" In my profession, I still see a lot of people working without a clear and concise planning system. It's a really a great question to ask, "Can you show me your process?"
Jelacic: Be sure you are using a fee-only firm that acts in your best interest and is a responsible fiduciary. Ask if they are a diversified company with trust, estate tax and accounting services. Having that experience within one company provides for streamlined service. Inquire how the advisor will work with your family through all your life stages and [how] they [will] work with all your advisors — banker, lawyer, accountant, etc. Lastly, confirm how often they will meet with you and how they [will] contact you – via regular scheduled calls, email, phone and/or in-person consultations. Great customer service and personalized financial planning are two of the main attributes you should be looking for in an advisor.
Ellenbecker-Lipsky: Search for an experienced CFP® (Certified Financial Planner™) professional. CFP® professionals are held to a strict code of ethics and act as fiduciaries, putting client interests first. Make sure they can offer tax-planning services as well. Choosing someone who is calm, transparent, unflappable, experienced and proactive will help you meet your financial goals. Finding an advisor you can trust and who will hold you accountable to the plan is important. It is also wise to confirm that they have no formal complaints or pending/closed lawsuits against themselves or their firm. Find someone who understands what really matters to you and is willing to help your children and grandchildren with financial planning too. I always suggest meeting with several advisors and following your intuition on whom you connect with best.
What should your potential financial advisor ask you?
Richmond: A good financial adviser should ask you where you are right now: What's your budget today? What's your 401K or Roth? By identifying your current situation, you can go from there and do a better job of assessing the services you need.
The bottom line, says Scholz, is that it's critical to seek professional financial advice even when times aren't so uncertain to avoid making imprudent decisions at critical times like these.
"If you take a very 'steady as she goes' approach to investment," Scholz offers, "you're not going to be far off the mark." MKE