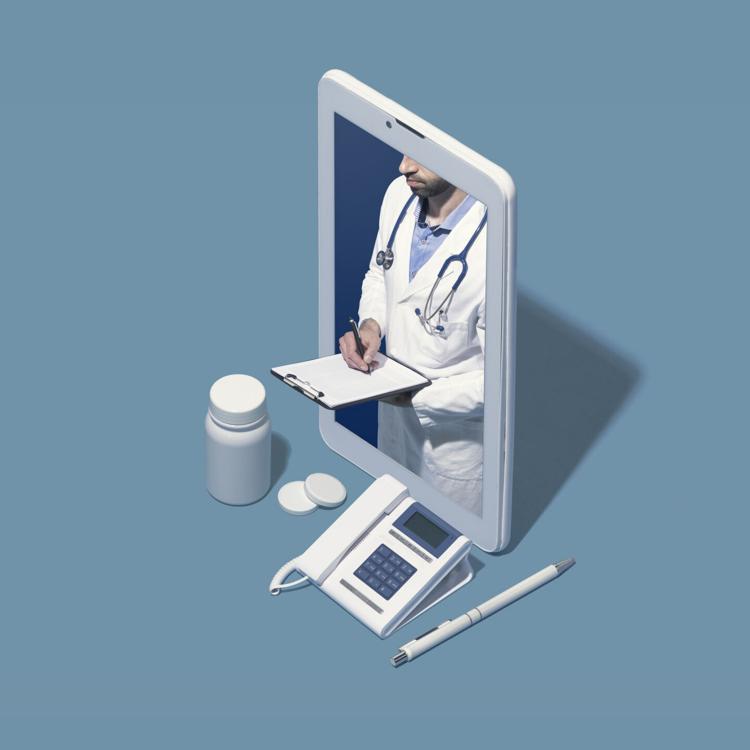 On March 14, just two days after Gov. Tony Evers declared a public health emergency to contain the spread of COVID-19 in Wisconsin, our two-year-old son split his forehead open on a door frame. 
My husband quickly loaded our three-month-old daughter into her car seat while I cradled our son in my lap, and together we drove to Children's Wisconsin, where the severity of the pandemic suddenly became very real. Police officers patrolled the parking lot, and a nurse in a hazmat suit met us at the entrance, directing patients to separate wings of the hospital based on their symptoms. 
I was comforted by the fact that our son's exposure to COVID-19 was minimized, but the experience — and the nine stitches it required — was, in a word, traumatic. I had hoped to keep our children stringently protected from being infected, and an emergency room visit during the height of a global pandemic felt especially risky.
In the three months that followed, we visited our pediatrician's office six times. These visits (i.e., the suture removal and routine vaccinations for both children) were unavoidable and deemed necessary, but I admittedly felt envious of friends and family members whose health care visits had turned virtual. The advantages of telemedicine, from convenience to ease of use, seemed wonderfully appealing — and, in most cases, a safer alternative to an in-person appointment at a medical office.
"Telemedicine has been around for a little while, but from a patient's perspective, as well as even a clinician's perspective, how we became comfortable with it really did come through this pandemic," says Dr. Patricia Golden, an osteopathic physician and the medical director of primary care for Ascension Wisconsin.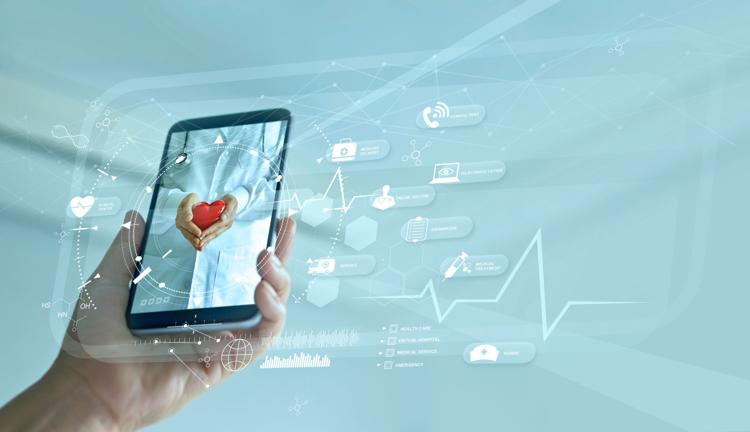 According to Golden, Ascension Wisconsin rolled out its telemedicine platform in mid-2019, with only 10 providers offering virtual urgent care visits. Approximately 200 virtual urgent care visits were recorded over a four-month timespan, she says, but demand spiked when the pandemic hit."From March 1 to June 1 [of this year]," she explains, "we had almost 1,000 visits, with 400 of our providers participating in that urgent care platform." 
The number of virtual provider office visits, in which an established patient meets with his or her physician, was previously low due to a lack of support by insurance companies, Golden adds, but is now trending upward as well. "From March 1 to the beginning of June, we've had over 100,000 virtual provider office visits, and over 1,000 of our providers in primary care and multiple specialities across the state are participating in our virtual visits," she says. "... I'm the type of clinician that tries to find a silver lining in any situation, and this will probably be one of the silving linings [of COVID-19] — that we really realized how important and how critical telemedicine is."
A Favorable Patient Response 
Golden says most of her patients — and especially those who are at a significantly higher risk for complications associated with COVID-19 — understand the need for telemedicine, and recognize when it's the safest modality in which to receive care. Ascension Wisconsin is now welcoming patients without respiratory symptoms back into its clinics, she explains, but appointments that don't require a physical exam, such as medication follow-ups or behavioral health screenings, are often handled virtually. 
Dr. Mark Grossklaus, a family medicine physician with ProHealth Care, notes that his patients generally prefer in-person appointments, but the initial anxiety that accompanied using new technology like telemedicine has subsided. "We see adult patients of all ages using virtual care for a variety of health care issues,"  he says, "[and] we've noticed a trend among our busiest patients — working parents with children. They have really embraced this technology because they can work a visit into family life and don't have to leave the house."
For patients already familiar with virtual platforms like FaceTime and Zoom, security and privacy aren't common concerns, notes Dr. Michael , a psychiatrist with ProHealth Care. "They do get reassurance from us about privacy encryption as part of the visit," he adds. 
currently conducts about 40 to 50 percent of his provider visits virtually, and says his patients — many of whom felt paralyzed by uncertainty at the onset of the pandemic — have embraced telemedicine. "[These patients] needed contact with their mental health care provider during the [initial] scare to provide accurate information and reassurance," he continues. "They appreciated the telehealth outreach to make some contact during a desperate time."
Virtual Technology Brings New Opportunities
Both Golden and Grossklaus agree that "visiting" patients in their homes presents unique opportunities when providing care. A physician treating a patient with diabetes, for example, may ask to see what's inside their refrigerator or pantry, which better informs suggestions for proper diabetes management. "We're learning how best to communicate with our patients, and we're [now] seeing what in their homes are social determinants," explains Golden. "...It's almost become a much more personal type of visit, and I think that's really hit home with some of my patients. I'm understanding them a little bit differently than I would have in my controlled environment in the clinic."
"For older patients, virtual care removes mobility barriers and gives the provider a window into a patient's home life and support system," adds Grossklaus. "It's quite enlightening. We might meet a spouse or see a safety hazard onscreen that we can address." He says elderly patients are occasionally accompanied by their adult children, who hope to take more active roles in their parents' care, and that the technology aids in keeping at-risk physicians safe as well. "Virtual visits allow providers who are in COVID-19-risk categories to continue to provide care to their patients without having to make a choice between their health and their professions," Grossklaus explains.
Telemedicine is also bringing specialty medicine to more rural areas, where patients may not have access to a bevy of specialists, and is proving to be an efficient way to deliver multidisciplinary care. Golden points to a patient who had an irregular heartbeat, and how she used telemedicine to expedite a treatment plan. "Usually I'd have to put in a referral, and then they'd have to wait and go see the specialist," she explains. "Now, during my office visit, I'm able to pull the specialist in, and they're in the room virtually as I'm talking to our patient. … The specialist is using my skills — and maybe my physical contact with the patient — to help form plans and speed up our ability to take care of that patient. Back in the day we couldn't do that, but now we're much more comfortable using these types of resources."
Furthermore, as testing capabilities open to COVID-19 patients exhibiting milder symptoms, clinicians are using telemedicine to diagnose these patients and discuss potential treatment plans, says Golden. "We can send them right to a drive-up testing location and keep them safe in their homes and not coming into our clinic," she adds. "... There's always going to be that opportunity for them to come in and see me, but when they do come in and see me, I've created such a safe environment for them to come into because I'm using different platforms to keep those potential COVID-19 patients out of the 'clean' clinic."  
A Future in the Hands of Insurance
While all three physicians view telemedicine as a permanent part of their future, the question of how — and if — insurance carriers will provide coverage of virtual health care looms overhead. 
"Telehealth for mental health has been available for many, many years," says , "but insurance [carriers] would not cover it unless patients lived in a remote area, where health care was not readily available. They have removed this barrier during the pandemic, so they're covering telehealth [visits] like face-to-face visits." Visits via both phone and video are covered in some capacity, he adds.
This so-called "pandemic coverage," says Golden, has been very forgiving to both providers and their patients, but its long-term presence remains unclear. "Reimbursement seemed to be something that [insurance carriers] were willing to negotiate," she adds of coverage since the pandemic hit. "I don't want to call it a barrier right now, but that will become a barrier — if carriers stop reimbursing. Health systems do need to rely on the reimbursement to take the best care of our patients."
Golden encourages patients to familiarize themselves with the details of their insurance plans, and is an advocate for the continued coverage of telehealth visits. "Honestly, I don't see [telemedicine] going away," she says. "This is really where we are bringing health care directly to our patients. People are looking for convenience — sometimes, maybe, even over relationships. Regardless, this is a way we are going to be providing access to care anytime, anywhere, on demand. And keeping people safe." 
"...We're looking at 18-24 months potentially of this new world," Golden continues, "and I think our learning curve is really going to be focused on safe environments and the safety of our communities."  MKE
---
The State of Telemedicine A Look at Advocacy Efforts 
As the efficacy of telemedicine became abundantly clear, advocacy efforts to ensure its continued use — as well as its continued coverage — kicked into high gear. The Wisconsin Hospital Association (WHA) and its Telemedicine Work Group issued a letter to congressional leaders in late June, urging them to permanently adopt key Medicare telehealth flexibilities. These flexibilities were authorized by the Centers for Medicare and Medicaid Services (CMS) when the pandemic hit, but their long-term presence is still unknown. According to the WHA website, priorities for consideration include:
Site and geographic restrictions should be permanently eliminated. The WHA cites telehealth success stories in various fields of care, from dietetics to behavioral health.
Continue expanded services allowed. As elective and scheduled surgeries were postponed at the onset of the pandemic, providers expanded their virtual service offerings, and the CMS acted to increase service codes eligible for reimbursement. The WHA is requesting continued reimbursement of expanded services, even after the public health pandemic expires.
Preserve the expansion of allowed telehealth practitioners. The WHA supports the expansion of allowable virtual practitioners to include, for example, speech and occupational therapists.
Continue to allow patient access to providers via Rural Health Clinics and Federally Qualified Health Centers. The WHA cites "overwhelming support" for reimbursement of services provided at such facilities, which often serve rural and underserved communities.
Maintain audio-only option. Recognizing that video chat is not accessible to all patients, the WHA urges continued reimbursement of phone call visits.
Treat telehealth the same as in-person services by maintaining payment parity and removing telehealth-specific requirements like limits on visits or serving new patients. The WHA asks for Medicare to maintain the current policy of paying the same rate for telehealth services as in-person services.
Encourage commercial providers to continue covering telehealth. Coverage of telehealth services post-pandemic remains uncertain, and the WHA encourages Congress to advocate in favor of continued coverage by commercial providers.
(Source: www.wha.org)