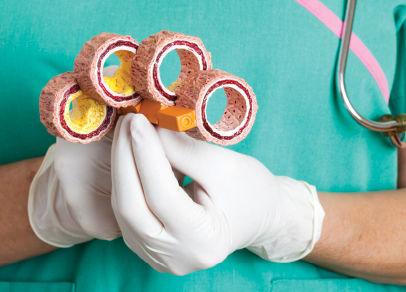 Twenty years ago, heart bypass surgery often meant a six to eight-inch incision and seven to 10 days in a hospital bed, plus recovery time. 
Today, that same surgery routinely uses a scope instead of a scalpel and requires only three or four days of hospitalization. Time, technology and teamwork have helped make this complex surgery more efficient and effective for doctors and patients alike.
"Most everything has changed," says Dr. Tanvir K. Bajwa, an interventional cardiologist at Aurora St. Luke's Medical Center in Milwaukee, who has been practicing medicine at St. Luke's since the 1980s.
Complications today pose less than a one percent risk, he adds, noting that "techniques have evolved and gotten better. We can deal with sicker patients and much more complicated patients with much less complication and [a] shorter hospital stay." 
As a young doctor in Rochester, New York, Bajwa noticed how complex cases were always referred to St. Luke's in Milwaukee. He decided to go follow the action. Forty years later, he is still excited about Milwaukee's opportunities.
"Aurora St. Luke's has a very good reputation for heart surgery," Bajwa says. "Heart surgery started in Milwaukee; that is why I came here for my training. We utilize a team approach and provide not only routine patient care but cutting-edge treatments."
Cardiac bypass is one example, he explains, comparing it to a freeway system. Imagine a stalled vehicle blocking a lane during rush hour. Everyone is in a hurry to get where they're going, but the stalled car brings everything to a halt. Traffic backs up for miles. With no other alternative, cars must search for other passage.
"Techniques have evolved and gotten better. We can deal with sicker patients

 

and much more complicated patients with much less complication and [a] shorter hospital stay."  - Dr. Tanvir K Bawja
An Alternate Route
"When I-94 gets clogged, we go to 894," Bajwa explains. "Similarly, in the heart, there are three major arteries. One supplies the front wall, one the back and the third supplies the bottom of the heart. If those are plugged up, the patient will experience symptoms like chest pain or shortness of breath. Surgeons put in a bypass — they take a vein from the leg or an artery from the chest — and bypass the blockage so the patient can get blood flow to the heart muscle and restore daily function." 
Heart experts at St. Luke's work closely together, which is an evolving technique across the country. "We have a heart team at Aurora St. Luke's. Patients are seen by a cardiologist and a heart surgeon. We sit down with them and talk about options — a patient gets two opinions at one time. They get two for the price of one," Bajwa says, adding that preventative testing for heart-related issues is happening sooner than it used to.
"Later in life is old-school," he says. "Nowadays, the American Heart Association and the American College of Cardiology have realized the process of plaque build-up can start young. If we catch it early, we can modify behaviors and change outcomes."
The Future is Automation
Bajwa says the next big thing in the treatment of heart disease is improvements in heart valve surgery, and automation is at the forefront.
A few years ago, Bajwa and the team from Aurora St. Luke's became the first in Wisconsin to implant a new valve approved by the U.S. Food and Drug Administration. The CoreValve Evolut PRO, produced by Medtronic, is for symptomatic patients with aortic stenosis who are at high risk for open-heart surgery. The procedure requires less time than open-heart surgery and allows for faster patient recovery times. 
"Once again, this is surgeons and cardiologists working together to create a minimally invasive approach," Bajwa says. MKE
Facts About Heart Disease
Cardiovascular disease (CVD) remains the leading cause of death in the United States, responsible for 840,768 deaths (635,260 cardiac) in 2016. From 2006 to 2016, the U.S. death rate from CVD decreased by 18.6 percent and from coronary heart disease by 31.8 percent.
The annual total cost of CVD in the United States was estimated at $351.2 billion in 2014-2015, with $213.8 billion in direct costs, including 46 percent for inpatient care.
Approximately every 40 seconds, an American will have a myocardial infarction. The average age of first myocardial infarction is 65.6 years old for men and 72.0 years old for women.
In the United States in 2019, coronary events are expected to occur in about 1,055,000 individuals, including 720,000 new and 335,000 recurrent coronary events.
Hypertension, smoking, obesity and high cholesterol are the top causes of CVD.
Source: American Heart Association 2019 Heart Disease and Stroke Statistics