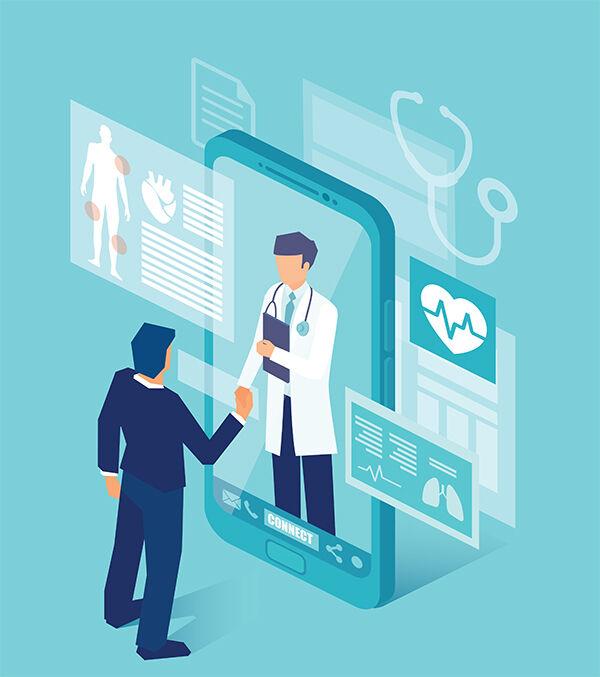 Sometime in the future, medical professionals and the nation at large will begin to sort through the many lessons learned from the COVID-19 pandemic that has dramatically impacted each of us.
One irrefutable takeaway? The importance of having a primary care physician, in good times and in bad, has never been clearer. And if you experienced a mild cough or low-grade fever during the outbreak, wondered if the novel coronavirus caught up with you, and received a comforting phone call or online message from your doctor telling you how to proceed, you know firsthand.
Dr. Beth Damitz, an associate professor of family medicine at the Medical College of Wisconsin, says the pandemic brought greater awareness to the importance of the "family doctor."
She offers an example: "We are doing telephone visits. It is easy for me to talk to a patient of mine who's been mine for five years. I know them and I know them well, so it's a much smoother sort of encounter when we can't see folks face-to-face. That's a huge benefit right now."
Primary care physicians, she explains, are generalists who are trained in family medicine, internal medicine and pediatrics. Obstetricians and psychiatrists are sometimes included in the definition. Primary care medicine is essentially the "first layer" of medicine. Physicians who practice it can address patient concerns from the short-term, such as a sinus infection, to the chronic, like heart disease or diabetes. They can also help a patient address mental health issues such as depression or anxiety, Damitz notes.
Think of it as having a friend specifically for your medical needs. Your primary care doctor also knows about your family, your relationships and your job. They know your stressors, your weight patterns and your exercise and eating routines. That intimacy allows a doctor to understand what puts a patient at risk — and know when they are at risk, says Damitz, a family medicine specialist whose services include prenatal care, obstetrics, colonoscopies, treadmill stress tests and minor surgical procedures.
"We're not just looking at your blood pressure. We're looking at your whole health, your whole body and how perhaps your work, your family circle, how the pieces of someone's overall well-being fit into the segment of their physical health," Damitz says.
That, she says, is key in preventing serious illnesses or catching them early.
"We can review things that statistically you're more at risk for, and we can talk about what can we do about those risk factors," Damitz explains.
One's primary care doctor is also the first call one should make if they fear a more serious illness. For example, a woman who finds a lump on her breast may be inclined to call an oncologist, but Damitz says that would be premature. That lump could be dermatological, or it could be more serious. A primary care physician helps a patient navigate the health care system to reduce time and costs.
In the case of the coronavirus, Damitz says, a call to one's family doctor reduces the number of people in the emergency room, while also decreasing the chances of putting others at risk of contracting the illness.
Choosing the right primary care physician may seem overwhelming, but Damitz lists a few tips to find a doctor who is the best fit for you. Your first step should be to consult your insurance plan to see which health care providers are in-network. Next, talk to family, friends and co-workers — essentially those who know you best — for their own recommendations. When you've compiled your short list, most health care organizations provide profiles of their physicians, sometimes complete with video interviews, that can help a potential patient get to know them better.
Damitz cautions against searching online reviews, because the metrics used to cull the data can be unclear and the data unreliable.
Once you find the right doctor for you, Damitz says that, in addition to the health benefits, you'll see cost benefits too. She says studies have shown that hospitalized patients who have a primary care doctor tend to get better faster and have fewer readmissions within 30 days. "There have been shown better outcomes for people, especially with chronic diseases, if they have a dedicated primary care physician," she says.
And fewer doctor visits and less time in the hospital equates to lower health care costs.MKE