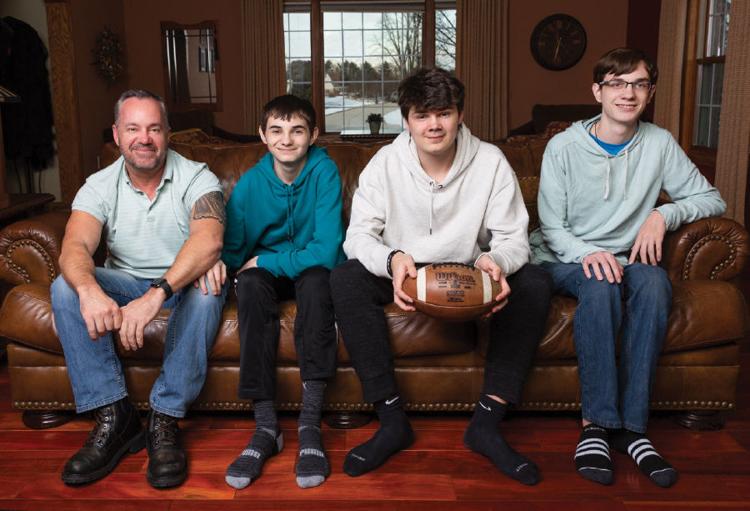 In 2013, Bryan Grayson thought he had it all.  
He was happily married to his wife, Corrine — affectionately called Corey — a creative and fiercely devoted mom to Derek, Dylan and Jack, the couple's three sons together. His stable, longtime  job let Corey focus on the boys, and the family lived in a beautiful home in a close-knit neighborhood surrounded by nature on the southern edge of Waukesha.
One April day, Corey awoke with a headache — one far worse that the migraines that sometimes plagued her. Bryan raced her to the hospital, where doctors eventually discovered that what they, too, believed was a severe migraine was actually a stroke. She fought mightily to recover but a second stroke proved more than her body could handle. 
Corey Grayson died at age 46, leaving her husband and sons reeling.
Determined to keep his sons in the home they loved and their routine as close to normal as possible, Grayson worked overtime to master the housework his wife cheerfully handled. And to not let his sons see how shattered he was, while  still keeping the lines of communication open for their own powerful grief. A nightly ritual took shape.
 "We would lay on my bed, as if she was still here, telling her about what was happening that day," Grayson recalls. "We would all lay there, talk to mom, and tell her about our day."
Slowly, and with the help of family and friends, Grayson learned to deal with the bumps and bruises — physical and emotional — of raising growing boys who suffered the worst form of loss. He joined a nearby gym, where he found a healthy outlet for his own emotions, and the casual adult conversation he missed. He began to feel OK  again. 
And then lightning struck twice.
Devout in his annual physicals, Grayson wasn't alarmed when doctors noticed his PSA (prostate-specific antigen) levels gradually rising. When he reached level 4, his doctor suggested additional cautionary testing. The results were
reassuring, and another year went by. Then Grayson's PSA levels rose to 5. He went in for a biopsy and got The Call while he was at work. Grayson was one of the nearly 175,000 men diagnosed with prostate cancer each year. 
"I just felt all alone and in shock," Grayson recalls. "'I honestly couldn't believe it. And even worse, how do I tell my three boys that dad has cancer now? Having already lost their mom, how do I present this to them in a way where I let them know that dad's going to be OK?"
Grayson gathered his sons around the kitchen table, armed with a binder of information about his type of cancer, the knowledge that a positive outcome was likely, and the faith that his family could make it through this too. 
"The first thing that came out of your mouth, you said, 'I just want to let you guys know that I'm going to be OK,'" recalls middle son Jack, who remembers his mom as his best friend who soothed bad days with TV time and plates of the plain hamburger meat they both loved. "I was just devastated, but you kept repeating yourself, saying that you were going to be OK."
"They knew it was just a matter of what treatment I was going to do to make sure that I would fully get rid of whatever I had," says  Grayson, who was 57 at the time. "There's really two choices — either you have the whole thing taken out, which has its own set of risks and side effects — or have radiation treatment." Because he had plenty of healthy years ahead of him and young kids who needed their dad, his doctors recommended the  radical prostatectomy.
Though the five-year survival rate for most prostate cancers is nearly 98 percent with early diagnosis, and treatments continue to improve, Grayson endured painful and debilitating setbacks, some of which he shared with his sons and some he did his best to conceal. When an infection left him quarantined in the hospital, Grayson opted to let the boys' caregivers share that he was having complications but spare them the experience of donning the hazmat-style suit needed to visit their father. 
Eventually he returned home with a PICC line, a catheter and a drain for the internal infection. "All I'm thinking is, 'Is it ever going to get any better?'" Grayson grimaces. "It would have been so different if my wife had still been here. I'd have a person I could completely, 100 percent lean on and say, 'Help me deal with this.' I couldn't do anything, so these guys had to take care of everything around here while I was gone."
Nearly two years after his diagnosis, Grayson is now cancer free. He returned to his beloved gym at the end of August. And his boys have grown into handsome teens with easy smiles and varying interests. 
"It's to the point now where I think no matter what happens in my life, or any of these boys' lives, we will all find a way to get through it," Grayson says. "We can overcome whatever we need to. We all can do that. Our life hasn't been normal. We're not normal. But I feel pretty lucky, because I have a relationship with my boys that most dads will never, ever see." 
And so, on a warm October day, Bryan Grayson and his sons stepped onto the runway of Wisconsin Breast Cancer Showhouse's 2019 Pinktacular fundraiser, with thousands of eyes trained on them, and did what they do best. They put their arms around each other, one foot in front of the other and turned unfamiliar territory into an inspiring example of the power of resilience and a father's love. MKE