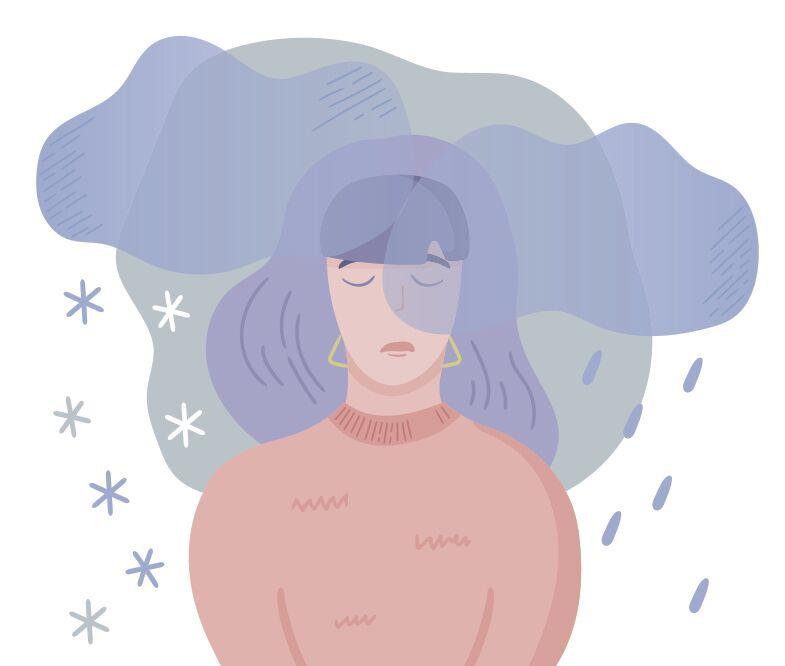 Shorter daylight hours, cold and wintry conditions, economic stress and cabin fever typically contribute to the "holiday blues," more pronounced mood swings or even Seasonal Affective Disorder (SAD). This year, a global pandemic lends another unwelcome layer of anxiety. 
With social distancing guidelines and quarantining of vulnerable populations, it's more important than ever to get creative and help keep our loved ones and ourselves safe, both mentally and physically.
SAD affects more than 500,000 people nationwide between the months of September and April, peaking between December and February, according to Mental Health America of Wisconsin. Three out of four sufferers are women, and the primary age of SAD onset is between 18-30.
SAD is typically self-diagnosable and can vary in length and severity. Symptoms that recur each year may include fatigue, depression, feelings of hopelessness and social withdrawal. 
"Other things people might experience include anxiety, lack of emotion or excitement, general discontentment, loneliness, loss of interest, mood swings, or sadness," says Barb Bigalke, executive director and founder of the Center for Suicide Awareness in Kaukauna. "People might also notice they sleep too much or have insomnia, they have appetite changes, irritability, have a lack of concentration or weight gain."
Potential triggers are stress, grieving a family member, financial concerns, addictions, eating disorders and physical ailments. 
Symptoms vary from person to person in number, length and intensity. "Some people might only have a few symptoms and some might have more than one or all of them," Bigalke says. 
"Be aware of your personal triggers and how they might impact you going into a Wisconsin winter during a pandemic," Bigalke adds. "Make sure you have a list of support people you can rely on, and talk to them ahead of time. The holiday season is going to be especially hard on people, and this might make people drop their guard on staying safe. Start thinking ahead now on how your family can still make it a special season while keeping everyone safe."
Coping with SAD
Those who suffer from SAD (or are susceptible to it) prior to COVID will feel a heightened sense of loneliness or isolation, Bigalke says. 
"We expect to see new cases of SAD as people are intentionally isolating themselves," she says. "We've noticed a secondary problem with the coronavirus — depression that resulting from the isolation. This winter is only going to make it worse."
Experts including Bigalke recommend these simple steps to help themselves or others through the anxiety:
• Check in with others. "Call, video chat, text message, write letters — anything to keep you communicating," Bigalke says. "This can be mutually beneficial for both people!"
• Get outside periodically for fresh air and sunlight. "The necessary vitamin D from sunlight can't transfer through a normal glass window," Bigalke stresses. "Just sitting outside on the porch for 10 minutes in the sunlight can improve your mood. You could even do your daily communications while sitting outside."
She mentions that for extreme cases, light lamps can also help with sunlight therapy (and may even be covered by some insurance companies). 
• Find a hobby or undertake a project that will occupy your mind and give you a sense of accomplishment. Jigsaw puzzles, taking up an art or craft, or even enrolling in virtual classes can help keep you focused and busy. "There are still plenty of activities that a person can do outdoors," Bigalke adds. "It might just involve a scarf and gloves!"
Adapting to COVID
Bigalke has a few other suggestions to combat seasonal anxiety or depression and to stay positive and engaged.
"Go easy on yourself!" she says. "No one knows the right way to navigate through a Wisconsin winter during COVID-19. We need to just give ourselves a pat on the back for making it this far and to continue being there for each other. 
"Spend some time every day showing gratitude," Bigalke continues. "You can find gratitude cards on the Suicide Awareness Center website under the resource tab. Also, get involved! We're always looking for suggestions on ideas that have helped others through this to pass along. You can find us on Facebook and send us a message!"
Pandemic journals and lists of coping skills are also available on the SAC web site, and Bigalke says the team will soon add a new digital area to help people navigate through the holiday season. Anticipating this year will be especially challenging due to the pandemic, the Center for Suicide Awareness has also taken some new steps to prepare for SAD.
"We're adding more resources, virtual short workshops and training that people can access," Bigalke says. "With the change into virtual communication, there are ways to stay connected.   Holidays are stress-filled as it is, and the limitation on gatherings can create a sense of loss. We encourage people to share their stories through our Podcast series. We have had a variety of people share how they've managed stress and hard times — and we'd love to hear your story."
For additional information
If you or someone you know is struggling or having extreme difficulty getting on track, reach out for help. Make a doctor's appointment or, if the situation is dire, go to the emergency room, call 911 or text the Suicide Awareness Center's Hopeline at 741741. 
Other resources:
• Suicide Awareness at centerforsuicideawareness.org
• National Suicide Prevention Lifeline (800) 273-8255 
• Mental Health America of Wisconsin, mhawisconsin.org
• The Manor, Kettle Moraine, discoverthemanor.com  MKE