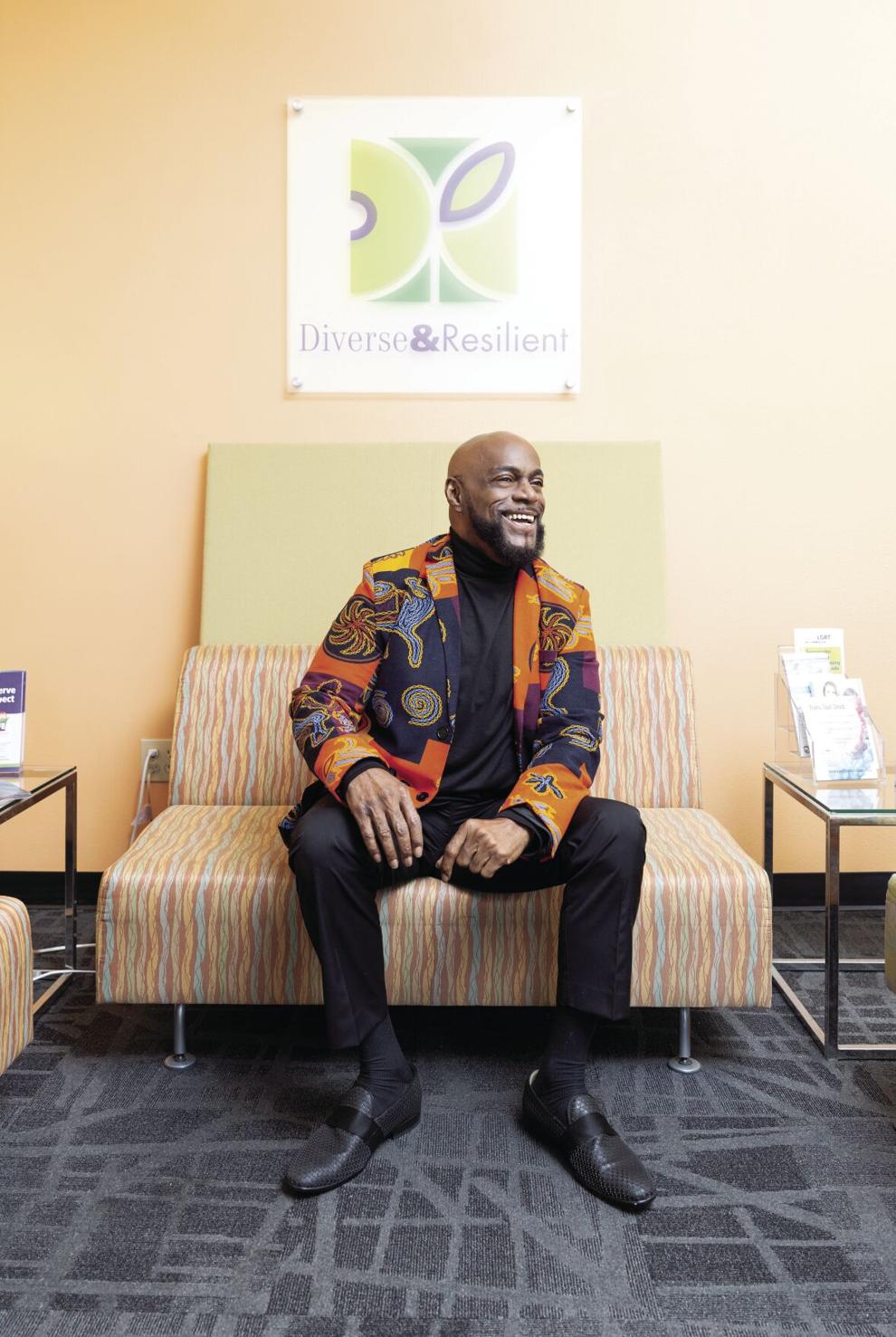 When Ronnie Grace was diagnosed with human immunodeficiency virus (HIV) in 1986, at first he was in denial.
At the time, he was living in Los Angeles and was in the process of relocating to Atlanta. When he first received the news, the stigma associated with HIV was difficult to overcome — and he was afraid to seek help. 
After years of living with HIV, Grace began to experience health issues now commonly known as opportunistic infections (which occur more often in people with weakened immune systems), including shingles, boils, and drastic weight loss. Dentists refused to treat him.
Grace became overwhelmed with depression and he attempted suicide. Fortunately, through the help of family and friends, he survived, and he returned to Milwaukee for HIV treatment.
"My family cleaned out my wounds, loved me and saved my life. I probably would have died within months," Grace recalls. "I had no T cells left." (T cells or CD4 cells are a type of white blood cell in the immune system that fights off infection. A person's CD4 or T cell count is an indicator of immune functioning.)
His supportive mother kept him on a treatment plan that helped him slowly improve. Intrigued by the effectiveness of medications, Grace was hungry to learn more; his passion fueled his desire to help and encourage others to seek treatment, too.
A Message of Awareness
It's a remarkable turnaround story: Grace is now the lead coordinator for Milwaukee's HIV Peer Navigation Program (PNP), which provides support, education and positive messaging to those afflicted with the disease. 
The PNP pilot program, which has been operational for about a year (Grace anticipates it will be fully funded soon), serves people at risk for falling out of care or who have already fallen out of care. The goal is to get them to become virally suppressed, or force the virus to become undetectable or untransmittable — meaning there's not enough of it in the blood to infect a sexual  partner. 
The organization  provides emergency funding to assist in getting housing, paying bills, providing transportation to medical appointments, as well as helping clients navigate the healthcare system.
As part of the PNP awareness campaign, Grace has appeared in several anti-stigma campaigns, which included billboards, buses, and social media outlets.
"I've been living with HIV for 36 years — more than half my life," Grace says. "People with HIV can live as long as anyone else." 
Grace is a staunch advocate in raising awareness that those infected with HIV can live a long, prosperous, meaningful life and constantly advocates to patients. He'll FaceTime with them and take medications with them virtually as a show of support.
Impacting The Black Community
That side-by-side trust is imperative to helping stop the spread of HIV and to inspire hope in others who may be impacted, says Katherine Quinn, PhD, assistant professor at the Medical College of Wisconsin (MCW). Quinn works at MCW's Center for AIDS Intervention Research (CAIR) in psychiatry and behavioral medicine. 
While rates of HIV infection in Milwaukee are low compared with other cities (and that Wisconsin overall has seen a decrease in the past 10 years), she points out that 86% of new cases are among Black men.
Poverty, lack of insurance and lack of access to health care are factors affecting the ability of Black communities to get care. "We have to develop better interventions to improve our care and testing availability," Quinn says. 
She stresses the importance of building ongoing partnerships with community leaders such as Grace to spread the message to those who are potentially infected to get tested and to find participants for HIV research.
"There is hesitation to participate in research," Quinn says. "The Medical College can seem big and intimidating. We've had several studies going on at once, all at different phases, and with different segments of the population. The hesitation to participate in research is something that is not unique to MCW or HIV. We need to do a better job at enrolling African Americans into health research in general."
The need for policy changes to achieve better access to healthcare is critical,
Quinn notes.
"HIV stigma, systemic racism and homophobia are known barriers to HIV treatment and prevention," Quinn adds. "When people can't access inclusive healthcare or are afraid to tell their doctor they're gay, we can't provide needed care."
One potential answer is MCW's Inclusion Health Clinic, which opened in 2018 and is the first LGBTQ community health center in the region to offer comprehensive outpatient care.
"This has been a welcome addition in the community," says Quinn. "Some of our prior research has shown that Black gay and bisexual men in Milwaukee experience mistreatment from healthcare providers and receive substandard care. The Inclusion Health Clinic fills a critical need."
Breakthroughs In Treatment 
And getting treatment is key, Quinn emphasizes, as major strides have been made by pharmaceutical companies producing medication that helps prevent the spread of the virus.
Today, HIV is treated with very effective antiretroviral medicines, which work by stopping the virus replicating in the body, allowing the immune system to repair
itself and prevent further damage. While the treatment doesn't cure the condition, it can reduce the viral load to undetectable levels — meaning the virus isn't transmittable through sexual activity, and an immune system can recover.
In addition, two drugs therapies, generically referred to as PRep and PEP,
are effective preventative medication. PRep is for people who are HIV-negative but at increased risk for HIV; PEP is an emergency medication that must be started soon after a high-risk event.
"Biomedical interventions like PrEP have been critical in our ability to prevent new infections," Quinn says. "It's highly effective when taken as prescribed, yet public health efforts are needed to increase PrEP use, especially among people of color."
Perhaps the most significant breakthrough was the January 2021 U.S. Food & Drug Administration (FDA) approval of Cabenuva, a long-acting injectable drug combination used for HIV treatment. Patients with HIV who use it receive injections every four weeks instead of taking daily pills — while the daily regimen of pills is effective, they are not forgiving and patients cannot skip a day of taking their meds. 
"It's important for patients to have options when it comes to HIV treatment, and having a monthly injectable HIV medication may be preferred by some patients," says Quinn. "For individuals who have a hard time taking a daily pill, this can make it easier to adhere to HIV treatment. It can also help improve privacy for those who don't want others to potentially see what medications they're taking." 
While Cabenuva is new and usage data isn't yet available, that fact that it's on the market is significant for patients. "This is a game-changer," says Grace. "HIV is no longer a death sentence. People are living full lives." MKE
For more information
Three organizations offer resources and confidential support for people with HIV:
• Froedtert Hospital, froedtert.com/lgbtq, (414) 805-3666
• Diverse and Resilient, diverseandresilient.org, (414) 390-0444
• Vivent Health, viventhealth.org, (414) 273-1991