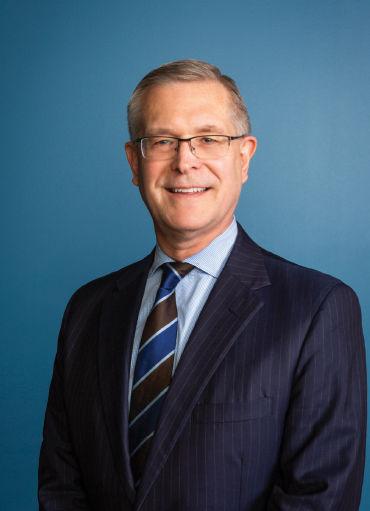 Since July 2015, Froedtert Hospital and the Medical College of Wisconsin have been working to raise $225 million by December 2020. The ambitious "Hope to Health" fundraising effort is aimed at accelerating medical research and advancing patient care, transforming health care education, leading the way in cancer research and care, and driving improved health in this region.The vision is almost a reality.
"The goal is ambitious, but the need is compelling," says John R. Raymond Sr., M.D., president and CEO of the Medical College of Wisconsin. "We have such a generous community that it's not a surprise to us that we're almost at our goal." As of mid-November 2019, 93 percent of the money had been raised.
Linda Mellowes, whose family foundation supported Hope to Health with a $6.5 million gift, says the campaign "is about securing the healthier communities we deserve, now and into the future. We are all in search for hope at some point in our lives. For me and my family, this campaign is an incredible opportunity to create more hope for our region by building our ability to attract and retain the best scientists and clinical experts. This campaign will continue to elevate our region as a hub for new medical discovery and excellent patient care."
The best way to deliver value and high-end patient care, Raymond says, is to bring together front-line clinicians and researchers to work on improved treatments. That translates into better and faster access for local patients, because "we're the ones who are initiating clinical trials here so that the best and brightest of our faculty and staff can be leading the whole country in terms of developing new treatments," he explains. 
Cathy Jacobson, president and CEO of Froedtert Health, says the Hope to Health campaign will help connect the communities served by Froedtert to "the best in academic medicine. In practice, the campaign will continue to enable Froedtert Hospital to grow as a leading research center, increase our clinical trials, and advance our opportunities to grow as a precision medicine destination."
Hope to Health funds will also assist Froedtert to continue to build a world-class cancer research center, Jacobson continues. "Through this campaign, we hope to bring more world-class treatment options such as treatment with the Elekta Unity MR-linac." Froedtert is one of only two U.S. hospitals to provide Elekta precision cancer therapy, reducing treatment time for patients.
Raymond says many people are surprised to learn that the Medical College of Wisconsin is one of the top 100 research institutions in America, bringing in about $150 to $170 million in external grant funding per year, with the college adding another $70 to $90 million to support research. For that total investment, he notes, the community gets a half-billion-dollar economic impact, with the college creating "about 3,000 jobs in the supply chain in the region" every year.
Another major focus of the Hope to Health campaign is shifting the conversation around wellness from "health care" to "health." Although Wisconsin consistently ranks in the top five in the U.S. in health care quality, Raymond says, there are many other factors contributing to overall health. Those include genetics, behavior and "social determinants of health" such as housing quality, good education, good employment and availability of nutritious food.
An example of an initiative to address those social determinants is a partnership with the Greater Milwaukee Foundation to renovate the former Gimbels-Schuster's store in Milwaukee's Halyard Park neighborhood. Located just three blocks from where the Medical College of Wisconsin was founded in 1893, the college now intends to place many of its community-engaged clinical and research programs in that building. 
"We'll have service learning opportunities for our students, who are really demanding that they have access to the neighborhoods and the people who need us the most," Raymond says. "It's a very exciting initiative for us."
The campaign also supports bold innovations in medical education, including a pharmacy school at the Medical College that allows pharmacy students to come out from behind the counter and do triage work on patients, particularly in underserved communities. Pharmacy students also have the opportunity to specialize in areas such as genetic pharmacy, personalized medicine, pediatrics, cancer care and mental health. 
At its regional campuses in Green Bay and Wausau, the college offers a three-year option for medical students without "skinnying down" the curriculum, Raymond says. Each applicant must be interviewed by community members because most regional campus graduates stay in the area for their residencies and to practice.
In response to the Hope to Health campaign, the Robert D. and Patricia E. Kern Trust and Kern Family Foundation gave the largest individual non-corporate gift in the Medical College of Wisconsin's history at $37.9 million. The gift established the Robert D. and Patricia E. Kern Institute for the Transformation of Medical Education, or the Kern Institute, and the Kern National Network for Caring and Character in Medicine.
The Midwest Athletes Against Childhood Cancer (MACC) Fund has announced a $25 million pledge – the largest in the organization's history – for the Medical College and Children's Hospital of Wisconsin for research to fight pediatric cancer and blood disorders.
More than 20,000 donors have supported the Hope to Health campaign, including 38 donors who have contributed $1 million or more. To learn more about how funds will be used, or to make a donation, go to hopetohealthcampaign.org. MKE