As the novel coronavirus spread throughout the Milwaukee region, stories of heroism and helpers began to spread too. From our hospitals and other medical facilities. From our care homes and centers, our grocery stories, our restaurant community and other essential businesses. And, soon enough, stories of neighbor helping neighbor throughout the city and beyond. As the uncertainty of the pandemic wears on, we've gathered seven of those stories to remind you — and ourselves — that Milwaukee is strong, Milwaukee is proud and, best of all, Milwaukee truly is in this together. 
---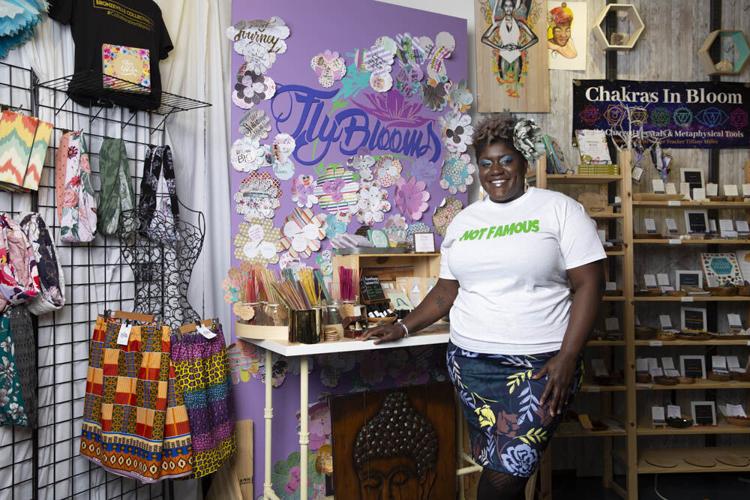 Teacher, business owner and entrepreneur Tiffany Miller
Inspiring kids to pursue their dreams before, during and after the pandemic
BY NICOLE BELL |  PHOTO BY LAURA DIERBECK
Before jumping into work, Milwaukee area educator and entrepreneur Tiffany Miller makes time for herself first to begin each day with a calm and level head. Because she knows others are counting on her, personally and professionally.
"Before I post a message on Google Classroom, before I cut a piece of fabric, I open my living room curtains and light some cedar and sage," says Miller of the new reality created by the pandemic. "That's how I start my day, and that helps ground me for whatever's to come throughout the day."
A full-time teacher at Milwaukee College Prep School, Miller also knew she wanted to be an entrepreneur from a very young age. Having expanded her accessories boutique, FlyBlooms, into the Bronzeville Collective — which Miller co-founded with Papyrus & Charms creator Lilo Allen — she decided to share what she's learned with other business-minded kids. Miller launched the Young Creative Society through Future Urban Leaders in 2018 as "an outlet for scholars to explore their creativity."
"I'm very open about my journey as a teacher and my journey as an entrepreneur," Miller continues. "They saw my business evolve
and they wanted to be included. They expressed interest in creative products and starting their own business, and I wanted to support that in any way possible." 
Since then, her students have been crafting workable plans for future businesses peddling candles, T-shirts, jewelry, beauty and personal care items, aromatherapy oils and more. Plans they are now learning to adapt when business is thrown a major curveball.
The Future Urban Leaders used to meet for an hour after school on Tuesdays to connect, work on websites, talk about purchasing, and allow the young creatives on-site time to work on their craft. As schools shifted to online classes in the wake of the stay-at-home order, Miller now uses Google Classroom and Zoom to connect with her young protégés and to inspire them to hold tight to their dream, continue to create, and build their business skills and resourcefulness.
"The lesson for them is that you can still create opportunities for yourself even during a challenging time," Miller says. "Last week we talked about the effect of businesses going viral. … My business went kind of viral, and I wasn't anticipating that during this particular season, so I had to make a shift in what to offer people. And my students see that it's OK to make a shift, or change what you're offering, to provide something beneficial to the community that's not driven by money, but is driven by heart. I hope that they know — and can carry with them — that when you're driven by heart, you can make a difference. And that can provide food for your family, too, versus being driven by money, chasing that and not having the heart or passion behind it."
And at the end of the day, she enthuses, that passion is what will drive success, no matter one's age. 
"There's no age limit to accomplishing your dreams," Miller says, "and we live in a society where you no longer have to say, 'When I grow up, I want to be an entrepreneur.' You can be one now if you have the drive, and the willingness to create and think outside the box to live your dream now. … There's a whole network of youth entrepreneurs that kids can be inspired by and connected to, and I just want them to have that experience now and see what can come of it." 
To become a mentor, make a donation or learn more about Future Urban Leaders, go to futureurbanleaders.org. Shop FlyBlooms online at flyblooms.com/s/shop.
---
Ana Christina Stier
Providing care and stability in the face of ever-present changes
BY KELLIE FREEZE |  PHOTO BY LAURA DIERBECK
The novel coronavirus pandemic has challenged and changed nearly every aspect of our lives. But for Ana Christina Stier, MSW, a social worker with Sixteenth Street Community Health Centers, the ability to adjust to those changes while continuing to provide excellent care is all part of the job. 
"When you are a social worker, the work is fluid," explains Stier. "When you have your feet on the ground in a community, you're working with anything and everything that comes through your door. COVID-19 has definitely heightened concerns, but I feel like this is what we as social workers are constantly responding to. Each family we help, every crisis we face or year of experience we've gained better prepares us for what comes next."
Stier was born in São Paulo, Brazil to a Brazilian mother and an American father. When she was 7 years old, she and her family relocated to her father's Madison-area hometown where her mother became involved as a community organizer. "We were one of the few families of Latino background in Sun Prairie," Stier recalls. "My mom did a lot of outreach and innovative community work with our Catholic church. She brought in a lot of support and services for the
Latino community that was increasingly establishing itself there, and when I assisted her on these 'adventures,' it really left an impression on me." 
Her mother's influence led Stier to earn her undergraduate degree in social work from UW-Oshkosh, followed by a Masters of Social Work (MSW) from UW-Madison. Stier's career includes time in Madison, Chicago and Racine before she arrived in Milwaukee 11 years ago at Sixteenth Street Community Health Centers. 
"Our families come to us through so many different avenues," says Stier. "And while many of our clients are Latino, we also have a large population of refugees who have resettled in the Milwaukee area, so we've built relationships to serve them as well. Plus, many of our South Side communities used to be Polish and German, and we still serve individuals from those backgrounds too. The faces of our patients are turning into a mosaic more than ever before." 
With work that demands providers to be nimble by nature, COVID-19 has been a challenge, but one that Stier has taken in stride. It's common to find her checking in with clients over the phone, but she can also be found delivering food to a family's doorstep or meeting a client in a clinic parking lot to get important paperwork signed. "My job is a lot of facilitation to make sure that clients have secured the services that are addressing their needs," says Stier. "We don't let COVID stall everything that's going on in these people's lives." 
Stier shares a quote from Jane Addams, from a speech that the founder of social work gave upon her 1881 graduation from Rockford Female Seminary (now Rockford University). Addams said, "We stand today united in a belief in beauty, genius and courage, and that these can transform the world." Steir says that the statement speaks to her ethos because, although she began her profession with a desire to save the world in one fell swoop, she's realized that
the greater gift is to offer your best in every single interaction. 
"We find their strength, we use our skills and we make an impact and possibly a powerful change in individuals' lives," she says.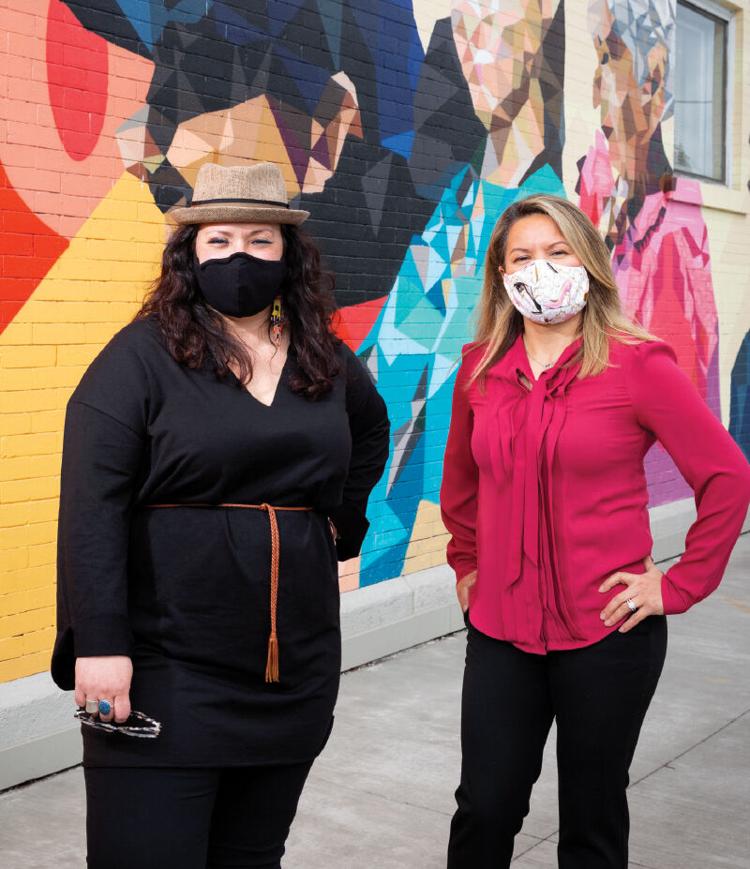 Working with a multidisciplinary team of professionals, Steir sees herself as part of a cohesive and collaborative unit that enhances the well-being of the community, in pandemic and beyond. 
"There is beauty, genius and courage in all that we do," she says. 
---
MariCarmen Saavedra-Retzlaff
For those living with HIV, this angel of hope is heaven-sent.
BY KELLIE FREEZE |  PHOTO BY LAURA DIERBECK
People living with HIV face obstacles to getting health care. In the middle of a pandemic, those challenges become profound. 
Thankfully, angels like MariCarmen Saavedra-Retzlaff exist. She is a linkage-to-care medical case manager with Sixteenth Street Community Health Centers who works to ensure that patients don't put themselves at risk for one virus while fighting another.
Saavedra-Retzlaff started her career at Sixteenth Street in social services, then prenatal case management, before finding her calling 15 years ago in HIV care. "I started working in HIV prevention with the transgender community and facilitating support groups," she explains. "Then I started getting more engaged in the medical part of HIV. I care for the people in the community, and for anyone who feels alone in this diagnosis. I knew I could help."
An HIV diagnosis can be lifechanging, but Saavedra-Retzlaff gives hope to her clients while erasing misinformation about the disease. "Some people don't know that there have been dramatic improvements to the way that HIV is treated," she says. "A diagnosis of HIV isn't a death sentence. If people engage in care and maintain their health, they can live a normal life."
Saavedra-Retzlaff connects newly-diagnosed clients and those at risk of falling out of care with services available through Sixteenth Street and its partners, and helps patients address obstacles to their care. "It might be anything from housing to mental health and substance abuse issues," she says. "It is hard to think about connecting with your doctor if you don't have somewhere safe to live or food to eat."
COVID-19 has added new challenges to Saavedra-Retzlaff's work. 
"Just like any other pre-existing health condition or immune deficiency, people with HIV are at a greater risk of having a severe complication," she says. "So when our patients stay on their medications and stay healthy, they are not only keeping their immune systems strong to fight HIV, they are staying strong to fight COVID."
In response to the novel coronavirus, Saavedra-Retzlaff and her colleagues work to maintain the treatment plans of their patients. "We are using telemedicine as much as possible and reserving in-clinic visits for special cases and lab work," she says. "Just last week we had a client who had newly tested positive, and we were able to get that person on the phone with a medical provider that next day. The doctor was able to do an online consult and write a prescription, and this patient started on a path toward staying healthy and connected to his care, even in the middle of a pandemic. It was quite challenging, but it was also a success."
Because some people with HIV don't have the support of friends or family, Saavedra-Retzlaff is more than a care manager: She is a mentor, a cheerleader and a lifeline. And it isn't unusual for her to go the extra mile for someone in need, whether it's bringing much-needed groceries to a patient recovering from COVID-19, or responding with reassuring words to a midnight text from a pregnant and terrified client. "I'm just trying to do what I can to let people know that they're not alone," she says with humility.
Saavedra-Retzlaff says that her passion for helping her clients stems from her faith and her passion for her community. 
"I am a very faithful person,"she reflects. "I love working with the people that we serve and helping our clients have a voice and a say in their lives and their care. It can be hard to face a life-changing diagnosis. I am glad that I can help them through it."
---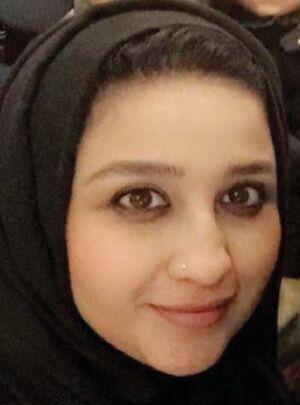 Shaheen Saiyed
Feeding families … and hope.
BY NICOLE BELL
For nearly a decade, Milwaukee's Shaheen Saiyed has served as program manager for MA'RUF, a nonprofit organization of young professionals dedicated to improving the lives of those in disenfranchised communities. Located in the city's Lincoln Park neighborhood near Milwaukee School of Excellence, the MA'RUF Center for Youth Innovation features classrooms, science and technology labs, a counseling center, a gym and gaming zone, creating a safe and educational environment for young people to thrive.
Saiyed focuses on community engagement projects aimed at socioeconomic development and reducing health disparities, and celebrates how moving it is to work with a group that showcases marginalized communities in a positive light.
"It's definitely been an inspiring journey, just interacting with inner city youth and the homeless," she reflects. "It's nice when people don't see you for your religion and your headscarf and the color of your skin; they're just seeing you for the positive act that you're bringing forth."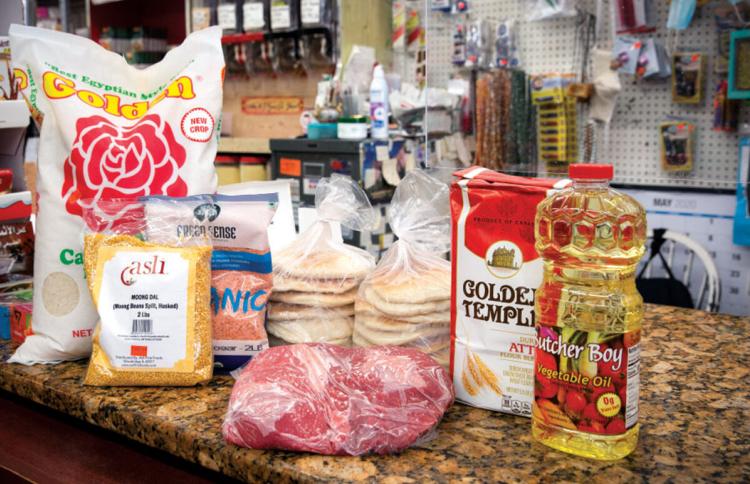 When the pandemic hit, the center didn't miss a beat, offering online youth mentoring and counseling, and partnering with Hyatt Pharmacy to distribute masks in the inner city. Its staff and participants help keep their neighbors fed, too, with Saiyed leading the way.
As news broke about stay-at-home mandates and businesses temporarily shutting their doors, Saiyed says she rushed to the grocery store to prepare for quarantine with her two kids. There, she had a light-bulb moment.
"[I was] just trying to prepare, because the kids were home from school, and we felt that it was imperative to create an emergency response to aid families and individuals who were laid off, who didn't have the means to purchase these groceries, who didn't have access to SNAP benefits," Saiyed explains.
Thanks to dedicated fundraising that garnered $10,000, and a partnership with Attari Supermarket, Maruf Grocery Kits are now distributed at Attari, and are free to families in need. Each kit contains $40 worth of rice, meat, grains, oil and spices. Patrons can also customize their kits based on their family's essentials. 
"Our grocers are very well connected with the community and they engage with these individuals who are coming in," Saiyed explains. "They work with them to ensure that they're leaving their stores with the kits that they really need or with the items that they really need." 
So far, the program has helped feed more than 300 families and, Saiyed adds proudly, important bonds have formed. 
"I shared my personal contact information when we disseminated the news of the grocery kits and I was contacted by many people," she says. "There were no lines, there was no need to order ahead of time, and no questions asked. I felt that the community really appreciated that easy access. Some recipients were so touched that they vowed to pay back the grocery stores once they regained employment. And some sent me pictures of their families and their kids smiling as they were picking up the kits. That was very touching."
Saiyed also partnered with MiButler to deliver the kits to individuals and families who were unable or fearful to leave their homes. Requests are texted to MiButler, which then places the order, picks it up and safely delivers it. 
Though the new landscape created by COVID-19 is ever-changing, Saiyed encourages Milwaukeeans to stay positive, take advantage of the extra quality time
with family, and find safe ways to stay connected to loved ones and their community as a whole.
"Don't lose hope, Milwaukee," she says. "We're all in this together." 
For more information on the Maruf Grocery Kits or to make donations, visit marufcenter.com or call 1-888-64-MARUF.
---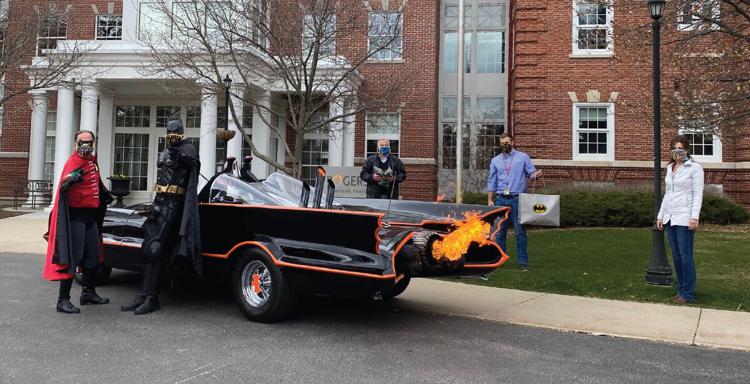 Mary Schiefelbein and "Batman" himself
Helping superheroes and the brave kids they serve look the part and stay safe too.
BY NICOLE BELL  | PHOTOS COURTESY OF CRAIG SCHIEFELBEIN
When Oconomowoc's Mary Schiefelbein heard about the growing need for masks amid the COVID-19 pandemic, she knew she could put her sewing talents to good use. 
She got in touch with Gina Magnus — whom Schiefelbein calls "the gatekeeper of the masks" because of her organizational skills in getting orders filled for hospitals and others — and instantly got to work.
"When it became evident that people needed to be wearing masks, and no one could get the face coverings or masks that they needed — including nurses in the very beginning — I just knew I should be trying to help," Schiefelbein explains, "because it's something I can do. It was my way of being helpful to the situation."
With her friend Susan Snyder, Schiefelbein went into production mode. To stock up on material for the project, Schiefelbein headed to Walmart, the only store with fabrics and elastic at the time, and was immediately drawn to superhero and comic book prints. 
That's when the idea first took hold. 
"I thought, 'Oh my gosh, I should make a bunch of superhero masks, because they're the real heroes. I could have [Batman] deliver them … because I have a connection to actual Batman,'" she muses. And so Rogers Behavioral Health was among the first recipients for the superhero masks delivered by Batman and Robin in the Batmobile.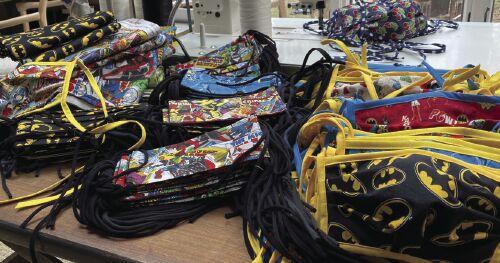 "They were having trouble getting the kids to want to wear the masks," Schiefelbein says. "When the superhero masks showed up, all of a sudden staff and patients were excited about wearing masks. I thought that was really awesome."
Schiefelbein also has an assortment of masks — and now scrub caps to match — featuring princesses, animal and floral prints, sports logos and more for Lake Country's own Batman to deliver to medical superheroes and the brave little patients they serve. For fun and added encouragement, Batman also delivers superhero wristbands to deputize staff and patients into the Justice League. 
Schiefelbein is proud and grateful that having the safety-promoting smile inducers, delivered by a beloved superhero, have proven a surefire way to raise spirits. "It's just the easiest smile generator that there is," she says.
Schiefelbein recalls the moment Batman rolled up to Rogers Behavioral Health in his genuine Batmobile.
"What I really loved was there's a lot of teenage kids that are dealing with anxiety and other things, and getting help, and they were upstairs in a window. I swear they were on each other's shoulders, because I'm like, 'They're three heads high in this big window,'" Schiefelbein chuckles. "And they were jumping up and down and banging on the window, [because they were] so excited about Batman and superheroes."
For the past decade, Lake Country's Batman and Robin have focused their efforts on visiting children with serious illnesses or special needs to make them feel like superheroes too. In the wake of COVID-19, those initiatives are still at the forefront, along with Batman and Robin singing the praises of and sending appreciation to police officers, firefighters, ambulance workers and health care providers, whom Batman calls "superheroes' superheroes." But the dynamic duo is sharing an additional message.
"Though this is a challenging time, there is opportunity in every challenge," Batman explains. "There is no shortage of people who have said in life, 'I wish I spent more time with my children, I want to get in shape, I don't have time to read, landscape or learn to play an instrument.' Now, in this quarantine phase, people have the opportunity to decide who they want to become. They can choose to grow in whatever direction they want to grow. This is an opportunity for everybody to build stronger family foundations. Few get any
form of sabbatical in life; there is an opportunity to grab some benefits of one now."
"There's a little Batman in everybody," adds Schiefelbein's husband Craig about the beloved hero. "He didn't really have superpowers. He's a normal guy who was about good against evil and making the world a better place. We all have that in us, right?" 
---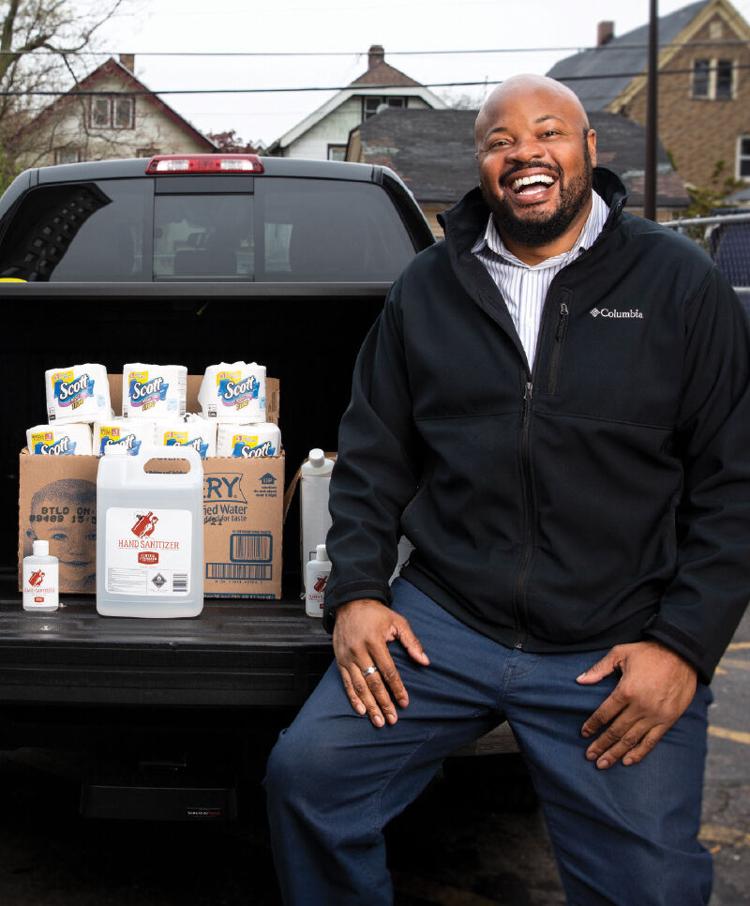 Near West Side Partners Executive Director Keith Stanley
Banding together when we must stay apart
BY LORI ACKEN |  PHOTO BY LAURA DIERBECK
Keith Stanley's unwavering optimism is a tonic in uncertain times. 
Add in the good work of Near West Side Partners (NWSP) — for whom Stanley serves as executive director — and the folks who live and work in the neighborhoods it serves, and you truly do know that life will be good again.
Stanley, a proud Milwaukee native and Alabama State grad, brought a wealth of experience across marketing, nonprofit management and city government when he took over Near West Side Partners more than five years ago. In that time, his ambitious work alongside NWSP's five core institutions — Aurora Health Care, Harley-Davidson, Marquette University, MillerCoors and Potawatomi Business Development Corp. — has done much to improve social and economic conditions in the neighborhoods nestled north of I-94, south of Vliet St., east of highway 175 and west of I-43. Crime is down. New business ventures and better housing opportunities are on the rise. 
But when COVID-19 came calling, Near West Side residents rallied just as energetically to support each other and their treasured local businesses, Stanley proudly notes. And almost immediately the area's public housing communities emerged as especially vulnerable.
"We have over 350 public housing units in the Near West Side, and College Court and Merrill Park are among our largest, with College Court having 251 units and Merrill Park having 100 units," Stanley says. "We put out a call to residents and employees of the Near West Side to say, 'Hey, our senior population and those with disabilities could really use some support.' Within just a couple of days we had truckloads of donations to give to our residents at College Court and Merrill Park. Toilet paper, laundry detergent, soap, sanitizer — all the important stuff that you'd think people would hoard, they are giving in support of keeping others safe." 
A neighborhood Walgreens supplied a pallet of laundry soap. Central Standard Craft Distillery contributed boxes of hand sanitizer made from a byproduct of their distillery process. And other hyper-local partners pitched in to ease the dearth of fresh food made even more dire by the pandemic.
"Our corner stores and even our gas stations are buying fresh produce and having it available for residents, because 30 percent of our residents do not have access to a car," Stanley says, saluting Mo's Food Market, Killborn Super Market and Sendik's Fresh2GO as stalwarts in the region's food supply. "Just getting around at this time of COVID is a difficult process — just getting around period. Add onto that family members and groceries and children and it becomes really difficult. 
"So some of our businesses have responded in very unique ways," Stanley continues. "We have a gas station owner who says, 'Every day, I buy potatoes, onions, bananas and apples and I'm starting to sell really good.' Because it's not about money; it's about people feeling safe when they go to the grocery store. And they would rather go to their local grocery store than have to travel to a big-box store and be exposed to thousands of people."
Meantime, Stanley and his NWSP team are crafting ways to support those expanded efforts far beyond the pandemic.
"Throughout this country we don't realize the importance of good communities — good, functioning, well-funded, well-maintained communities. The infrastructures, the people, the places, the churches, the hospitals," he reflects. "I'm hoping that if there's anything that comes out of this, we understand that. We all have embraced the global ideas of being able to go to a store and find anything you want, any time of the day or season. Even though that is great to have, ultimately you still want that local community.
"We sometimes don't see each other as residents, as neighbors, and that has started to change, at least from my perspective," Stanley continues. "I'm hoping that as we get out of this, we will continue to see the importance of neighbors and the infrastructure that makes a community. That our places and people are just as important."
Visit nearwestsidemke.org to find out more about the Near West Side Partners and its initiatives.
---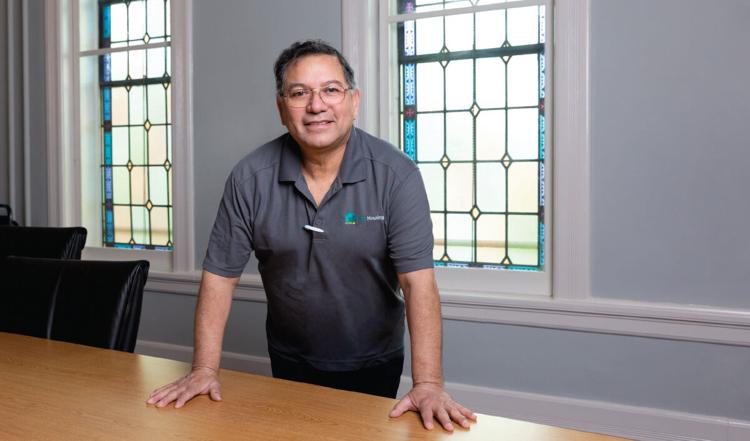 Acts Housing Senior Rehab Counselor Ramon Guadarrama
Keeping homebuying dreams alive through pandemic
BY LORI ACKEN |  PHOTO BY LAURA DIERBECK
Ramon Guadarrama knows well that the feeling of "Safer at Home" extends far beyond the COVID-19 crisis. 
A few years ago, the former pipefitter had $3,500 in savings and a glimmer of hope when, on a whim, he attended an Acts Housing informational event. He was a hard worker and responsible with his money, but — like so many Milwaukeeans — Guadarrama's salary made owning a home in this region's tight and competitive market seem hopeless. 
"In reality, I was suspect: 'With just a little bit of savings, how are you going to be able to purchase a property and give a down payment and pay closing costs?'" he recalls. "But once I went in and saw the orientation and heard the explanation and the purpose of the organization, it was like a magical tool."
Launched in 1995, the nonprofit Acts Housing provides individualized, HUD-approved, "one stop shop" assistance through the entire home-buying process, helping thousands of families overcome income, credit, language and other challenges and use their own sweat equity to turn foreclosed houses into cherished family homes. And, oftentimes, the backbone of continued personal and financial successes.
Guadarrama settled into his home, carefully refurbished via his own vision and elbow grease, and realized that he wanted to help others feel that same sense of pride and satisfaction. He was hired on as an Acts rehab counselor, became a licensed home inspector, and has since helped more than 150 families turn unwanted properties into realized dreams. Dreams, Guadarrama says, that feel especially potent when home is the safest place to be.
Guadarrama proudly notes that, even in the face of the pandemic and its daunting financial and social challenges, Acts Housing has seen a steady increase in home-buying interest as the organization moved its orientations, one-on-one counseling,
homebuyer education, document signage and other crucial steps in the process safely online. In his own role as a rehab specialist, Guadarrama adheres to strict social distancing measures to visit homes with families and licensed contractors, assessing the homebuyers' ability to contribute to the rehab process and creating the necessary "scope of work" to bring the home up to code. 
Through his and his colleagues' efforts, more than two-dozen families now spend what could have been a dream-crushing time creating a home of their own, one that will keep them safe now and well into the future. Meantime, additional families are closing on their homes while others prepare to move in. And in the process, Acts Housing has kept each of its employees in Milwaukee and Beloit offices working too.
"Families appreciate it a lot because we did not stop during the pandemic," Guadarrama says. "We just keep going, and our families are great. The families are still working, still doing their remodeling in their homes." And making their cities stronger in the process.
"Our mission is to empower families to home ownership, but at the same time, we look at the data and the numbers, and the results are that we have more strong families, and, in that way, their neighborhoods are getting stronger too. Everything starts with a family," Guadarrama reflects, crediting Acts Housing co-founder John Worm and its current President and Chief Executive Officer Michael Gosman for creating an environment in which both staff and clients thrive. 
"It's fabulous that today we have all these tools," he says of his team's ability to keep the dream of homeownership alive at a time when home means more than ever. "The families are the ones who are following this step-by-step scope of work and are successful. In reality, their effort and sacrifice is the true symbol that this system works." MKE