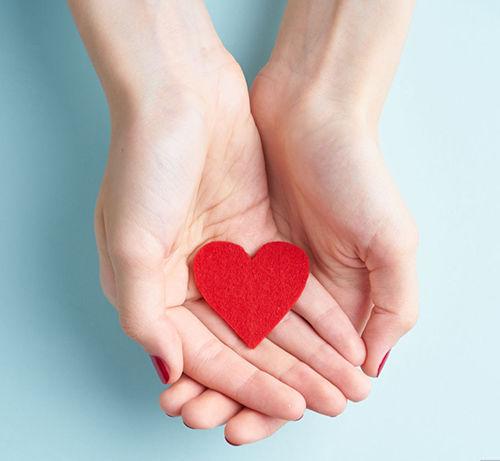 When Kaylyn Gilroy was just three-and-a-half years old, she was diagnosed with leukemia.
Twenty days of what Gilroy refers to as "hard treatment" were followed by two-and-a-half years of chemotherapy, three whole-blood transfusions and three-and-a-half white blood cell transfusions. 
"My last treatment was when I was in kindergarten," Gilroy says. Since then, the now-18-year-old has been cancer-free, checking in with her doctor yearly to make sure it remains at bay.
Grateful to The Red Cross and the blood donations that helped save her, Gilroy knew she wanted to give back. Because of those six transfusions and chemotherapy, however, she is unable to donate blood. Instead, she donates her time. 
During Gilroy's sophomore year of high school, her friends encouraged her to sign up to be a student coordinator for The Red Cross.  
"I was on the edge at first," she admits. "I'm like, 'It's a lot of work. I don't have time. I have sports.' But then I was reading the application and [my friend said], 'There's no way you can't do this.' After applying and hearing from the person that we work with at The Red Cross, our teacher and my friend, they said there was not a dry eye in the room when they read [my application]. I knew that's what I had to do it. And I'm very glad I did it."
Now in her senior year, Gilroy works with The Red Cross to coordinate four blood drives a year, organizing food donors, reaching out to students and community members to secure their participation, keeping track of how much blood has been collected and which participants have been accepted or deferred. And — being the face of drives — sharing her story to persuade others to donate. 
"I'll share my story with whoever wants to hear it," she says. "I feel like my story can maybe impact some other people to donate blood. And I know some kids at my school have definitely said that me telling them what I went through has [convinced] them to donate."
Gilroy says her family has become dedicated to donation, as well, but she's still working to convince one particular person that needles aren't so bad.
"I'm still working on my brother," she laughs. "He actually tried once, but it didn't work out. He is going to donate at our next one. My mom and my aunts frequently donate. My uncle from Chicago will always come up for my blood drives, and he usually brings a friend or two. My dad will eventually do it."
And for those who, like her brother, are still afraid of needles, Gilroy wants them to know that the process only lasts a few minutes, and the benefit will quickly outweigh fear.
"The pain is temporary. Being scared is temporary. But the impact you're going to make — you're potentially saving three lives — that's going to be forever," she says. "If you continue to do that, you're going to continue to make a difference. You might get a little bruise, but the difference and the impact that you're making is more important than the pain."
Though she was very young during her treatment, Gilroy says she still has vivid memories of those days in the hospital, leading her to seek a career in either radiology or occupational therapy with kids with special needs. She plans to attend Concordia University Wisconsin next fall, and while she's there, to continue working with The Red Cross through the college's partnership.
"They saved my life. There was a chemotherapy that also helped, but if I didn't have those blood transfusions [from] people who I'll never know [who] donated, I wouldn't be here today," Gilroy says fondly. "Just knowing that they had a part of it, I feel like I should be giving back towards them. Not just because I have to. Because I want to." 
To find out more about The Red Cross, make a donation, or schedule an appointment to give blood, go to redcross.org. MKE