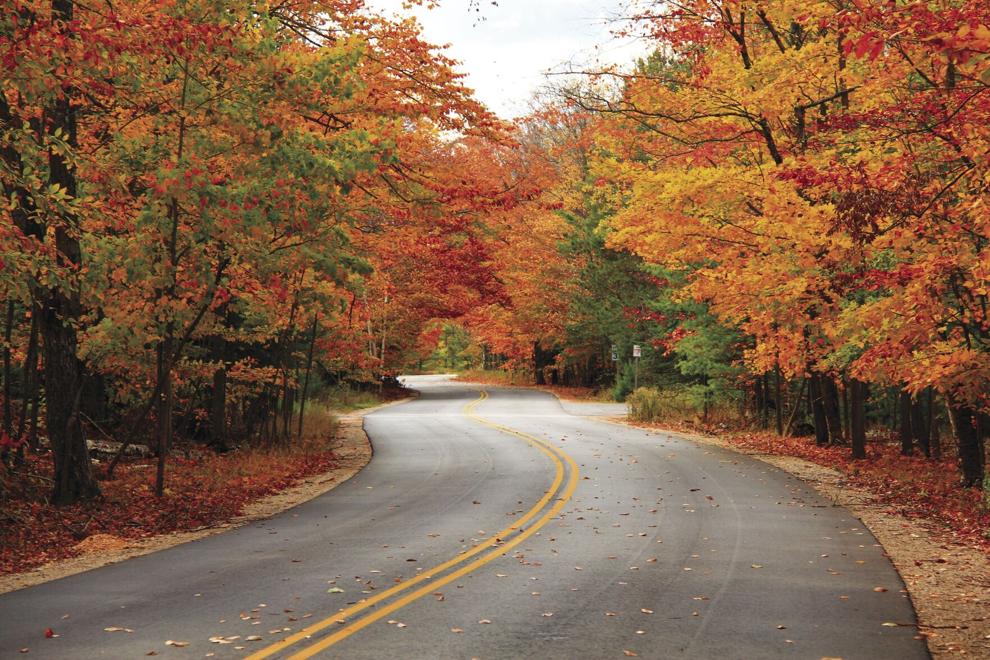 Autumn in Wisconsin is a perfect time for a drive to take in the state's natural beauty: rolling hills, twisting, tree-lined rivers, breathtaking bluffs, tranquil marshes and lakesides, stark splashes of leaf-turning glory, and towering forests of oak, pine and birch. What's not to love? 
In appreciation of our Wisconsin autumn wonderland, we've listed a few of our favorite fall driving tour ideas.
North-Central Highlight: Wausau area
At more than 1,900 feet, Rib Mountain surges above the surrounding Wausau area and provides miles of trails at the hilltop state park and truly inspiring views atop the 60-foot viewing tower. It's also home to Granite Peak, Wisconsin's tallest ski hill, which has a terrific fall benefit — during a few select weekends in the fall, take a ride on the ski lift to catch the fall color from the hill's northern and eastern views. For added fall splendor, drive another 40 minutes northeast through gorgeous farmland and maple-dotted countryside to the Dells of the Eau Claire County Park in Aniwa. There, you can hop out and walk for a couple of miles on paved trails along the Eau Claire River for views of the craggy rocks and river rushing through the gorges amid the white pines and sugar maples.
Westward Bound: The Great River Road
The Wisconsin portion of the Great River Road is an enchanting drive that follows the Mississippi River 250 miles through more than 30 towns of varying sizes. Pace yourself to allow for frequent stops at roadside stands and stores for cheese, fall-themed gifts, antiques, cheese, wine and cider. You may decide to split the tour roughly in half, going south from Prescott to La Crosse or beginning around the Kieler/Potosi area and heading north to LaCrosse.
Granddad's Bluff in La Crosse provides inspiring views of the city and the impressive Mississippi. Then, the southern portion of your trip should include stops at Perrot and Wyalusing State Park. Watching from Perrot's 500-foot bluffs as riverboats wend their way down the Mississippi is well worth the hike up the hill. 
Find more ideas at wigrr.com or call (800) 658-9424.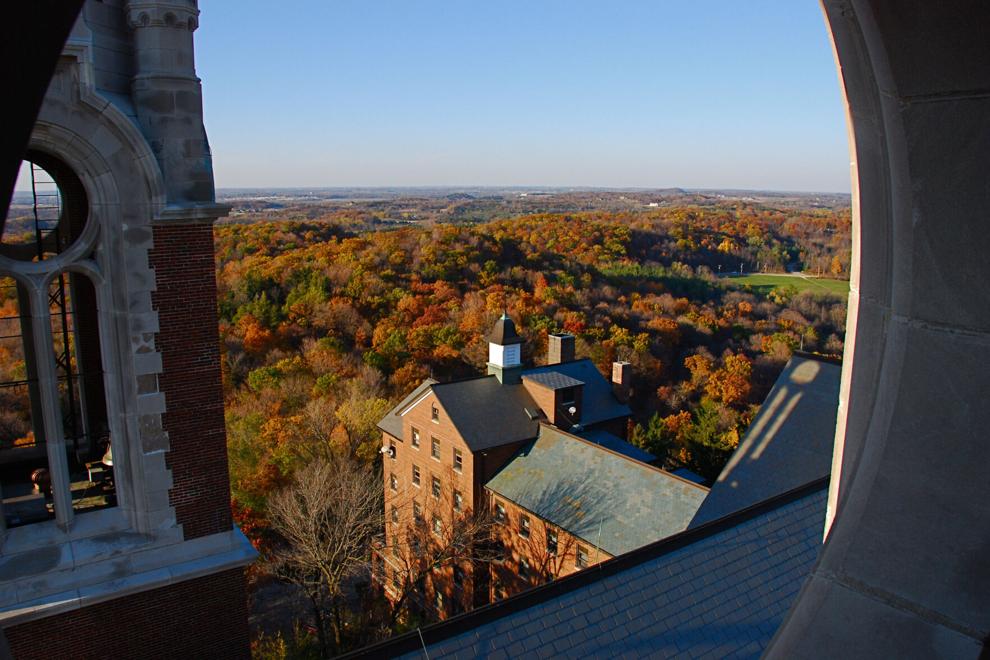 South-Central Beauty: Kettle Moraine Scenic Drive
Closer to home, more than 100 miles of winding roads — starting at Elkhart Lake near Sheboygan in the north to Whitewater Lake in the south — traverse six counties and through the glaciated countryside for a can't-miss fall experience. Plan for plenty of stops in charming towns or at tucked-away state and county parks — Lapham Peak near Delafield, Scuppernong near North
Prairie, Pike Lake Tower near Slinger, Parnell Tower in Plymouth — for short walks to see acres of color amid the oak savannahs and pine forests.
For a map and additional information, go to dnr.wisconsin.gov/topic/parks/kmscenicdrive.
Northwest Passages: St. Croix Valley
Way up near the start of the Great River Road is a blast of autumn glory for meandering-minded drivers. A collection of roads connect Interstate (Wisconsin's oldest) and Kinnickinnic state parks on the Wisconsin side of the Mississippi, and Afton and O'Brien state parks on the Minnesota portion. At Interstate (a cooperative venture park between Minnesota and Wisconsin established more than a century ago), catch the amazing views of hickory, ash, birch and maples backgrounded by the Dalles of the
St. Croix. The observation deck at the Summit Rock or Pothole trail is best, and take some time to follow the River Bluff trail. And during your drive, you'll find a number of roadside apple or pumpkin farms for seasonal sweets.
Northern Lights: Lake Superior Scenic Byway
Get a sense of the power of the largest of the Great Lakes on the 70-mile tour of Bayfield County. Starting at the intersection of U.S. Hwy 2 and State Hwy. 13 near Ashland, the Lake Superior Scenic Byway follows Lake Superior to Bayfield, where you can pick up the Apostle Islands National Lakeshore for sandy dunes, majestic waves, picturesque towns and lonely lighthouses. A side trip to Big Bay State Park on pine-dappled Madeline Island or a jaunt through the Gaylord Nelson Wilderness Area provides even more of the area's natural beauty.
If you're feeling more adventurous, head further west for a stop at a couple of Wisconsin's natural wonders near Superior: the picnic-friendly Amnicon State Park and Pattison State Park, home of the 165-foot Big Manitou Falls and Gorge.
Maps and details are available at lakesuperiorbyway.org.
Eastern Adventure: Door County Coastal Byway
Yeah, Door County can get crazy busy in the fall … but if you can carve out time to drive over a few weekdays, it makes all the difference for a more serene trip. Noteworthy stops on the 66-mile loop that essentially circles the peninsula include Cave Point County Park, The Ridges Sanctuary near Baileys Harbor, the Washington Island ferry, the Bayshore Bluffs area and, of course, the new Eagle Tower observation deck at Peninsula State Park. For a more scenic drive, try taking Hwy. 54 from Green Bay to Algoma and following the side roads along Lake Michigan up to the Door.
For details, go to doorcountycoastalbyway.org or call (920) 839-2288. Door County has an interactive map you can check out as well: doorcounty.com/interactive-mapmke
planning resources
The Travel Wisconsin website has a map to keep you up to speed on each county's fall color percentage. Find it at travelwisconsin.com/fall-color-report.
If you're looking for a drive less traveled (and more leisurely), try one of Wisconsin's rustic roads anywhere around the state. Find maps and descriptions of each leg — historic markers, hiking or biking trails, natural attractions — at the Wisconsin Dept. of Transportation's site: wisconsindot.gov/pages/travel/road/rustic-roads/maps.aspx