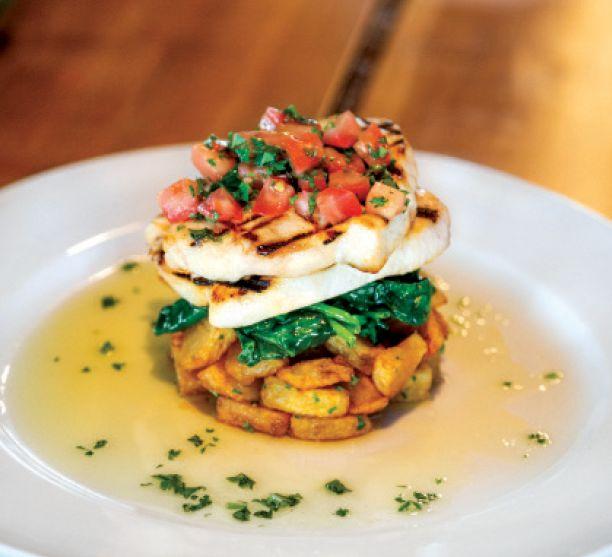 Lago Su Bella, located in Oconomowoc on the first floor of the Eagle's Landing Condo building and overlooking picturesque Lac la Belle, offers more than just delicious dishes.
In Italian, its name translates to "on a beautiful lake," and so the comfortably upscale eatery's decor is infused with pops of blue, from the tiles above the kitchen to the navy seat cushions in the dining room, to incorporate that sense of water. Owner Michael Bertrand also added European touches to the industrial chic room, including well-curated art pieces along the walls and a custom community table, built by Bertrand himself, that encourages patrons to socialize with each other — common in restaurants throughout Italy.
A beautiful bar beckons patrons looking for a cocktail or glass of wine from the extensive and varied wine list, while the dining room — fitted with windows to take in calming views of the water and Veterans Memorial Park — provides a more formal feel.
Bertrand is excited to offer an upscale Italian restaurant in Oconomowoc, a cuisine he says lacks presence in the area. His executive chef Joe Volpe has crafted a creative and enticing menu that ranges from pasta dishes to meat and potato offerings to imaginative seafood entrees, like the swordfish shown here.
Ecuadorian swordfish is grilled and placed on a bed of Roman potatoes layered with garlic spinach, then topped with a citrusy, buttery tomato salmoriglio sauce, a dish that Volpe says is filled with "very simple, clean tastes [that marry] very well together."
Volpe uses all grass-fed meats in his dishes, and cooks with as much locally sourced produce as he can to provide patrons with fresh ingredients and memorable fare.
Though the food draws people in, Volpe notes that people stay — and come back again and again — for the ambiance.
"The execution, the ... quality product and atmosphere harmonizes," Volpe says proudly. "That's what really makes a restaurant. It's not just the food. It's the whole aspect of it."
Lago Su Bella, 126 W. Wisconsin Ave., Oconomowoc; (262) 354-3440; lagosubella.com MKE