Beloved local actor, host and storyteller John McGivern favors Soup Brothers in Walker's Point and always orders the red pepper bisque. "I love it because it's full of rich flavor, has a little kick, and whenever I've ordered it, it's always been exactly the same," he says, adding that the giant hunk of warm, house-made bread that is soft on the inside with a salty, crusty exterior, served with every bowl seals the  satisfying deal. "I'm a huge soup fan," says Tiffany Ogle, cohost of TMJ4's Morning Blend. "I eat soup several times a week and, while I often choose convenience first, I have a couple of favorites I'll go out of the way for."  She favors the ramen from Downtown's Urban Market in the 7Seventy7 building, and agrees with McGivern that Soup Brothers chef/owner Richard Regner's red pepper bisque "to die for!"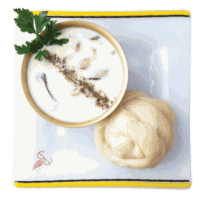 Fox6 Chief Meteorologist Rob Haswell heads for Thiensville's the cheel, where soup fans are treated to tasty concoctions like Ema Datshi, a traditional Bhutanese soup made with creamy brie cheese and veggies (pictured), as well as a sensational seafood chowder. Haswell appreciates that the Nepalese restaurant is locally owned, one-of-a-kind and in tune to his signature sense of humor. "They have camel sliders on hump day — get it?" he says.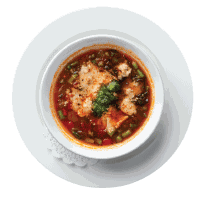 Milwaukee attorney David Gruber is famous for his "One call, that's all" slogan — but he's also a big fan of soup. Gruber frequents downtown's Stella Van Buren in the Westin Hotel and Calderone Club for their minestrone (pictured). Downtown, he also seeks out The Knick's mushroom barley and the beloved mish mosh from Benji's Deli – their signature chicken broth that, according to the menu, boasts "so much stuff we can't fit it into a cup!"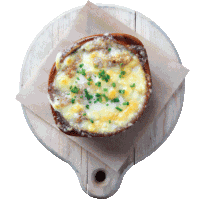 Justin Carlisle, a two-time finalist for the James Beard Foundation's Best Chef of the Midwest, has a special love for ramen. Carlisle opened Red Light Ramen in 2016 next door to his upscale East Side restaurant Ardent. He loves Red Light's Tonkotsu Ramen (and his wife's homemade Mexican Pozole), but when he's dining out, he goes for the French onion at Muskego's Bass Bay Brewhouse pictured above, the pho dac biet (just order "P1") at Pho Viet, and the chicken and dumpling from Soup Market inside the Milwaukee Public Market.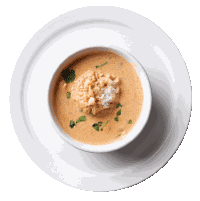 "Without a doubt, Soup House downtown is my go-to spot for soup," says Radio Milwaukee morning host Dori Zori. Zori has a "very real" gluten allergy and Soup House was the first place to make mainly gluten-free soups. The menu changes weekly, but Zori always hopes to find her favorite, the Indian-inspired tikka masala, which sells out quickly. "I also dig the staff's commitment to being out in the community, slingin' soup at some of my favorite fundraisers for Milwaukee nonprofits," she adds. MKE
GET SOCIAL
January is National Soup Month! Snap your soup and show us your favorites with #MyMKESoup
FACEBOOK: mkelifestylemag  /  INSTAGRAM: mkelifestylemag  /  TWITTER: @mkelifestyle