Jennifer Curnes, foodie, food blogger and co-author of Instagram's NoshMKE, helped us narrow in on some of the best ways to enjoy Milwaukee's dining scene around Valentine's Day. Here are some of her recommendations (and ours) for the area's most interesting romantic experiences.
Specialty Drinks And Cocktails
• Giggly Champagne & Wine bar at St. Kate Champagne Bar – The Arts Hotel, 139 E. Kilbourn Ave., Milwaukee, saintkatearts.com/dining/giggly
Special occasions call for champagne, and this champagne bar also has outstanding food, Curnes notes.
• At Random, 2501 S. Delaware Ave., Milwaukee, atrandommke.com
This romantic cocktail lounge is one of Curnes' favorites. Snuggle up in a booth with your sweetheart and enjoy a craft cocktail or reserve a heated hut outside in the Magic Forest.
Bold Beers
• Café Hollander, 2608 N. Downer Ave., Milwaukee; 7677 W. State St., Wauwatosa; 20150 Union St., Brookfield; 5900 W. Mequon Rd., Mequon; cafehollander.com
In addition to its many Belgian-style beers, Café Hollander (and all the Lowlands Group grand cafés) will feature a wheat Schneider Weisse Love Beer for the month of February. It has aromas of citrus, stone fruit and elderflower with an earthy, noble-hop bitter taste.
• Sugar Maple, 441 E. Lincoln Ave., Milwaukee, mysugarmaple.com
With more than 60 beers on tap, Sugar Maple is a great stop for a date night, because it's within walking distance to the many eateries throughout the hip, lively Bay View neighborhood.
Amazing Italian Food
• Ca'Lucchenzo, 6030 W. North Ave., Wauwatosa, calucchenzo.com
Curnes describes Ca'Lucchezo as "beautiful, quaint and romantic." The truffles are among her favorites in this romantic setting.
• Sorella, 2535 S. Kinnickinnic Ave., Milwaukee, sorellamke.com
After savoring its authentic Italian offerings, Curnes recommends saving room for dessert — especially the cannoli and ricotta cheesecake.
All About The Atmosphere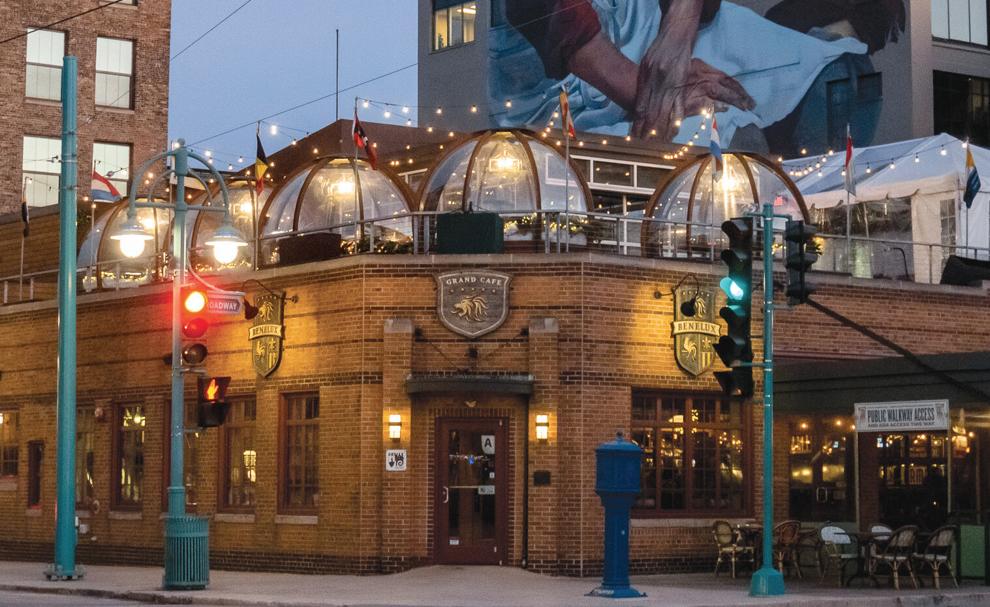 • Morel , 430 S. 2nd St., Milwaukee, morelmke.com
Morel isn't one of the first places people think of for date night, Curnes says, but "the lighting creates a supremely romantic mood. And it's a bit off the beaten path, so it's often not too crowded."
• Lake Park Bistro, 3133 E. Newberry Blvd., Milwaukee, bartolottas.com/lake-park-bistro
Enjoy a beef tenderloin medallion or a Dover sole in the dimly-lit French-style bistro that overlooks Lake Michigan — one of the most romantic spots in the city.
• Goodkind, 2457 S. Wentworth Ave., Milwaukee, goodkindbayview.com
"Goodkind offers a younger vibe with really good food and drinks in the heart of Bayview, where other great date-night spots are just within walking distance," Curnes says.
View To A Thrill
• Harbor House, 550 N. Harbor Dr., Milwaukee, bartolottas.com/harbor-house
"Harbor House is definitely the best view in the city," Curnes says. If you have trouble getting out at night, she recommends celebrating here with a Sunday brunch instead.
• Screaming Tuna, 106 W. Seeboth St., Milwaukee, screamingtuna.com
For lighter fare in an upscale environment, enjoy sushi at Screaming Tuna along the Milwaukee River, with table-side views of the Milwaukee skyline.
• Blu Bar & Lounge at the Pfister, 424 E. Wisconsin Ave., Milwaukee, blumilwaukee.com
A martini lounge atop one of Milwaukee's most historic hotels, Blu provides a great atmosphere for romance. Stop in for live music on Friday and Saturday evenings.
Delicious Desserts
• Le Rêve Pâtisserie & Café, 7610 Harwood Ave., Wauwatosa, lerevecafe.com
"Everything they have is delicious," Curnes says. "You can spend your whole evening here enjoying its French fare for dinner and homemade French pastries for dessert."
• Buckley's Restaurant & Bar, 801 N. Cass. St., Milwaukee, buckleysmilwaukee.com
Buckley's is a favorite of Curnes', and she especially likes going there on Valentine's Day. "I've even gifted one of their specialty Valentine's Day mini carrot cakes to my husband," she says.
• Elsa's On the Park, 833 N. Jefferson St., Milwaukee, elsas.com
As one of the few Milwaukee restaurants to serve food later into the evening, Elsa's is a great place to enjoy drinks and dessert after a dinner out downtown, Curnes says.
• Greige Pâtisserie, 408 W. Florida St., Milwaukee, greigemke.com
Grab themed macarons or chocolate-covered strawberries after a dinner out, or celebrate with one of Greige's ticketed Valentine's day events — a couples wine-and-dessert tasting or an open-house style singles event with desserts, snacks, cocktails and wine.
Bring On Brunch
• Uncle Wolfie's, 234 E. Vine St., Milwaukee, unclewolfies.com
Curnes calls Uncle Wolfie's brunch "the best in the city." Because it's smaller and so popular, even getting on the waitlist can sometimes be difficult on the weekends. Curnes recommends sneaking in for a weekday brunch instead.
For The Whole Family
Lou Malnati's, 4751 S. 76th St., Greenfield; 15795 W. Bluemound Rd., Brookfield; 2720 N. Grandview Blvd., Waukesha; 8171 S. Howell Ave., Oak Creek; 8799 N. Port Washington Rd., Fox Point; loumalnatis.com
If you're looking to include the kids in your celebration, Curnes says her family has enjoyed heart-shaped deep-dish pizzas from Lou Malnati's. If you're also looking to eat in, they deliver to addresses near their locations.
Delectable Dining In
During COVID, Curnes and her family celebrated Valentine's Day with a take-out buffet of specialty created by local restaurants. Her buffet included:
Sushi platters from Rice and Roll (1952 N. Farwell Ave., Milwaukee, ricenrollbistro.com)
A heart-shaped challah from Rocket Baby Bakery (6822 W. North Ave., Wauwatosa, rocketbabybakery.com)
Bakery items from independent bakers like Matilda Bakehouse (7860 N. Pheasant Lane, River Hills, matildabakehouse.com) MKE
---
Drawing Up Your Date Night
We've put together a few date night ideas in a few neighborhoods around the city:
Bayview
Happy hour: Start with a local craft beer and a friendly game of shuffleboard or pool at Burnhearts (2599 S. Logan Ave., Milwaukee, burnheartsbar.com).
Dinner: Curnes recommends dining at Three Brothers (2414 S. St. Clair St., Milwaukee, threebrothersmke.com), an iconic Serbian restaurant. "Its old atmosphere creates a moody, romantic vibe," she says.
Dessert: Enjoy a slice of specialty pie — like salted caramel, whiskey walnut pecan or the pie of the month — with a glass of wine, craft beer or cocktail at Honeypie Cafe (2569 S. Kinnickinnic Ave., Milwaukee, honeypiecafe.com).
Nightcap: Finish the night off with a craft cocktail in the vintage lounge in At Random (2501 S. Delaware St., Milwaukee, atrandommke.com).
The Third Ward
Dinner: Enjoy the romantic atmosphere of a rooftop dining experience during the cold weather by renting a lux dome on the rooftop at Café Benelux (346 N. Broadway, Milwaukee, cafebenelux.com).
Dessert: Top off your dinner with a collection of truffles from Red Elephant Chocolate (333 N. Broadway, Milwaukee, redelephantchocolate.com) or macaroons from Greige Patisserie (408 W. Florida St., Milwaukee, greigemke.com).
Activity: Do a private escape room at Escape The Room Milwaukee (222 E. Erie St., Suite 110, Milwaukee, escapetheroom.com/milwaukee) or catch a performance of "Evita" at the Skylight Music Theatre (158 N. Broadway, Milwaukee, skylightmusictheatre.org).
The village of Wauwatosa
Appetizers: Start the night with a Schneider Weisse Love Beer and Frites Cones at the bar at Café Hollander, 7677 W. State St., Wauwatosa, cafehollander.com.
Dinner: Curnes suggests adding a charcuterie et fromage and pommes frites to your meal at the local romantic French eatery, Le Rêve (7610 Harwood Ave., Wauwatosa, lerevecafe.com). Complete the meal with a seasonal French pastry (or two).
Nightcap: Finish the night with a cold craft beer in the intimate, yet casual environment at Draft and Vessel (7479 Harwood Ave., Wauwatosa, draftandvessel.com). If you're still hungry, you may be able to catch a food truck for some late-night food.
Sheboygan
While it may be a bit of a drive, Curnes says this day date is her favorite way to celebrate Valentine's day with her husband. "It's so romantic, and it feels like a getaway," she says.
Brunch: Start at Field to Fork Cafe (511 S. 8th St., Sheboygan, fieldtoforkcafe.com), one of four restaurants owned by Stefano Viglietti. The proximity to Viglietti's restaurants is one the reasons her family moved from the Chicago area to the Milwaukee area, Curnes says.
Spa day: Visit the American Club spa, Kohler Waters Spa (419 Highland Dr., Kohler, destinationkohler.com/well-being/kohler-water-spa), and relax for the day. Curnes and her husband discovered that Wednesday is "locals day," which allows you access to the spa after only booking one service (normally you'd have to pay for two).
Dinner: Curnes and her husband will make a 5 p.m. dinner reservation at Trattoria Stefano (522 S. 8th. St., Sheboygan, trattoriastefano.com). "I think they have the best Italian food in the area, maybe even in Chicago or the Midwest," she says. "It's just an incredible place in general."