Have you been eagerly anticipating the richness of autumn, with its jewel-toned color palette, cozy clothing choices and stick-to-your-ribs cuisine? Then now is the perfect time to head to Milwaukee Public Market for food and wine pairings that will take the guesswork out of your next family feast, dinner party or date night at home. Here, Thief Wine proprietor and cofounder Phil Bilodeau offers tasteful match-ups that can be yours with just a quick trip 'round the market.
Argyle 2016 Brut (Willamette Valley, Ore.) 
From one of the pioneers of Oregon sparkling wine, this brut is consistently one of our favorites. Extremely reasonably priced for a single-vintage example, the Argyle — a classic blend of Chardonnay, Pinot Noir, and Pinot Meunier — offers lovely notes of brioche, creamy lemon curd and poached pear, and a bit of toastiness.
Pairing: Chicken Pesto Pizza from Foltz Family Market
Sparkling wine works with just about everything, especially when a lot of other wines don't. Pesto can be tough to pair with wine because of the garlic, but this vintage sparkler is a wonderful match! The chicken pesto pizza (shown at left) is a Foltz specialty, and the wine's acidity and creaminess combines extremely well with the chicken and savory sauce of this wood-fired pizza.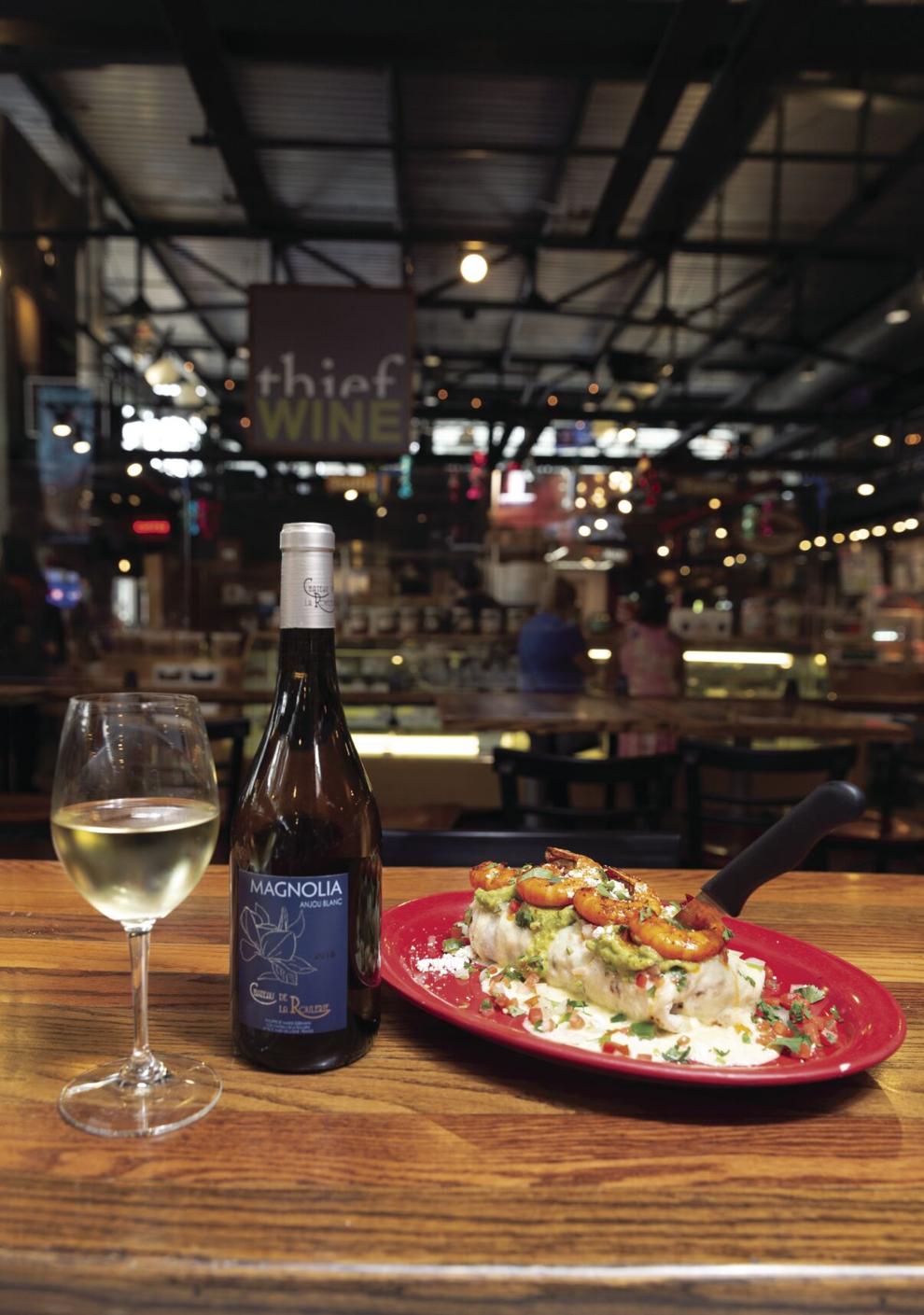 Chateau de la Roulerie 2018 "Magnolia" Chenin Blanc (Anjou, France)
This dry chenin blanc is a lovely example of what the grape can be, at really reasonable price. Chenin is a wonderful fall white wine — it inherently has wonderful texture and richness but also has high acidity, making it an extremely versatile food wine. The "Magnolia" is a new find in the Milwaukee market, and is already one of our favorites!
Pairing: Surf & Turf Burrito from Margarita Paradise
Some shrimp? Steak? A bit of creamy guac? Chenin can handle it
all. This lovely loaded burrito (shown at top right) from Margarita Paradise will hit all your food cravings, and the Magnolia chenin is rich enough to work well with the steak but light and crisp enough to complement the shrimp component.
Marie Descombe 2020 Gamay (Beaujolais Villages, France)
Gamay is a woefully underrated varietal, and an ideal lighter red for fall. Grown primarily in the Beaujolais region of France, it's juicy and grapey, with low tannins, moderate alcohol and undertones of graphite minerality. The Descombe is a prototypical example; it's a great introduction to what the grape should be. 
Pairing: Wild Salmon from St. Paul Fish Company
Pinot Noir is considered a classic red-wine pairing with salmon
due to its combination of low tannins, bright acidity and lighter red berry fruits to complement the richness of the fish, but Gamay works equally well. It's got enough fruit to hold up to the fish, but is light enough to not overwhelm it. Serve the wine with just a little bit of a chill for an ideal pairing.
Cottanera 2019 "Barbazzale" Rosso (Sicily, Italy)
The indigenous varietals from Sicily are finally starting to get the recognition they deserve. Whether it's Carricante or Catarratto on the white side or Nerello Mascalese or Nerello Capuccio on the red, these grapes are worth exploring. The elegant Barbazzale is a blend of the two nerellos; it's got loads of raspberry and blackberry fruit, a slightly floral notes and earthiness on the finish.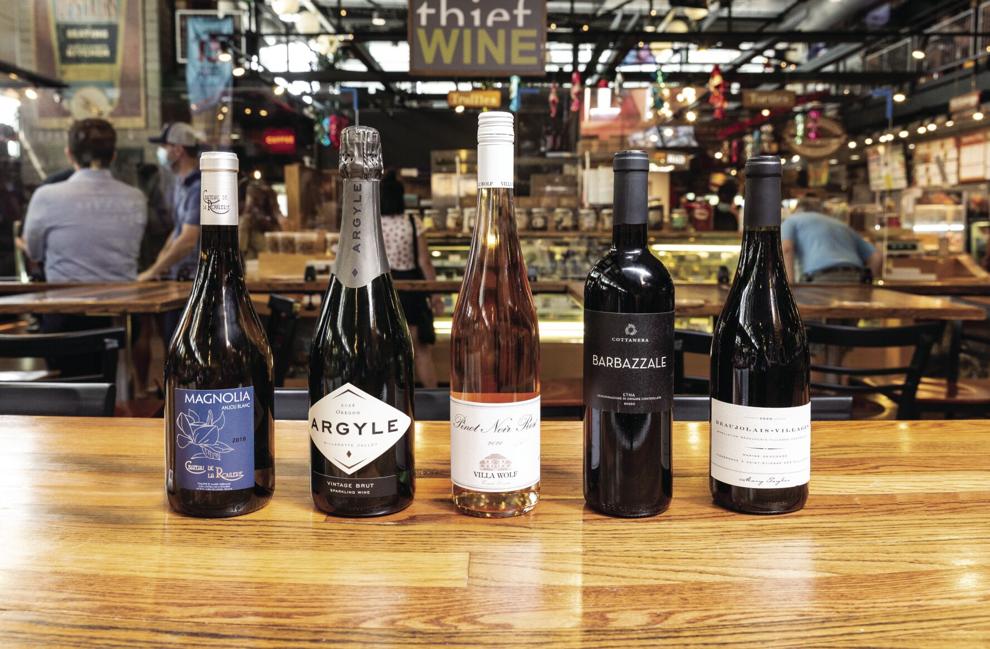 Pairing: Ribs from Pat's Ribs
The Public Market's newest vendor is coming this fall, and we're all extremely excited! Pair the Barbazzale with one of Pat's signature rib dishes. The wine is full-bodied enough to stand up to the ribs, has enough acidity to cut the food's richness, and the earthy flavors will be a fantastic complement.
Villa Wolf 2020 Rose (Pfalz, Germany)
Since Thief Wine's inception 13 years ago, we've been a champion of dry rosé — it's not just a summer wine (people drink white wine year-round, so why not rosé?), but is great for all occasions. It's crisp and minerally, but the red fruit gives texture and palate structure. It's a fantastic and versatile food wine. The Villa Wolf is 100 percent Pinot Noir and one of our favorite rosé values: dry, juicy and fruit-forward, with refreshing acidity; great on its own, but works well with a range of lighter foods. 
Pairing: A range of cheeses from West Allis Cheese
For this pairing, we turned to our friends at West Allis Cheese. Rosé works really well with hard or semi-hard cheeses and is a great way to start the evening. West Allis has a whole range of local and international offerings. Two favorites are Deer Creek's Vat 17 World Cheddar (aged 21 months) from Wisconsin, and Gran Valle's three-month Manchego from Spain. MKE