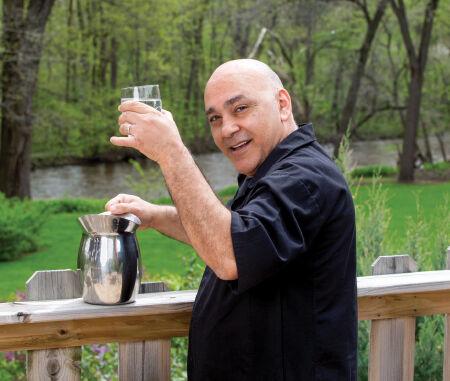 My dear friends, I am excited to write this article and share some to "dos" instead of the constant "don'ts" where food and health are concerned. I want to share with you what you can and should do, while bringing some purpose to these challenging times. We can view these times as difficult and wasted, or as learning and growth-based.
I have learned so much during in these past months. I have enjoyed my family in ways that I never thought was possible. I have used these times to declutter my mind and stored-but-useless belongings in my basement, garage and drawers or my refrigerator and freezer. By giving purpose to something and creating a cause-driven plan for ourselves, we make everything that we do and bring into our home mean something. So let's promise each other that we will do the same in our day-to-day cooking and fueling our most important asset, which is our body and health.
This is the perfect time to truly understand how food can enhance our immune system so that our bodies can fight off this virus and many others. I hope that, when life is back to normal, our medical leaders take this significant learning opportunity and use it to change our food consumption habits. But until then, we can start ourselves.
I know you have heard this before, but I want to break it down for you: Water, water and more water. Experts always tell us to drink more water, but rarely do they tell us why and what the short-term and long-term consequences of not taking that advice are.
• Water is the primary building block of our cells.
• It acts as an insulator, regulating internal body temperature. If you are dehydrated, the body cannot use perspiration and respiration to regulate temperature.
• Water is needed to metabolize proteins and carbohydrates used from food.
• Water is the primary component of saliva, used to digest carbohydrates and aid in swallowing food.
• Water lubricates joints.
• Water insulates the brain, spinal cord and our organs while acting as a shock absorber.
• Water is used to flush waste and toxins from the body via urine.
• Water is the principal solvent in the body. It dissolves minerals, soluble vitamins and certain nutrients so our bodies can use them.
• Water carries oxygen and nutrients to cells.
Water is also the main denominator for calculating food's caloric density. Caloric density is the calories in food divided by its weight. For example, a pound of juicy grapes may have 306 calories while 0.2 pound of raisins has the same 306 calories. So choose foods with higher water content and make sure that the cooking techniques you use diminish the water content as little as possible. For example, a hard-boiled egg has 75 calories while the same-sized egg fried has 98.
To get you thinking about water content and caloric density, I want to share a recipe with you that is all about steaming. It uses cod as its protein, but you can sub in chicken too. It is simple yet sophisticated and it is all done in one pan. Visit my YouTube channel and click on Steamy Goodness to make this dish along with me.
I pray that you stay safe, and pamper yourself and one another. MKE
Ingredients:
1 half red onion, cut in half and sliced
1 half each red, green and yellow bell pepper, membrane removed and sliced.
1 medium carrot, peeled and sliced on the bias
Medium red potato cut in half and sliced thin
Lemon cut in half
2 Atlantic cod fillets
3 cloves fresh garlic, crushed
Fresh basil, rosemary, thyme and oregano, chopped fine
1 cup chicken broth
1 teaspoon balsamic vinegar glaze
Pinch each, white pepper and pure sea salt
Olive oil
Instructions:
Drizzle medium saucepan with a generous splash of olive oil. Add vegetables and garlic cloves. Cover the pot and allow the vegetables to sweat over medium heat.
In a separate dish, combine olive oil, a pinch of sea salt and a pinch of white pepper to crushed herbs to form a paste. Stir in balsamic glaze, and spread the paste generously on the fish fillets.
Add a splash of white wine to the vegetables to deglaze the pan, then add the chicken broth.
Rub steamer with olive oil and cut lemon half. Add fish fillets, place steamer atop vegetable pot and cover. Steam fillets for about five minutes or until fish is opaque and flakes easily. Smear plates with remaining herb paste, and serve fish and vegetables on a bed of sliced fennel and a sprinkling of Kalamata olives.