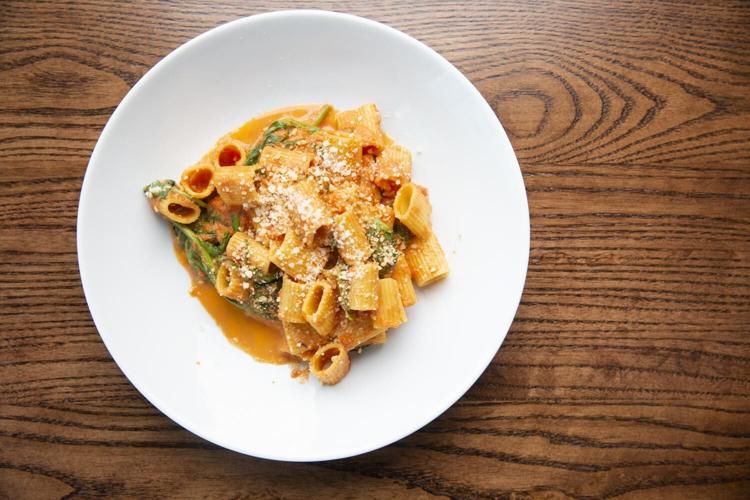 Chef Kyle Toner and general manager Paul Damora describe their Bay View restaurant Sorella as elemental, meaning Toner adopts a straightforward approach to his dishes. Yet just as a simple presentation of the Italian-American fare belies its depth of flavor, the word "elemental" evokes another layer — that of fire and the warmth it brings. 
Fire takes the form of a wood-burning pizza oven that deliciously chars the crusts of traditional pies such as the Margherita, as well as Toner's own inventions, like the mozzarella-free Fra Diavolo, a tasty iteration of sauce, garlic, bacon and hot peppers dusted with pecorino. 
Warmth also comes from strong family ties and traditions. Damora grew up working for his family's restaurant. Toner started cooking as a teenager, experimenting in the kitchen with his dad. The chef also checks in with his mother about family recipes, then tweaks them using techniques from his career in fine dining establishments in New York and Spain.
Toner named Sorella, "sister" in Italian, for his young daughters. "They have been in a restaurant from literally a week after they were born," he says. "This is a very personal restaurant."
The two first met at the now-shuttered Wolf Peach, where Damora felt immediate kinship hearing Toner's slight New Jersey accent. It turns out that the men grew up mere blocks from each other, Damora reveals. Later the duo worked together at Glass + Griddle. And when they were ready to open their own place, they naturally turned to the food they grew up with. The pair transformed the space recently occupied by Kindred, brightening up the walls with cream-colored paint with an elegant, citrus-dappled wallpaper for contrast. That new look, plus the building's high ceilings and exposed brick, add up to a fresh, modern feel that fits the restaurant's refined take on homey classics. 
"Here's the playbook of Italian-American dishes," Toner says of the Rigatoni alla Vodka, made with rigatoni, vodka, spinach, tomatoes and heavy cream ("pink sauce, if you will," he says). "The sauce, or the condiment, is paired with the pasta, the shape and the kind of pasta. It's an important composition of the dish."
While this sauce typically gets served with penne, the chef chose mezzi rigatoni, pasta that his 4-year-old likes to wear on her fingers. "The kids love it," he says of the shape. And it turned out to be the perfect vessel for the bold tomato flavor and subtle richness of the sauce.
"I want this to be a space for anybody, anytime," Toner adds. "I want people to come here once a month, twice a month — not once a year, twice a year." 
With a regular menu featuring Prime NY Strip Steak, plus specials like a recent Italian sausage sandwich with fried peppers and onions, return visits are a welcome thought.
2535 S. Kinnickinnic Ave., Milwaukee (414) 301-6255, sorellamke.com  MKE