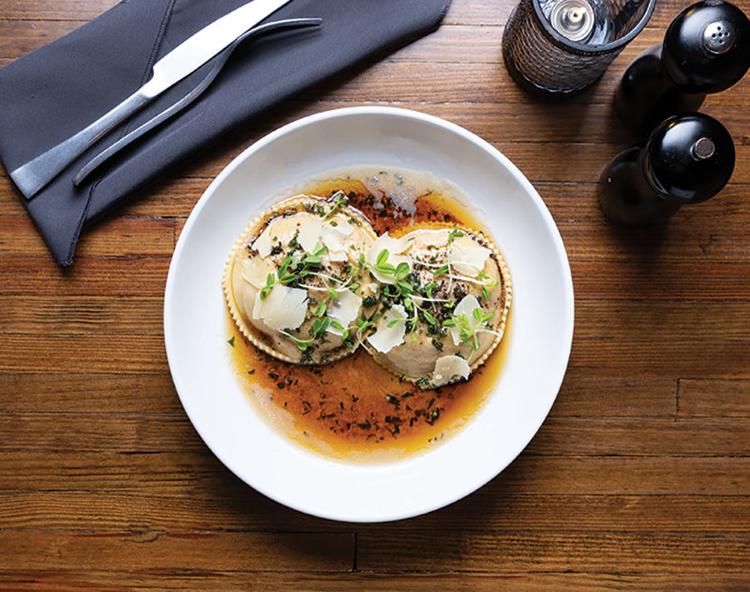 From the moment he stepped foot in the building, Eric Zangara, executive chef at West Bend's Culaccino Bar + Italian Kitchen, knew he found his newest place to call culinary home.
"I found this restaurant and immediately ... I fell in love," he says. "My style of cooking is approachable, yet elevated, just because I come from that background in Chicago where it's very fine dining — tweezer work, everything. So I wanted to introduce something like that into West Bend, but a little more approachable." 
Zangara — whose experience includes Milwaukee's RARE Steakhouse, Bodegon Hotel Madrid, ABV Social, Taqueria El Jefe and Cafe Grace — proudly flaunts his Italian, Argentinian and Guatemalan roots, incorporating those flavors into his recipes. Though he is the first professional chef in the family, Zangara learned many of his techniques from watching his mother and grandparents in the kitchen. He's most proud of his handmade pasta, an approach he learned from his grandmother and uses to make a menu filled with fresh pasta dishes, like the Raviolo Uovo pictured above.
House-made pasta dough is filled with ricotta, fontina and mozzarella cheeses, salt, pepper and raw egg yolk, and then garnished with hydroponic pea shoots for a light flavor and additional texture and brightness. Zangara adds a fresh touch to the dish as the seasons change, working in local produce and changing flavor profiles. Through March, the raviolo features the addition of butternut squash.
"We roast fresh butternut squash and then we puree that really nice and smooth, and then we fold that into our ricotta mixture. And then we just build it from there," Zangara explains. 
The menu also features a variety of delectable appetizers, wood-fired pizzas and entrees like Atlantic salmon and braised short ribs. In addition to memorable food and cozy ambiance, Culaccino offers half-off pizza on Tuesdays, wine Wednesdays and sangria night on Thursdays, as well as weekly specials and a weekend brunch with bottomless mimosas. 
"I don't want this place to be a special occasion restaurant. I want people to be able to bring their friends here, to hang out and have a good time," Zangara enthuses. "We have the best patio in West Bend during the summer. We have a fireplace that we light every night. So it's a fun place to be. And that's where I go back to making the food not only elevated but approachable, because I want anybody and everybody to be able to look at this place and be like, 'I can come here at any time.'"
110 Wisconsin St., West Bend, (262) 429-2160, culaccinoitalian.com MKE