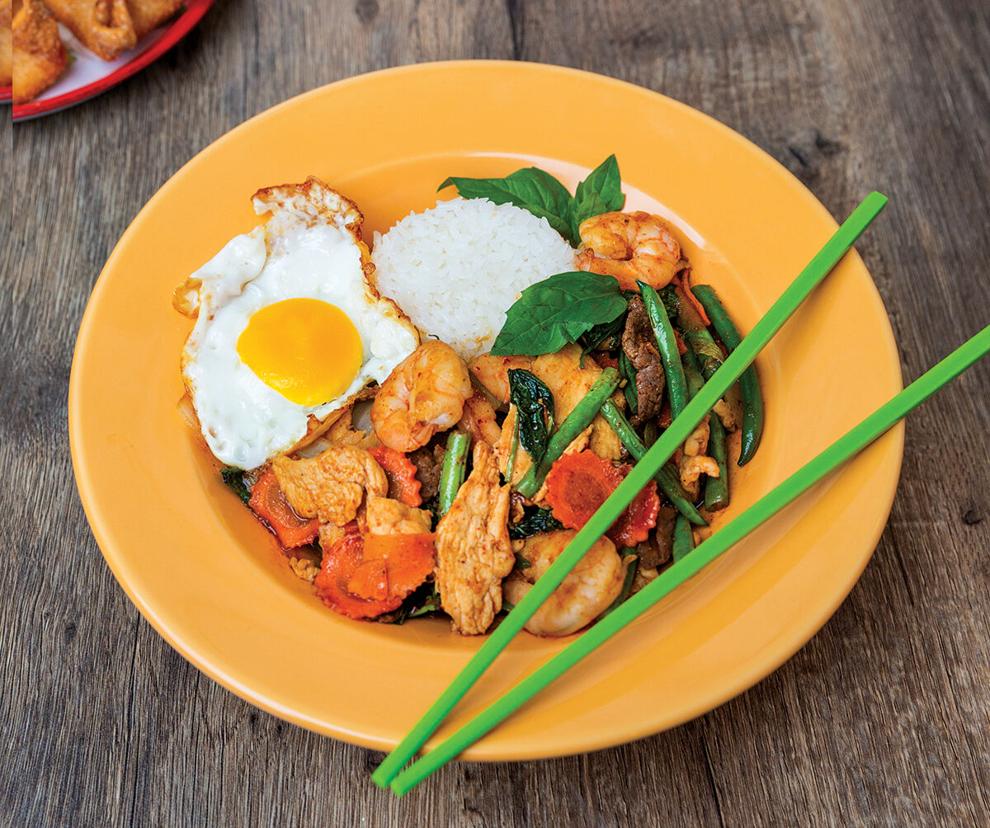 Some chefs use travel experience to inspire their restaurant menus. Others use the cuisines with which they have the most experience. 
Kenneth Sithy, head chef and owner of Sweet Basil, and his uncle and sous chef Bee Praseutsack draw upon family recipes passed down throughout the family to create their menu for the Franklin-based "Thai street eats" restaurant.
"We've been eating Thai and Lao food our whole lives," Praseutsack explains. "My parents, Kenneth's grandparents, are first generation immigrants, so we ate my mom's cooking growing up."
Praseutsack adds that the duo infuse both culture and flavor into their dishes, perfecting the balance of taste and presentation to appeal to all the senses. 
"[We] take some of the old mixed with the new and present it with a modern twist," Praseutsack says. "I'm always learning new things everyday in the kitchen. We've found that our style of cooking does help people who are new to Thai cuisine try new things also. They might be hesitant to try a dish, but if they see it presented with something they're familiar with they'll probably give it a try." 
To create the freshest dishes possible, Sithy says that he and Praseutsack do their best to shop with local vendors and area farmers. The pair also frequents a cousin's grocery, Asian International Market, on Milwaukee's south side for Asian ingredients and exotic produce to create authentic fusion dishes like the Pad Garpow shown here.
The chefs begin by searing seasoned bell peppers, carrots, green beans, onions and Thai sweet basil leaves in a wok. The cooked vegetables are then plated with jasmine rice and topped with a fried egg. The Pad Garpow, which translates to "spicy basil stir fry," can be left as a veggie dish or served with a choice of chicken, beef, shrimp, tofu or a combo of each (as shown above). Upon request, the dish can also be made vegan.
As of press time, Sweet Basil is only doing curbside pickup, but Sithy encourages customers to call in and schedule their orders or place an order through the restaurant's website. Patrons can keep up-to-date on when the dining room will reopen on Sweet Basil's Facebook page.
"We have been through a lot these past couple of years and the unfortunate timing of our opening during this pandemic had us all really worried," Praseutsack adds. "The community has shown us immense support and we couldn't be more grateful! We would like to give a big shout out and thanks to our family, friends, our customers and everyone else that might happen to see this! We love you guys for all the help and support." 
6509B S. 27th St., Franklin, (414) 301-4126, sweetbasilmke.com MKE