Reservations at popular restaurants can be hard to come by during busy times, and with Valentine's day falling during the week this year, a romantic evening at home may be a better fit for you and your significant other. A few Milwaukee-area chefs and restaurant owners shared some ideas for creating that restaurant-style romance at home.
Planning The Menu
"It's important to keep the meal simple," says Sendik's Executive Chef David Sorensen. "A surf-and-turf meal is a great go-to for romantic dining at home because it's a light, romantic meal at a higher price point that can commemorate a special occasion."
And seafood like herb-roasted salmon, linguine and clams, steamed mussels or oysters are great romantic dinner options because they're lighter and don't take too long to cook, adds Harbor House Executive Chef Michael Genre.
Filet mignon — another go-to pairing in a surf-and-turf — is a popular selection, but Chris Murphy, general manager at Eddie Martini's, says Kobe beef is a trendy, more creative option. "The whole atmosphere around Kobe beef and its availability has really opened up," Murphy says. "It can outshine what we call a normal filet. The texture is soft because it's fattier, and people really like that."
Regardless of what you're making, you'll want to make sure not to over-season your dish, Sorensen says (and he recommends skipping the garlic). And, of course, think about what your significant other likes and tailoring the meal to those tastes.
Sourcing A Romantic Dinner
Many high-quality options can be found right at your local grocery store. During Valentine's day season, Sorensen says Sendik's offers a surf and turf out of the deli with beef tenderloin, twin lobster tails, asparagus, two cheesecakes and a rose or two petite lobster tails and two small filets out of the meat department. A local butcher or even a mail-order vendor could be a great way to find rarer specialty items, Murphy adds.
Here are a few local places to find specialty, high-quality ingredients for a romantic dinner in:
Meal Pairings
"Let the main dish shine and keep sides relatively simple," Sorensen says. "A simple salad or roasted vegetables may be all you need to complete your romantic meal. A lighter meal can be nice because it also allows you to save room for dessert." Chocolate-covered strawberries or mini cheesecakes with handwritten messages on them are popular choices at Sendik's, he adds.
A fun, versatile dessert option is a chocolate fondue, where you can dip anything from fruit to homemade sweets into different flavors of chocolate, suggests Murphy.
And don't forget the specialty drinks that complement the meal. "You'll want to select something that goes well with what you've prepared and perhaps falls outside of your regular repertoire," Sorensen says. "Normally, champagne is something we don't drink all the time, so I like to bring home a bottle for a special night."
If you're looking for a wider, more unique selection, here are some wine bars worth visiting.
Setting The Mood
Attention to detail will make your dining experience special, Murphy says. "If your partner could see the amount of forethought that goes into it, it shows you care," he says.
Focusing on elements like the lighting, the music, the temperature and the table setting can help set the mood for your romantic evening, Murphy says.
Genre says having fun together as you cook is key. "Dinner always tastes better with wine," he says. "My rule is, always make sure to cook with wine that you like to drink. Cooking is meant to be fun. It's okay to make a mistake — you'll laugh about it later." MKE
#
Valentine's Day Recipes
Here's what some local chefs are cooking this Valentine's Day.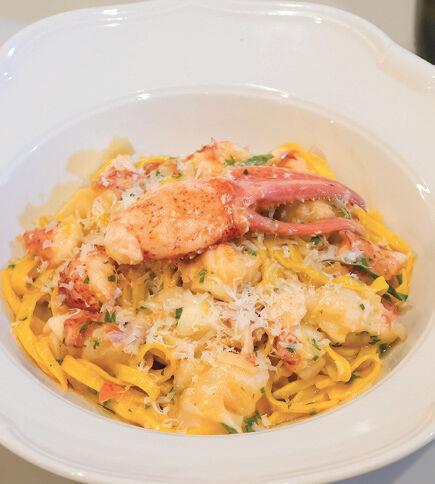 Fresh Tagliatelle Pasta With Maine Lobster Tails
By Harbor House Executive Chef Michael Genre
One of my favorite recipes my wife and I love to cook together is fresh tagliatelle pasta with Maine lobster. Lobster is a luxury ingredient that I like to save for special occasions. It can be expensive, but memories last forever. Maine lobster pairs perfectly with homemade tagliatelle pasta. We buy whole lobsters from our local fish market, but for this recipe, the tails are all you will need.
Ingredients:
3 cups all-purpose flour
3 large eggs, plus 1 egg yolk, room temperature
1 tsp. salt
2-4 each 3-4 oz. lobster tails, deshelled
6 tbsp. unsalted butter, divided
½ cup white wine of your choice
1 tbsp. lemon zest
¼ cup lemon juice
½ tsp. crushed red pepper flakes
¾ tsp. kosher salt
1 tbsp. olive oil
2 tbsp. chopped tarragon
Instructions:
• On a clean work surface or a bowl, make a mound with the flour. Create a well in the middle and add the eggs, egg yolk, salt, olive oil and water.
• Using a fork, beat the eggs and begin to incorporate the flour from the inner rim of the mound, making sure the mound stays intact with the other hand by cupping the flour.
• The dough will start to come together, and once there is no more liquid, use your hands to start kneading the dough with the palm of your hands. Do not force the dough to take all the flour, just until the dough comes together and isn't too sticky to handle.
• If the dough does take all the flour and is still too sticky, add more flour, a little at a time. Continue to knead for up to 10 minutes (the kneading is what makes the dough nice and light).
• Once the dough is soft and smooth, wrap it in plastic wrap, making sure it's well-wrapped so no areas of the dough dry out. Set aside for 30 minutes to rest.
• Take a small amount and roll out as thin as possible, using a rolling pin to a rectangle of about 6 inches by 12 inches on a floured surface.
• Using a sharp knife, slice from right to left (or left to right if you're left-handed) into noodles. This will be the thickness of the pasta strands, so cut at least 3/16 inch (5 mm). The thickness is up to you.
For the lobster:
• Bring a large pot of water to a rolling boil. Season with salt. It should taste as salty as the sea.
• With a pair of scissors or kitchen shears, starting on the underside of the tail, cut the shell right down the middle, exposing the flesh. Once you cut all the way through, you'll be able to pull the flesh right out. Cut the flesh into half-inch chunks.
• Season lobster tails with salt and pepper. Heat a large sauté pan to a medium-low heat. Add 2 tablespoons butter. Once butter melts, add lobster, gently cook for 2 minutes until they start to turn red. Remove the lobster from the stove, add garlic, cook for 2 more minutes. Add white wine and cook for two minutes. Cook pasta until just under al dente, 3 to 4 minutes. Reserve cooking liquid.
• Add remaining butter to the pan along with the lemon zest, lemon juice, red pepper flakes, and ¼ tsp. salt. Simmer for 1-2 minutes.
• Add the pasta and olive oil. If needed, add enough starchy cooking water to loosen the sauce up. Season to taste with salt and pepper.
• Add lobster and tarragon. Toss until lobster has warmed up. Enjoy!
Surf and Turf: Lightly Breaded Shrimp and Porterhouse Steak
By Sendik's Executive Chef David Sorensen
I do 90 percent of the cooking at home, which I enjoy. I try to make it special. I think I've always done a surf and turf of sorts. It doesn't have to be the lobster and the tenderloin — you could do scallops and a New York strip or mix and match types of surf and turf. Lightly-breaded shrimp and a porterhouse is my wife's favorite.
Lightly breaded shrimp ingredients:
12 raw 16/20 count deveined and peeled shrimp
2 eggs
1 cup flour
Oil
Seasonings
Directions:
Season the flour with 1 tsp. each: paprika, garlic powder and a half-teaspoon of parsley, salt and pepper.
Crack the eggs and whisk to mix the yolk and white together.
Dredge the shrimp in the egg, then in the flour mixture.
Use vegetable oil in a fryer or large pot (5 cups at 350 degrees). Fry the shrimp for 2 minutes until golden brown.
Porterhouse steak ingredients:
2-¾ to 1 lb. raw porterhouse steaks
2 tbsp. vegetable oil
2 tbsp. butter
McCormick steak seasoning (you can also do kosher salt, peppermill pepper and garlic salt)
Directions:
Season your steak on both sides. Add 2 tbsp. of oil in the pan and get the oil to a high heat (right before it starts to smoke) before you put the steak in.
Sear the steak on one side for 4 minutes, then add 2 tbsp. of butter in the pan and flip the steak to sear the other side for 4 minutes. This gives you a medium rare steak. Cook for longer for desired temp.
#
Very Berry Spinach Salad
By Sendik's Executive Chef David Sorensen
Ingredients:
Bunch spinach
Raspberries
Blueberries
Red onion, sliced
Blue cheese
Prepared raspberry vinaigrette dressing
Directions:
• Toss spinach, fruit and red onion. Top with blue cheese and raspberry vinaigrette.
#
Horseradish Caper Sauce for Steak
By Sendik's Executive Chef David Sorensen
Ingredients:
1 cup mayo
2 tbsp. capers
2 tbsp. finely diced sautéed shallots
1 tbsp. horseradish
Dash of salt and pepper
Directions:
• Mix all together.