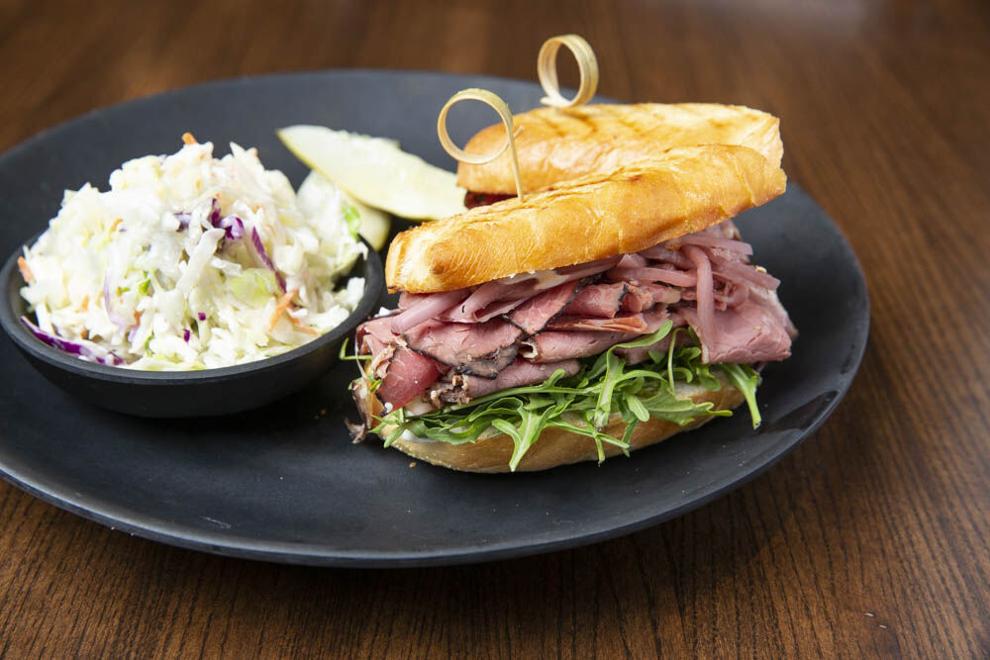 Four years ago, Rabbi Moshe Luchins and his wife moved to the Milwaukee area, and brought a plethora of ideas to engage and educate the community on Jewish life and culture. To provide information about kosher meals, Luchins and his wife would set up kosher awareness tables at local grocery stores, offering samples and providing recipes for those interested. 
"It was another way to engage the Jewish community and the general community to teach and share," Luchins says. "People would try the Jewish food in the store, and we'd offer them the recipe and whatever ingredients that were available in the store." 
The interest spurred the inspiration to open Deli on Crown, a kosher deli in the lower level of Peltz Center for Jewish Life in Mequon. 
Deli on Crown originally started in the midst of the COVID-19 pandemic, offering kosher to-go orders. As the world shifts to a new normal, the deli offered in-store dining, and is now open Sunday through Thursday. 
"For the Jewish community, this is something people have always wanted because there's no place to sit down and have a meat meal or even just a bite here in the Mequon area," Luchins notes.
While the menu offers kosher options, it also provides a wide range of cultural favorites that can appeal to everyone, Luchins says.
"[People will say,] 'Oh, I remember when my mother made that, and they have no Jewish background," he notes. "They might be Irish, Polish or German — whatever background they came from, there are certain dishes that resonate with everyone, which is kind of cool."
Patrons can find delectable kosher items like the pastrami sandwich, chicken soup with matzo balls, classic corn beef sandwiches, paninis, soups and salads, and deli meat by the pound. Visitors can also enjoy sweet treats like cinnamon bites and gluten-friendly crinkle cookies by Friendship Circle Bakery. 
Deli on Crown utilizes a community garden in summertime, Luchins says, adding fresh ingredients to the dishes whenever they're available. 
And Luchins and his wife also started the Jewish Food Festival four years ago as a way to celebrate the Jewish community, as well as offer educational booths to the wider community. "We want to be able to share a lot about Jewish life [and] culture," he says. The festival, scheduled for Aug. 14-15 at Rotary Park, will include kosher Jewish food, live music, petting zoos, and activities for kids. More info is at jewishfoodmequon.com. MKE
2233 W. Mequon Rd., Mequon, (262) 336-3695, thedelioncrown.com. 
---
Passover Potato Kugel 
Note: This dish is gluten-free.
Ingredients
6 large peeled potatoes
1 onion
3 eggs
1 tbsp. salt
1 tsp. pepper 
1/3 cup potato starch 
3/4 cup vegetable oil (divided into 1/2 and 1/3)
Instructions
Preheat the oven to 425 degrees. Peel the potatoes and cut the onions. Place in your food processor and grate them finely. (If you only have a wide blade, grate it twice to create that fine cut.) 
Add eggs, salt, pepper and potato starch to the mixture and stir until it is mixed evenly. Add 1/2 cup oil to the mixture and stir again.
In a 9x13 pan, put the remaining 1/4 cup of oil, and place it in the oven for 15 minutes to heat up the oil. 
Take the pan of hot oil out of the oven after 15 minutes. CAREFULLY add the mixture to the hot oil. Give it a good mix and evenly spread across the pan. Place in the oven for about 1 hour or until golden on the top of the kugel. Best served warm.