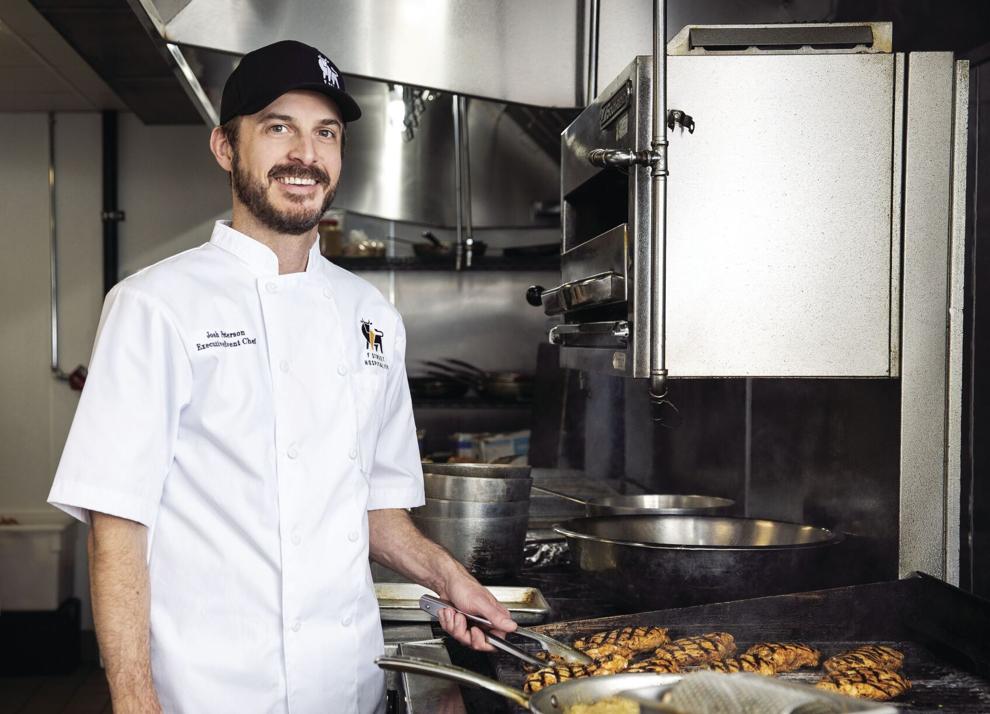 What led you to where you are now?
I was born and raised in Muskego, where I got my first job as a bus boy/short order cook at Muskego Lakes Country Club.  I wound up going to college for engineering in Madison and I got a part time job cooking at a hotel. I fell in love. The chaos of that kitchen felt like home, and I quickly changed my focus to the culinary arts. After an extended stay in Madison, I moved back to the Milwaukee area to work for Lowlands. After Lowlands, I had the pleasure of working for Levy Restaurants. Levy allowed me to travel and work in a wide variety of large-scale operations. This led to my becoming the executive chef at the Harley-Davidson Museum. Most recently, I had the amazing opportunity to work with some friends I had worked with previously, and I joined F Street Hospitality. I haven't looked back since. 
What was the first dish that you mastered?
The first dish I truly mastered was smoked brisket. I had spent a lot of time on many dishes before, but this was the first dish I attempted in a variety of ways and sampled numerous other restaurant's offerings in order to get exactly what I wanted. I changed the spice rubs, smoking time and temperature, and tried different varieties of wood chips to create my own recipe that I could truly call my own.
What's the most-used cookbook in your collection?
Probably Gordon Ramsay's "Home Cooking." While I do appreciate Gordon Ramsay very much, my wife has a slight obsession with him. So making any of his dishes is an easy way to make her happy.
Do you have a culinary hero?
I wouldn't say I have a culinary hero per se, because I'm always finding different influences from new inspirations. But I find myself always being attracted to anything done by David Chang. Everything he puts out, from his restaurants to his shows and social media, has an extra element of "fun" in it. It shows how much passion he has for everything he does in life. 
What ingredient makes you cringe, to cook with, to eat or both?
The one single ingredient that still makes me cringe is olives. Of all varieties. I've forced myself to eat countless olives in my life, with the intention of forcing an appreciation, but I have not been able to find even the slightest attraction to them. MKE
Find Bottle House 42 at 1130 N 9th St, Milwaukee, WI 53233, (414) 988-1550,
---
Swedish Pancakes
(Josh Peterson family recipe)
This is my family recipe for Swedish pancakes. My mom would only make it for us a few times a year, often during school breaks or for a holiday. It's a simple recipe, but it truly is a labor of love. Unless you are a master with your stovetop, you'll be making these one pancake at a time. It's worth all of the effort it takes and makes you appreciate all of the labor put into them. 
Ingredients:
2 tablespoons butter
3 large eggs
1.5 cups whole milk
½ teaspoon vanilla extract
1 cup flour
1 tablespoon sugar
½ teaspoon salt
4 tablespoons butter (for pan)
Melt butter, then let cool slightly. In a bowl, mix together butter, eggs, milk, and vanilla extract. In a separate bowl, sift flour and mix in sugar and salt. Add your bowl of wet ingredients into the bowl of dry ingredients. 
Heat a 10" sauté pan on medium heat. Melt a small amount of butter in the pan, add enough of your batter to barely coat the bottom of the pan. Once the pancake starts to hold together and turn brown on the bottom, carefully flip with a rubber spatula. Continue to cook until lightly browned on both sides. Put the pancake on a side plate and repeat until the batter is gone. 
Take pancakes, roll loosely, and top with your favorite topping, fresh berries, jam, powdered sugar or syrup.