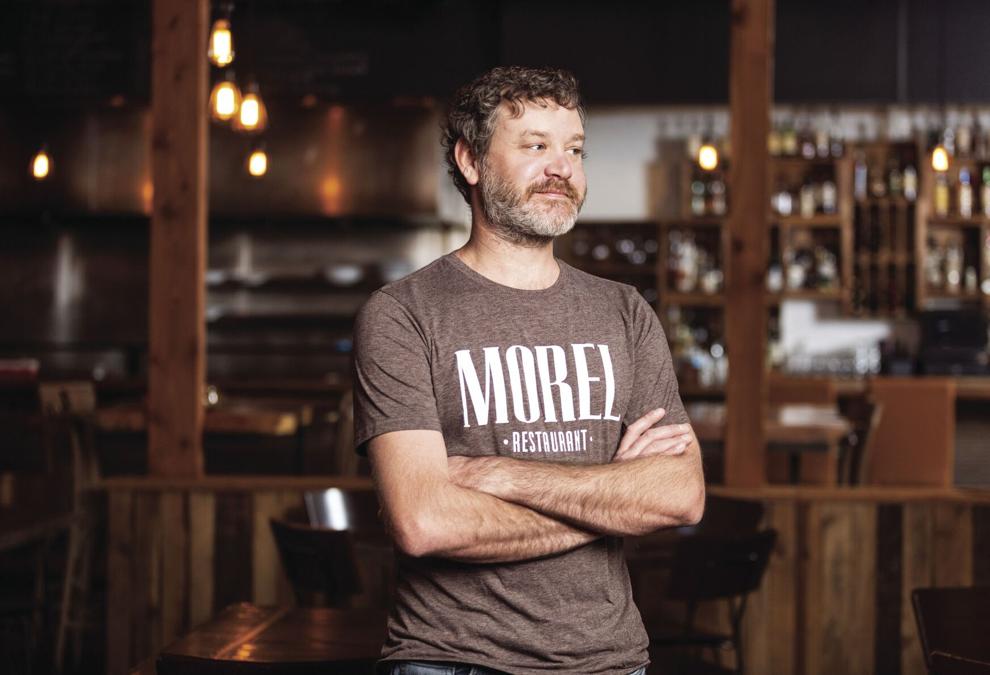 What's the first dish you mastered?
I'm not sure that I've mastered any dishes. As time goes by, cooking styles change and evolve to the point where what's right today can be wrong tomorrow. For instance, when I first started cooking short ribs, they were always seasoned then dredged in flour and braised.  In the last 10-15 years people stopped using flour to dredge the short rib, so when you reduce the braising liquid, you get a more concentrated flavor. Now, people are cooking them sous vide to break down the connective tissue while maintaining a more rare piece of beef. I use the middle method because I enjoy the depth of flavor. My favorite thing to cook is lamb shanks. It's the only thing that no one but myself has cooked in Morel. 
What's the most-used cookbook in your collection?
The most used cookbook in my collection is by far "On Cooking" by Sarah R. Labensky and Alan M. Hause. It was my culinary school textbook at the California Culinary Academy in San Francisco. It's a professional cookbook that's just a great reference. When you have an idea for a dish, you can reference the book to make sure you get the basics right and then just play with your idea until you're happy with the result.
Do you have a culinary hero?
My culinary hero would have to be Marco Pierre White. He was the bad boy of cooking when I was entering the industry. He made Gordon Ramsey cry — or, as he says, "Gordon chose to cry." He did things his way and was firm in his belief that it was the right way. When he was done cooking, he just hung up his apron and moved on. He still owns quite a few restaurants, but he's done cooking in them.
What ingredient makes you cringe: to cook with, to eat, or both?
I can't say that any ingredient makes me cringe. I'm not huge on eating offal. I know as a chef we're supposed to love all that stuff. I love to cook with it, I just don't love eating it. I love cooking with foie gras, but I can't remember the last time I ever ordered it in a restaurant.
For whom would you most like to make a meal?
It's always the most rewarding to cook for the ones you love, so my mother and my girlfriend. I've cooked for many celebrities, especially when I was at Pebble Beach. I guess I would be excited if Aaron Rodgers, Giannis and Yeli [Christian Yelich] came in and sat at the same table.
Do you have a family go-to recipe you'd like to share with our readers?
My grandmother would make rouladen for special occasions growing up as a kid. It's made from really tough beef that is pounded out and stuffed with bacon and onion, sometimes pickles, then braised in water. We do a version at Morel where we pound out rabbit bellies and stuff them with house-made pickles and bacon and onion. We braise them with a bit of white wine and rabbit stock served with brussels sprout leaves and herb spaetzle.
Last Bites:
"The restaurant industry as a whole is struggling at the moment," Manyo reflects. "Even with the ability to be at half-capacity, we're at 25 percent of our normal business. People are scared, and I'm scared for the survival of Morel and the industry as a whole. We're doing everything possible to keep the environment at Morel safe. We purchased a military-grade air filtration system that's a hundred times more effective than a hepa filter and kills viruses instead of just trapping them, and we still can't get people to come out to dinner."
Find Morel at 430 South 2nd St., Milwaukee, 53204, (414) 897-0747, morelmke.com. MKE