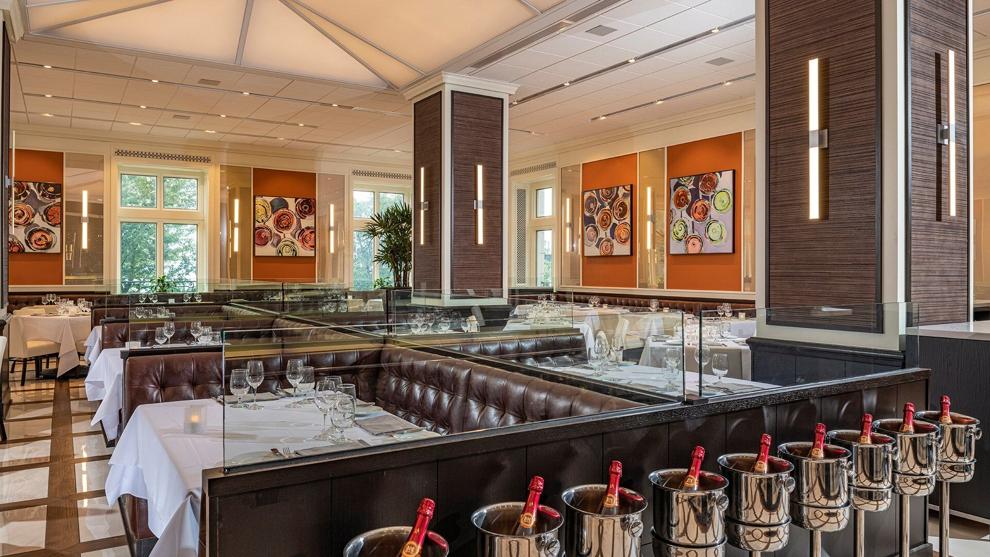 Poached Apple Salad
Courtesy of Chef Brent Davis, Chef de Cuisine at Bacchus – A Bartolotta Restaurant.
This health mix features winter greens tossed in a Dijon apple cider vinaigrette, fall spice poached apples, candied pecans, raisins, crumbled gorgonzola cheese. Yields 4 portions.
Equipment:
One large mixing bowl
One medium mixing bowl
One large (approx. 1 gallon) metal pot
One small (approx. 2 qt.) metal pot
One wire whisk
One cutting board
One sharp kitchen knife
One baking tray
Large perforated spoon
Salad ingredients:
4 heads frisee, cleaned and cut into 2 inch segments (endive, radicchio, escarole or even kale will suffice if frisee is not available)
1 granny smith apple, peeled and sliced thin for garnish
1 cup raisins
1/2 cup crumbled BelGioioso gorgonzola
Salad directions:
• Mix ingredients in large mixing bowl. Reserve and refrigerate.
Candied pecans ingredients:
1 cup shelled half pecans
3 cups sugar
2 cups water
1/2 tbsp. salt
2 cups canola oil
Directions:
Pour water and sugar into small metal pot. Bring to a boil.
Add pecans and boil for 10 minutes.
Strain pecans out of water, discard liquid.
Allow pecans to fully dry on baking tray.
Add canola oil to same pot once cleaned and dried. Allow oil to reach 350 F degrees.
Add boiled pecans to oil and fry for 45 seconds to a minute. Remove pecans from oil with a perforated spoon and return to baking tray.
Sprinkle salt on the finished pecans and allow to cool and dry. Reserve for assembly.
Vinaigrette ingredients:
1 tbsp. Dijon
1 sprig of fresh tarragon, finely chopped
1/2 cup apple cider vinegar
1 1/2 cups salad oil
1 tbsp. honey
1/2 orange zest
1 tsp. kosher salt
1/2 tsp. fresh cracked pepper
Directions:
Add Dijon, vinegar, honey, and orange zest in medium mixing bowl.
Slowly add oil while whisking to incorporate an emulsion.
Finish with salt, pepper, and tarragon. Reserve for assembly.
Poached apples ingredients:
2 honey crisp apples, diced in 3/4-inch cubes
1 remaining orange, cut in half
1 quart apple cider
2 cups white wine (preferably semi-dry)
1 stick cinnamon
1 tsp. whole clove
1 tbsp. fresh ginger (peeled/rough chop)
1/2 teaspoon nutmeg
1/2 tsp. whole peppercorn
Directions:
Add cider, wine, cinnamon, clove, ginger, nutmeg, orange, peppercorns in a large pot. Bring to a boil.
Allow to boil for 2 minutes, then bring down the heat to a low simmer. Gently add the diced apples to the liquid.
Allow to poach for at least 4-5 minutes or until fork tender.
Remove apples from the liquid with perforated spoon, avoiding the spices and ginger. Place on baking tray. Allow to cool in refrigerator.
Assembly:
• Add all the ingredients to a large mixing bowl. Mix thoroughly while adding the vinaigrette to your liking. Season with salt and pepper to taste. Serve immediately.