Nothing beats the aroma of grilled food wafting through the air — it's a spring rite of passage to fire up the grill and flip some burgers. We asked cooking experts for tips on grilling the perfect meal.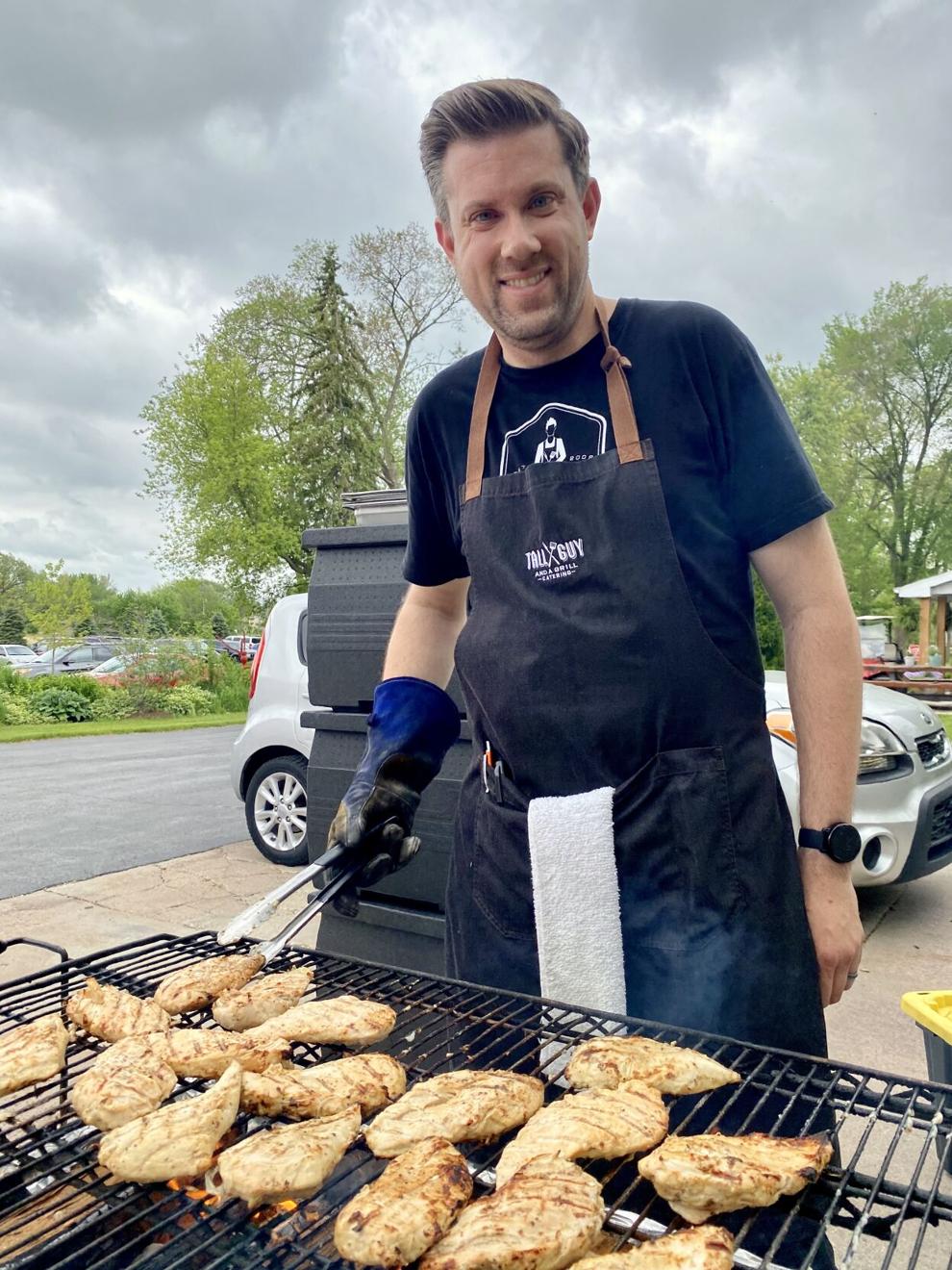 Tall Guy and A Grill
Owner and founder Dan Nowak, tallguyandagrill.com
Favorite things to make on the grill: Any fresh, seasonal veggies from the market always find their way onto our plates. We work with a bunch of amazing local farmers, but Golden Rod Cottage Urban Farm is a favorite of ours, as is the nearby West Allis Farmers market. Becher Street Meats is a personal go-to spot for their dry-aged steaks. We also love Sitka Salmon Shares and all of its sustainably sourced seafood offerings.
We love our peach caprese skewers for an easy summer appetizer — grilled peaches, fresh mozzarella, basil from the garden, topped with peach balsamic from Oro di Olivo. We work those into everything from salads to pizzas. 
Grills — gas vs. charcoal: We're a bit old school around here; we love grilling with charcoal and wood as much as possible. We have a custom-made Santa Maria-style grill that Milwaukee Blacksmith made for us. We use a combination of charcoal briquets and locally sourced, kiln-dried firewood. It adds an amazing smoky flavor to all our grilled meats and veggies.
Must-know techniques: The biggest technique to keep in mind regardless of the type of grill you're using is to create hot and cold zones for cooking. Too often people just crank up the gas or add large amounts of charcoal to create a large, extremely hot fire. While that might look cool, it's not going to properly cook your food. Everything you cook on a grill, for the most part, will require some searing/higher temps, as well as cooler temps to give the meat/veggies time to properly cook all the way through without burning or adding too much char. 
We've all been to the cookout where the meat is charred black on the outside and is raw in the middle — that's because they're not using proper zoned cooking techniques on the grill. The zoned technique is valid across all types of grills and should be followed whether you're using an open/covered grill or gas/electric/charcoal/wood.
How has your grilling technique changed over time? Every grill and fuel type is different, so you're always slightly evolving/changing your techniques based on the equipment you're using. In general, though, over time, we've found the tried and true methods of a standard charcoal/wood fire with simply seasoned, fresh ingredients, always create a memorable and easy to prepare meal no matter the season.
What are some grilling tips?If you have the time, it's always best to remove your meat/fish from refrigeration at least 30 minutes before placing it on the grill. This allows the food to come up to temp a bit and will allow for more even/consistent cooking temp. It is also best to season your meat/fish at least 30 minutes prior to cooking (or ideally, overnight). If you don't have the time to do that, then it's best to season right before it hits the grill. Making sure your grill grate is always clean and seasoned (coated lightly in cooking oil) will also make for an easier cooking experience so whatever you're cooking won't stick to the grates. 
Must-have utensils: A nice long pair of tongs, a clean grill brush, and a pair of high heat-resistant grill gloves. For smaller grills using wood or charcoal, gloves will help you in moving around coals to create hot/cold zones or indirect heat for smoking or roasting large cuts of meat. In a pinch, a pair of welder's gloves work great! 
I also keep a good quality instant-read thermometer nearby for larger cuts of meat to prevent over- or under-cooking. It's an especially useful tool for those that are newer to grilling or venturing into smoking/larger cuts of meat for the first time.
Biggest crowd-pleaser or family hits:One of my most-used grill tools in the summer at home is my grill basket for quickly cooking up some diced seasonal veggies from the farmer's market. We love Penzey's spices around here — so just some local olive oil from Oro di Olivo and any of their spice mixes are one family favorite. 
A to Z Dinners
Chef/owner Andrew Koser, and chef/partner Lauren D'Amico, atozdinners.com
Favorite things to make on the grill: Spiedini. I like using eye of round, pounding it real thin, dipping it in egg wash and then breading with light bread crumbs and Italian seasoning. When grilling, you have to use controlled heat so the breadcrumbs don't burn. 
Grills — gas vs. charcoal: For convenience, I typically use gas. However, the flavor that charcoal provides is always worth the extra time if you have it.
Must-know techniques: When grilling in winter or on cold days, be sure to have the heat up higher on the grill, give it a good amount of time to fully pre-heat, and don't leave the cover open for any longer than you need to.
How has your grilling technique changed over time? Every type of grill (propane, charcoal, electric, cast iron) cooks differently, so learning how to adapt to different heats and flames is a never-ending learning curve.
What are some grilling tips?
• Always have a spare propane tank. Running out of propane while grilling is the worst.
• Allow the grill to pre-heat like you would an oven. This will allow time for the grill grates to get hot enough to get good grill marks.
• After using the grill, clean the grill grates with a grill brush while they're still warm. Then it will be ready for the next time you grill.
• The best way to put out an uncontrollable grease fire in a grill is by pouring salt over the fire. Then make sure to clean it out really well when it cools down.
Must-have utensils: A chimney charcoal starter (for charcoal grills), heavy duty tongs/spatula, and a grill brush.
Biggest crowd-pleaser or family hits: My favorite time to grill is when I tailgate at Brewers games with my dad. We'll often do non-traditional tailgate foods: We'll braise BBQ boneless pork ribs-on-a-stick until tender, or we'll grill steaks with roasted mushrooms and potatoes. It's fun to see what we can pull off using a charcoal grill in a parking lot. MKE
---
Grate Ideas
April is when outdoor chefs haul out the new grills, clean off the grates, browse for wood chips and tongs, and otherwise put flame to food as a classic rite of spring.
We asked the team at MKE Lifestyle to share some of their favorite recipes. Here's some of the family favorites.
---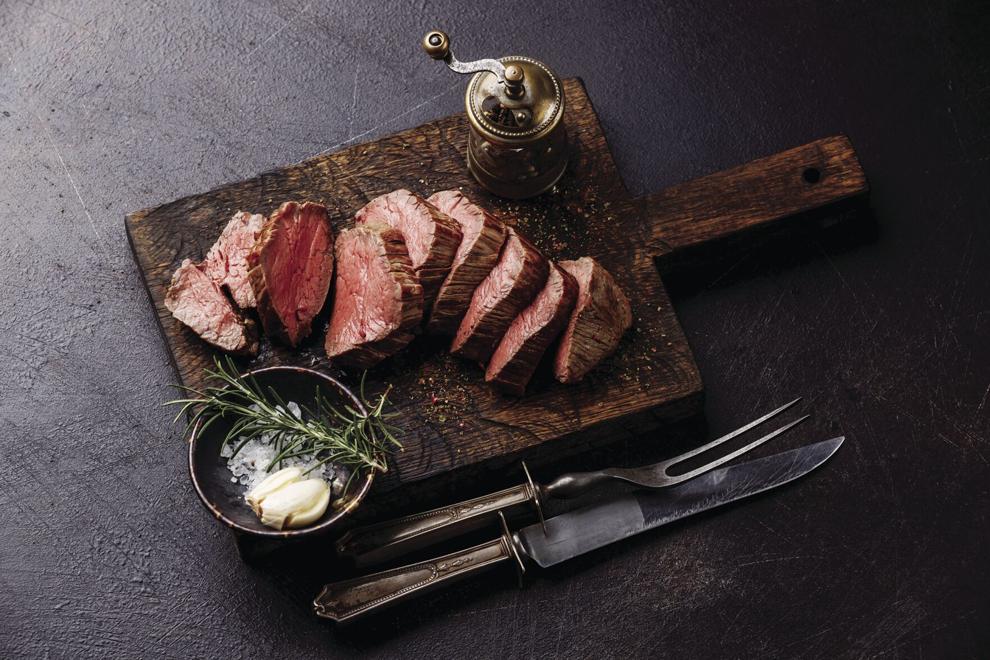 Whiskey Tenderloin
I've been adapting this recipe for a couple of decades — I originally got it from a friend who used it on hunting cabin getaway trips with his friends. It can be customized with the whiskey of your choice (although cheap works best, since the alcohol evaporates and leaves only the flavor). And while I've experimented with different spices, simple usually works best — you can eliminate the teriyaki and bay leaves for stripped-down tastiness.
Ingredients:
1 lb. beef tenderloin, trimmed 
1/3 cup soy sauce
1/3 cup brown sugar
1/3 cup whiskey (e.g. Jack Daniels, Southern Comfort, Seagram's Dark Honey)
½ tbsp. minced garlic
½ tbsp. teriyaki sauce
3 bay leaves
Combine soy sauce, brown sugar, whiskey, teriyaki and garlic in a container, thoroughly mixing. Pour into a plastic gallon bag, add the tenderloin, and add the bay leaves. Marinade in a refrigerator at least 6 hours, turning occasionally. Remove from refrigerator at least one hour before grilling. Set aside marinade (you can make gravy by stirring it into a small saucepan with 1 cup of water, boiling and adding flour for preferred consistency).
Preheat grill to 500. Add tenderloin and sear 2-3 minutes, then flip and repeat. Reduce heat to 325 per side and cook an additional 30-50 minutes to 90 minutes, using a meat thermometer to check for your level of doneness (145 for medium). Remove, cover, and let rest on a platter for 10 minutes. Serves 4-6.
—Don Butler
---
KC-Style Ribs
Years ago, we went to a wedding in Kansas City; one night at a low-key rib place in a strip mall, the owner was happy to share his recipe for fall-off-the-bone ribs, including the accompanying rub. I've modified the rub ingredients and the preparation techniques over the years. This is the current iteration I use for family gatherings. 
Rub ingredients:
1 tbsp. seasoned salt (e.g., Lawry's)
1 tbsp. celery seed
1 tbsp. cayenne pepper
1 tbsp. chili powder
1 tbsp. garlic powder
Mix together, adding more or reducing ingredients to taste.
Recipe ingredients:
2 racks baby back pork ribs (2 lbs.)
1 can condensed apple juice
½ to 1 cup barbecue sauce of your choice
You'll need a disposable aluminum dish or a pan big enough to hold the ribs and apple juice marinade, plastic wrap (such as Saran wrap) for the ribs, aluminum foil to line the bottom of the cookie sheet, a curved knife and large tongs.
Marinate the ribs in the apple juice overnight (or at least 6 hours) in the refrigerator. For added flavor, reduce the amount of water to the apple concentrate.
Optional: Just prior to wrapping the ribs in plastic wrap, use a food injector to inject liberally with apple juice to infuse it with additional flavor.
Prior to removing the ribs from the marinade, I usually have a cookie sheet with a three-foot sheet of plastic wrap laid on it (and foil to line the sheet and making for easier cleanup). Remove ribs from marinade and place on the cookie sheet, wrapping the ribs completely with plastic wrap. Take another similar-sized segment of plastic wrap and rewrap in the opposite direction (so the seal from the first sheet is on the bottom and the seal from the second sheet is on the top). The goal is to make sure the ribs are completely enclosed to retain all the moisture.
Put the cookie sheet with the ribs in the oven at 210 degrees, along with a shallow ban filled with water for additional moisture. Cook for 6 to 6.5 hours. Remove the ribs and cut away the plastic wrap with scissors. Using large tongs, flip the ribs over and use a curved knife to peel away any leftover membrane from the back of the ribs. Flip the ribs back over and coat them liberally with barbecue sauce. 
Preheat your grill to 350, and place the ribs on the grill for 8-10 minutes or until the barbecue sauce is carmelized to your liking. Serves 6-8.
—Don Butler
---
Cubed Potato Packet
This is really simple and can be customized any way you want by adding spices or onions, peppers, carrots or other preferred grilled veggies.
Ingredients:
6 standard-sized brown potatoes, peeled and cubed
½ stick butter
Seasoned salt (such as Lawry's)
Optional: ½ onion of your choice
Aluminum foil
Place the cubed potatoes on a sheet of aluminum foil (appx. 18-20 inches long), spreading the cubes into an oval shape. Cube the half-stick of butter and place each pat around the top of the potatoes. Sprinkle potatoes seasoned salt (optionally, add onions or other ingredients to your liking). Take a same-sized sheet of foil and place over the top of the potatoes, pinching the ends of the foil sheets tightly together and roll inward (and bending upward slightly toward the potatoes) to create a seal that doesn't leak.
Preheat the grill to 400. Put the potatoes on the top shelf or on indirect heat for 45 minutes; check with a fork. They're done if there's a slight charring on the bottom layer of potatoes. Serves 4.
—Don Butler
---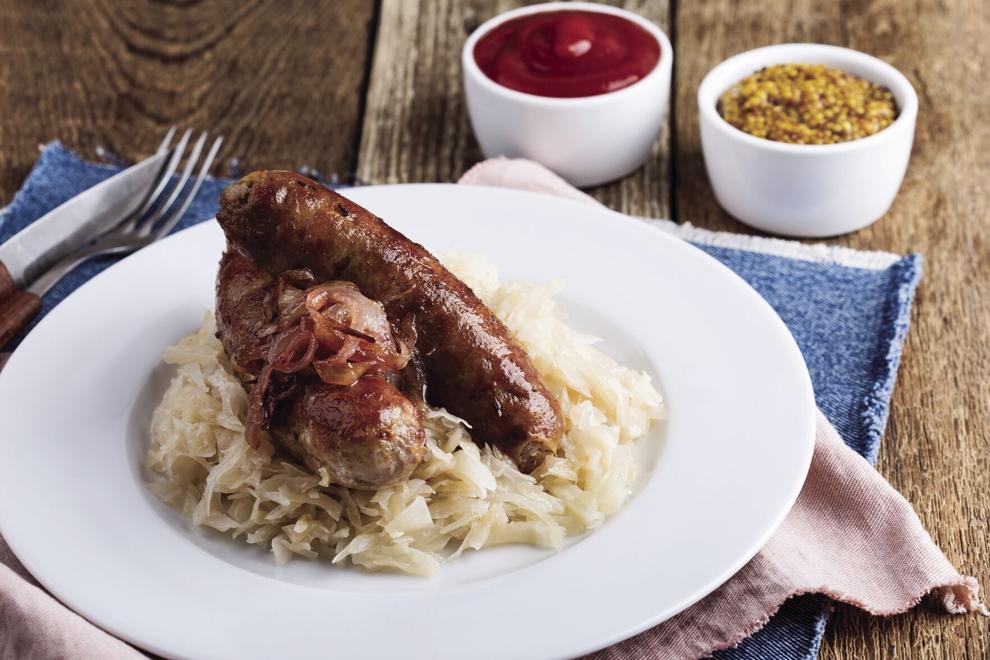 Carmelized Beer Brats
This recipe is essentially parboiled brats with extra sauces and veggies for added flavor, and cooked to the extreme. The result are super-soft brats infused with additional taste. 
Ingredients:
6 brats
2 cans beer (your choice: stout, IPA, pilsner, flavored, etc.)
1 sweet onion, sliced into wedges
1 green or sweet pepper, cored and sliced into wedges
3 tbsp brown sugar
3 tbsp sweet-sour sauce
Directions:
Combine all ingredients into a medium pot (brats should be completely covered by the beer/veggies). On the stovetop or grill, cook on indirect low heat — or simmer on the oven — uncovered, for 2.5-3 hours (do not boil).
The liquid will slowly burn off, leaving onions and peppers in a thick sauce or glaze. Toward the end of the boil, preheat your grill to 350. Remove the brats and grill for 2-3 minutes, flipping once to get grill marks. If you desire, use a brush to coat the brats with the leftover glaze. Serves 4-6.
---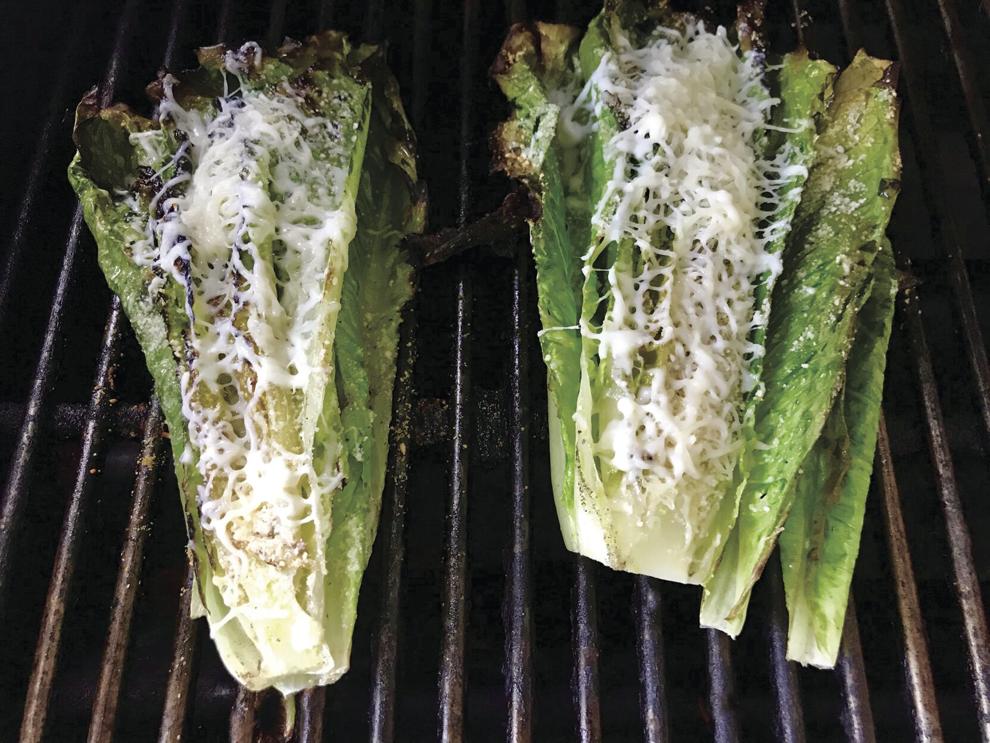 Grilled Caesar Salad
This is an easy recipe that takes about 20 minutes total. I try to use lettuce from my own garden and I like to use a charcoal grill to add a smoky flavor.
Ingredients:
3 heads of romaine hearts, rinsed and sliced lengthwise in half
1 tbsp. Mustard (Dijon or your choice)
2 garlic cloves
3 tbsps. fresh lemon juice
3/4 cup olive oil; an extra 3 tbsps. olive oil for the romaine hearts
1/2 cup freshly grated Parmesan cheese, with extra shaved Parmesan for serving
Salt and freshly ground black pepper
Directions:
Preheat grill to medium. In a blender, combine the garlic, lemon juice and mustard. Drizzle
in 3/4 cup olive oil to emulsify. Add the Parmesan and pulse.
Put the romaine hearts in the remaining olive oil and season with salt and pepper. Grill for 2 minutes, until grill marks appear and the romaine becomes wilted. Remove the lettuce to a cutting board and cut into 2-inch wide strips. Place in a bowl and drizzle with the dressing. Toss to coat and serve warm. Serves 3-5. 
—Laura Dierbeck
---
Grilled Pineapple with Vanilla Yogurt
This is a fun recipe to modify each time and develop to your taste. As a practicing pescatarian, I like to find non-meat recipes to serve at an outdoor party that everyone will enjoy. Many years ago, a friend shared this recipe with me, and it's my "go-to." I love how simple this is, but very tasty! Depending on how health conscious the attendees are, this can be made much lighter in calories as well (using less glaze or low-fat yogurt, for example). 
Ingredients:
Medium to large pineapple (depending on number of guests)
1 cup honey 
½ lime (I've used lime juice as well)
Ground cinnamon to taste
Vanilla yogurt or ice cream
Directions:
Cut the pineapple, de-cored and without skin, into thick rings. Half-inch to three quarters of an inch is best.
Creating the glaze is to taste, and depends on the number of rings. I always start with about 1 cup of honey (so I'm sure to have enough), a big squeeze of lime (you can add zest if you like that taste), and a teaspoon of cinnamon. This is to taste, so you can add and define as you go. You can also add the cinnamon to the vanilla yogurt as an alternative. 
Preheat grill to medium. If you use a grill pan, spray with cooking spray for best results. I've placed pineapple directly on the grill and that works too, as long as it's adequately glazed, and you monitor them closely.
Grill pineapple until slightly softened with dark brown grill marks, 2-3 minutes each side.
Serve pineapple with a big scoop of yogurt in the middle of each ring and a drizzle of the honey mix on top. You can also use vanilla ice cream for a richer dessert. I've added a maraschino cherry on top of the yogurt as well, to look extra special. Serves 6-8.
—Rhonda Smith
---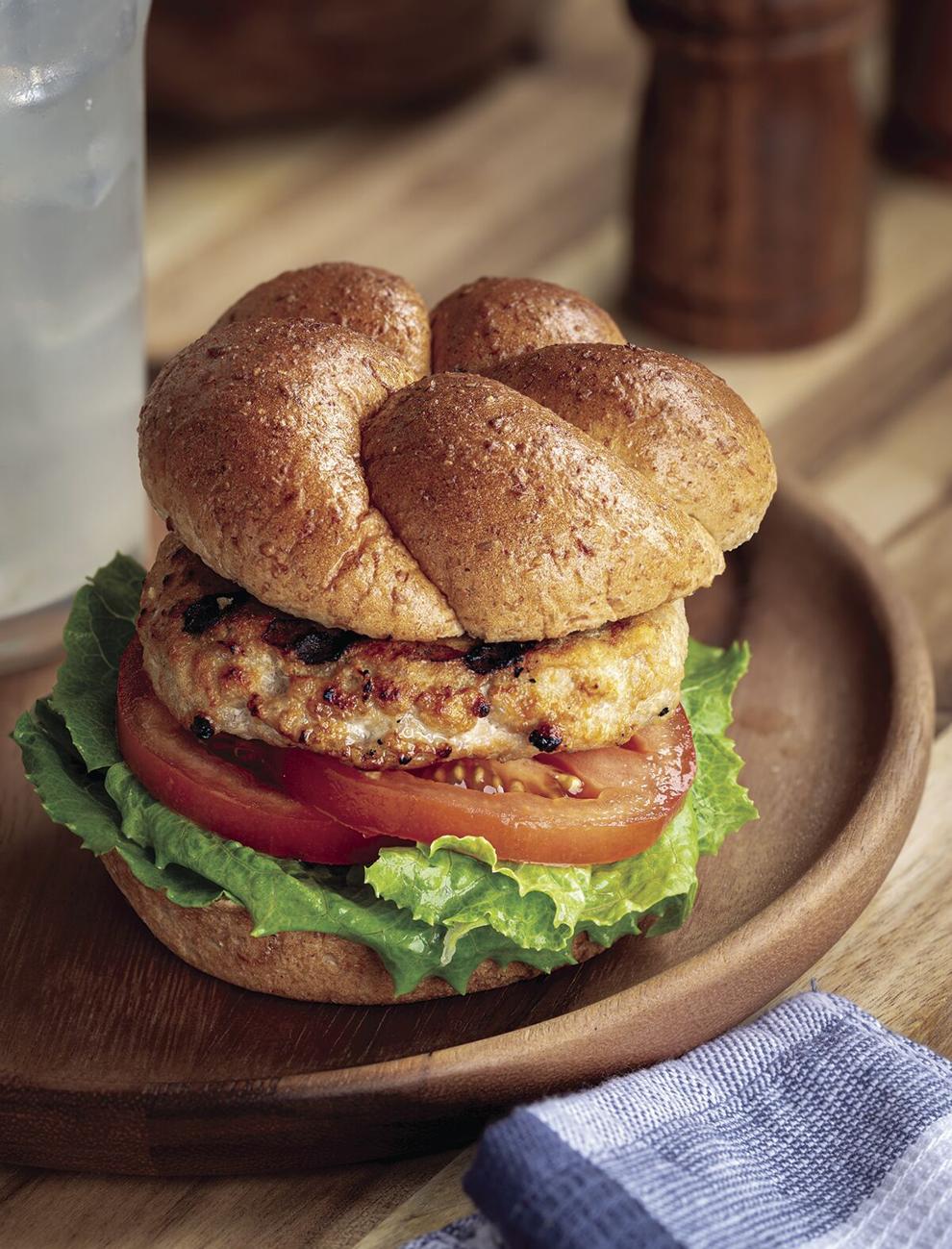 Popeye Turkey Burgers
My vegetarian wife realized about 10 years ago that she wasn't getting enough protein. She had fairly fond Thanksgiving memories of lean, thinly sliced turkey and decided to try it again. A friend suggested we try her burger recipe, and we've tinkered with it through the years to the point it's become a staple of family cookouts. 
Ingredients
1 lb. lean (93%) ground turkey
1 egg
1-2 garlic cloves, finely minced (or use a garlic press)
1/2 cup white or yellow onion, chopped to preferred size
1-2 tsp. Goya Adobe All-Purpose Seasoning 
1 cup chopped fresh spinach 
Salt & fresh ground pepper to taste
1 1/2 tbsp Worcestershire sauce or other dark brown sauce (A1, Uncle Bob's) to taste
1/2 cup regular or Panko bread crumbs
Optional mix ingredients:
1/2 cup crumbled feta cheese
1/2 cup strong flavored shredded cheese (sharp cheddar)
Red, green or yellow bell pepper, chopped to taste
1 or 2 canned green chilis, chopped to taste
Directions:
Place turkey in a large mixing bowl. In the center of meat, make a divot and add egg, brown sauce, seasonings, onions and garlic. Mix only the center ingredients initially. Next, add any "optional ingredients" blend all thoroughly; I use a large, wide serving fork to mix. Don't over mix. Add breadcrumbs until blended and the mix feels almost "firm." Let mix sit, covered about 1/2 to 1 hour in the refrigerator. 
Preheat the grill to 350. Add the burgers for 5-10 minutes per side, flipping once, until burgers are cooked through. Makes three good-sized burgers. 
—Daryl Skaradzinski 
---
GUEST RECIPES
Grilled Swordfish with Black Bean Sauce
Ingredients:
4 1" swordfish steaks, approximately 1 to 1½ lbs.
1 10½-oz. jar Secret Aardvark drunken garlic black bean sauce
2 tbsps. hoisin sauce
Juice from ½ lime
Vegetable oil
Pickled Ginger and lime wedges for garnish (optional)
Directions:
Combine black bean sauce, hoisin, and lime juice in mixing bowl large enough to also hold your fish, and whisk to combine. Add the fish and marinate for 30 minutes or up to 2 hours. Flip occasionally to make sure fish is fully marinated.
Preheat grill to medium high cook fish for 4-6 minutes per side, depending on thickness. Cook to an internal temperature of 145 degrees.
Serve swordfish with rice and a nice side salad with a toasted sesame vinaigrette and garnish with pickled ginger and lime wedges. Serves 4.
—Empire Fish