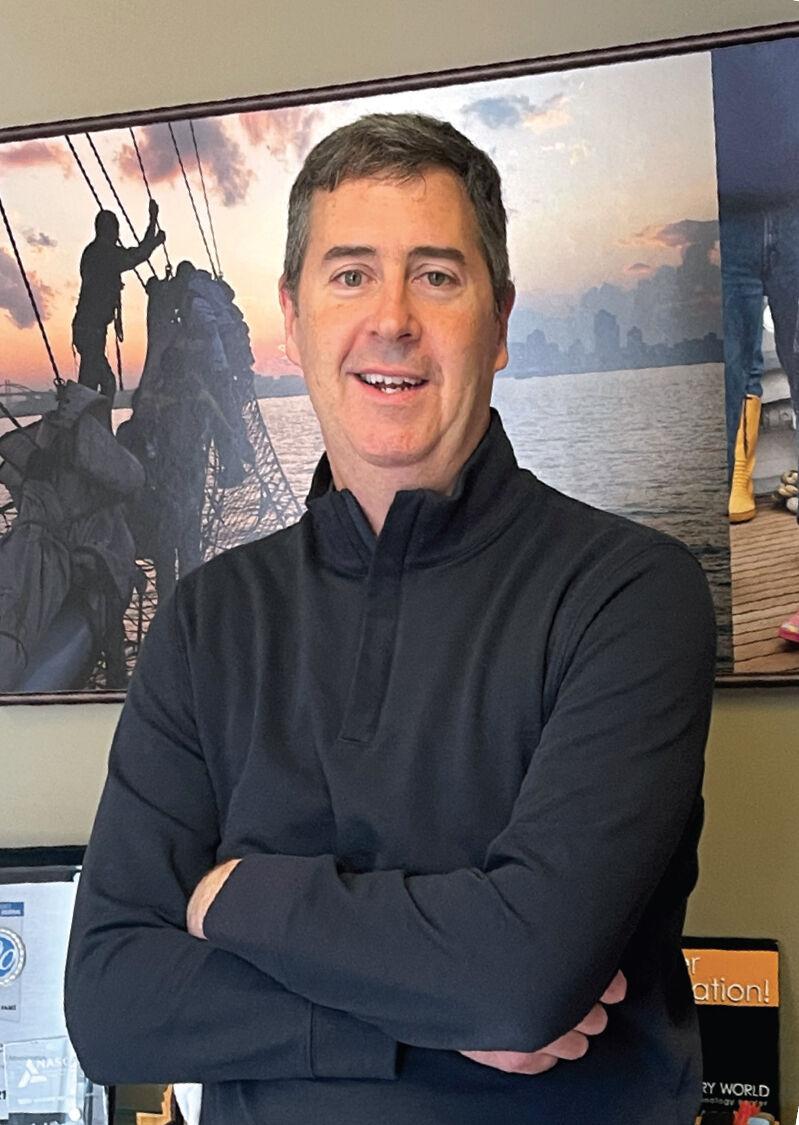 Joel Brennan has built a career in public service. He most recently served as Wisconsin's secretary of the Department of Administration, where he helped the state navigate through the economic collapse caused by the COVID-19 pandemic. Previous career stops included CEO of Discovery World and executive director of the Redevelopment Authority of the City of Milwaukee.
His latest venture is as president of the Greater Milwaukee Committee, which describes itself as a "private sector civic organization whose mission is to make Milwaukee the best place to live, learn, work, play and stay." The GMC is a network of nearly 200 of Milwaukee's business leaders that engages "in a variety of programs and initiatives in the areas of innovation and talent, economic prosperity and place-based vibrancy."
Joel Brennan
Title: President, Greater Milwaukee Committee (gmconline.org)
Industry: Civic nonprofit.
City of residence: Milwaukee.
Family: Wife Audra, daughter Allison, son Conor, and dogs Luna and Clyde.
Education: Bachelor of arts degree in English literature and political science, Marquette University; and master's degree in public policy, University of Chicago Harris School of Public Policy.
Favorite vacation destination: Costa Rica.
Favorite leisure activity: Watching our kids participate in high school sports (diving, gymnastics, basketball or baseball).
Favorite restaurant: Harbor House.
Favorite book: "The Things They Carried" by Tim O'Brien.
Favorite musical artist: James Taylor.
Best advice ever received: "Always make new mistakes."
What do you like most about Milwaukee?
As a native who has spent most of my life here, I treasure Milwaukee's familiarity and accessibility. You can get anywhere in town easily and quickly, and most neighborhoods feel connected and close. In the same way, great food and entertainment is within reach everywhere in our community. Finally, you can get connected to nearly anyone in this "big small town" very easily. Nothing is too remote, and no one is inaccessible, which means that the problems that plague Milwaukee (and which sometimes feel overwhelming) are not insurmountable either.
Tell us what you think about MKE's short- and long-term future — what excites you?
I'm fearful that Milwaukee's precarious fiscal position jeopardizes all the investment that has been made and is still to come from the individuals, businesses and organizations that care deeply about our community. Without the ability to gain more financial flexibility to face unprecedented financial headwinds, the city will not be able to meet very basic needs in the next few years. Despite that, I'm excited to work with people across the ideological spectrum to find solutions to these and other challenges and to turn over a stronger and more secure Milwaukee to the next generation.
What do you think is a MKE hidden treasure?
Milwaukee's urban state parks and forests are shining examples of our community's hidden treasures. Lakeshore State Park is a unique urban experience that provides an invitation to explore Wisconsin's natural beauty just a few steps away from the hustle and bustle of the big city. Taking a bike ride or a walk through the park's 22 acres provides a great example of how to knit the water's edge to downtown in ways that allow wildlife to thrive sustainably alongside industry and commerce.
Similarly, Havenwoods State Forest features more than 200 acres of woods and wetlands and six miles of trails, right in the heart of the northwest side. The experiences in these places can't really be replicated anywhere else in Wisconsin.
What's your proudest achievement to date?
I'm proud to have developed personal and professional relationships that make my life rich and meaningful and afford me the chance to make an impact in the community. From a recent career standpoint, I'm proud to have worked with Gov. Tony Evers and stakeholders to support industries like lodging, hospitality, entertainment and the arts that were truly on the brink of disaster during the COVID pandemic. We made direct cash investments at a time when lots of businesses were ready to close their doors, and we provided a model that other states could follow. Those actions helped save many small businesses that are not only the financial backbone of Wisconsin communities, but also represent the heart and soul of the culture that makes our state special.
Favorite charitable causes:
My favorites include early childhood education (especially Neighborhood House), Milwaukee performing arts groups and STEM education.
What — or who — inspires you?
My grandmother Bessie Casey provided inspiration throughout my life and still does many years after her passing. One hundred years ago, she began working in the registrar's office for the School of Music at Marquette University and eventually became the registrar of the Medical School when it was located at MU. A generation of Milwaukee area doctors have her to thank for helping launch their careers, and she was known as the "voice of the students" at the medical school. In retirement, rather than traveling, she generously provided me and my 10 siblings with a high school education that helped launch our futures. She was a warm, courageous and caring Sherman Park resident, and she inspired all of us to do well and to do right by our community and our world. MKE
Each month, business writer Steve Jagler profiles a local industry leader for MKE Lifestyle. He has more than three decades of experience interviewing business and nonprofit executives. Follow him on Twitter or find him at www.stevejagler.com.