Actor Willem Dafoe remembers his early years on the Milwaukee stage with Theatre X cofounder John Schneider.
Celebrated film actor, four-time Oscar nominee, and Appleton native Willem Dafoe was a member of the Milwaukee experimental theatre ensemble Theatre X from 1975-1977. This followed his three semesters as a UWM theater student, four months with a traveling children's theater, and a few weeks in New York City looking for acting opportunities.
In many ways, his experience in MKE helped shape the actor's career and potential.
Theatre X was launched in 1969 by a handful of UWM theater faculty and students who wanted to create original performances in any form imaginable about their real lives, society at large, and the concerns of the time. Until it closed in 2004, the core work adhered to that vision.
I served as a playwright, actor, director and spokesperson for most of its history. In 1975, we were crafting a show about our fears, "Razor Blades," and touring the country with an earlier show, "The Unnamed." We needed more hands, and we'd loved Willem's acting at UWM. We called him in New York and invited him to join us. He flew to Milwaukee immediately.
Willem gave himself to "Razor Blades" and other new works, learned our repertory, toured America with us, and toured The Netherlands under the sponsorship of the government funded Mickery Theatre in Amsterdam, where we teamed with European and American artists on original international productions and played at American international festivals.
When Willem decided to try New York again, he was welcomed into its best experimental theatre companies, The Performance Group (and its offspring, The Wooster Group), and by the eminent directors Richard Foreman and Robert Wilson.
"Then," Willem says, "I was very lucky. People saw me at the theatre and started asking me to do movies."
We've stayed friends. He remains the top benefactor of the Milwaukee Fringe Festival, which I co-founded in 2016. He was in Milwaukee last spring to accept an honorary doctorate from UWM.
These days, he keeps a farm outside Rome with his wife, Italian musician and filmmaker Giada Colagrande, and their many animals. The following is edited from a phone conversation last fall, when Willem was just starting his work in a new film called "AND."
MKE Lifestyle: "AND?"
Willem Dafoe: The director is Yorgos Lanthimos, a respected director whose "The Favorite" won 10 Academy Award nominations. More importantly, I like him and he also comes from the theater. He's amazing because he takes two weeks of rehearsal before we film, and plays the kind of theater games we know and love — you make a little company and create trust and a sense of play. I really enjoy that.
What makes you say yes to a film project?
It's the people and the situation. I like to be with people that engage me, challenge me, make me think in different ways, and also appreciate my desires. And I'm in it for the adventure, the experience, the need to learn something, because when you're turned on you're more available, more transparent. That's something that started to develop in my Theatre X days.
It's not so much about interpretation as about personal expression, about giving yourself so the audience can experience what you're experiencing. It's expressing what you think through performing it. My path through Theatre X to Wooster Group and other theater makers had a big impact on who I am as a performer now. Who I am in the movies is totally thanks to that.
You always gave yourself ferociously.
It's me, but it isn't me. I'm not interested in promoting myself orbuilding a persona. I'm interested in losing myself in the actions because that's when I feel free and strongest and most fluent.
I think it goes back to a basic tribal impulse. I'm not interested in who I am, I'm more interested in what we all have in common, what the bottom line is. That's what starts you dreaming of a better way to be, a better world, a better way to see. And that all started with Theatre X, with people in a room trying to make something that expressed what they were going through in their lives. It's filtered through various masks, but that impulse was always there. As a young man struggling with your identity and trying to make your way in the world, that was particularly powerful. The headshots, auditions, networking and waiter jobs mythology of being an aspiring New York City actor by comparison repelled me.
You know, John, I hear myself talk  and I think, you sleazebag! You also just like to shake your ass and there's a part of you that likes attention and wants to feel engaged and have fun and be with fun people. So don't make me sound like a priest.
I remember that you'd take any dare, onstage or off.
I loved practical jokes and pulling tricks that would disturb people's regular flow, because I don't have my normal worries then. Even as a kid, I loved pranks, sometimes bordering on juvenile delinquency.
I wrote plays as a kid, and started performing at a summer theater in Appleton when I was 13. I liked the camaraderie and just plain acting out. I never seriously thought it would be my profession.
I got out of high school early and wanted to get out in the world. I visited a friend in Milwaukee, a theater student at UWM, and saw a production and I knew I wanted to go to school there. For me, Milwaukee was the big city. I was very excited by all the different people. I lived in a party house on Farwell Avenue with a bunch of guys that would go out every night and bring the bar back home. It was a circus.
What do you remember about your time at UWM?
I loved UWM, particularly the theater department, because rather than a bunch of dopey kids that wanted to be movie stars, you had people that were the first in their family to go to college, women returning from having children, guys back from Vietnam on the GI Bill, a wealth of experience and different points of view. I had a hunger for that.
Why just three semesters?
I'd pretty much exhausted all my theater courses and was staring at two years of lectures I didn't want to sit through. And I was so turned on by performing. My focus was very particular. I'm 67 years old, and in my heart I'm 22. Forgive me if I'm trying to connect my present concerns and preoccupations with the seeds of all that. But I do think it's a pretty clear path. I'm a simple Midwesterner. I just want to keep moving forward. MKE
---
Willem Dafoe's Theatre X Thoughts
Willem Dafoe offered some of his enduring memories of his Theatre X performances:
• "Razor Blades" was the first time I worked on original material that came somewhat from my life. Not literally, but "Willem" became a performing person, and it was me. It was the beginning of being freed from a rigid definition of theater bound by psychological and literature interpretation. We used a lot of stage blood. I learned that shaving cream was the only thing that would take it off.
• I remember loving "The Unnamed." It was a choral part, very much built on a musical, rhythmic approach to the text, and very precise. I learned there's great freedom in surrendering to a score of actions. It's not what you do; it's the spirit you do it in.
• "The Wreck: A Romance" was the show I was most involved in the creation of. I remember reading "The Denial of Death" and the poems of Adrienne Rich for inspiration. I remember I stabbed myself on the opening night in a knife dance. I got stitched up, and since we had no understudy, I did that very physical performance the next night and broke my stitches. I loved that we were involved in making props and sets. Flora Coker and I, with care and love, boiled the meat and gristle off a cow head, which took some days, in order to have a complete cow skull onstage.
• "O Wow Nancy Drew" was transgressive, kitschy fun and a perfect antidote to the poetic angst of "The Wreck." It was a drag performance and totally over the top. It was play, and enormously popular, as I recall.
• The Mickery Theatre in Amsterdam was a high education for me. Not only was I performing and traveling overseas, but I was seeing some of the best companies in the world. I loved collaborating with artists from different countries on "Folter Follies." It was giddy and inspiring.
---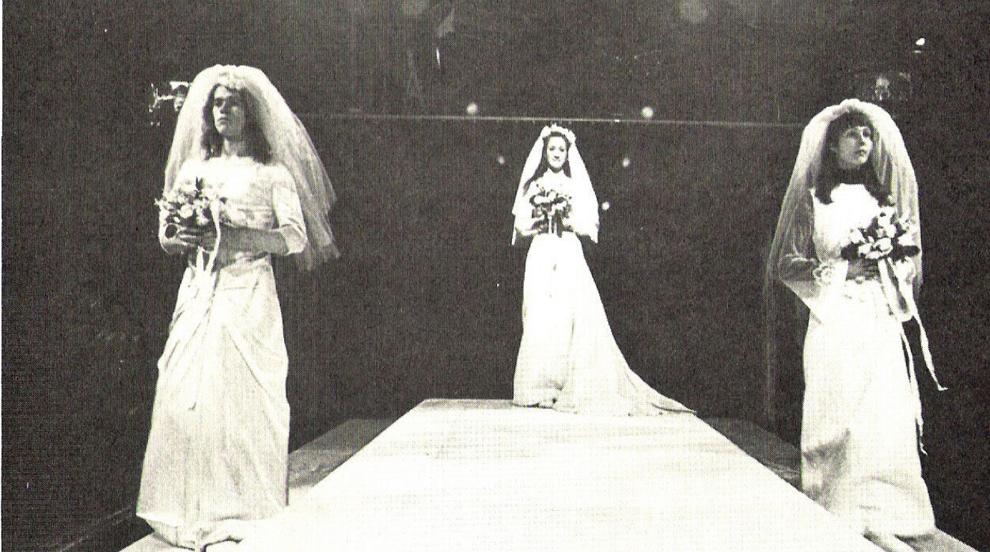 "This photo of the brides was from an international production created by the Mickery Theatre in Amsterdam," says John Schneider. "Its Dutch title translates as 'Torture Follies.' This scene was a fashion show including every type of everyday clothing — work clothes, play clothes, dress-up clothes — that the audience members might wear. The commentator was a Dutch woman well-known in Amsterdam as a fashion show hostess and organizer. She spoke in Dutch exactly as she would if she were introducing some new line of designer clothing, but this fashion show was titled 'What Today's Torturers Are Wearing.' The actors played runway models. The climax was the presentation of bridal wear, since it was standard in the Dutch fashion industry to end their fashion shows with bridal wear."
Willem Dafoe is on the left, Arleen Kalenich is center and a Dutch actress is on the right. Photo courtesy of John Schneider.
---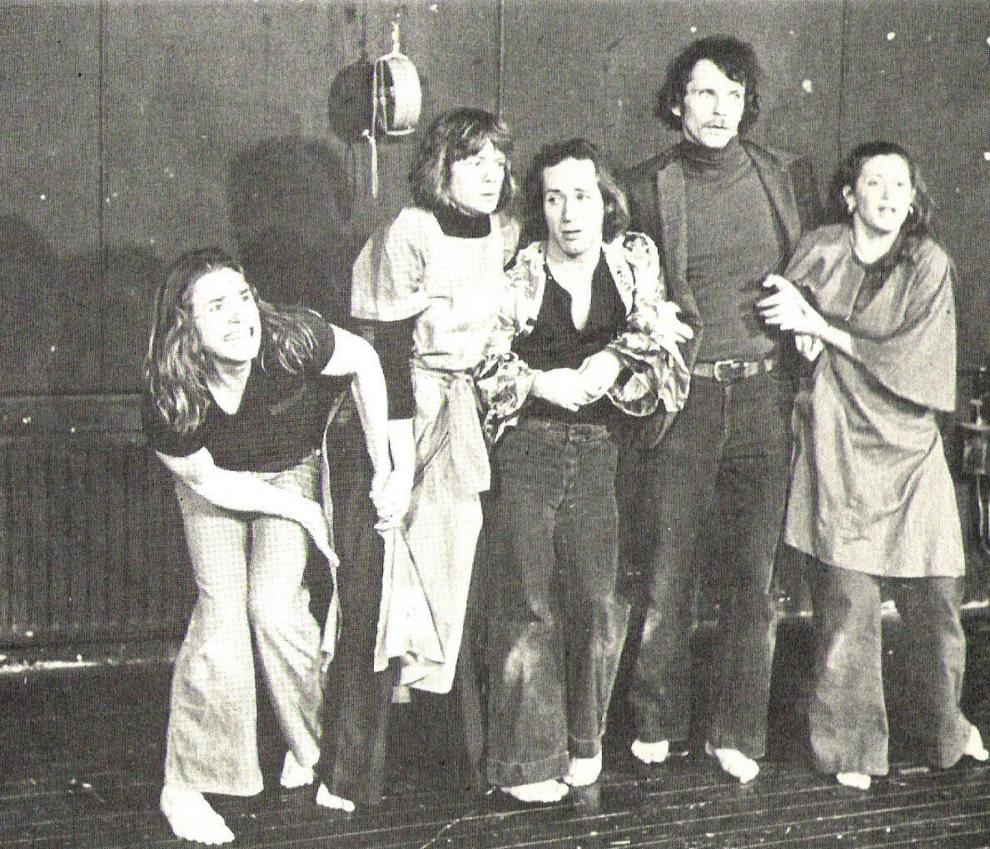 The five performers in Theatre X's "Razor Blades" play: Willem Dafoe, Flora Coker, John Schneider, John Kishline and Arleen Kalenich. "We dramatized our own personal fears in mostly — but not entirely — comic ways," recalls John Schneider. "The line that comes to mind when I see this photo is "Somebody please tell me what to do." Photo courtesy of John Schneider.
---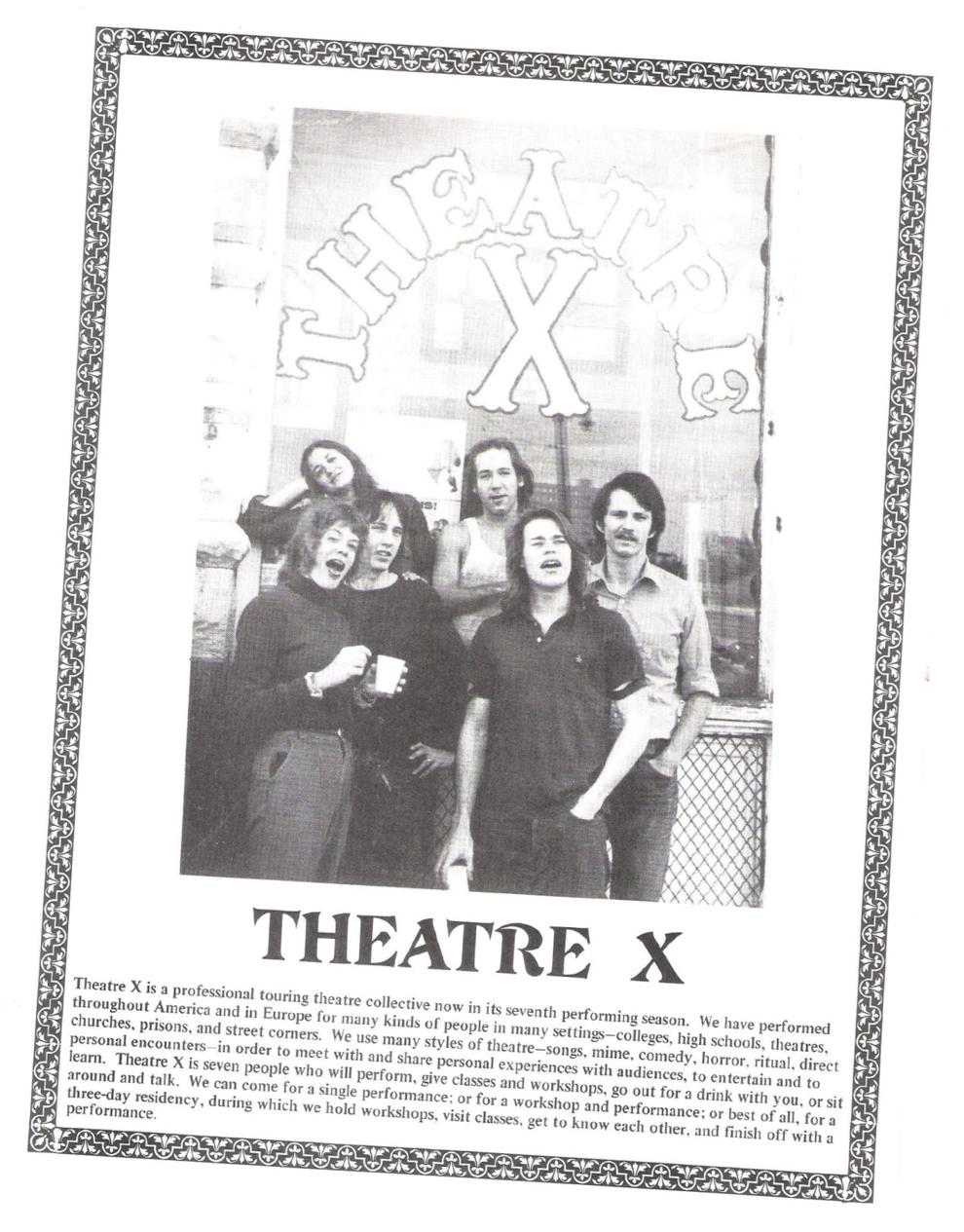 The five performers and business manager of Theatre X. Back row, left to right: Arleen Kalenich, John Schneider; middle row, left to right: business manager Marc Haupert, John Kishline; front row, left to right: Flora Coker, Willem Dafoe. Photo courtesy of John Schneider.
"We used this image for various PR purposes," says John Schneider. "We're standing in front of our first theater in downtown Milwaukee at 1247 N. Water Street, which we called the Water Street Arts Center. We were there from 1972-1980 and hosted lots of other shows there — theater, dance, music, puppetry, comedy, visual art. Our lobby was home to a small press bookstore which grew into what is now Woodland Pattern Bookstore on Locust St." Photo courtesy of John Schneider.